Enjoy Happy Trails, the free monthly newsletter from Hiking For Her.

Receive a free resource: Hiking Layering System Explained
Your Best Backpacking
Titanium Cookware Options

The best backpacking titanium cookware is an investment.
But it's not that much of an investment over aluminum, all things considered.
Read on for tips about the best backpacking titanium cookware sets for your next trip.
Because you've got to eat, and the best cook sets are a great investment in successful backpacking meals.
Re-purpose them for lightweight and convenient car camping kitchens, too.

Best backpacking titanium cookware features to look for

If pack weight doesn't matter much, go with heavier aluminum cookware.
For instance, if horses, llamas or mules are carrying your camp kitchen.

Or a river trip, like this one.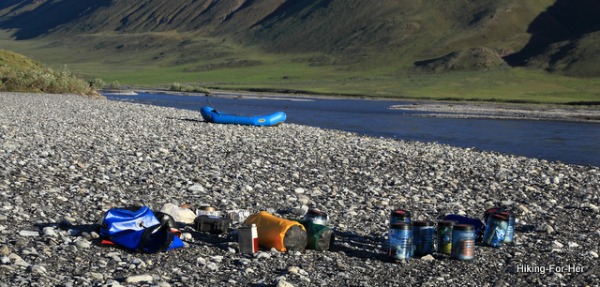 Time to eat! Where's the cookware?
But if you're the lucky backpacker lugging your own set of camping gear, spring for the titanium cookware.
It's as light as you can get!

But we'll keep going.
Lots more to love about titanium
More reasons why titanium is your friend on the backpacking trail:
It heats up quickly and stays hot, allowing you to save fuel.
For example, you can bring water to a boil, turn off the stove and pop a "blankie" or cozy around a titanium pot.

This allows your grains, rice or noodles to rehydrate without continuous fuel consumption.
Titanium is used in hip joint replacement and other orthopedic procedures, so you know it's got to be durable and resistant to dings and dents.

If you pay attention while cooking, you will avoid burned food on the bottom of the pan due to the rounded corners.
It all adds up!
Put that all together and you have lightweight, conductive, durable and easy to clean cookware.
What's not to love in this type of backpacking cook set?
Well, titanium cookware can be...
A bit pricier
than aluminum perhaps?

Note that price and number of pieces included in the cookware set go hand in hand.
So before you write off the best backpacking titanium cookware as being beyond your budget, be sure you're looking at the correct package for your needs: solo, duo, or groups.
Solo backpacking cook sets
If you're a solo backpacker, carry the bare essentials in a camp kitchen, like this mini solo cookset.
5 ounces total weight, including a storage bag

Two pieces: 28 fluid ounce pot with lid (important in windy or cold conditions to save fuel) and 10 ounce cup

Pieces nest together to make a tiny footprint in your pack

Pieces have round bottoms to increase fuel efficiency and minimize clean up time

Handles fold flat but stay open when needed
Tip: Be careful about cook times, as the surfaces are not coated to prevent sticking.

The cost?
$65, more or less.
Duo hiking and beyond
If you have more than just yourself along on your backcountry adventure, or you want a versatile set that you can swap out as needed, try something a little beefier, like this multi piece yet still compact cookware set.
Two pots, 34 fluid ounces and 28 fluid ounces; you can be re-hydrating in one pot while boiling in the other

Two lids, doubling as different sized (12 and 17 ounces) frying pans

Nesting feature will also accommodate a fuel canister for improved storage efficiency

Total weight just under 12 ounces. Twelve ounces!! Is this not worth it??




Same caveat about lack of non-stick cookware surfaces.
If you treat this backpacking cookware set right, you'll have a functional, practical, lightweight kitchen for your entire hiking career.

The cost? $95 U.S. or so.

Tip:
Take the long view on these prices.
Less than $100 spread over 10 years of backpacking is a smart investment.
Looking for non stick
backpacking cookware?
If you'd prefer to have non-stick surfaces, you can find a great set right here.
The price is usually higher than quoted above.

But if you're lucky you'll hit a sale.
Make smart cookware decisions now
and enjoy your trail time
Invest a little in a well made, durable backpacking cook set today, enjoy it a lot in the future!
That's what I love about titanium cookware, and you will, too.
If you need more backpacking kitchen ideas, gotcha covered!
I'll end with a very important question:
So what are you going to cook up using your new backpacking cook set?
Backpacking food ideas right here!
Best tips for beginner backpacking food starts here
Home page > Best Hiking Gear >
Best Backpacking Titanium Cookware