Best Womens Hiking Shorts: How To Find The Perfect Pair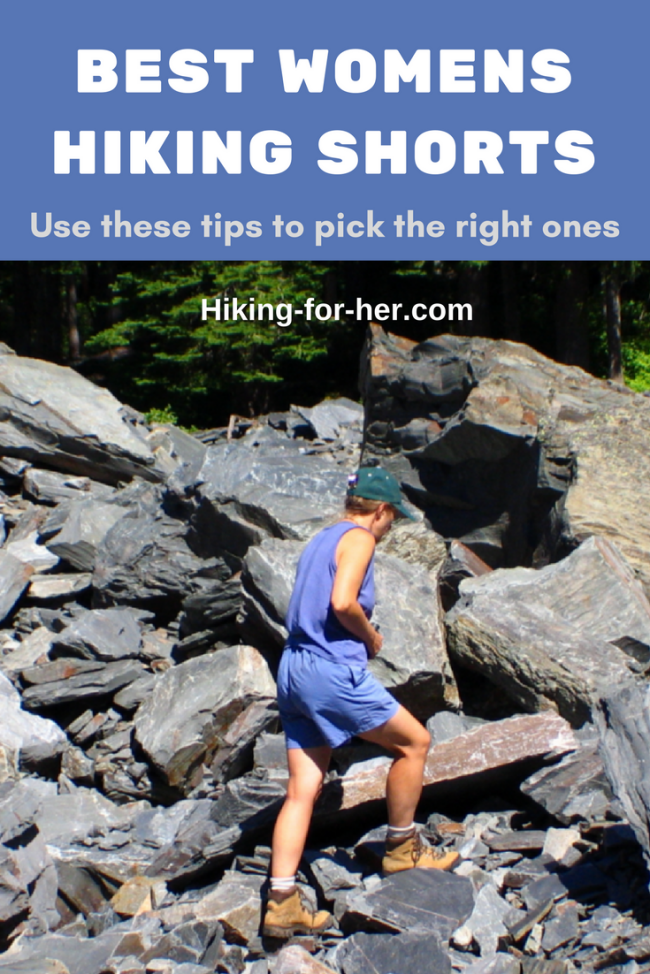 Aren't the best womens hiking shorts the ones already in your closet?
After all, you selected them based on fit and appearance, so you've bonded with them, right?

Not so fast.
Womens hiking shorts need to do more than just fit well and look good.
What makes a pair of shorts suitable for hiking?

For women on the trail, a functional pair of hiking shorts is all about thermoregulation.
Hot, humid, muggy, sunny weather begs for less clothing on your body.
But a hiking trail is a bit different than sitting on your patio sipping iced tea in your favorite "at home" shorts, right?
So the best womens hiking shorts not only show a lot of skin, they also protect, defend and repel.
Which means they are made of lightweight, durable, fast drying, dirt repelling fabrics that also allow perspiration to evaporate quickly.
See what I mean? Shopping for a pair of womens hiking shorts is going to take a little more brain power than looking for a pair of beach shorts.
Let's tackle the challenge together!
Hiking shorts: what to look for

We will assume that thermoregulation is taken care of, because shorts are short and short means your legs are exposed enough to allow your perspiration to evaporate, thus cooling you down.
Fair enough?
Now let's tackle the other 3 functions you are looking for when you shop for the best womens hiking shorts.
Protect.
Defend.
Repel.
(Sounds vaguely militaristic, but there's no need to go to war to find a great pair of hiking shorts.)

To protect you from sharp rocks or abrasive surfaces every time you sit down, you need fabric that is durable. Sadly, this works against the need for venting your body heat.
Thick protective fabric = hot fabric.

If you're really hard on your hiking shorts, as in sitting on jagged rocks and butt belaying down slopes, you're going to have to brace yourself for the inevitability of replacing or mending your shorts every summer.

To defend you against ultraviolet rays of sunshine, look at the UPF rating. Higher numbers are best, as in UPF 50.
For more facts about sun protective hiking clothing, read this.
To repel water, choose fabrics that are designed to either keep you dry-ish via fast water evaporation, or to keep you dry via keeping water molecules from contacting your skin.

Nylon is breathable and quick drying, and repels water if the fabric is treated with a repellant finish.

It's also slippery, so be aware of this when you sit on an inclined surface.

To repel trail grime, look for fabric that has a special finish and is easy to wash.
Color is also a grime fighting ally.


I wear dark colored shorts on the hikes I know I'll be in the rocks and dirt (as in the photo above), and switch to light colored hiking shorts for sun exposed, hot hikes across sand and rock (as in the photo below).
And when all of those functions are accomplished, don't forget that you'd prefer something soft against your skin.
That's why trying on hiking shorts is a "must do" on your list. There's no way to know if the shorts will scratch or irritate your skin, unless you step into them and let your sensory feedback do its work.
Don't forget moveability!

Tight fitting shorts can be useful in certain situations (which I will leave entirely up to your imagination), but not on hiking trails.
If you can't take freely moveable steps, or have to hitch up your shorts even higher to step over blow downs on the trail, you're going to get irritated and frustrated.
Even worse, tight fitting hiking shorts can irritate and chafe your groin area and trap body heat, leading to inflammation, pain with every step you take, and the possibility of an infection.
For all these reasons, I recommend that you wear loose fitting shorts for your hiking adventures.
Loose does not mean baggy! You can still look good while tackling the trail if you search for these comfort features when you're shopping for the best womens hiking shorts:
crotch gusset;

waist band adjustments: elastic, buttons, or both;

zip fly with belt loops in case you lose weight on a hiking trip and want the shorts to sit on your hips rather than around your knees;


relaxed fit in the butt;

moderate rise (low rise would be uncomfortable under your pack).
And pockets.
You can never have
too many pockets on hiking shorts

The pocket was one of the greatest inventions of all time.
And on a hiking trail, you can find so many ways to use pockets that it will blow your mind.
Also note: If you plan to wear these shorts on a travel adventure, you're going to need secure pockets to protect your i.d., passport, money and other precious pieces of paper.
So don't overlook the importance of pockets.
Look for Velcro closures or zippers, not just the shallow little hand pockets found on non-hiking shorts.

Pockets can be located on the thigh area, or on the back of the shorts.
Or both!
Which, in my humble opinion, is the best possible way to design a pair of womens hiking shorts.

by Diane Spicer
Best womens hiking shorts
recommendations
Shopping for womens hiking clothing is frustrating because outdoor gear companies tend to think we are all little clones of men, except for our addiction to the color pink.
Pink it and shrink it, as the saying goes.
So stick to a few companies that deliver the female shaped (non-pink) goods with hiking shorts.
(My profuse apologies to those who purchase pink hiking gear. Rest assured, I never judge you when we meet on the trail. For whatever reason, I have a deep aversion to the color, and have hereby confessed my bias. I feel better now, and I hope you do, too.)

Time to name some names, based on decades of trail experience with these companies.
I have two trusted sources of the best womens hiking shorts, and have hung in there with both companies over decades of trail time.
I deeply appreciate the fact that they don't try to mess with a basic design that works.
Trusted source #1: Columbia
What I like about these shorts:
the right fabric: nylon for fast drying and UPF 30,


adjustable waistband and zip fly that won't restrict movements;

not too short;

very reasonable price point for their durability and resistance to rock abrasion;

lots of pockets;


the same comfortable design I've been wearing for decades!
Or maybe you'd be more comfortable in a draw string waist band.

These womens hiking shorts are available in plus sizes, too.
A fitting note about Columbia hiking clothes: They tend to run one size smaller than you usually think of yourself. Two options:
Try them on "for real" in a gear store;

Order 2 different sizes, and I predict the larger size will fit just right. 
Trusted source #2: REI
This gear company has never strayed far from its mission to support outdoor activities by making great gear and active wear available to both men and women.
Here are the shorts I rely on to get the job done on a hike, and here's why:
a bit longer length (10 inch inseam), so my thighs have fuller coverage when I'm going through brush, sitting on logs, or wanting more sun protection (UPF50);

as expected, breathable and durable nylon with a soft finish;

lots of moveability for all the reasons outlined above;

a bit higher rise, so these sit comfortably on my hips without interfering with my pack hip belt;

available in sizes 2 - 16;


6 pockets!!! (True confession: I have a lip balm pocket, a car keys pocket, a trail treasure pocket for feathers and other good finds, a snack pocket, a map pocket, and a just-in-case pocket on my shorts.)
Fitting notes about these REI hiking shorts:
Plus, I think the best womens hiking shorts have a bit of room in them for expansion after a big lunch, or monthly bloating issues.
If you don't agree, go with your usual size.
Extend the short hiking season
by layering

If you absolutely love wearing shorts on hiking trails, here's an idea for chilly mornings or changing seasons.

This makes sense for hiking women for lots of reasons:
You can remove the leggings when the day warms up (layering is a best hiking practice).

Your muscles will stay warm as you get into a suitable hiking pace in chilly surroundings.

If you pick a pretty pattern, you'll look great! No goose bumps or shivering for you.
The long and the short of it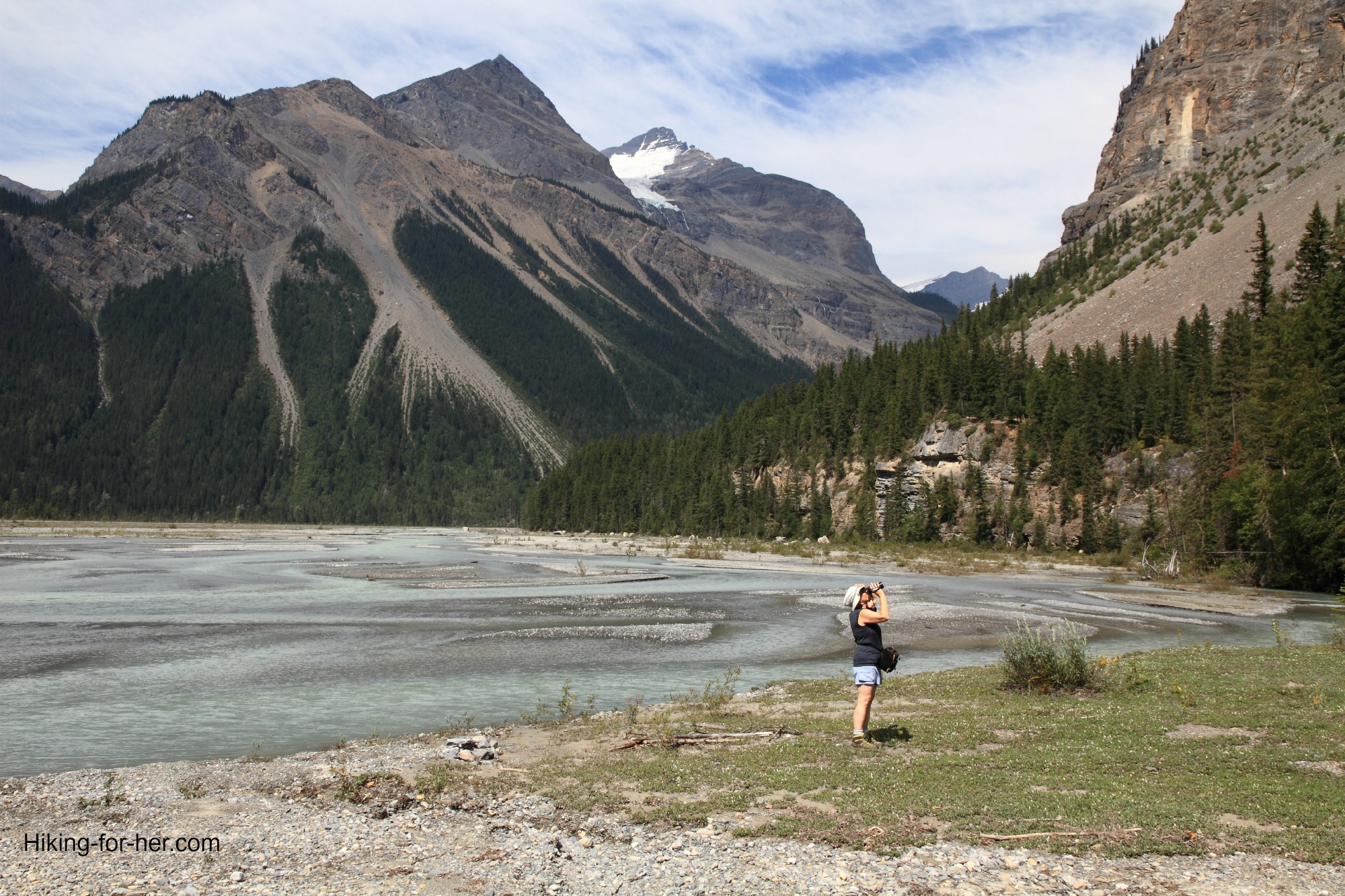 So let's see if we've got this right.
The best womens hiking shorts are:
Yup, that about covers it!

Now that you have all the facts and recommendations, it's up to you to do a bit of leg work (tiny pun).
Go out and find the best womens hiking shorts for your hiking adventures, and I'm guessing that Columbia and REI will be there for you at some point.
For more ideas about how to find the best womens hiking clothing, go here.
Best wishes for locating some of the best womens hiking shorts (comfortable, freely moveable and protective) that can do double duty as travel clothing!
Home page > Best Hiking Gear > Best Womens Hiking Shorts
Want your hard earned money to go even farther?
Use my recommended links to purchase the best womens hiking shorts, and at no extra cost to you, Hiking For Her receives a small percentage of your purchase price.
Win-win: You get great hiking shorts, and HFH keeps the lights on and the hiking tips flowing freely.
Thank you!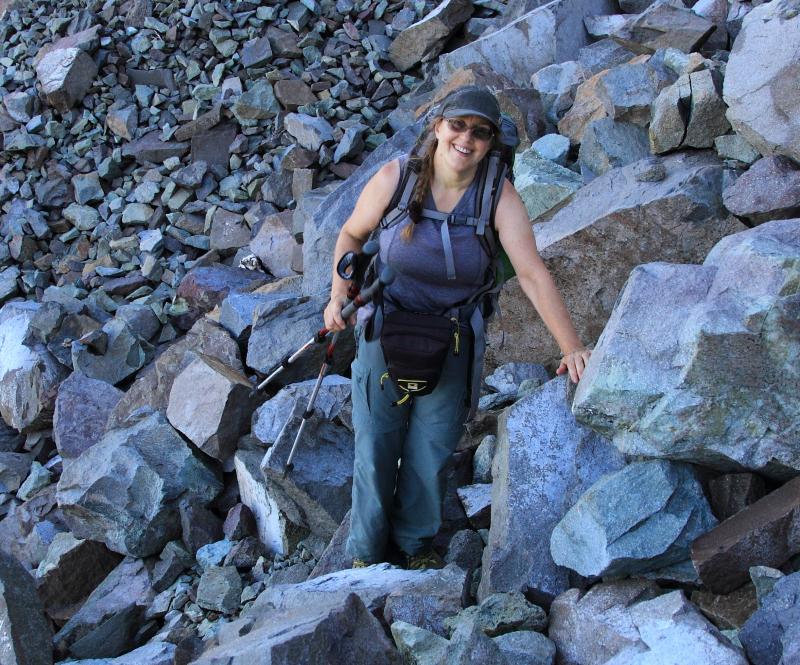 About the author
Diane is the founder of Hiking For Her.
She's been on a hiking trail somewhere in the world for nearly five decades & loves to share her best hiking tips right here.





All rights reserved. 





Photo credits: All photos on this website were taken by David Midkiff or Diane Spicer except where noted.
As an Amazon Associate, Hiking For Her earns from qualifying purchases.