Camino de Santiago Spain
by Sue Brightling
(Kent England)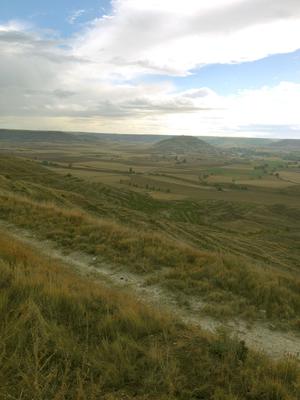 The long road
Hi

I have just returned from walking the third section of the Camino de Santiago in Spain, we managed 124 miles in six days. I carried my rucksack with my week's supplies cut to the bare essential (with the help from Diane's advice). I even impressed myself - my pack weighed with water & snacks 5.5kg.

The walk is amazing, they say life changing and in a way it is, I was going to Blog the week but somehow I feel the Camino is a very personal experience as many said to me before I went.

I will say, the plains of Spain between Burgos & Leon are vast (on a European scale) and stunning. We met and chatted whilst walking with people of all ages from all around the world. (Lots of Americans) Everyone was truly friendly.. really...

The Spanish people running the hostels were friendly and helpful. I found all of the places clean and no bed bugs (my biggest fear !) The home cooked communal meals were really good value, 3 courses with wine bread & water just 10euros, accommodation at the hostels 5-10 euros.

My most vivid memory was stopping for lunch, a simple baguette filled with Spanish ham and an apple, we found a spot just outside a small village under the shade of trees away from the hot mid-day sun and the perfect stone table and benches...it was 'simple' bliss.

If anyone is considering the Camino I am happy to give details of the hostels we stayed in which were excellent & one to avoid only due to the crazy Italian owner (and I mean crazy).

In my pack:

3 T-shirts, 1 x long sleeve top (not needed) 2 x Zippy leg trousers, 1 x fleece, 1 x Tilly hat, 2 x Sports bras, 3 x knickers, 3prs socks, 1 x sleeping bag, Pj's, 1 x micro bath size towel, a shampoo/shower gel 100ml, mini size sun lotion, small toothpaste & travel toothbrush, foldup hairbrush, plasters.