Enjoy Happy Trails, the free monthly newsletter from Hiking For Her.

Receive a free resource: Hiking Layering System Explained
Day Pack Review For Hikers:
My Trail Co
Ultralight 35L Pack

by Diane Spicer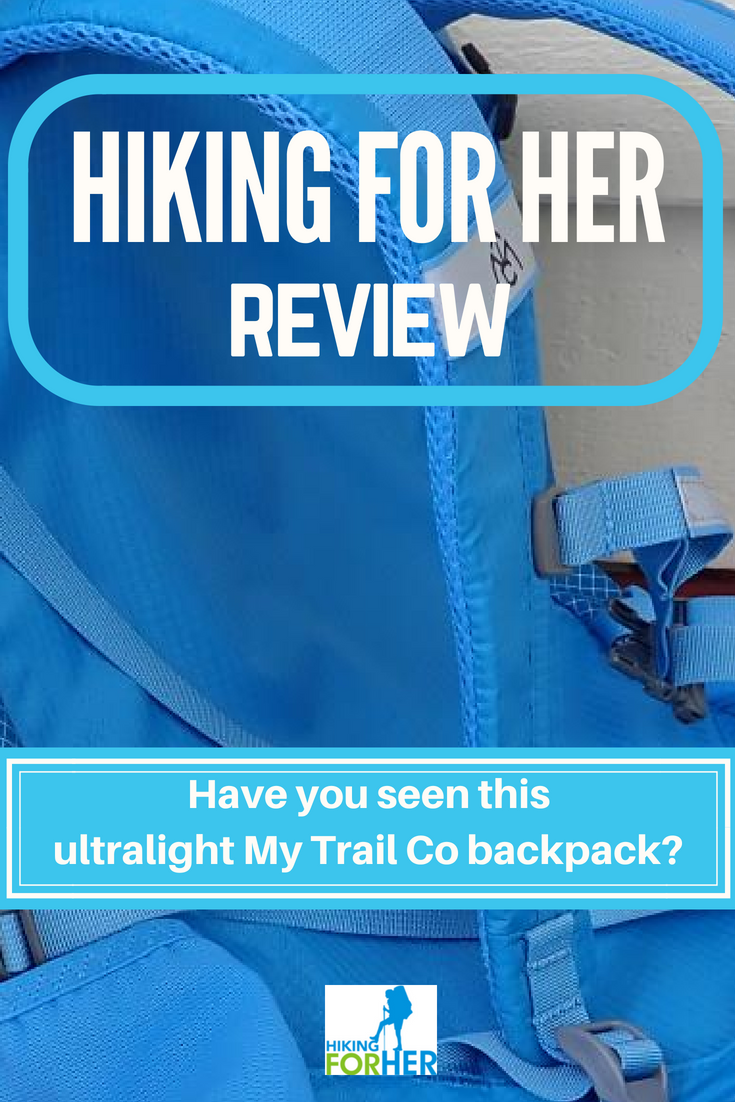 This backpack is no longer available from this company.
Read more options for good dayhike backpacks here.
This day pack review was written because I wanted to try out a new approach to backcountry hiking, and an ultralight small day pack from My Trail Co seemed to be a sensible choice for the reasons detailed below.
No one asked me to purchase or review this backpack.
No one sent me the pack for review.

All of the photos and comments belong to Hiking For Her.
As always, the complete pros and cons will be shared in this My Trail Co day pack review because I want you to know your options when searching for a lightweight day pack.

Affiliate disclosure
I've always been a fan of products from the founder of this company, and that's why I'm an affiliate for My Trail Co.
If you purchase gear using the links on this page, Hiking For Her receives a small percentage of your purchase price. You pay nothing extra.
My Trail Co day pack review:
Step One
Step One involves motivation.
What was the motivation in purchasing and deploying this minimalist pack on a NW Territories extreme backcountry trip?
Simple!
I needed a roomy carry on pack to travel from Seattle, WA to Whitehorse, Yukon.
And I needed a roomy but lightweight and rugged day pack during my 9 day heli-hiking adventure in the Mackenzie Mountains.
Could one backpack perform both sets of very different functions?
Could this be the best women's day pack for my trip?

Let's find out!
Step Two: specifications
This day pack isn't suitable for every day hiker.
So let's go over the specifications to let you know when this pack makes sense for your hiking plans.

Quick specs
The My Trail Co 35L UL women's backpack is available in several sizes, extra small to large.
Because I'm a petite female hiker who loves to layer up and down in response to precipitation and temperature changes, I chose the SMALL size rather than XS.
The exact spine length for each size is available from the company.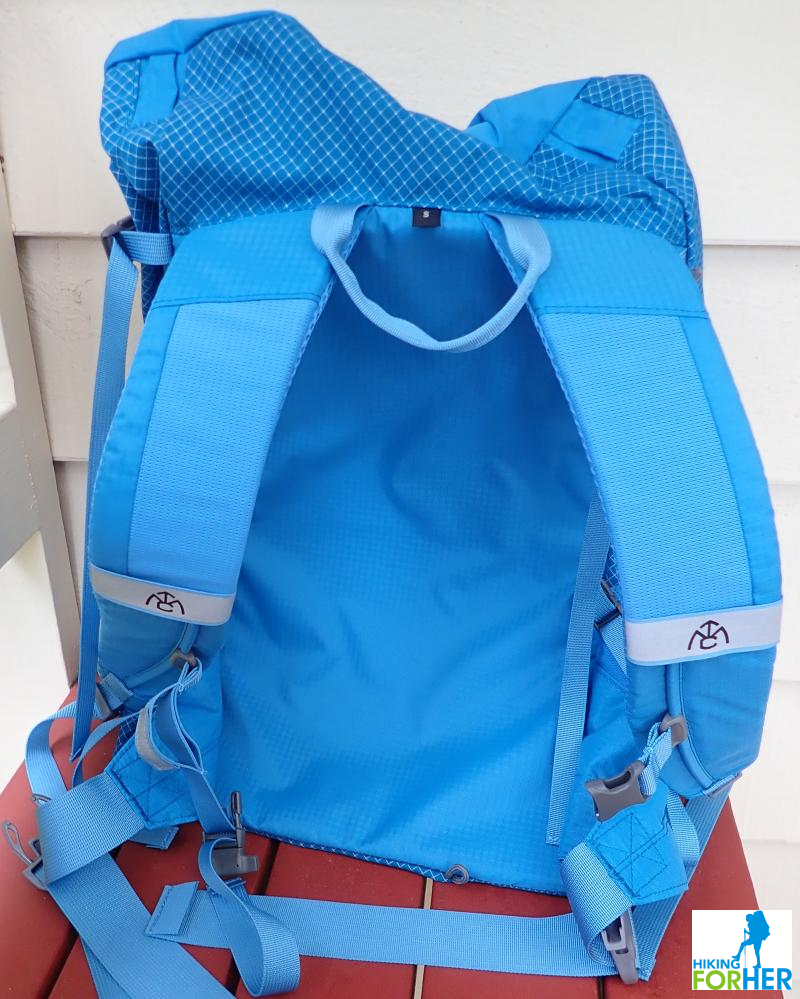 While the pack capacity is 35L (and it seems a bit more than that), it can be cinched down to 15L to save space.
When empty, it weighs about a pound, and can be rolled into a compact footprint.
These are obvious advantages over other day packs, which can be much heavier and bulker.

This pack is rated for 30 pounds, and I know that's about right because I had a pack full of rocks plus gear by the end of each day and the pack didn't even blink.
If blue is not your thing, this pack comes in a stylish black/grey combo.

Detailed specifications in this
day pack review
The materials used to construct this pack are worth a shout out:
Dyneema Gridstop threads, 3x as strong as Kevlar, 15x as strong as steel

Contoured foam shoulder straps

Stretch mesh pockets: 2 at the sides, one in front

All of this adds up to lightweight but highly durable load hauling.

If you utilize a hydration system, note that there is an internal reservoir gravity hook and twin hydration ports.
The haul loop is a handy feature that you might not find on other UL small capacity packs.
The large front pocket has a secure key clip, which I used for a carabiner to keep my small towel, ball cap and other odds and ends locked down tight.
Stretchy mesh means you can really load this baby up!

If you're needing to carry an ice axe, there are twin retention loops for your convenience.

Those bottom loops and tabs are part of the ComPacktor system, allowing you to customize the fit of the pack to your varying loads

Field conditions in this
day pack review
Lest you think I went for a three hour ramble on a well behaved trail and then sat down with a cup of tea to write this day pack review, let me show you where this pack was used: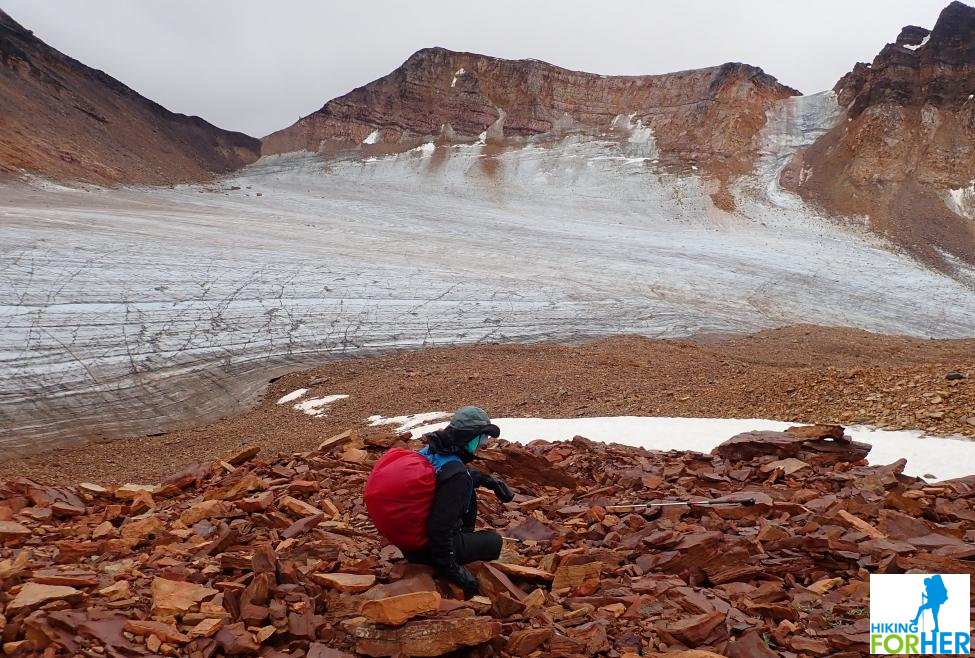 NW Territories hiking in the Mackenzie Mountains, with unnamed glacier in the background & a red pack cover disguising the sky blue pack
This day pack hauled two full water bottles, two sets of rain gear, cameras and plenty of lunch and snacks, day after soggy, windy, cold day, for 8 days of hiking adventures in the remote Mackenzie Mountains (Ragged Range).
There was nothing gentle about the terrain, and I didn't treat the day pack very gently, either.
I never hesitated to drop the pack on the rocks, snow, ice or mud because I knew the material could handle it.

I left the pack in the vestibule of the tent each night because I knew it could stand up to condensation.

The extension collar with draw string roll top closure and quick pull tab made it easy to get into the pack and then seal it back up.

You can see that I made full use of the expand-ability of the pack, focusing on the two sets of clips and super long straps on the sides.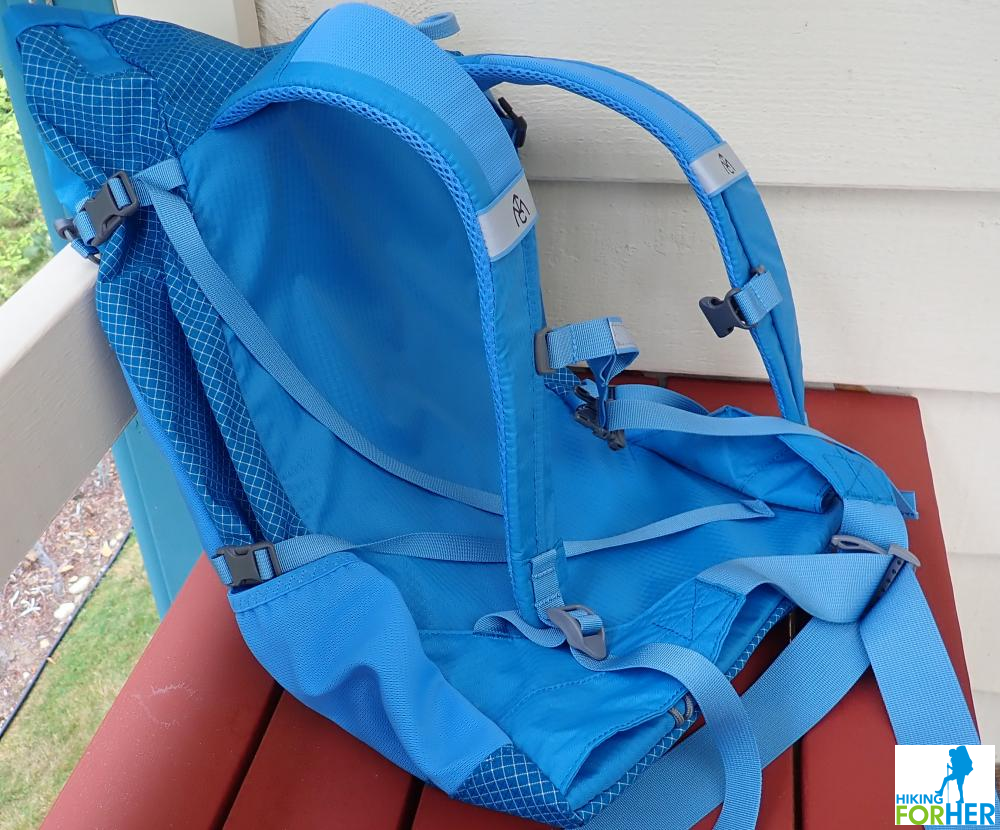 See them in this photo?
Cinch them down for a light load, or to hold a water bottle, bear spray, and hiking poles in place.

Expand them fully for a bulky load.
Note that the side compression straps can connect across the front of the pack, too.
Lots of options for customizing the position of your load!
Unexpected versatility in such a lightweight pack.

Pros in this
day pack review
I'll say it again: versatility with a feather weight makes this pack a great way to enjoy serial dayhiking from base camps in the back country.
Regardless of how much or how little this pack held, I could adjust the load precisely, so it sat tightly against my back.
This was important because of the steep terrain, lack of trails, and plenty of dicey footing (see photo above for just how many rocks I encountered!)
The price point was super affordable (~$99 U.S.), given the technical details and sturdy construction of this pack.
I loved the lack of zippers!
Entry and exit points were so straightforward, and no worries about jammed zippers due to the grit and moisture surrounding me.
Quieter, too, when viewing wildlife like sheep, goats and caribou

Cons in this
day pack review
Don't expect this pack to pamper and flatter you with lots of padded curves. That just adds weight, right?

The sternum strap was adequate, although it didn't cinch down as tightly as I would have liked for my narrow shoulders.
A size XS (extra small) pack might have solved this problem, but because I knew I'd be layering up, I went with the small size.

The contoured hip belt was surprisingly comfortable and able to transfer the load to my pelvis, despite its lack of padding.

Did I wish the hip belt had pockets to stash lip balm, snacks, hair ties, lens caps and more odds and ends ?
Why yes, I did.

The top loading compartment was voluminous, sometimes too roomy when I had to dig around in the rain for something at the bottom of the pack.
Because I anticipated this problem, I had inserted a heavy duty plastic bag into the compartment to protect everything from the rain.

The roll top closure system could be problematic in terms of collecting water during rainy weather, such as I encountered for 5 days straight.
Conclusions about the
35L My Trail Co backpack
I loved it as a carry on option, because I could cinch it down and stow it under the seat in front of me without having to resort to "duke it out" overhead bin competition on small airplanes.
The outer mesh pocket was quite helpful with stowing snacks, electronics, passport, and a thin jacket.
When it was time to board the bushplanes and helicopter, I stashed the daypack inside my 70L backpack, which was easy to do because this day pack bends and folds easily when empty.

Biggest surprise in this day pack review:
How admirably this pack performed in rugged conditions.
I took a gamble on bringing such a lightweight minimalist backpack into remote mountains, and it paid off big time:
Would I buy this pack again?
Definitely!
It's going to be my carry on pack for years to come, and will be pressed into service for day hiking at destinations whenever I need a big volume and a small weight with a versatile footprint.

However, when I need an ultralight pack with a bigger load capacity, I'll turn to My Trail Co's larger 50L backpack.
It's only $20 U.S. more, and has those coveted hip belt pockets!

I'll let you know how that goes ;)

More day pack buying tips for you
Home page > Best Hiking Gear Reviews >
Day Pack Review: My Trail Co 35L UL Day Pack
Hiking For Her: Hiking tips you can trust!