France The Via Francigena Pilgrims Route Stage One
by Sue Brightling
(Kent England)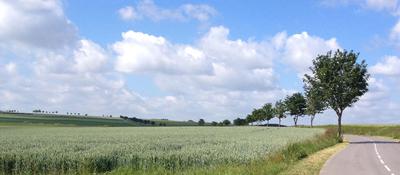 Long country road
We're home having completed our Stage One of this long walk to Rome. As you can imagine, best laid plans and all that, things didn't quite go as expected but more about that as we go. I thought this diary /post would be all about the vistas, sightseeing, food and of course the miles covered. However, very early on it dawned on me it was about people.

First things first, the facts and figures:

10 Day holiday with 7 days walking covering 120 miles Canterbury to Arras

We stayed at one Euro campsite – tent already erected, three campsites using our own tent, two hotels, one Gite and two B & B's (I'll add a list at the end in case anyone else is planning to follow this Pilgrim route)

The walking days varied from 10 miles to a staggering 25 miles one day

We carried backpacks weighing 14kg this included a tent – Geoff

8kg mine – Still heavy

Rainy days – one ( all day )

Lessons learnt – plenty !!

Injuries – Blisters – 2 small (me) Sprained ankle – Geoff

Brief Encounters

These are the people who touched our lives in the sense that our lives briefly bumped with theirs, most, names were never known, chances are most we are never going to come across again but they impacted on our lives in some way over the course of the ten days and of course to our friends who kindly took us to Canterbury to begin this journey and to the friend who collected us from Dover on our return.

1. We started on a beautiful sunny day in Canterbury with a lovely personal Pilgrims blessing by Canon Clare in the depths of the Cathedral or the Undercroft to be precise. It was an unexpectedly emotional experience.

2. At our first B & B we arrived after tackling a very busy road then had planned to wander into the village for our evening meal. The owners kindly offered to drop us at the Pub to avoid the busy road, walking back no problem as the traffic had gone.

3. At the first campsite in France a little Dutch lady sought us out (in the shower block!) - she had seen us arrived with our packs and was keen to find our where we had been and where we were going. She told us that her and her husband had done many walking holidays through France when they were younger, she was 80 and looked good on it. The sweetest thing though, they now had a teeny caravan they towed; as we walked past, the table was set for their meal, with a small glass of hand-picked wild flowers in the centre of the table.

Her advice was to do as much walking as we could whilst we were younger not leave it until later in life.

4. Arriving at the campsite set in Chateau grounds, all very lovely, we were down to our last drop of water only to find there wasn't a shop on site and the bar which wasn't yet open & only sold it by the glass. The supermarket was 1km away (no we didn't feel like the walk to & fro) so we went in search of the standpipe you find on the sites to boil some water up.. could we find them..no… but we got talking to an English couple just arrived and setting up their motorhome who kindly gave us a large bottle of water and didn't want anything for it. They also gave us lots of tips of websites to visit to get discounts for future camping trips.

Only one disturbing thing…she said " you'll enjoy the nice hot showers " I didn't say a word – I had just taken my shower, did I really look that bad leaving my hair to dry naturally ( who carries a hairdryer backpacking ) or maybe she meant I was pongy ?!?!.. moi ???

Ps After our lovely home cooked style meal the bar staff kindly filled our water bottles for free ready for tomorrows walk

5. Arriving in the village of Gonnehem, finally giving up trying to find the Gite. I popped into the bakers and asked the lady for help, she was unsure too so called over a passing young lad whose English was quite good (unlike our French) but he too was unsure but he said his father would know so to come back home with him, its was just minutes away, on arrival they kindly offered us drinks.. the father all dusty from work said to follow him (we thought to the Gite) on arrival at the centre of the village we found a large map, the Gite was on the outskirts but the father was also unsure how to get there, what hope did we have. Then in the typical French way another local appeared, there then followed a long conversation, lots of arm waving and shoulder shrugging on the best way to reach the Gite. The good news was they knew how to get there the bad news was it was another 2km.
The looks on our faces must have said it all, the father kindly offered to take us in his car and wouldn't accept anything for it. Turned out he was in the middle of refurbishing his house, hence all the dust over him, how kind to stop and help us.

6. We'd stopped at the roadside near a busy roundabout just to double-check if we were. where we thought we were… a car zooms up the kerb beside us, the window comes down, "you English ? You lost ?"… we're not lost just checking our position, try explaining that, in pigeon French and sign language.. as we try, a little old French guy squeezes in to add his thoughts on the best route (where did he appear from..oh yes, as you do..he had pulled up on the other side of the roundabout).
I should mention at this point, neither had pulled up out of the way of the junction (French driving) they decide its best for us to take a small side road that leads behind the church into the town, a local short cut, missing the main busy road. Previously we knew where we were…now on the small road we had no idea…..but it would have been rude not to follow their advice, wouldn't it ?? The driver offered to drive us to our hotel that was about an hours walk away, we declined, Geoff (!) felt we couldn't keep have lifts; it would be cheating ….

7. Whilst heading for the same hotel, once again the end directions became difficult to follow especially as we had now come in from a slightly different direction. I stopped and asked a man cutting his grass. As we were struggling to understand each other, his son arrived and knew exactly where the hotel was, keep going straight was his advice, better than that he would take us, just minutes in the car… no.. Geoff said we'd walk (see the pattern forming).

So to sum up, we just found people to be of generous spirit…refreshing.

We loved the walking, some days more than others. We realised early on although we can normally walk 20 miles a day, with the heavier packs we needed to reduced the distances, otherwise it just became a trudge, no chance to stop and enjoy the sights, or stop at a little café for coffee, although we only passed one possible place all week. It's just not touristy like that along this section.
In fact, it's an odd part of France to walk through, its more of a drive through section. We had thought, put the picnic rug down in a field for lunch etc, but again there was rarely the right spot, instead a bus shelter one day and another a fairly busy country cross roads. That was funny though, we looked like the people years ago that would stop for a picnic next to their car facing a busy main road..remember that ??

At Arras we had to cut short our walking. Geoff had sprained his ankle, and although he could have walked on very slowly, recovery time would have been longer.
It was a REALLY tough choice to make, to call a halt there. Many factors to be considered: if we walked the next day, there would be no bus, taxi, train to get us out of trouble, if we did make the next town we would have to go on to the one after that too, to get a train connection back to Paris, so it was all quite complicated and really the only sensible thing was to stop and take an extra day in Arras before heading home. It's an easy place to get to, to pick up the route again next year.
Yep, we are going back for more, possibly lured by the temptation of ending the next stage in Reims and adding in a bit of champagne tasting !