Enjoy Happy Trails, the free monthly newsletter from Hiking For Her.

Receive a free resource: Hiking Layering System Explained

Hiking Coach Or Mentor:
Do You Need One?

Before you read about the difference between a hiking coach or mentor, let me acknowledge that you've been on this planet for awhile.
So you have some idea of when you need a bit of help to get to the next level.
Or the first level, if you're a beginner.
As a hiker, you are no different than any other athlete.
Working with a hiking coach or mentor will enhance enjoyment of the sport, and lead to new achievements on the trail.
So what's the difference between being coached and being mentored toward a goal?
So glad you asked, because it's a doozy of a difference.

Hiking coach or mentor?
Big difference!

Let's fast track this, before getting into some specific hiking examples.
It's about your time, commitment, and goals.
First:

It's about time

Have a specific, well defined problem that you need and want to solve?
You need a hiking coach with deep knowledge of what you're up against, and a big tool chest of tips and strategies.

With a bit of help, it shouldn't take long to identify viable solutions, and analyze their effectiveness after you apply them.
Have an issue or troublesome roadblock that keeps you off the trail? Something which is serious enough to prevent you from full enjoyment of hiking?
That's when a relationship with a hiking mentor is beneficial.
Investing time to explore your issue, and then working through possible solutions, is your best bet toward achieving success.

It's also about commitment

A hiking coach works with you for short term, laser like focus on your problem.

A hiking mentor relationship is a deeper commitment for the both of you, an investment in your long term success and goal achievement.

But it's always about you

Both a hiking coach and a hiking mentor will focus on you, offering tons of support and encouragement along with strategies to achieve your goals.
But there is a difference in the approach.

A coaching relationship is all about feedback:
In a mentoring relationship, you enjoy a deeper focus on process.
More differences between
trail coaching or mentoring

Are the differences becoming more clear to you?
This might help: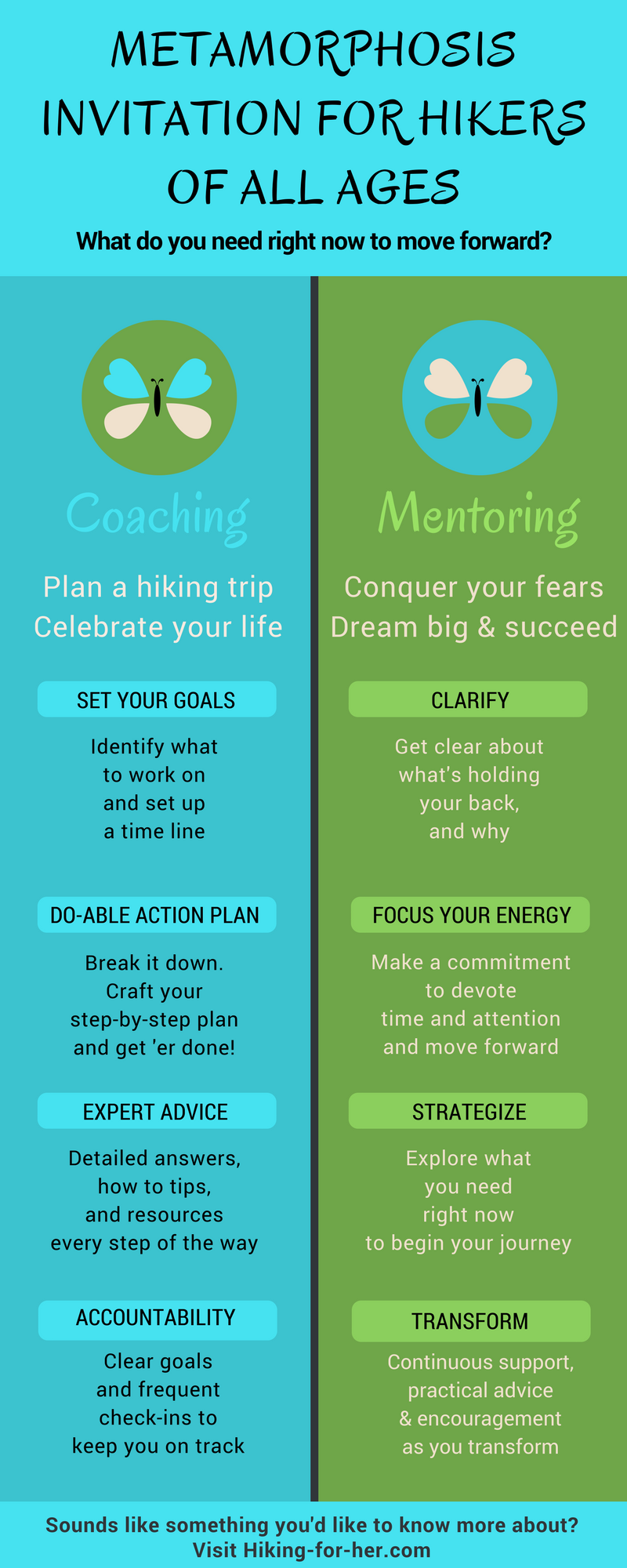 Visualize a hiking coach as offering you a helping hand across a roaring stream crossing.
Visualize a hiking mentor as a friendly face, standing on the other side of the stream and encouraging you to meet the challenges of crossing swift water.
Let's get more specific
You need a hiking coach when...

You are ready to conquer a "first"
Your first solo hike

Your first hike - ever!


Your first backpacking adventure

Your first steps toward a "dream hiking trip" 
It's time to celebrate!
Milestone birthday or anniversary

Honeymoon

Promotion

Retirement

Yourself as a strong, confident woman
You wish to mark a rite of passage
or
deeply personal life event


But you need a hiking mentor when...

... you would like to get safer.
Stronger.
Smarter on the fundamentals as a hiker.
...or when you need support and encouragement to overcome a roadblock before you can get on (or back on) the trail in confidence.
Mentor examples



On your way to any of these goals, a hiking mentor can be invaluable as you:

Design a strengthening and conditioning plan - and stick to it.

Identify and address anxieties about the realities of the trail.


Learn to work around physical and mental limitations.

Conquer fear(s): wild animals, the dark, being alone, snakes, heights as examples.

What else is holding you back from your hiking dreams?
Maybe it's time to conquer it!
"Achieving goals by themselves will never make us happy in the long term.
It's who you become, as you overcome the obstacles
necessary to achieve your goals, that can give you
the deepest and most long-lasting sense of fulfilment."  
                      -Tony Robbins                           


How to move forward
toward your hiking goals
with support from a
hiking coach or mentor

You might be in the daydreaming phase, and need some help to get focused on a destination that fits your budget and abilities.
Or perhaps you're all set with destination and time frame, but need a bit of help with choosing gear, planning your menu, or trail realities like feminine hygiene and first aid.
Maybe you're looking for the perfect way to mark a life event or celebrate a milestone.
Or perhaps you're tired of wishing time away, and are ready to get serious.

But the only way to get to your goal is to take action.
And that means having a plan, and investing your time, energy, and money at whatever level makes sense for you right now.
If you're ready to take a step toward achieving your goals, get more details about Metamorphosis here.
I am not accepting any coaching or mentoring clients at this time.


Now we come to the pivotal question
Where will you be a year from now?
Wishing you'd done it?
Or showing your photos to friends and family with a huge grin on your face?
The Hiking For Her Metamorphosis invitation to move forward toward your hiking goals is waiting for you.

Lots of choices for your own personalized, focused hiking coach or mentor plan.
Go at your own pace, working on what you prioritize and value, with someone you trust (after all, you've been reading the trustworthy tips on this website, right?)

I don't hold myself out as a hiking coach or mentor lightly, and you are probably wondering why I'm qualified to offer you help.
You can read more about my credentials, hiking and otherwise, here.
Wishing you all the best today, dear hiker!

Home page > Best Hiking Tips >
Hiking Coach Or Mentor: Which Do You Need?