Enjoy Happy Trails, the free monthly newsletter from Hiking For Her.

Receive a free resource: Hiking Layering System Explained
Hiking Traction Devices:
Read This Before You Choose
Between Five Options

by Diane Spicer
Hiking traction devices are just like putting studded tires or snow chains on your car to get over a wintery mountain pass.
Except on a smaller scale!
Not familiar with the idea of winter traction devices for trail footwear?
It's all about solid grip and stability.
Look at the tread on a pair of hiking boots, and you will notice plenty of grooves and surface area.
But imagine these boots on snow and ice: the grooves fill up with the stuff, and there goes your traction.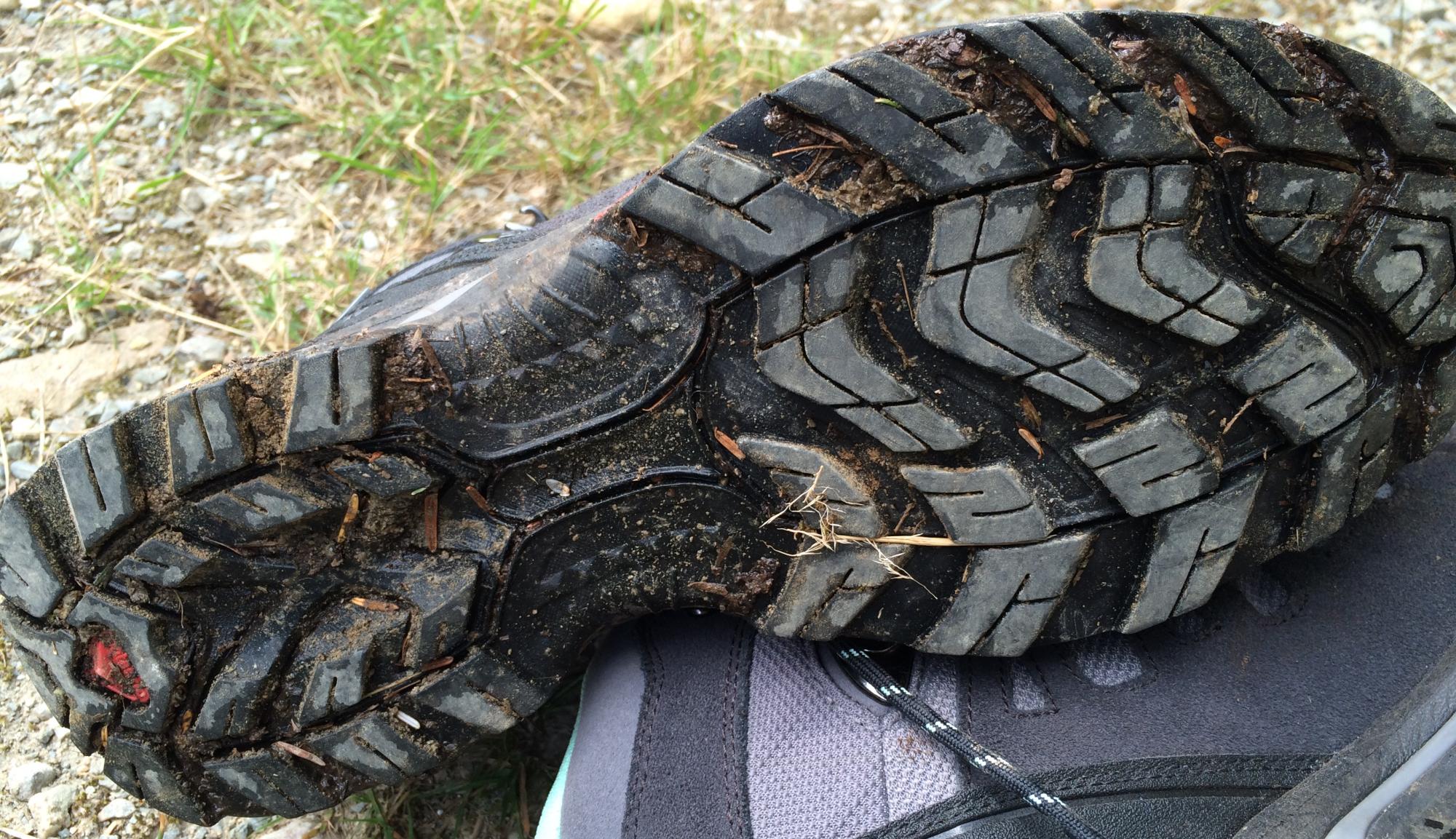 Even the best hiking boot tread can't stand up to ice. You need more traction!
So if you're tired of fishtailing, slipping, sliding, and falling when the trail gets covered in solid water (snow! ice! or both), consider your options for the best winter traction devices for your hiking boots.
Note: Some of the links in this post are affiliate links. You pay nothing extra to purchase through the Hiking For Her website!
Hiking traction devices:

Option #1 is crampons
Let's get the most serious option out of the way first: crampons.
You won't need these ice cleats unless you're doing something technical in high alpine areas, so I'm going to leave them out of our discussion of winter traction devices for hiking footwear.
If you want to read up on what they are, and when they are needed, go here.
Camp Frost 6 Point Crampon | MEC

Hiking traction devices:

Option #2 is Microspikes
Kahtoola MICROspikes Traction System | REI Co-op
I carry these winter traction devices for my hiking boots on my late fall through late spring hikes, which bring me onto snowy, potentially icy slopes at Mt. Rainier National Park and elsewhere in the Pacific Northwest.
What I love about Microspikes:

The instant I put them on, I feel stable and secure regardless of the incline or surface of the trail.

They are lightweight and easy to carry along. Just be sure you have a dedicated weatherproof bag (like the one they come in) to put them in. Stash them in an outside pocket on your backpack so you don't have to thrash around inside of it when you need your spikes.

I've had the same pair for over 5 years, and as mentioned above, I use them a lot. No signs of damage or wear yet! Note: I don't wear them when the snow gives way to a rocky, or even dirt covered, surface. Why push your luck with the stainless steel spikes, right?

The flexible chains underneath your boots prevent the snowball effect: ice and snow globs building up and depriving your feet of a stable surface.

The rubber hugs your boots, so no worries about them falling off or getting dislodged in deep snow.

Super easy to remove with one hand.

Hang up these spikes to dry when you get home (although if you forget, the stainless steel and plastic probably won't deteriorate).

Canadian hikers, buy from MEC:

Kahtoola MICROspikes Traction Device - Unisex | MEC
What I love a bit less
Microspikes do have a few drawbacks:
When my fingers are cold and wet, they can be hard to put on even with the large, easy to find heel tabs. Solution: Be sure you have the correct size, and you'll never have to wrestle with them.
Be cautious if you wear these into a winter stream crossing involving rocks. You will be sitting a bit higher, and will teeter a bit unevenly, on the rocks.

Slush seems to be the least desirable surface for wearing these, as I do slip a bit from side to side in them. But they are way more stable than boots alone!
Summing up why Microspikes work on icy trails
So let's sum up the reasons these are my go-to winter traction devices for hiking on snowy, icy surfaces: They are portable, don't take up much room in my pack, durable, fast to get on and off, and won't let you slip and slide around when you're on ice, ice covered snow, or steep snow.

If you've ever fallen while hiking, you know that you never want to do that again. Microspikes to the rescue!
Winter hiking traction devices:

Option #3 is Hillsound Trail Crampon
18 stainless steel spikes on the Hillsound Trail Crampon Ultra keep your feet solidly attached to the trail, despite icy conditions.

The two year warranty should reassure you, especially if you'll be pulling these on and off frequently during the winter season.
A nylon carry bag is included, a nice touch, although a resealable plastic bag would also work to keep grit and moisture out of your backpack.

What I love:
The "rip and stick" (hook and loop) strip across the top of the device makes things easy when you're in a hurry to get going on the trail and your cold fingers are fumbling around.

The large heel plate distributes your weight with each step, preventing foot fatigue on variable conditions (hard ice, soft slush, everything in between).
Not convinced you need the Ultra?


There is a Trail version available: fewer spikes, lower price point, basically a stripped down version of the Ultra.

You can support this small business directly (no Amazon) with your purchase from GarageGrownGear here.


Winter hiking traction devices:

Option #4 is Yaktrax
Yaktrax ICEtrekkers Diamond Grip Traction System | REI Co-op
I also use a pair of Yaktrax, and here's why:
Very lightweight and portable, for trails with packed snow and not much chance of icy steep sections
No steel cleats to puncture your carrying case
Uses stainless steel coils as points of contact between your boots and the trail, so lots of surface area for stability
Fairly easy to get on, with rubber heel tabs for quick removal
I have walked across bare dirt and rocks with these,  although I would not recommend it for long periods of time.

A few usage tips for hiking with Yaktrax
I use Yaktrax when I'm going for shorter, easier winter hikes with potential water crossings on snow covered ice.
I also use them when I go for my daily training walks around the neighborhood if I know that I'll be coming up against icy sidewalks, trails through the park, and snow packed fields to cross.
So you might find that Yaktrax are the best option for your wintery conditions, and never need to trade up to spikes.
Yaktrax Pro Traction Device - Unisex | MEC
A few things to consider
My concerns:
You can slip in these when you start getting off flat terrain.

Not rock solid on icy trails, at least in my experience.


One of the coils has gotten damaged, and that's after light usage (although, as mentioned, I've taken them on rocks).

I've noticed foot fatigue when wearing them on lightweight hiking boots. (A fair question here: why was I wearing lightweight footwear in the snow? Guilty of a hiking faux pas, I guess.)
Bottom line on YakTrax
So to wrap up my recommendations for these hiking traction devices:
Yaktrax come in three different versions (thus, 3 different price points, beginning with a pair under $20 U.S.). Check them out if your type of hiking isn't taking you into technical terrain or steep trails.
And keep them handy to use  around home, too, when you need to grab the snow shovel or walk the dog or toddler on an icy sidewalk. 
A pair in the car gives you confidence wherever you drive in winter conditions, too.
Winter hiking traction devices:
Option #5 is EXOSpikes
Kahtoola EXOspikes Traction System
I've never tried this particular approach to staying upright in the face of icy trail conditions.
But based on my experience with the four options above, here are my thoughts about the Kahtoola EXOspikes traction system for hikers.
These are a hybrid, a good option when you aren't facing miles of ice but will definitely be on uncertain footing.
They are lighter than MicroSpikes, which translates into less leg fatigue on a long day.
The business end that give you traction are made from thermoplastic polyurethane/aluminum/tungsten carbide. They are more like the studs on winter tires than the spikes discussed above.

They have some of the drawbacks mentioned above, like being hard to get on and off.
Solution: Order up one size.
They might also be less durable.
Not a problem if you only use them a few times a season.
Dealbreaker if you plan to use them daily for urban walks and winter hiking.

Wrap up a pair of
hiking traction devices
for yourself or a loved one
If you're not a hiker (which makes me wonder why you're visiting this site, but thank you anyway!), these make a fantastic gift for the hikers in your life.
They will keep icy trails more enjoyable.
And it just feels great to know there are a pair of traction devices in the bottom of the pack if trail conditions deteriorate.
So really, you're giving a gift of peace of mind!

Don't leave home without your
hiking traction devices

When you're fairly certain that you'll face snow, ice, or both on your next winter hike, do yourself a big favor and bring along some good traction for your hiking boots.
Heck, even if you have no idea what the trail will be like, bring along a pair of these hiking traction devices.
They're lightweight and easy to stash in an outside pocket of your pack.
Bring a resealing plastic bag to keep grit and water out of your backpack.

Falling down is an unpleasant and potentially dangerous experience (says the voice of experience). Tips on how not to fall down here.

It's also cheap entertainment for your trail buddies, but who cares about them!
Think only of yourself here:

Short circuit your chances of a fall by being smart about providing your feet some traction.
The trail looks way more pleasant when you're upright and all of your parts are functioning.

Need more winter hiking tips?
I thought you might ;)
Home page > Best Hiking Gear >
Best Hiking Traction Devices
Purchasing your hiking traction devices on this page results in a small percentage of your purchase price flowing to Hiking For Her to keep the hiking tips rolling along.
You pay nothing extra, you get great gear, and I get to send a gripping (get it?) thanks your way!
Hiking For Her: Hiking tips you can trust!