Enjoy Happy Trails, the free monthly newsletter from Hiking For Her.

Receive a free resource: Hiking Layering System Explained

REI Womens Rain Pants
Review:
Wear These Next Time?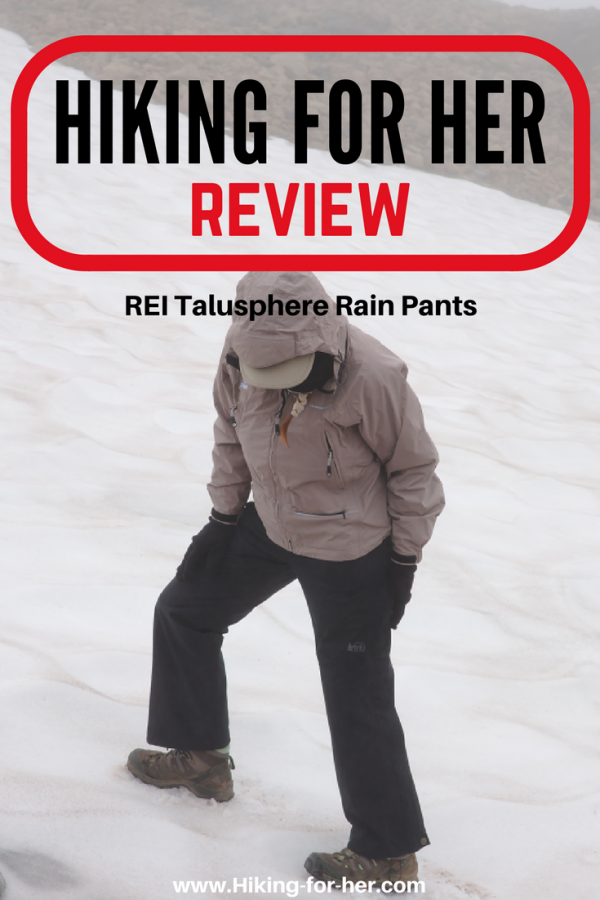 This REI womens rain pants review sets forth all the facts you need before you select the bottom half of your next (first?) rain gear system.
Before we take a close look at REI's womens Talusphere full zip rain pants...

Disclosures
There is only one disclosure in this REI womens rain pants review, in three parts:


A few tidbits of
background information
for this REI womens
rain pants review

In case you're wondering:

I purchased these pants using my own money.

No one asked me to write this review. My sole motivation is to give you the facts.


All comments, opinions and photos are my own.
When I decide (or am forced, as in duct tape fatigue) it's time to replace a piece of outdoor gear, I put a lot of thought and effort into making new gear selections.
In the case of this REI womens rain pants review, I:

sized up all available options for womens rain pants,

closely examined the product specifications and materials,

compared every reasonable option before making my purchase.
All this, so you don't have to!
One more pertinent disclosure
(a short one)

I am short, so these rain pants have a 30 inch inseam (petite sizing).
However, these pants are available in two other lengths (regular and tall), and plus sizing, with the same specifications and features I am about to disclose.

REI seems committed to offering a wide range of sizes for women hikers, and this is just one example.

Everyone needs rain gear!

As a female hiker who lives and hikes in a rainy place (Pacific NW), and enjoys three season back country adventures in areas known for heavy rainfall (Alaska and western Canada), I am supremely picky about my rain gear.
If you'd like some hints for pulling off an enjoyable rainy day hike, read this.
Even if you hike in a region with little to no rainfall, it's important to have a clothing layering system that can protect you against less than favorable trail conditions.
That's why in the final analysis, we all need lightweight, durable, well designed rain gear on the trail!
These REI Talusphere full-zip pants

are worth a close look as you build your outer layer of protection, regardless of where your boots take you.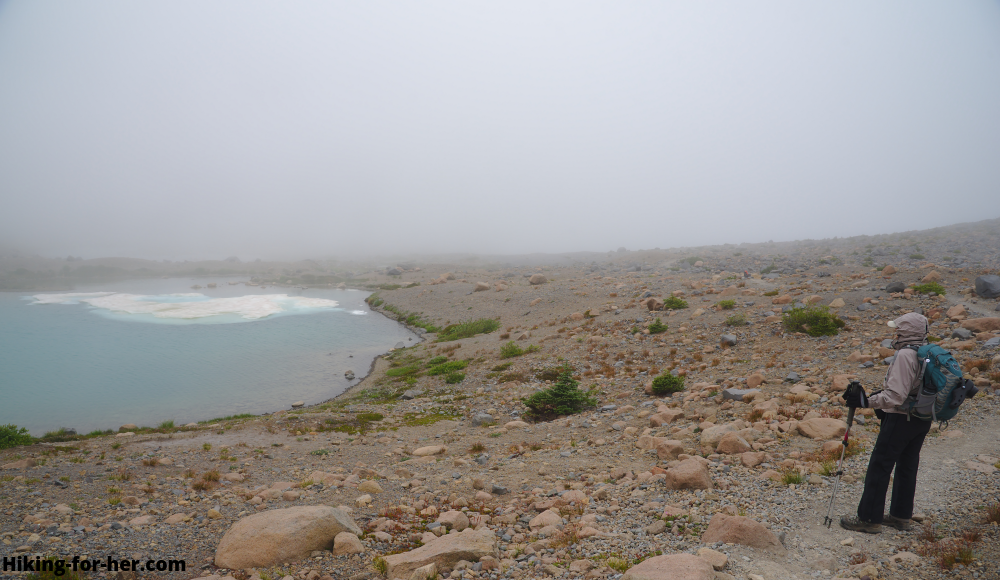 A fogged in August day on the Wonderland Trail at Mount Rainier. She's right over there. No, really!

REI womens rain pants review:
product specifications

UPDATE: REI has redesigned their Talusphere rain pants, now with ankle zips.
Get the current version here.
For full-zip pants, check out these.

Sure, fit and style are important to women hikers.
But when searching for something as important as the best womens rain pants for your hiking adventures, always look at the product specifications first.
The Talusphere pants in this REI womens rain pants review have some important features for female hikers:

Side note on REI Elements

I've been wearing a heavier pair of REI Elements rain pants for over five years (which adds up to a lotta trail miles), and have admired the way the fabric stands up to abrasion and moisture.
I will continue to wear that heavier pair (no longer available at REI, so I guess they're vintage) for snowshoeing because they look and perform as good as the day I got them.

Here's the point:
I trust the REI Elements fabric, and am happy to see a lightweight version.

The Talusphere pants I highlight in this REI womens rain pants review offer a much smaller, lighter footprint in my backpack when weight matters, as in multi day backpacking and flight assisted hiking (bush planes and helicopters).
14 ounces, including two way leg zippers, two pocket zippers, and draw cords at waist and hems.

Perfect for front country hiking and moderate weather backpacking trips!


Lots of size options in this REI womens rain pants review!

And by size, I mean options for both waist and length.
Here are the ranges offered: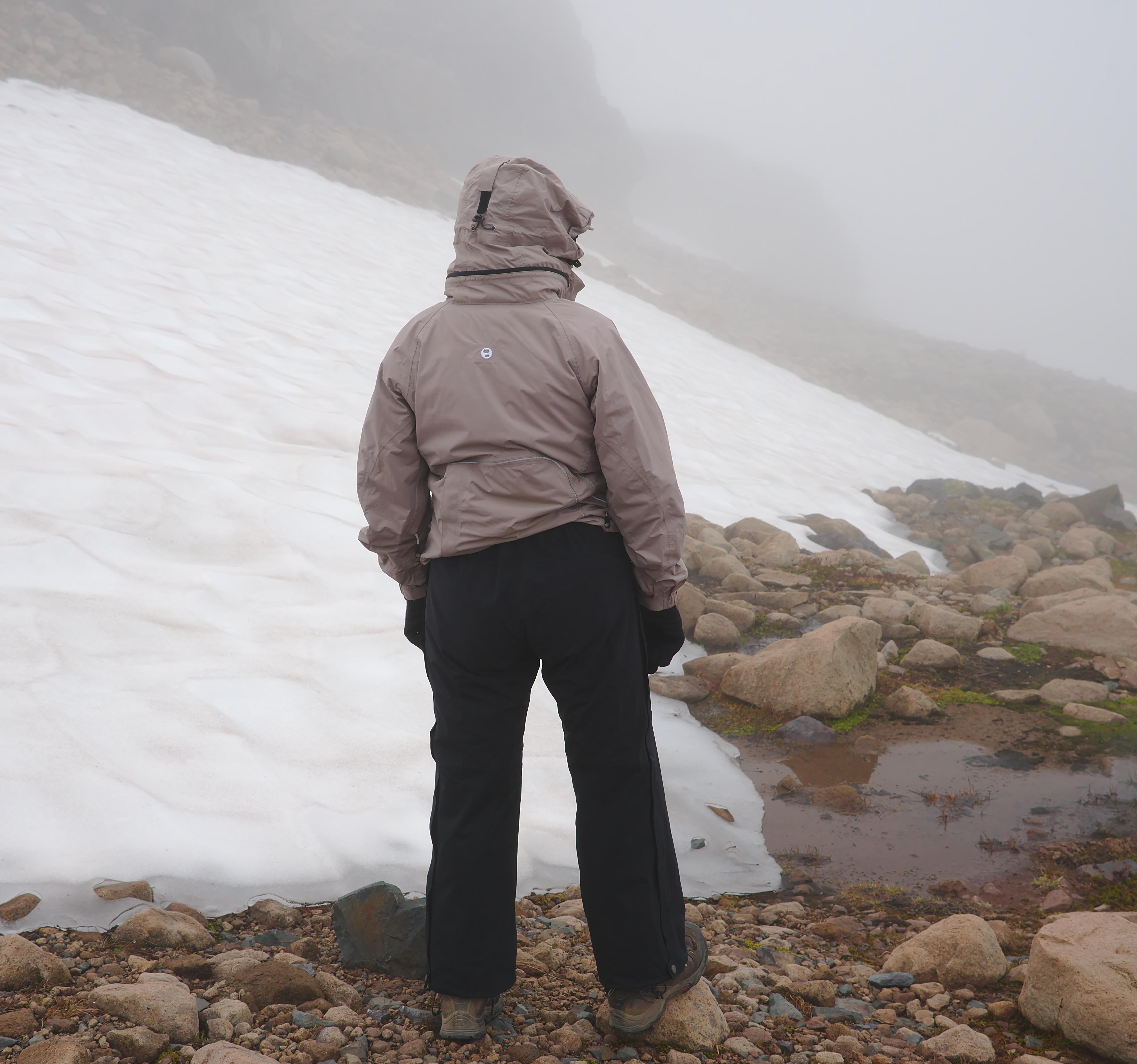 Exactly the right length for a vertically challenged hiker stumbling around in the fog and rain. And REI's got you long legged women covered, too!

Full zip versus half zip:
consider this carefully

If you're a beginner hiker, you might not have experienced the joy of pulling on rain pants over your (pick several: hot, sweaty, dirty, mud encrusted, wet, sandy, bug bitten) legs.
That's why you want to consider the merits and drawbacks of the length of the side zips on your rain pants.
To help you make the right decision for your hiking style, consider:

A few words about each, shall we?

Balance issues

If you wobble even slightly while standing on one leg, you need to visualize yourself trying to quickly yank on a pair of rain pants, one leg at a time, over trail footwear.

In fact, I urge you to try this at home.
You might learn a few unflattering facts about your balance that are best learned when you're not standing on a muddy slope with the wind whipping your hair into your eyes as your hands go numb.

And that's precisely why I recommend full zip rain pants for any hiker who plans more than warm weather casual day hiking.
Mother Nature will sneak in a few zingers every season, and you want to weather them in good grace without falling over in a heap as you pull on your pants.

If you are just getting into day hiking, you can get away with half zip pants for your beginning rain gear system.
Or as I like to call it, your realistic moisture management approach.
Everyone else needs to do a side-by-side comparison of half zip versus full zip rain pants.

Trail footwear clunkiness factor

I hike in boots almost every time I hit the trail or back country.
Boots tend to be harder to pull through the pant legs of rain gear, compared with lighter, less bulky trail shoes.
Imagine dragging mud and moisture laden boots through the waistband of your pants (hello, underwear!) and into your pants legs - if they'll fit at all.
You're right. Not good.

Regardless of what's on your feet, time is of the essence when it starts to rain.

And then there's this:

If you have to take off your footwear and stand on cold wet surfaces because your boots don't fit through your pants legs, you will learn that wet socks suck.

As in, suck your body heat.

So the faster you can protect yourself against moisture, the safer you are.

You don't have any time to lose when it's time to pull on your rain pants.
So to bottom line it for hiking boot lovers:
Shopping tip: When you shop at any REI store, bring your well used boots or trail shoes with you into the dressing room when you try on the Talusphere rain pants. No one will look side ways at you.

Price calculations

Because I started hiking as a teen with a 50 cent weekly allowance (early 1970s), I truly understand hiking on a budget.

So can you blame me if that ingrained frugalness has stayed with me over the decades?
Thus, I completely resonate with your necessity or desire to save money on hiking gear.
But let me put it to you this way:
Cheap can become expensive on the trail.
Let's run a little scenario:

You purchase rain pants of low quality material and substandard construction, with half zippers.

By the time you wrestle them on during a downpour, you've ripped out a seam or jammed a zipper.

You're completely drenched, shivering and mad as hell.
Sure, you'll recover from your anger.
The moral of this Hiking For Her story:
Skimp where you can on hiking gear.
In my humble opinion, rain gear is not a place to skimp.
Look beyond moisture!

Again, a beginner hiker might not have had this common trail experience yet, but seasoned hikers will nod along with me on the topic of overheating in rain pants.
When trail life requires you to soldier on through the rain, with no way to avoid water laden vegetation and the slippery mud fests we call trails, you generate body heat.
A lot of it.
But it has nowhere to go as it circulates inside your rain pants.
You're generating your own tropical storm (just wait until menopause to fully appreciate this power).

Leg zippers to the rescue!
For menopausal and pregnant hikers, ventilation can spell the difference between a nightmarish rain hike and a manageable one.
Trail insight: I wore these pants on a cool, foggy and intermittently rainy day as I gained several thousand feet of elevation on the Wonderland Trail.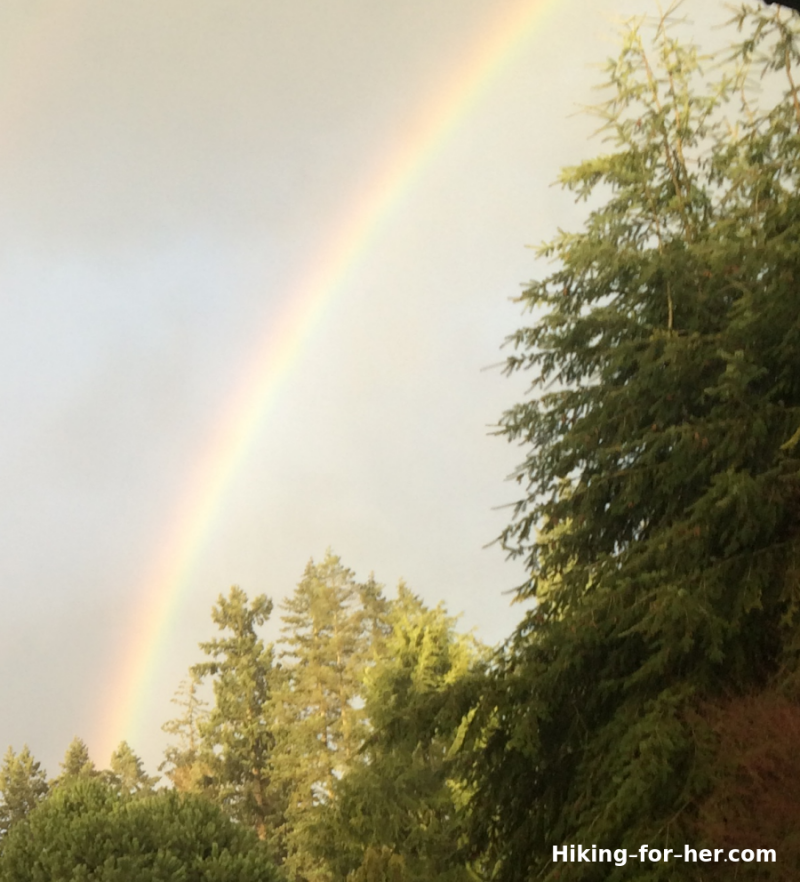 Once the sun comes out, you might need to keep your pants on as you navigate through wet brush and water crossings, so ventilation options are a distinct advantage.

Adjustable waistband

Also worth mentioning in this REI womens rain pants review:
You get nearly 7 inches of stretchy elastic sewn into the back waistband, which helps to accommodate all of these:


Two things you need to know

These REI womens rain pants have 2 features which you need to know about before you grab a pair.

Wider legs

The first heads up in this REI womens rain pants review is about fit.
These pants have wider legs than anything I've seen before.
So if you're looking for something more form fitting, these might annoy you.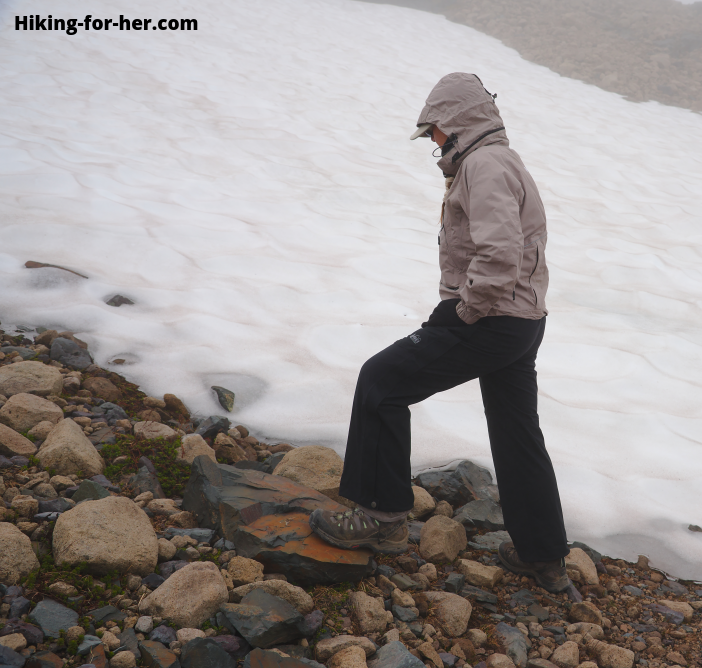 Why don't they annoy me?
Because wide pant legs guarantee an easy, fast on-and-off experience regardless of what I have on my feet.
Also, I don't mind at all that these pants don't hug my legs, because the knee and calf areas have plenty of room for scrambling over slippery rocks or blow downs.

The stretchy fabric helps when you're puddle jumping, too.

And here's a fact that might change your view of wide legs: you can cinch down the ankle area with a hem drawcord, thus making these pants a bit more streamlined.
The snap closure on the hem of each pant leg also gives you an option for a tighter fit.
Add a pair of gaiters if you're worried about your ankles getting wet.
Trail tip:
Cinching each pant leg at the hem is still a good idea when you wear gaiters, to ensure that your ankle area stays as dry and debris free as possible.

No zipper in the waist band

Here's the second heads up:
If you're used to a waist band zipper on your rain pants, as I was in my previous pair, it might seem as if the adjustable draw cord in the waist band won't do the job of holding up your pants.
But for me, it's simplicity itself to pull on these pants quickly (thanks to those roomy legs and leg zips) and just keep trucking through a downpour.
Tip:
Use the two inches of velcro on the waist band above each hip to make further adjustments, and you're all set.
Remember, your mid layer will be of variable thickness as you wear these pants through all four seasons.

Two inches of additional room on each side of the waist band should be plenty to accommodate mid-to-heavy weight leggings or long johns and a pair of hiking pants or shorts.

REI womens rain pants review:
my conclusions

By now you've probably realized that these pants checked all the boxes for me.
The reinforced seat and lower legs alone are worth the price.
Add in the stretchy, waterproof fabric, leg zips, and adjust-ability options at both waist line and hem of these pants, and I'm a happy hiker.

And now that I think about it, I do have another disclosure in this review:
I've only worn these pants a handful of times thus far, in summer conditions.
I was impressed with how much I DID NOT overheat in them!

Meanwhile, take a look at the current REI rain pants yourself:
And thanks for reading my REI womens rain pants review! Here's to happy, dry hiking, my friend.

Home page > Best Hiking Gear >
REI Womens Rain Pants Review
You might also like to read about REI's Force Of Nature campaign, aimed at getting more women outdoors.