Enjoy Happy Trails, the free monthly newsletter from Hiking For Her.

Receive a free resource: Hiking Layering System Explained
Smartwool Hiking Socks Review

by Diane Spicer
This Smartwool hiking socks review does what every gear review on Hiking For Her does:
Gives you the facts without any advertising fluff.
Hiking socks are way more important than most folks realize.
Your socks must play well with your hiking boots or trail shoes, or you're headed for trouble called blisters.

So putting a little thought into the choice of your best hiking socks just plain makes sense.
This review focuses on Smartwool medium cushion women's crew hiking socks, labeled as "all-day comfort, trail tough and with a blister free fit".


Disclosure
This Smartwool hiking socks review is a result of cooperation with SoleLabz.com, where James and his team review some of the best hiking boots and shoes for both men and women.
SoleLabz supplied the hiking socks, while I supplied the sweaty feet.
There is no affiliate relationship between Hiking For Her and SoleLabz.
The purpose of this Smartwool hiking socks review?

Why hiking socks are different
from plain old socks

Pull out a pair of your favorite non-hiking socks.
Turn them inside out.
Do they look like these?
You can see an obvious demarcation between the sole region and the top of the sock.
Also note the toe seam on the right hand side.

These are important features in a hiking sock, because your feet are going to sweat, and then begin to slide around inside your trail footwear.
These socks wick moisture from your skin, and also cushion you on all sides with each step.
The toe seams should lie flat without distracting your toes.

Bet your regular socks can't do that!

How are these socks built?

To achieve all day comfort and avoid blisters, Smartwool blends together Merino wool (66%) and nylon (33%).
The other 1% is elastane, which gives these socks the ability to grip your leg and not pool inside your boots or shoes.
Notice in this photo that the top band of the sock is folded down along with the liner sock.
And don't worry about Merino wool being itchy -  it isn't!
By the way, these nice looking trail shoes are reviewed here.


Did these socks stand up to
tough hiking?

Smartwool makes some wonderful athletic apparel.
You'll find this brand in all of the best gear stores (and my own gear locker), and for good reason.

Their products are well made, durable and designed for hard work on the trail.

Also, although they import their yarn, the socks are knit in the United States.
I am happy to report that these hiking socks passed the Hiking For Her Aggressive Hiking Test.
Although medium weight, the socks kept my feet cushioned and moderately dry during hikes with double digit mileage and lots of tricky trail work like talus piles and steep inclines.
The toe seams stayed flat, without any bunching up.
After a day of trail fun, I tossed these socks into the washing machine and they came out looking like new.
Caution: Use the gentle cycle to extend their lifespan. High heat works against the merino wool fibers.

So medium weight implies the availability of lightweight and heavy versions, right?

True!
If you're into other outdoors sports, check out Smartwool socks in other weights, made for running, biking and snow fun.
I predict that you'll make some room in your sock drawer for Smartwool!
One cautionary note
If your arches ache after a hike, these socks could be the culprit. They are a bit deficient in arch cushioning.
The fit of your hiking boots or trail shoes, and your foot's unique anatomy, will dictate whether or not you need extra cushioning in your socks.
Play around with different sock/boot/shoe combinations until your feet tell you that you've found the right mix.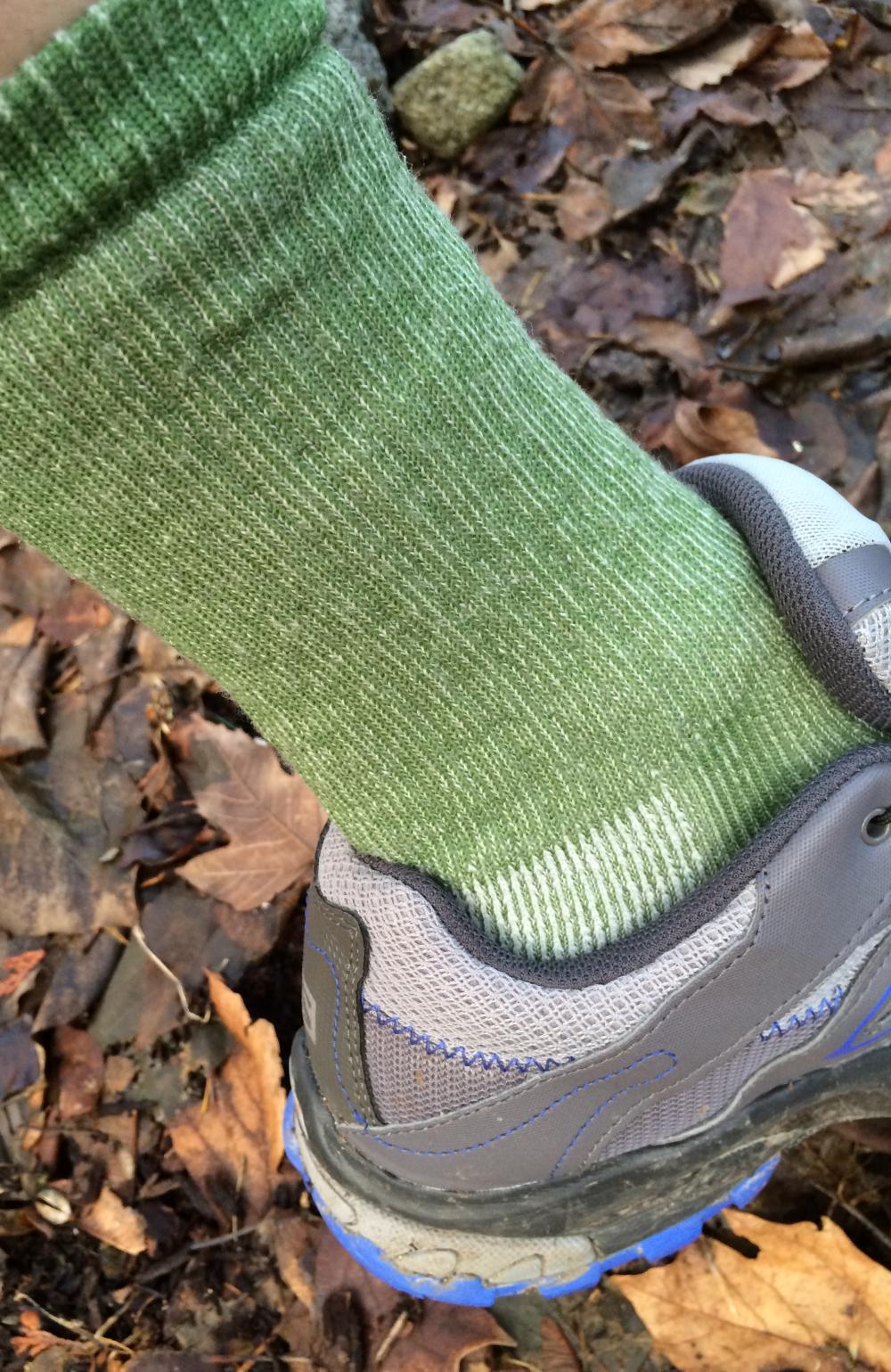 Smartwool hiking socks review conclusion

I am a big believer in keeping my hiking feet happy, regardless of the cost.
Smartwool socks might seem a bit pricey, but I'd rather skimp on my lunch ingredients and have blister free feet.
An extra sandwich is easier to come by than intact epidermis!
And in case you haven't heard, a reputable hiking gear co-op called REI has a standing offer on socks: 10% off any time you buy at least 3 pairs of full priced socks of any brand.
I take them up on this offer twice a year, to replenish my summer and winter hiking socks wardrobe.
Nothing as exciting as restocking the socks, that's what Hiking For Her always says ;)

Long lived socks!

From long experience, I know that Smartwool socks last and last, so expect to replace them only after several seasons of hard use.
If you're easy on your socks, these will be around for a long time.
And you can still wear them around the house once the heels have gotten a bit frayed.
Cushy soft, happy feet! Every hiker's dream...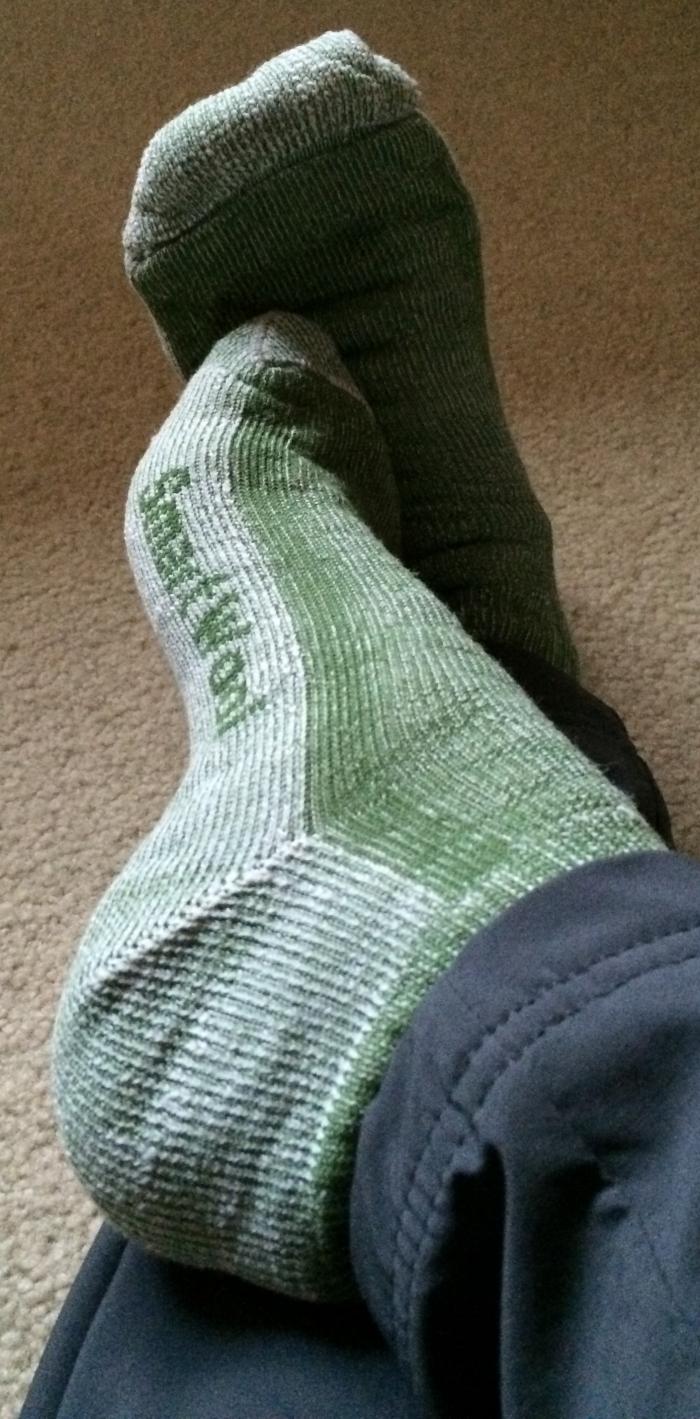 I appreciate your visit to this Smartwool hiking socks review!
If you'd like to talk socks, use the CONTACT link at the top left of any page on this website.
If you purchase socks through the links provided above, you help Hiking For Her continue to provide hiking tips, free of charge.
And the best part? It cost you nothing extra!
Thanks for your support of these trustworthy tips for hikers.

Home page > Hiking Gear Reviews >
Smartwool Hiking Socks Review
Hiking For Her: Hiking tips you can trust!