Enjoy Happy Trails, the free monthly newsletter from Hiking For Her.

Receive a free resource: Hiking Layering System Explained

Athletic Clothing
For Women Who Hike:
How To Find The Best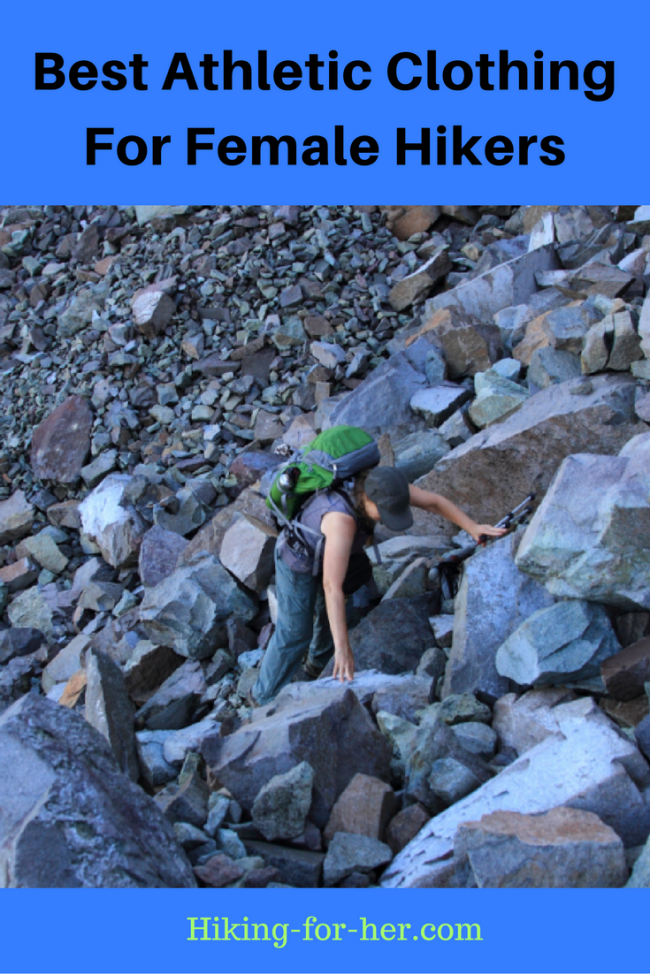 What to wear hiking when there are so many choices
of athletic clothing for women hikers??
That's a pivotal question involving the vast and wonderful world of athletic apparel for women.
And one which every hiking female ponders.
And wrestles with.
And must tweak from time to time to build a hiking clothing layering system that works.
Athletic clothes for women are easy to find, but it takes a bit of thought to pull together your own hiking layers that will work hard for you.
If you're not asking yourself "what's the best hiking clothing?", you're not paying attention ;)


Jump to a particular type
of athletic clothing for women


Here's the good news about
athletic clothing for women hikers!

Athletic clothing for women has a subset of outdoor apparel marketed specifically to hikers.
And you can get even more customized from there:

But the good news for all females is this:
Hiking clothing = adventure apparel


Even better news for women hikers!

You don't have to confine your choices to the hiking sub-niche when looking for the best clothing to wear on a hike.
Women's workout clothes can go from the gym or the backyard onto a trail, no problem!
The clothing you wear for gardening, walking or yoga can also be pressed into service on the trail.
Which means that hiking attire doesn't have to look masculine, drab and unappealing.

To help you sort out all of the options in women's hiking apparel, I'm giving you a peek into my own collection of athletic clothing.
I've spent decades (not even kidding!!) perfecting my hiking clothing list, and would love to share it with you.
These foundational pieces of my hiking clothing layering system come with me on day hikes, 14 day hiking trips, plus everything in between, and have never let me down.
Let's build the list!
Let's build up the list of best athletic clothing for women hikers from the inside out, shall we?

In other words, let's pile on layers of women's hiking clothing until we have a hiking layering system that can be put on, and taken off, as needed for changing trail conditions.

And why not begin with the athletic clothing for women hikers that is designed to touch your skin?
That's where comfort begins.
But it's also where performance matters.
So let's take a tour of the best athletic clothing for women, based on my decades of hiking experience and keen eye for new developments.

If you're not sure exactly why dressing in layers is critical for hikers, point your browser to these HFH tips on why your hiking layering system matters big time.
Athletic clothing for women:

the base upper body layer
What you put next to your skin matters on a hike.
Your base layer performs important jobs on a hike:

You want your sweat to be wicked away so you feel cooler.

You don't want to feel clammy and wet.

You want fast drying fabrics.


You want your body odors to be minimized.
One more thing:
This layer can't be too bulky, because you'll be layering more on top of it even in warm weather.

Oops! Don't forget about softness and the need to minimize any chance of chafing.
I hope you're not surprised to hear that you should leave under wire bras at home!
Cotton has no place
in a base layer for hikers
Put that these "must haves" together, and you have to discard natural fiber clothing made of cotton.
Sure, cotton will absorb your sweat easily & wick it away from your skin, but will not release the moisture quickly.
That leaves you with a wet soggy under layer that is unpleasant and potentially dangerous.

Instead, turn to the fibers and fiber blends available to hikers to build up your hiking wardrobe.

Even if you tend toward not much going on up top, I'd recommend a base layer anyway, to protect your nipples from chafing or your pack from rubbing your back raw.

And lucky you - you won't need a ton of support built in, which means your sports bras will be lighter weight and will dry faster.

One final caveat
This area of your body is highly personal.
It might take a few tries before you find the right amount of snugness, support, ease of removal and fabric thickness.
Read reviews of athletic clothing for women whenever you can, as in the links below, to get a hint about whether or not this will work for you.
Then experiment until you get it just right.
It's such a relief to find the perfect sports bra!
Women's workout clothes have come a long way, and just in time to buy us comfort and support on the trail.

How to find the

right sports bra for hiking
You might already know that sports bras are available in a dizzying array of fabrics, styles and colors.
But here's the bare minimum to consider when selecting a sports bra to ensure that it becomes one of your favorite pieces of sports apparel:

1. Will this bra be easy to get on when I'm confined to a tent with very little elbow room?
2. How easy will it be to get it off once I'm sweaty and hot?
Racer back -vs- standard back styles will perform differently.
How much cleavage you have will dictate which style works best for you.
3. How much support do I need?
Level trail walking doesn't lend itself to much bounce. But when you're losing lots of elevation during a hike, you might need a built-in cup design to keep from jostling your girls.
4. Is this fabric moisture wicking, odor absorbent and fast drying?
Again, not a consideration for dayhikes where you'll be able to throw the bra into the washing machine that evening.

But critical for long distance trips!
Recommendations:
what works on the trail
I have several companies that I've returned to again and again.
For low impact day hikes, I wear a sports bras like this one:

REI Co-op Active Pursuits Sports Bra
Here's why I love it.
The fit is comfortable, while the fabric keeps the moisture away from my tender non-sun exposed skin.
And it's easy to get on and off.
For longer hiking trips, when I'll need more support, I turn to Moving Comfort Brooks.
This company (started by athletic women, of course) really understands how to build in support without sacrificing comfort.

They don't skimp on design or fabric.
Which means you're going to pay more for these sports bras. For me, it's worth it because of the performance I get from them.
I've kept these bras for up to 5 years of trail time without needing to replace them, despite lots of washing and drying.
NOTE: This company's sizing tends toward the small side. Order up if in doubt. And remember, it's now re-branded as Brooks.

For maximal support and a design that feels like a dream to wear, here's my go to choice:

A different version of this bra is available at REI, featuring a raceback fully supportive design.

Another favorite sports bra for hiking is this one:

adidas PowerReact Training Medium-Support Sports Bra A-C Cup
For specific recommendations on the best plus size hiking sports bras, read this.
Didn't find what you were looking for? Use the UP ARROW on the right to jet back up to the search box.

Athletic clothing for women:

the basic/base lower body layers
Again, we're in highly individual territory for this hiking base layer.
I like slide-y fabric such as nylon blends because they play well with my hiking pants when I clamber over logs or stride uphill.
A cotton panel in the crotch is soft and helps draw moisture away.This is important on backpacking trips, to avoid infections.

I realize that violates the "cotton kills" athletic clothing rule, but it's a small amount and right up against an endless source of body heat, so no worries.
Don't expect underwear made completely of cotton to dry quickly after a summer shower, not even overnight hanging up in your tent if it's humid.
If you've never experienced the joy of putting on cold wet underwear, considered yourself warned.

Also pay attention to the cut of the underwear.

Low cuts may be too skimpy to prevent chafing from your pants rubbing against your pack.

Thongs will interfere with free movements of your large hiking muscles also referred to as your buttocks!


High waisted underwear may be too binding around your waist.
I recommend that you aim for a mid rise cut which covers you enough to prevent chafing, and is slippery enough to move with you during your hike.
Here are two of my current favorites:

Warner's Women's No Pinching No Problems Lace Hi-Cut Brief Panty
and

As with sports bras, it may take a few tries before you find the magical base layer.
And you may need several types for seasonal and activity level gradations.
For more tips based on what I know works well on the trail, read this.

Athletic clothing for women:
cooler hiking weather
What about "long underwear"?
I use this company's base layer to keep me warm beneath my waterproof pants during fall and spring season downpours, and on winter snowshoe trips.

Or read my review of prAna leggings, great for yoga class AND the trail.
Tights are also an option for chilly fall and spring hiking if ...
You're looking for easy on/off leg openings to deal with your trail footwear.
You're also wanting midweight (for insulation) yet moisture wicking fabric.
 
Athletic clothing for women:
mid layer shirt choices

So many questions about the best womens mid layer for hiking!

What length of sleeves do you want and need?

What about the feel of the fabric against your skin?

How fast will it dry if you're caught out in the rain?

Will it retain its shape and color after many wash/dry cycles?

Which season of the year are you buying for? Thermoregulation and fabric go hand in hand.

What price point do you want to invest in? Some women buy cheap shirts and toss them after a year. Other women (like me) are in it for the long haul, and assume that performance and price are linked.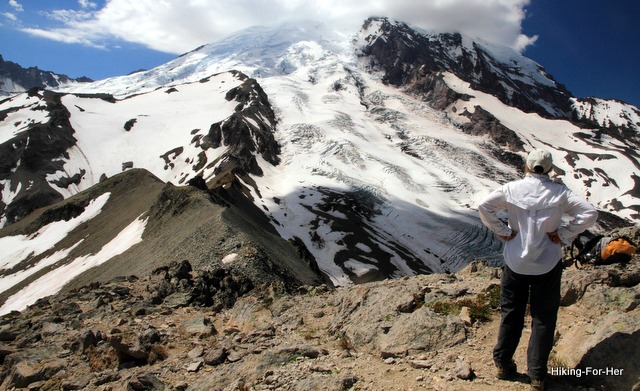 Athletic clothing for women can be overpriced and underperforming, if you're not careful to select the best of the best.
Here is my pick for a sleeveless summer shirt that draws my sweat away from my back, protects my shoulders and back from the rough materials in my backpack, and looks good for more than a few washings.


Chilly trail options for hiking shirts
For cooler weather, I turn to merino wool with a zip neck so I can regulate my temperature according to the amount of work I'm putting in on the trail.
Smart Wool is a great company that I've been doing business with for years and years. Their products hold up to all of the sweat and abuse I throw at them, and look good, too.
Here's my favorite style.

Don't let the price throw you.
This is an investment piece that you'll wear again and again for spring, fall and winter hiking.
This fabric holds up, I promise you!
For a less pricey option, you might want to consider this type of shirt from Under Armour.
I wear it when I don't care as much about thermoregulation or durability.


Best hiking vests for women hikers

Another important mid layer athletic clothing option is a hiking vest.
In my opinion, vests are the best hiking clothes you can bring along on a hike.
A thin down vest rides along in my pack every season of the year, just to give me peace of mind that I can throw it on if the weather turns snotty.
I also use fleece vests when I'm snowshoeing so they can keep me warm even when I sweat a lot under my winter jacket.
Here's a good option, because it packs down small yet keeps your core area warm for its modest price point.

I've got my eye on this one, because it has a hood for an extra margin of safety in windy conditions:


Why (not) get fleeced?

Many of my fleece vests are from this company - Columbia.

I'm not even going to tell you how many colors I own (you'd need both hands)!
They hold up well to washing, and don't pill or lose their softness.

Lots of pockets, too! (Think lip balm, trail candy, treasures you find on the trail like feathers and snail shells)
They are a bit roomy, so if you want something snug against your shirt, you might want to try a size smaller than usual. It's all about trapping warm air, and ease of movement.

I wear these even when I'm not hiking because I like them so much.
If you think fleece looks dorky, test your down vest in a high wind situation and then ponder why fleece might be a better option.


Athletic clothing for women hikers:
mid and outer layer pants choices
Hiking pants are going to have to stand up to sharp rocks, mud and sometimes blood, gritty and dusty trails and so much more.
It's important that your pants have enough room in the thigh and knee to accommodate uphill and downhill strides, which are of different lengths.
They need to have pockets to hold lip balm, hard candy, eye drops and whatever other little detritus you carry along on your hikes.
And they shouldn't be baggy or droopy.
I've had good luck with these pants.
The zip off option may not win fashion awards, but certainly has saved me when the temperature swings wildly or the bugs get bad.

I like my hiking pants to be a bit roomy, so I can tuck in a shirt or wear my long underwear simultaneously.
This company really pays attention to women's fit, and I have a lot of Columbia pieces in my hiking clothing closet for that reason.
And if you're hunting for womens plus size hiking pants, you'll find these ideas helpful.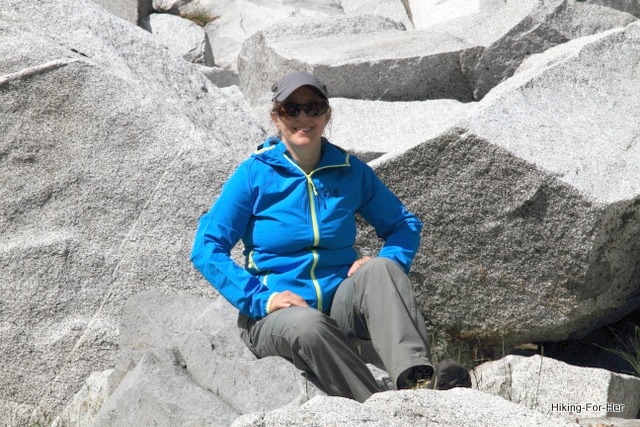 A rock pile doesn't always play nicely with the best athletic wear!

Athletic clothing for women:
maybe shorter is better?

Sometimes you need less fabric between you and the trail.
And that's when you need to find the very best womens hiking shorts on the market.
These ideas will help you achieve thermoregulation as well as all of the other functions a great pair of hiking shorts will accomplish for you.
Didn't find what you were looking for? Use the UP ARROW on the right to jet back up to the search box.

Outer layers of women's
athletic clothing

Finally we come to the outer layer of your hiking clothing layering system.
We're talking jackets and pants for wind protection, trapping heat against your body in cold weather and protecting your skin from rain, wind, and abrasions.
Go here to read about rain gear features you should consider.
Now that you're fully informed, this is where you need to be smart about your spending. You only have so much in your budget for high quality athletic clothing for women, but ask yourself:

How much is staying warm and dry worth to you?

If you are a casual hiker and don't anticipate having to stay out in the elements day after day, choose a low to mid range set of rain/wind gear.
But if you know that you'll be miles and miles into the backcountry and need protection from Mother Nature as you hike or explore, please consider raingear as a necessary investment.
I've had Arcteryx gear for several seasons now, and I'm never going back.
This is the jacket I rely on in wet weather: Beta from Arcteryx.
Note that it's more of a shell, not a heavy or thick rain jacket. Great for accommodating layers beneath!

I chose it on purpose for its ability to keep those layers beneath it dry, and my torso warm and dry.
I don't like tight or heavy jackets, preferring to keep a high degree of mobility.
So I wear a sports bra, long sleeve underwear shirt, fleece shirt and a down or fleece vest under this jacket.
See the versatility built into this rain jacket?

I can thermoregulate as the weather changes.
Always look for versatility in athletic clothing for women, especially at higher price points.
This jacket holds up season after season, packs down small when I don't need it, has a hood that I can use or fold into the collar, and believe it or not, is on the lower end of the price spectrum for this amazing brand.
If you want more protection or a different price point, take a look at their other styles to find exactly what you need for the type of hiking you do.
Lower price points for hiking rain jackets

If you're a beginner hiker, select a lower priced jacket but realize that you'll want to trade up if you're out in anything other than perfect hiking weather.

Invest in the highest quality rain jacket you can afford once your hiking adventures take you into the backcountry.
Here's an entry level choice for a really good price:

REI Co-op Rainier Rain Jacket - REI Co-op
If you want the protection of GORE-TEX, here's a bit of a price bump with lots of great features:

REI Co-op XeroDry GTX Jacket - REI Co-op

What to look for in the best hiking rain pants
I'm something of an expert on the evolution of athletic clothing for women in the rain gear department, given my long years of trail time!
So here is what I recommend:

As with all pants, in a quality pair of hiking rain pants you want
ease of movement

pockets

a reasonable waistline that won't bind or pinch

easy on/off without removing your footwear
Invest in a durable pair of pants regardless of where you're hiking, something along the lines of this pair:

Why?
Nothing says security and comfort more than dry pants that protect your leg muscles from cramping, abrasion and cold wind.
Read my review of another worthy pair of rain pants here.


Let's wrap this up

Hey, not a bad idea!
Put some of these examples of athletic clothing for women on your birthday and holiday wish list.
Athletic clothing for women can make your head hurt if you don't know how to approach making a good decision for your style of hiking.
Email me if you have any questions about the brands I recommended. As I've mentioned, I've been around the block a time or two with all of them, and know they'll work for you.
But let me know if you need more details, I'd be happy to answer all of your women's hiking clothing questions.
Or zero in on the best hiking clothes for your plans.
We can chat about athletic clothing for women, or anything else on your mind about hiking.
Before you go, a few more resources for you in your search for the best athletic clothing for women who hike:
Athletic Clothing For Women
Purchasing any of this athletic clothing for women using the above links will result in a small, happy miracle: Hiking For Her will receive a small amount of money to continue running this website, and you will pay nothing extra.
Thanks for using my carefully selected links, it helps keep the hiking tips flowing like a mountain stream in high summer!