Enjoy Happy Trails, the free monthly newsletter from Hiking For Her.

Receive a free resource: Hiking Layering System Explained

Ultimate Direction
Womens Pack Review:
WINK
By Diane Spicer

This Ultimate Direction womens pack review highlights a lightweight yet roomy pack featuring a hydration system.
And no, I'm not winking at you.
That's the name of this pack!
Will it be a good piece of gear for a day hiker?

Let's find out.
But first, a few disclosures:
Disclosures in this review

This Wink women's pack was sent to me for an honest, thorough review.
You can read more about the pack, and see photos, at Ultimate Direction. (update: they no longer carry this particular pack)

All of the comments in this review are mine, and were not paid for or influenced in any way.
If you purchase an Ultimate Directions pack through this link, HFH will receive a small percentage of your purchase price, yet you pay nothing extra.

There is no affiliate relationship between myself and the company.

My desire, as always, is to get the best hiking gear into your hands so you can enjoy your trail time.
So that's why I Winked, just for you!
Ultimate Direction
women's pack review:
first things first

It's always a good idea when you pick up a women's backpack for the first time to do a reality check.
In other words, check for some essential features that any backpack designed for a woman really needs to have.
That's precisely what I did with this pack, and I am happy to report the presence of some "must have" design features on the WINK:

female specific dimensions to accommodate breast tissue and shorter torso dimensions
adjustable sternum strap to accommodate variable clothing layers and anchor the pack on your torso

durable, lightweight nylon to stand up to abrasion and water
hydration options, in this case a 70 ounce hydration reservoir with tubing, plus space for a small water bottle
external pockets of various sizes for all of the small gear that gets lost inside large pack compartments: gloves, hat, neck gaiter, headband, lip balm, sunscreen, mints, phone - your seemingly endless list of trail comforts
breathability and moisture wicking materials: extensive mesh lining, as you can see here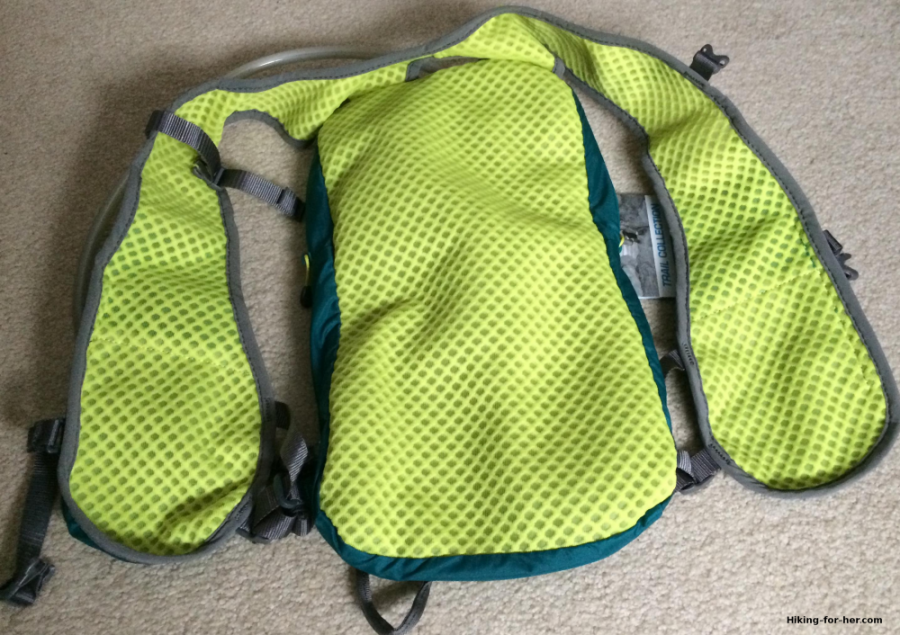 Ah! Lining that breathes with you
Technical specs:
A closer look at the hydration system on the WINK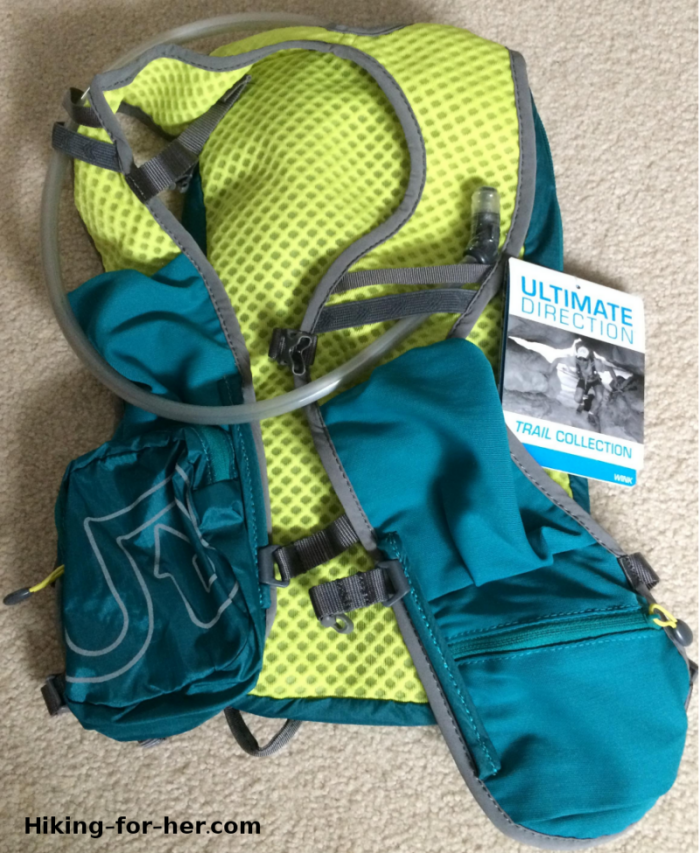 If you're not familiar with hydration backpacks, read this first.
And keep in mind that this is a woman's specific hydration pack.

As you can see in the photo below, Hydrapak provides the hydration system for this backpack, including:
no BPA or PVC, chemicals you don't want in your water,

a lifetime no leak guarantee.
The hydration reservoir clips into the pack via a velcro loop, and sits in a generous pocket.
Did you notice the wide "slide" opening? This made it fast and easy to fill.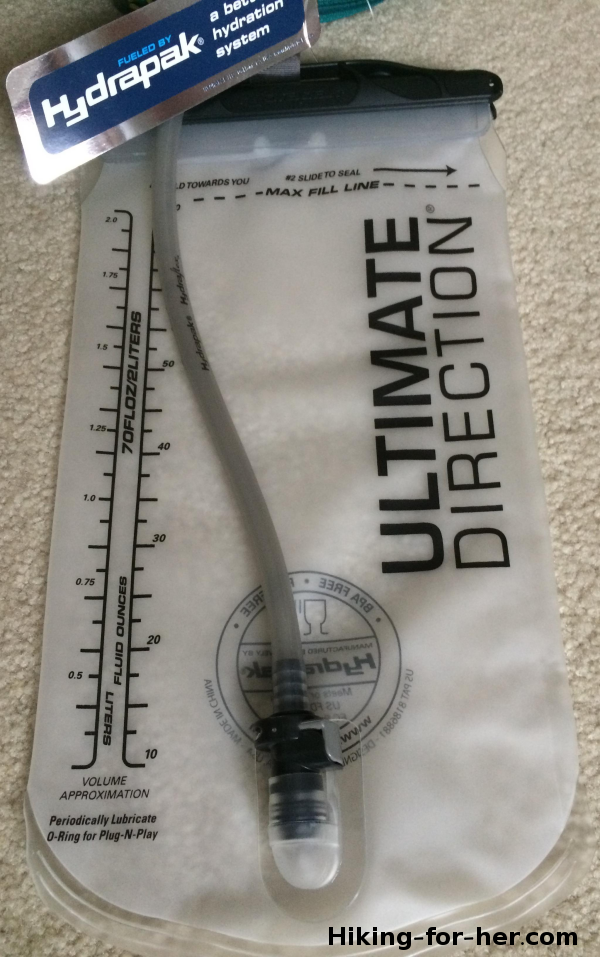 To open the reservoir, slide the black plastic bar to the left to expose the "zipped close", turned down top of the reservoir.
To reseal, fold down the top clear rigid plastic tab (visible just below the black slider in the photo below), and then slide the black plastic bar back into place (to the right, as the black arrow indicates).
Note the center baffle. I noticed that a full reservoir felt stable inside of the pack, probably due at least in part to this feature.

The silicone bite valve uses a twist off motion to close it.
The tubing removes easily with a "plug and play" attachment device.
No leaking issues thus far.

What I really liked about this reservoir: you can turn this flexible plastic inside out, allowing for adequate sanitation and air drying to prevent microbial growth.
The specs indicate that you can freeze water in this reservoir (if you're facing a hot day on the trail), or fill it with hot fluids (up to 140°F / 60°C).
Generous bungee feature!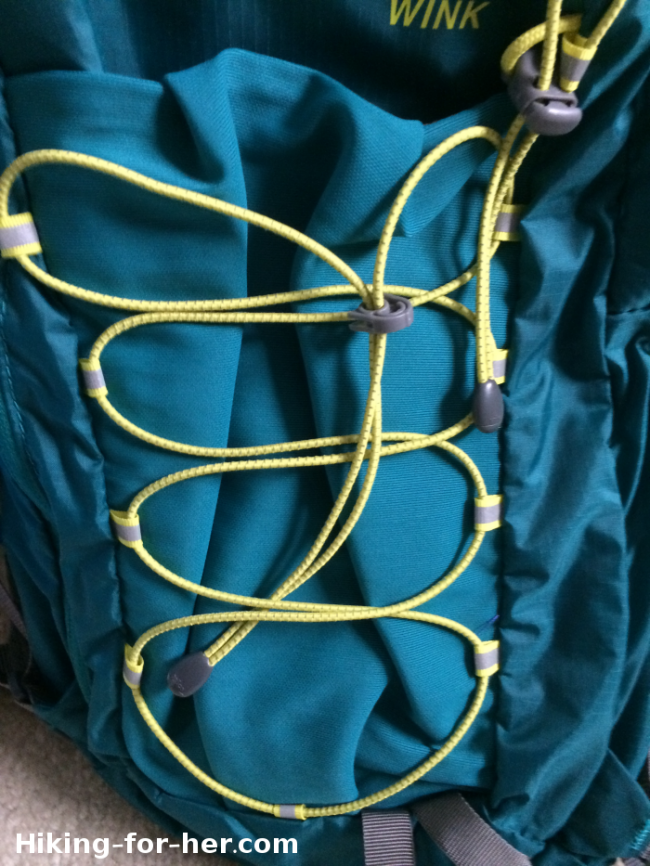 I tucked my lightweight shell, with fleece gloves and a headband in the pockets, through this bungee cord system.
What I loved about
this womens backpack

The back panel of this pack is seamless.
No chafing! No abrasion! And it felt great against my shirt.
Loved the bright greenish yellow/blue color combo, too.
And pockets galore.
Two front stretchy pockets to accommodate a wide range of gear that stays readily accessible

Two small zippered pockets below these pockets, to hold lip balm, snacks, and on-the-fly trail necessities


Two generous zippered pockets on the back compartments, one with side access and running the length of the pack (where I stashed paper topo maps in a plastic case), and one on the top of the main compartment (perfect for my car keys and wallet).

Rear stretchy pocket large enough for a 20 ounce water bottle, or rolled up gaiters 



All of the zippers are high quality, and didn't jam during my test hikes.

A nice design feature on all pockets: sturdy pulls in that eye catching bright green color, making them easy to spot when you want to get a particular pocket open in a hurry.

I was surprised to see a trekking pole retention loop on a pack of this small size, but there it was, waiting for my poles when I wanted hands-free hiking.

Suitable for an ice axe as well, although I'm not sure this small pack would appreciate the tug of gravity from an ice axe.

What I would change
about the Wink

A thorough Ultimate Direction womens pack review should tell you what I found less than desirable, right?
In this case, it's sternum strap issues.

The top sternum strap is adjustable, although not in a wide range.

The bottom chest strap would definitely pose a problem for curvy women - it's not adjustable.
Because this pack is designed for warmer weather conditions (or the hydration tubing would freeze, right?), a woman who wears this pack would be dressed in just a layer or two of clothing.

Possibly a lightweight shell jacket, if conditions warranted an extra layer of protection.

A well endowed woman (i.e. larger chest size) might have a hard time with that lower strap, even with minimal hiking clothing.
I would make it adjustable, if I had any input into the design. Curvy women have a hard time finding great trail gear, so a generous chest adjustment would make this pack stand out from the rest.

And I'd be a bit more generous with the adjustable top strap, too. Why not give a wide range of adjustability?

And just so you know, I get it: because it's a runner's pack, and most (trail) runners tend to be on the lean side, it's probably a non-issue for that group of athletes.
But for curvy women, those straps present a barrier that would be hard to overcome, unless you don't buckle the lower strap.

NOTE: There is a height adjustment on the lower sternum strap, allowing for fine tuning the fit of the strap.
One more suggestion, to make the top zippered pocket more usable: Add a small lightweight plastic clip to secure keys.
Ultimate Direction
womens pack review conclusion

What a great little pack for a day hike!
To sum up why I like the WINK:

The price point is very reasonable, around $120 US.
It's an attractive color combination, too.
It provides a surprising amount of room for such a small footprint on your back.
You can load up with 2 liters of water using the hydration reservoir, plus add a water bottle in the back pocket for really hot hikes.
The sternum straps will keep the pack clamped down as you scramble up talus piles, rock hop across a stream, or navigate brushy spots.
The construction and materials look solid, and it will be fun to see how this pack performs over the next few seasons.
The nylon should clean up nicely with a wet sponge.
And hanging it to air dry after a sweaty hike will be easy, since it weighs almost nothing.

I tested a small pack cover I already own, and it will upgrade the  pack's water repellency to water proof status for any soggy spring and fall hiking plans.
All in all, a great little pack!
Very thoughtful design, attention to small details that mean a lot, and quality construction with durable materials.
The WINK would make a great gift for a woman who runs AND hikes, or for a female hiker who specializes in hands free, minimalist day hiking.
Without a full reservoir, this pack could also work as a small carry on item when travelling (although I have lots of trail dirt in mind for mine).

Another trail option from
Ultimate Direction

If the WINK pack seems too minimalist for you, and you'd like a bit more room and some traditional backpack features, check out their 35 liter Fastpacks.
I just might do that myself, and I'll be sure to tell you how a Fastpack stacks up against the ;)

Questions about this Ultimate Direction womens pack review?

As I mentioned at the top of the review, I'm all about getting good gear into your gear locker, so ask me anything about the WINK pack and I'd be happy to answer.
Not sure how to size up other hiking gear?
Home page > Hiking Gear Reviews >
Ultimate Direction Women's Pack Review