Enjoy Happy Trails, the free monthly newsletter from Hiking For Her.

Receive a free resource: Hiking Layering System Explained
When Grandma Gatewood
Took A Hike:
A Hiking For Her Book Review

This When Grandma Gatewood Took A Hike book review was my pleasure to write.
The book offers insight into a woman who left an indelible mark on long distance trail hiking, without ever planning to do so.
It's important to note that Emma Gatewood not only was the first woman to solo hike the Appalachian Trail (AT) in one go (what we call a through hiker today), but that she helped to establish the Buckeye Trail in Ohio.
This woman single handedly defied the stereotype of "little old grandma", blazing a trail for older solo women hikers to follow. Female hikers are proud to claim her as one of our own.

Thanks to the folks at Ohio University Press for sending me an advance review copy!
You can purchase your copy here (and Hiking For Her will earn a small commission while you pay nothing extra).

When Grandma Gatewood
Took A Hike Book Review:
August 2016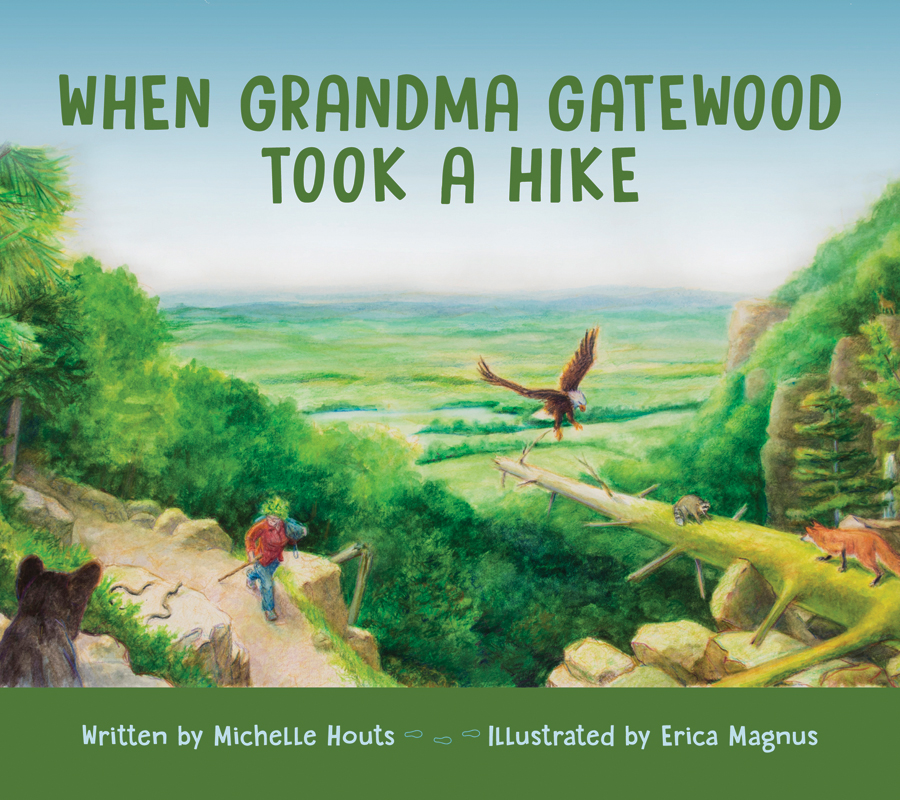 Photo courtesy of publisher
This biography of a surprised-to-be famous female hiker was written by Michelle Houts and beautifully illustrated by Erica Magnus.
It will be released in hardcover and ebook editions in September 2016.
Its intended audience is children, and what better way to introduce them to this intrepid hiker than through narrative non fiction.
Everyone loves a grandma, right?
But how Emma Gatewood got her title had more to do with her hiking goals than her flesh and blood grand kids.
What a minimalist!
To greatly simplify her story, this grandmother hiked over two thousand miles with high tops (sneakers) on her feet (don't miss the illustration on the last page of the book) and not much in the way of backpacking equipment.
To be honest, none at all.


She carried her blanket, plastic shower curtain "tent", baby bottle filled with water, and food in a bag slung over her shoulder.

She sewed the denim bag herself!
To put this woman's audacity into social context, the year was 1955, when women didn't just open the front door and start walking.
But Emma did, and this book takes you along on her encounters with animals, insects, mud, people and her own unexpected fame.
Who should read this book

You should!
Especially if you are anywhere in the neighborhood of 67 years of age, which is when this remarkable woman started her hiking career.
And not just with a few day hikes.
By completing the Appalachian Trail all in one go.

And she did it again, just two years later.
That's right! Almost 70 years old, when women "should be" slowing down.

While you savor this book, please surround yourself with as many small children as possible.
Why children
will love this book

Every child struggles with something: sitting still in church, eating broccoli, or overcoming a fear of the dark.
Grandma Gatewood offers a novel example of how it feels to put your mind to something and get it done.
"I did it. I said I'd do it, and I've done it!", she said at the end of her first AT journey.
Who can't relate to that feeling?
Although the book is geared for preschoolers through Grade Five (4 to 10 years of age), it won't be hard to engage much younger children sitting on your lap in finding animals and plants in the lovely illustrations.

This book could also act as a springboard for grade school students to dig into the history of the Appalachian Trail and the states through which it passes.
What I liked best about
When Grandma Gatewood
Took A Hike

There are two things I found remarkable about this book.
When Grandma Gatewood
Took A Hike Book Review:
my conclusions
As an older hiking woman, Emma Gatewood is one of my most beloved role models (read about others here).
This woman's story deserves to be shared with up-and-coming generations of hikers.
There are very few books about the realities of the hiking trail for a young audience, and I was delighted to see this unusual book.
It brings forth all of the traits a solo hiking woman (and any hiker) needs to tackle a trail:
preparation,

tenacity,

willingness to learn from your mistakes,

respect for Nature, and

belief in self ("If a man can do it, so can I").
And it does so in a non-threatening way, allowing readers of any age to marvel at how she shed her label of  "just a grandmother" to become a seasoned hiker who blazed trails in the most literal sense.
It would make a great gift for youngsters who love the outdoors, especially those who live near enough to the Appalachian Trail to make their own sneaker prints on it.
It would also make a thoughtful gift for mature women who are thinking of tackling a long trail, and might need a bit of encouragement.
And if you collect Famous Hiking Women stories like I do, this book belongs on your book shelf. You'll love reading it with your hikers-in-training.

When Grandma Gatewood Took A Hike Book Review