Enjoy Happy Trails, the free monthly newsletter from Hiking For Her.

Receive a free resource: Hiking Layering System Explained
York Nordic Poles
Review: Hiking For Her
Tests Them For You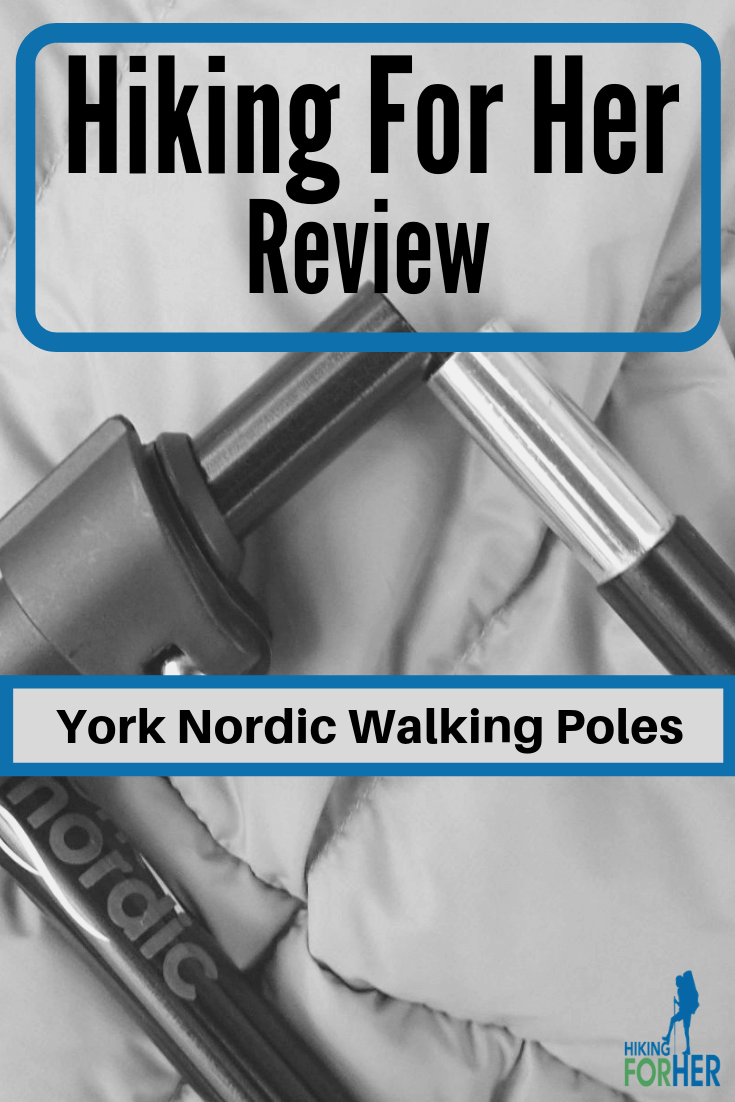 This York Nordic poles review came about because Lauren DeLong, owner of York Nordic as well as an American Nordic Walking Association certified Nordic Walking instructor, sent a pair to Hiking For Her.

Disclosures in this
York Nordic poles review

The poles were received free of charge.
There is no affiliate relationship between York Nordic and Hiking For Her.
All of the watermarked photos, opinions and comments in this York Nordic poles review belong to Hiking For Her.
The only purpose for the review is to explore how Nordic walking poles perform in the hands of a hiker, and to share that information with you.
Which poles are being reviewed?
The poles in this review are York Nordic Travel Folding Walking & Hiking Poles, with foam grip.
These particular poles are the shorter length, for those 5'4" and under.
Disclosure: I'm 5' 3", fully qualified to evaluate them ;)

They measure 15.5 inches at their shortest length, and have removable rubber feet and snow baskets.
A sturdy storage bag with a handy mesh pocket on the front to safely store accessories, plus a carrying handle, is included.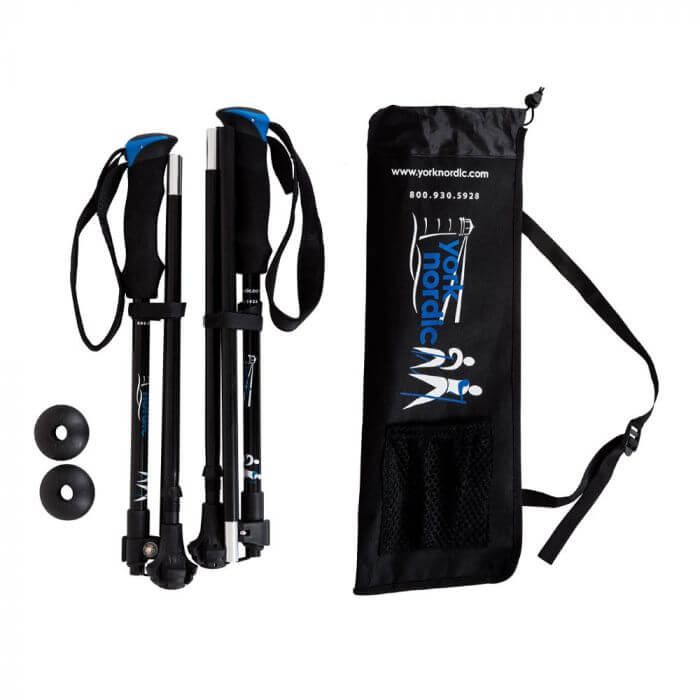 Photo courtesy of York Nordic

York Nordic poles review:
let's start with this question

How are Nordic poles different from
other trekking and walking poles?

To answer that question, let's get clear about the difference between walking and Nordic walking.

Americans call it hiking
Other parts of the world call it walking or trekking or tramping.
But anyone who strides along a trail for exercise or to conquer an objective needs a sturdy, well designed pair of poles in their hands, for reasons discussed by Hiking For Her here.
Nordic walking
Nordic walking, a term coined in 1999, is a purposeful type of fitness walking which includes the use of specially designed poles.
The original term was from the Finnish word sauvakävely
To my mind, this style of pole walking resembles cross country skiing in the usage of the arms and legs to propel the body forward.
That makes the Nordic walking technique very different from hiking or walking, which can be done without benefit of poles while using a normal gait.
The two types of poles both have grips, wrist straps, metal tips, and are available in adjustable designs.
This review will examine the differences. But first, another question which may have occurred to you.

Why Nordic walking
instead of regular (conventional) walking?

Fitness trends come and go, and Nordic walking is near the top of the current list.
However, there are great reasons to try this style of locomotion on your next day hike.

By engaging the entire body in the act of propelling yourself forward against gravity (and sometimes the wind, depending upon season), you reap the benefits of an efficient whole body aerobic workout in a short amount of time.
Key attributes of Nordic walking include:
purposeful arm extension

planting a pole mid-stride

rolling off your toe and heel

an upright posture
There is a small learning curve to coordinating your arms and legs in proper form.
And for that reason, there are free York Nordic videos available for you to use as you learn to incorporate the technique into your hiking routine.
Now let's turn our attention to the poles.

York Nordic poles review:
walking pole specifications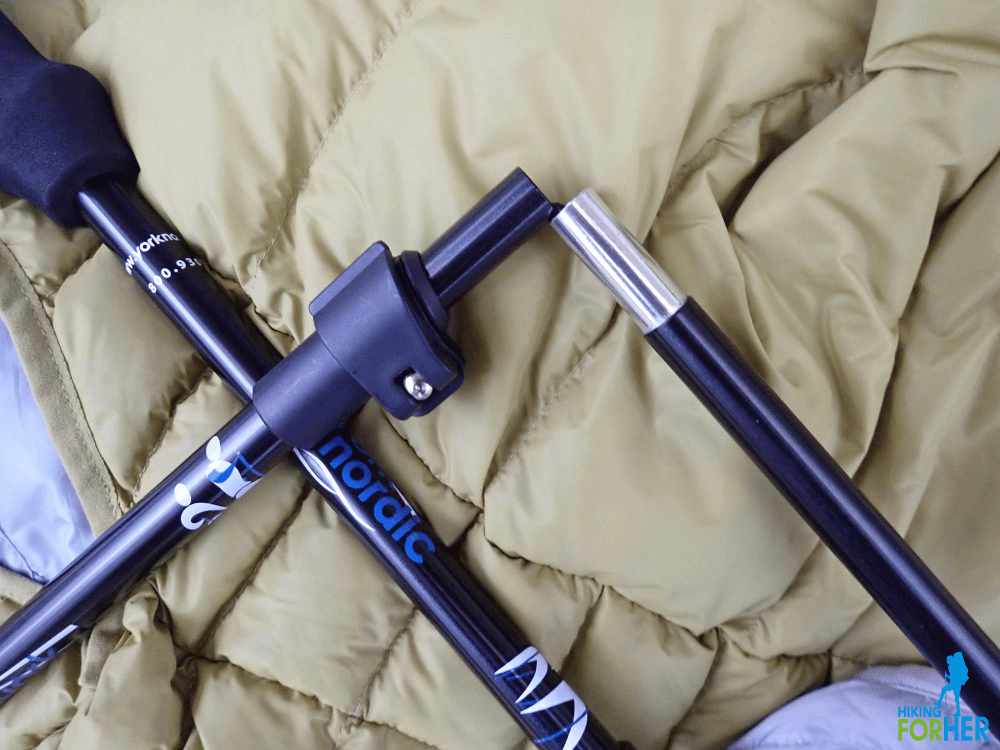 Note the power flip lock on the left (in closed position here) locking the pole down tight after you unfold it.
Each adjustable 2 piece folding pole collapses to ~ 15 inches and expands to a range of 33-43 inches (85 - 110 cm).

The weight of one aluminum pole is astonishingly light: 9 ounces with rubber feet.
Aircraft grade 7075 aluminum provides strength.

The grip featured here is called Trek Grip, which is solid foam contoured to receive your hands and fingers in a comfortable configuration as you hike over varied terrain.
For hikers who stick to flat terrain, consider the Nordic Grip, with a clip out release glove style strap.

A fleece lined (nice and soft against your skin) strap keeps the poles on your wrists, and adds wrist support as you swing your arms.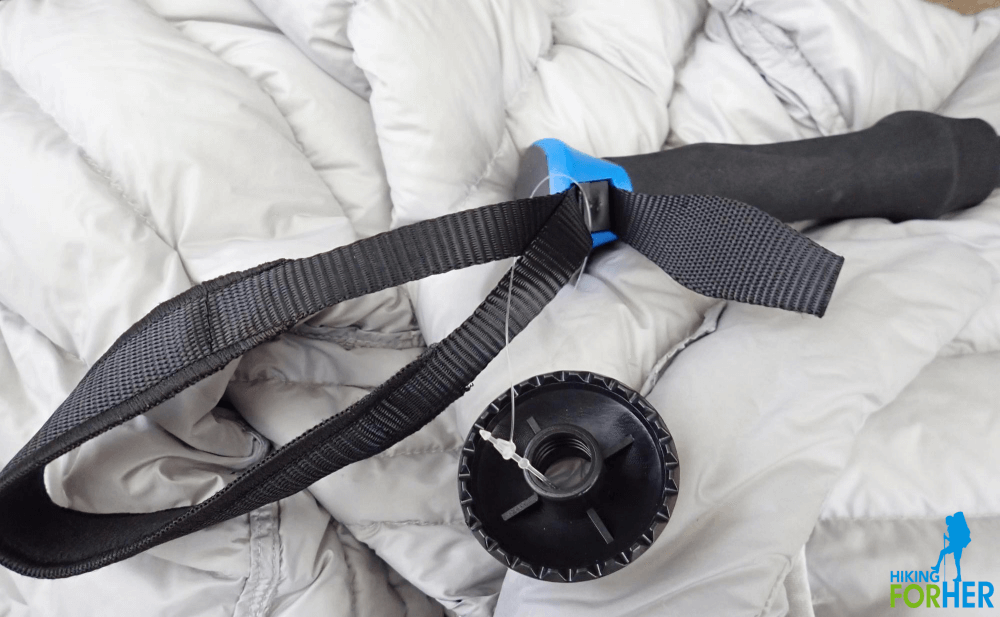 Baskets and fleece lined wrist straps are included
Screw on lightweight plastic baskets are included as flotation devices, making these poles suitable for use in snow and sandy conditions.
Don't forget to attach them, or you will risk post holing or twisting an ankle as the pole plunges into the soft surface.

The sturdy rubber feet are detachable, and protect the solid tungsten steel tip of the pole when it's being deployed on neighborhood walks over paved surfaces.
It will also protect indoor flooring surfaces if you decide to Nordic walk at the mall!
Tip:

Be consistent in putting on the rubber feet, if you want those steel tips to be at their best for the trail! That's where the most wear and tear occurs on any poles.

York Nordic poles review:
user notes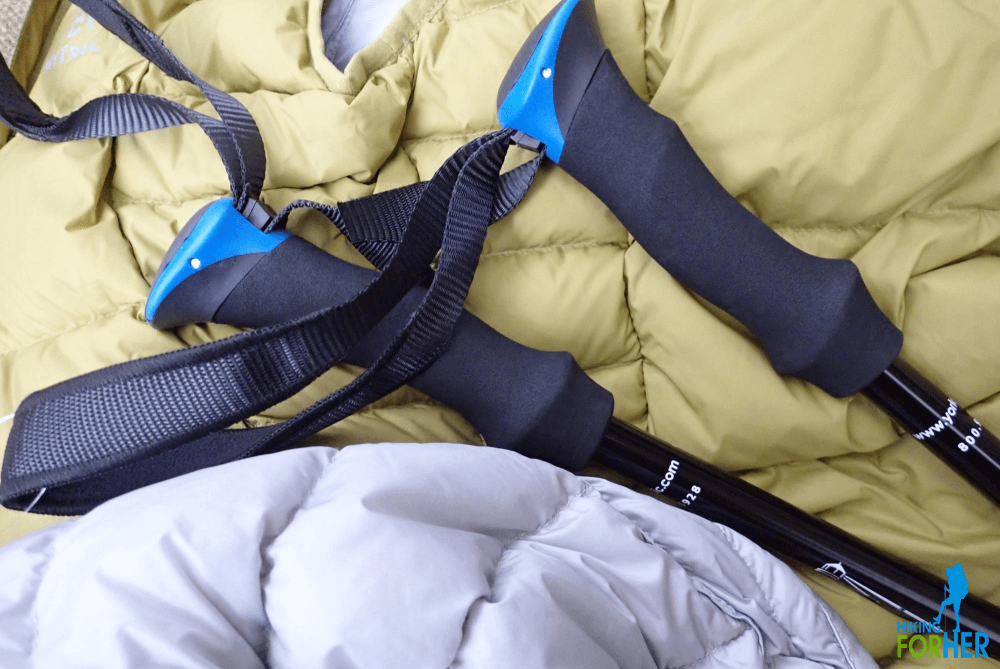 These poles are featherweight in your hands, and that's a comfort for those of us who have aches and pains associated with arthritis.
The flip lock doesn't take much oomph to open and close, another comforting note for arthritic hiking hands.

The smooth foam grips are rigidly molded and easy to hold, even with sweaty or rain soaked palms.
And after several hours of pole gripping, the grip contours prevented hand cramps, an important point if you're prone to annoying and distracting "claw hands" on the trail.

The pole tips

With my regular trekking poles, I'm confident that the tips will stand up to the harsh rocky conditions I prefer to hike through.
These York Nordic hardened tungsten steel tips appear to be sturdy enough for dirt and vegetated trail usage, but I'm uncertain how they will handle all of those rocks, snow fields and icy slopes.

I'll report back after using them through all four seasons.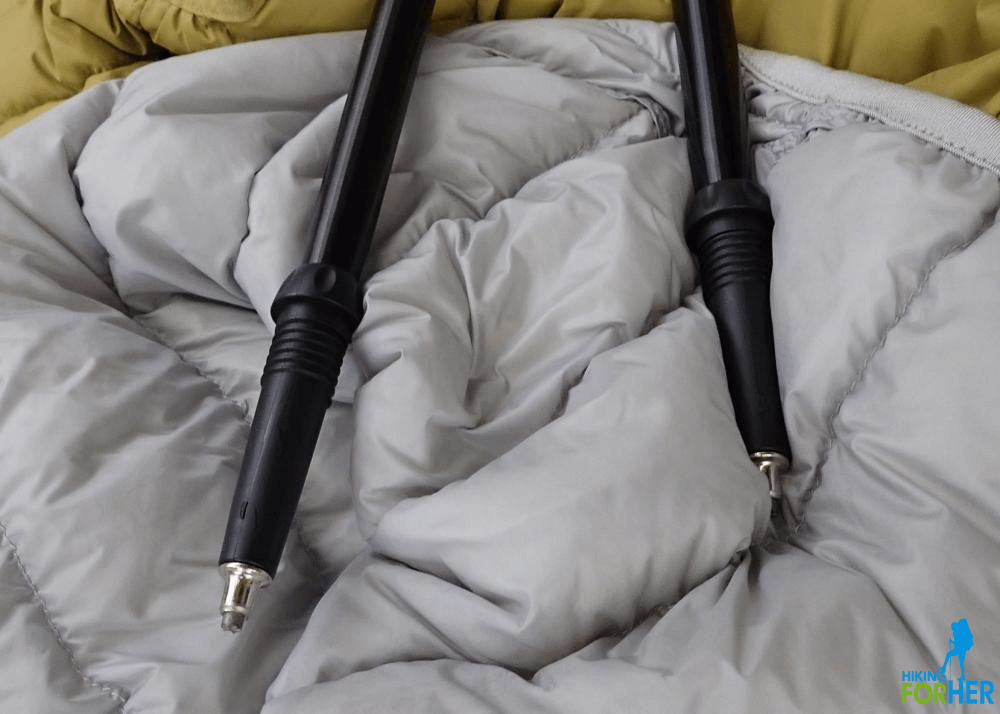 Cover up these steel tips with the rubber feet when you're practicing indoors or on sidewalks and parking lots

Getting them trail ready
The poles are easy to expand, using this procedure..
Unfold the two pieces and fit the ends together.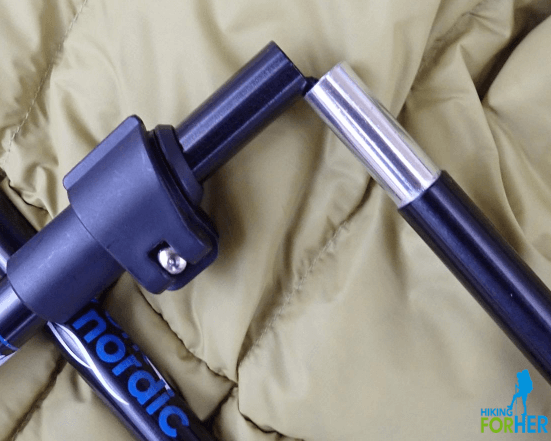 If you've ever put together tent poles, you'll recognize the feel of the two pieces of metal snapping together snugly due to the tension cord.
Next, flip open the plastic lock with a quick and easy finger motion.
The bottom section of the pole extends out with a gentle pull.
Important user note here:
Do your best to keep grit and moisture out of this area.

Wipe off your poles after each outing before storing them.
There are numbers on the bottom half of the pole, in both centimeters and inches, to guide you as you expand to your desired end point.

And there's also a safeguard warning message indicating when you are approaching the limit of expansion on the pole:
"NO! Stop!" Thanks, mom ;)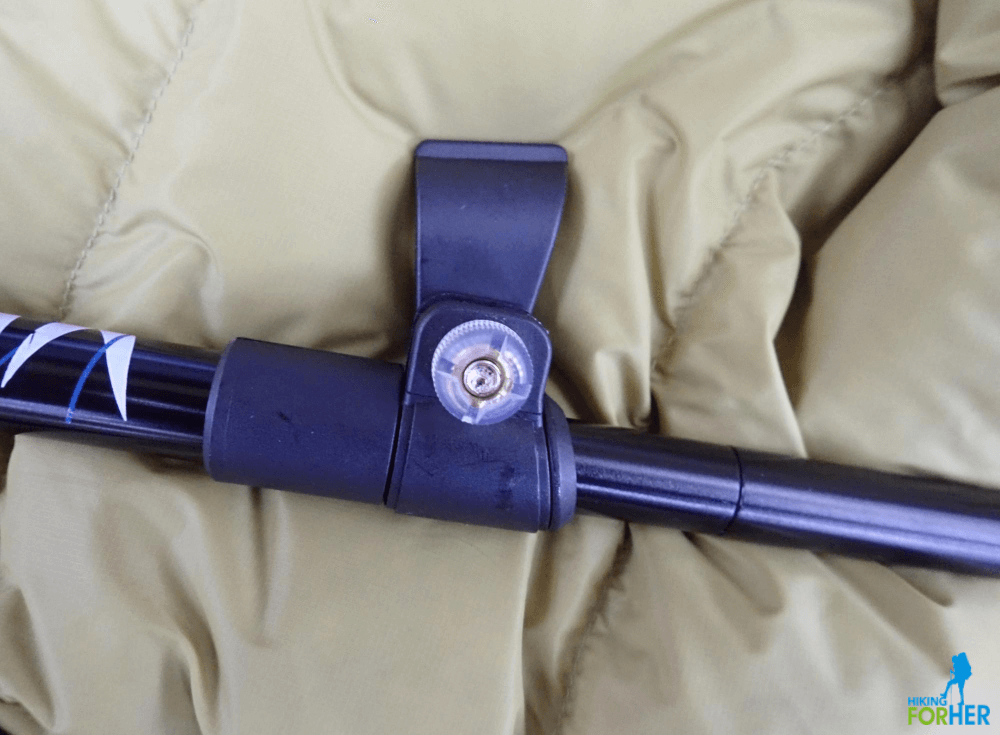 On the back side of the flip lock mechanism, a screw for adjusting the tightness
Double check to be sure the plastic screw is tightened enough to keep the two pole lengths connected firmly, but not over tightened.
Place some weight on the pole, checking for proper height.
Make one more adjustment, to the wrist strap, and you're all set to rock and roll.
Trail tip:
Before tackling steep sections of trail, double check that your poles are stable and make any adjustments to length which are necessary for proper balance.
Make this an ingrained habit, similar to tightening your boot laces - just another cautious safety measure for your well being.

I was surprised!
It came as a complete surprise how invigorated I felt after my first few clumsy attempts at Nordic walking.
The purposeful engagement of the upper body really got my heart rate up, which meant the blood was flowing to my chest and back areas as well as my legs.
Result?
The warm glow I associate with a good workout - and I wasn't expending huge amounts of effort.

Tip: You can track your heart rate with a Fitbit or other fitness tracker, but I'm guessing you will sense that your heart rate is higher using Nordic walking technique compared with "conventional" walking during a hike.
While the cadence felt similar to my usual brisk walking, my arms were more "in charge" of the stride than I usually allow them to be. Kinda fun!
After 30 minutes with these poles in my hands, I could feel that all of the major muscle groups in my body were participating.

And one last little surprise: concentrating on my Nordic walking technique also occupied my mind, putting me into a sort of calm Zen state.

I'm not sure if this technique would be useful when I have a fully loaded high capacity backpack strapped on for a steep rocky trail, but for day hikes on flat, easy terrain, and my weekly training walks, I'm all in!
Hikers who may benefit
from this style of
fitness walking
If you're rehabbing from an injury, skip the weight of a heavy backpack (think lumbar pack) and concentrate on good form during a day hike to reap the benefits of toned muscles and increased aerobic capacity.
If you're seeking weight loss, add Nordic walking into your daily routine.
If you're an aging hiker (which we all are, whether you admit it or not), your knee and hip joints might benefit from less impact.
Using these poles can literally take a load off, and be an efficient aerobic substitute for running or jogging.

If you want to develop more upper body strength, these poles and the upright posture required to use them properly will do the trick.
Hikers need strong backs and arms, as we lift and lug our backpacks throughout a long day on the trail.

If you're a beginner hiker who can only fit in short hikes, using these poles will give you the maximum workout for your time investment.
If you'd like to be as active as possible seven days a week, without a gym membership or access to distant hiking trails, get out on a Nordic walk first thing in the morning.
If you're a hiker who is cross training by running, cyclilng or swimming, consider these poles to challenge your muscles and joints in a different way as you prepare for a big hiking trip.
Speaking of training, if you're a flat lander headed to a high altitude hike, use Nordic walking to build lung capacity.

If you're already in top shape, keep your muscle tone and aerobic capacity at their peak by fitting in a brief Nordic walk during your lunch hour!

York Nordic poles review:
company details

The owner of York Nordic has taken great care to craft a thoughtfully designed and well built walking pole for those of us who love to walk.

The price points are excellent, especially for someone who is just beginning as a hiker and wants to build up strength and endurance before tackling lengthy or steep trails.

This York Nordic poles review highlights only one of 12 available pole designs with a choice of 4 types of grips.
You can enjoy free shipping within the Continental U.S.
And York Nordic provides a Best In Industry 5 year warranty.
I have no hesitation recommending this company to you!
York Nordic poles review:
nice touches

I'm always looking for a safe and convenient way to transport my collapsible trekking poles when I travel.
York Nordic provides a drawstring storage case for just this purpose.
And it's roomy enough to tuck in gloves, hat, and other little necessities in the front pouch.
The baskets and rubber feet are extras that make these poles useful year round, on sand, snow, rock, dirt, grass, or paved surfaces - everywhere a hiker wanders for recreation and training.

Travel tip:
Use the rubber feet to eliminate the chance of the sharp tips puncturing or damaging your soft sided luggage or duffel bag, or its contents.
And because these poles are adjustable, you can share them within your hiking circle and family.
Know exactly
how to fit your poles
The founder of this company wants you to have exactly the right poles in your hands.
She's provided fitting instructions for you to read before you order your trekking poles.

Bonus
in this York Nordic poles review!
After you find your perfect pair, use  the code "HIKING" for 20% off any set of poles from now until the end of 2018.
York Nordic poles review:
questions?

Please send them my way.
Or explore the wealth of information at York Nordic.

For this hiker, these poles look like a fantastic way to get in some daily aerobic training by walking around the neighborhood using the vigorous Nordic walking technique.

I'm still working on perfecting my technique, so watch for more tips and suggestions as these poles become a regular part of my training routine.
Final note in this
York Nordic poles review
If you're a social creature, why not participate in a Nordic walking club?
They are available around the globe, and can provide that extra bit of motivation to get your stride going.
Home page > Best Hiking Gear Reviews >
York Nordic Poles Review