Enjoy Happy Trails, the free monthly newsletter from Hiking For Her.

Receive a free resource: Hiking Layering System Explained

Alpine Fit Review:
Rendezvous Ridge
Long Sleeve Base Layer

by Diane Spicer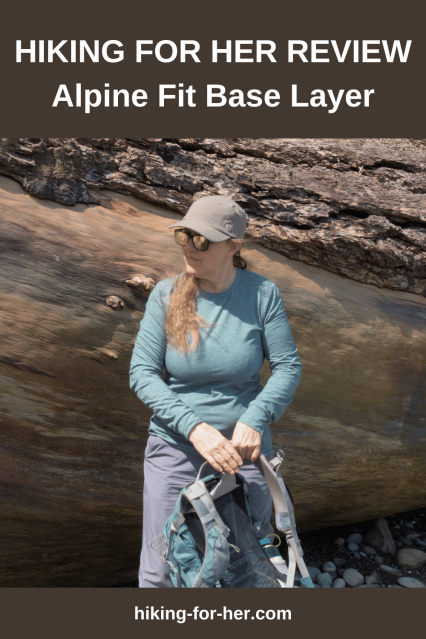 Time for another Hiking For Her close look at hiking clothing, specifically an Alpine Fit review.
And in particular, their Rendezvous Ridge long sleeve base layer.
But first, a few things I want you to know.


Disclosures in this Alpine Fit review

Alpine Fit contacted HFH and suggested this particular base layer for upcoming backcountry adventures as well as daily trail use.
If you've spent any time at all on this website, you know that Hiking For Her is very picky about the outdoor gear and clothing that is reviewed.
I put only the best of the best on this website for your consideration, because that's the reason for its existence, pure and simple.
After looking at the specs and reading about the female owned Alpine Fit company, this shirt made the initial cut for review worthy hiking clothing.
Actually, two shirts were received (you'll see why in a moment).
This review was not paid for by anyone.
Also note that all photos and opinions in this review belong to HFH.
Hiking For Her is an affiliate of Garage Grown Gear, which offers AlpineFit apparel here. You pay nothing extra while HFH earns a small commission for introducing you to this great hiking clothing.
What's being reviewed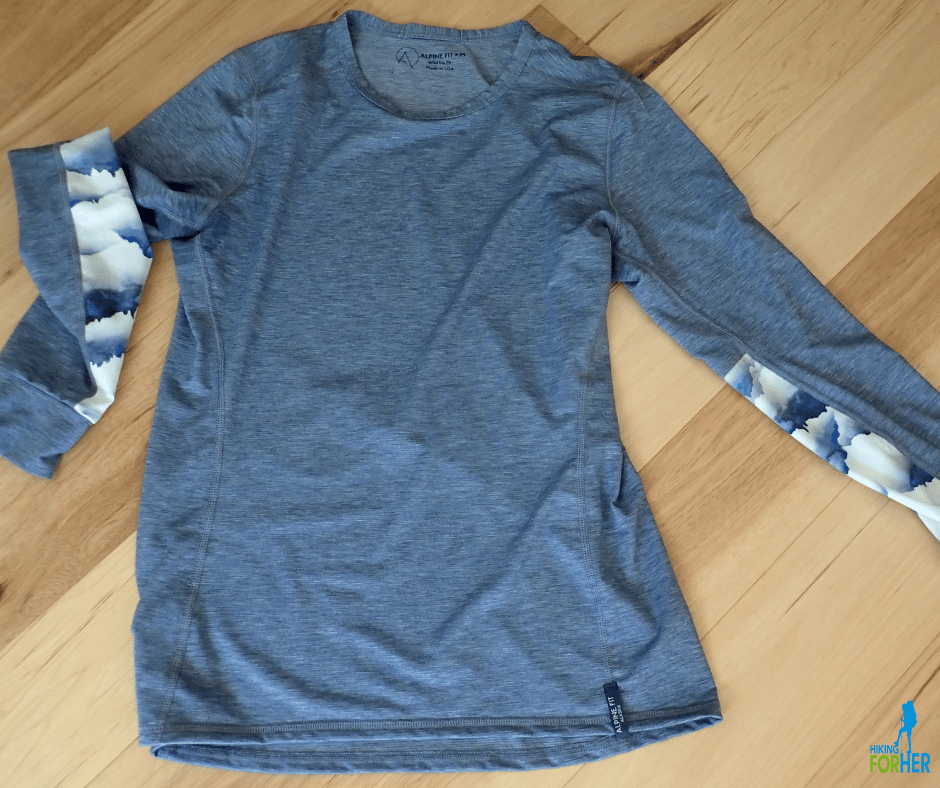 This Alpine Fit review features the Rendezvous Ridge long sleeve shirt, designed as a base layer to be used year round for hikes, outdoor trips, running, biking, whatever physical activity you enjoy.
The magic of this shirt?
It's available in two different cuts and a choice of two colors. I wore both of them for this review.
The Azalea fit is for those hikers needing more volume on top and at the hips, as opposed to the straighter fit of the Wild Iris shirt.
Here's an example from the Alpine Fit size chart:
A size medium Azalea (what I wore in this Alpine Fit review) fits a bust size of 37 inches, while the medium Iris accommodates a bust size of 36 inches.
You will see similar differences in hip and waist measurements when you check the chart, something I recommend since this is a new twist on sizing.

Because I'm sort of in between sizes for each shirt, I tested both the Azalea and the Wild Iris to compare how they fit someone who is curvy on top.
Join me in this Alpine Fit review to discover what I found out by wearing these shirts in many different conditions.
The all important specifications

Don't skip this part.

It's important to understand what the shirt is made of, and the particular features that make it worth your attention as a hiker.
Fabric specifications

The polyester fabric used in these shirts contains silver embedded in the weaving.
Here's the reason.
Silver is a known antimicrobial element, a fancy way to say it impedes bacterial growth (which can be explosive, sometimes only 20 minutes per generation).
Bacteria love to munch the buffet of skin cells, oils and acids on your skin.
And as a thank you for a free lunch?
They produce body odor.

Silver in a fabric slows down the rapid growth cycle, which translates into less body odor embedded in the shirt between washings.

Bonus: The silver will stay put in the fabric, working for you every time you wear or wash the shirt.
Backpackers, take note!
Here is a way to reduce the unwelcome hiker funk.

Wear this shirt day after day (like you will anyway) and get away with less frequent washings,
because it takes longer for odors to build up.
The polyester fabric is soft as well as breathable, and dries quickly.
I recommend line drying (or draping it over your tent) to preserve its lifespan.
This shirt also incorporates recycled fibers, making it easier on the environment.

And while every fabric provides some sun protection, this particular fabric is rated at UPF 50+ after extensive testing.
Read more about UPF sun protective clothing here.
Expectations for the shirt's fit
I don't like tight shirts, full stop.
I want my arms free to move quickly to unbuckle my backpack's waist belt, to grab my camera out of my waistpack, and to reach for a handhold while scrambling over a downed log.
No straining fabric, no restriction in the armpits, no plunging necklines if you please.

And I really don't like the sensation of chafing from thick seams on a shirt.
Pulling on this shirt, I had no concerns about the fit.
The cut felt generous but not overly so.
Remember, you control the fit!
Both shirts are available in U.S. sizes XS - XXL.
The seams were flat and minimal, no worries there.

Now let's see this shirt in action!

This Alpine Fit review is based
on these field trials
Hiking For Her wore this shirt in all sorts of conditions and settings, including:
40F dry day hike with no wind (7 hours, 9 miles, 1500 feet elevation gain/loss)

45F wet, windy training walks (1 hour, brisk pace, moderately hilly terrain)

37F damp day (six hours digging a new garden bed)
50F overcast 9 mile hike along a salt water beach (zero elevation gain but uncountable rocks from boulders to pebble size)

75F cloudless days (Joshua Tree National Park)
And that's just the initial round of field trials.
The upcoming months will bring many more opportunities to push this shirt to the max.
I'll update this Alpine Fit review as the data rolls in.

That's how you know you can rely on every thorough, field tested reviews on this website!
For now, I can report on the fit, UPF rating, wicking and breathability of the shirt, as well as its antimicrobial properties.
Field trial results

You want a base layer that moves with you while giving plenty of protection from the elements. Here you see the Wild Iris fit.
You can see that I am curvy up top.
So it makes sense that the more generously proportioned Azalea shirt felt like a good fit.
But here's the surprise: the Wild Iris shirt also felt like a good fit, if not just a tad more snug at waistline and bust.
It all depends on what you like in a hiking shirt.
If you want a bit more room, the Azalea fit gives you that.

If you are fine with a body hugging fit, the Wild Iris is there for you.
Options!!

The soft fabric felt lovely on my skin, even when I was sweating a lot. You know how some fabric clings and makes you feel gross? This one won't.
The neckline is cut just right, allowing for movement while blocking UV rays. It will pair well with zipped up midlayers and an outer rain shell when the time comes.
The shirt sits below the waist, making it compatible with a backpack's hip belt.
Judge for yourself how the style looks on me ;)

Staring up at the amazing rock formations in Joshua Tree National Park, wearing the right sunblocking AlpineFit long sleeve shirt

Alpine Fit review: performance

So here's where I have a confession to make.
I didn't wash the shirts until I had taken each one through the variety of conditions listed above.
I should also confess that I didn't wear deodorant.
My aim was to fully test the performance of the antimicrobial fabric.
See what I do for you, dear reader?

When I finally did wash the shirts, I hung them up to dry and wore them again for another round of hiking and spring gardening (mud, rain, wind, heat, grit, you name it).
So when I tell you that this fabric will breathe well, dry fast and not stink up the place (a tent, backpack, or hotel room), I know that for a fact.
More field notes on performance
Sometimes the shirt was used as a base layer, sometimes as the outer layer.
Regardless, it was able to wick sweat and release it, keeping my skin feeling good until I could shower away the grit and sweat.
Although I was out among abrasive rocks, fallen logs, the grit of a new garden bed, and cacti (!!), no snags or holes to report.
Another example of sun protection and sweat mopping performance among the cholla cacti! This is the Azalea fit.

Special notes on Joshua Tree hiking

As the day warmed up quickly, I stayed comfortable in long sleeves (although I brought a tank top just in case).
There was enough sleeve fabric to pull my hands into the sleeves when the sun felt a bit too hot on them.
And I could push the sleeves up so my forearms could breathe a bit.

Not sure how a 100 degree day would have gone (we got lucky with the moderate May temperatures), but I would definitely want to stay covered up under the sun's glare in this UPF 50+ shirt. I think the fabric could handle the challenge.


The Alpine Fit company

First thing to note: They are based in Anchorage AK, a place brimming with outdoor opportunities that beg for the right base layers year round.
Also noteworthy: This is a female owned and run company, based on long years of outdoor experience.

In their own words:
"At Alpine Fit we take pride in every garment that is developed, tested, and produced. There are no compromises here."
In other words, you're not buying a shirt designed by some guy sitting in a chair in New York City.
You're getting a shirt made by and for women who understand the demands of outdoor sports.
What I liked best about the Rendezvous Ridge
long sleeve base layer

I really love the color scheme of both shirts, soft green and blue.
The muted print panels on the forearms are a nice touch, something you don't see elsewhere.
I like the fact there are no thumb hole cutouts on the sleeves.
They aren't necessary in a base layer, and just get in the way IMHO.
And as mentioned, you can pull the sleeves over your hands if needed.

The shirt fabric feels substantial without feeling heavy.
The cut of the shirt allows for movement but doesn't look baggy or cling too tightly.

Each shirt has been through several wash cycles, and hung to dry - still looking brand new!
So I expect to enjoy a long life from them as they come along on my year round adventures.
Pricing

Over the years, I've encountered hikers who resist making monetary investments in well designed gear and quality outdoor clothing.
No judgement if that's you, just an observation.
Here's where I stand.
Sometimes price is not the point.

Cheap becomes costly when your body heat is drained away, or trapped, by the wrong fabric. Not to mention having to replace a cheap shirt over and over again.

Cheap becomes irritating when your base layer puddles sweat and chafes your skin. Watch the enjoyment level of your hike plummet, thanks to the wrong clothes.

Cheap becomes deadly when clothing gets saturated and fails to perform in changing temperature conditions (rain, snow, sweat, river crossings, you name it).

So here's the punch line.
This shirt costs $129 US at the time of this writing.
Only you can decide if it's "worth it". 
In my opinion, it is. This is a quality shirt (a.k.a. trusted piece of hiking gear), constructed with longevity and performance in mind by women who know the score.

Conclusions about this base layer
for female hikers

Alpine Fit makes it easy to find the clothing that will fit you on their website.
They feature photos of real women wearing these shirts, and share their chest and hip sizes.
Find someone proportioned like you to see how the clothing will actually fit, saving you time and the hassle of returns.
The Rendezvous Ridge shirts are designed for multi-day hiking as well as any outdoor activities, although they work well for casual hikes or training walks, too.
And I can definitely see myself wearing them into town for a grocery run. Comfy and nice looking, a nice combo during a busy day.

After having tested them in a variety of conditions, I know they deliver the goods: good fit, good quality, good performance, good price.

P.S. I'll update the performance and longevity parameters for you after I spend a summer in these shirts. Be sure to check back.

Thanks for reading this Alpine Fit review!

Home page > Best Gear Reviews >
Alpine Fit Review: Long Sleeve Base Layer
Hiking For Her: Hiking tips you can trust!