Enjoy Happy Trails, the free monthly newsletter from Hiking For Her.

Receive a free resource: Hiking Layering System Explained
Hydroflask Review:
21 Oz Standard Mouth Bottle
By Diane Spicer

This Hiking For Her Hydro Flask review will give you all the details about this metal hiking water bottle's performance on the trail.
UPDATE: The 21 ounce bottle is not being offered any longer. The smallest size is 24 ounces. Same great design, though!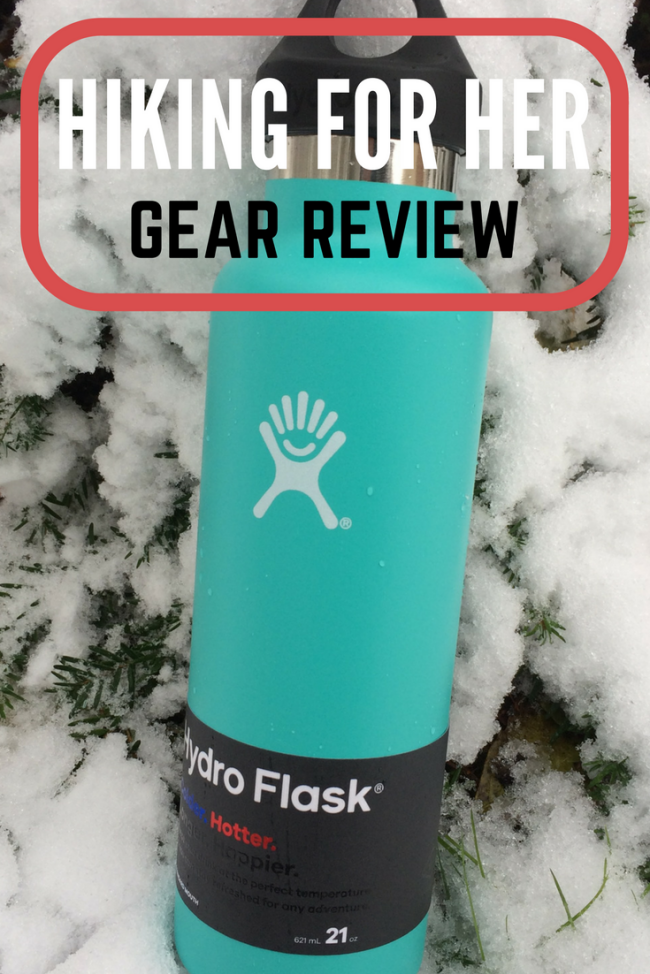 A few disclosures before we get started:
Hydroflask provided the bottle and requested a fair, thorough review.
All of the opinions, photos and observations on this page are my own.
Hiking For Her is an REI Co-op affiliate. This means I think their products are trail worthy, and if you purchase one through this link, a small amount of the purchase price flows to HFH, but you do not pay extra.
Or you can purchase from Amazon (also an affiliate link).

As always, this hiking gear review is provided with you, the reader, in mind. Staying hydrated on a hike, winter or summer, is important.
Will a Hydroflask contribute to your hydration bottom line?
Let's find out!


This Hydroflask review
begins with technical specifications

Not every hiker likes metal water bottles.
But every hiker should at least consider the merits of carrying an inert metal bottle, as an alternative to a plastic water bottle.

According to the label, this 21 ounce double wall vacuum insulated bottle is constructed from 18/8 Pro Grade Stainless Steel.
I didn't know what that meant, so I looked it up.
Approximately 18% chromium and 8% nickel, with the rest being iron and other metals

Known for corrosion resistance, so your beverages won't eat into the interior finish


Not magnetic, so no worries about attracting any of the metal on your trekking poles, clothing or other gear
Heads up: Don't scrape or scour this bottle with anything scratchy, and don't use chlorine (bleach) on it if you want to preserve the metal finish.

This Hydroflask bottle features a powder finish, setting this bottle apart from other metal water bottles on the market.
This water bottle is compatible with two different caps:
Standard Loop Cap

Sport Cap
This Hydroflask review will look at the merits of both types of caps.
Hydro Flask initial impressions

The first thing you'll notice when you pick up a Hydro Flask is its vivid color.
On a gloomy rain hike, it will brighten your day!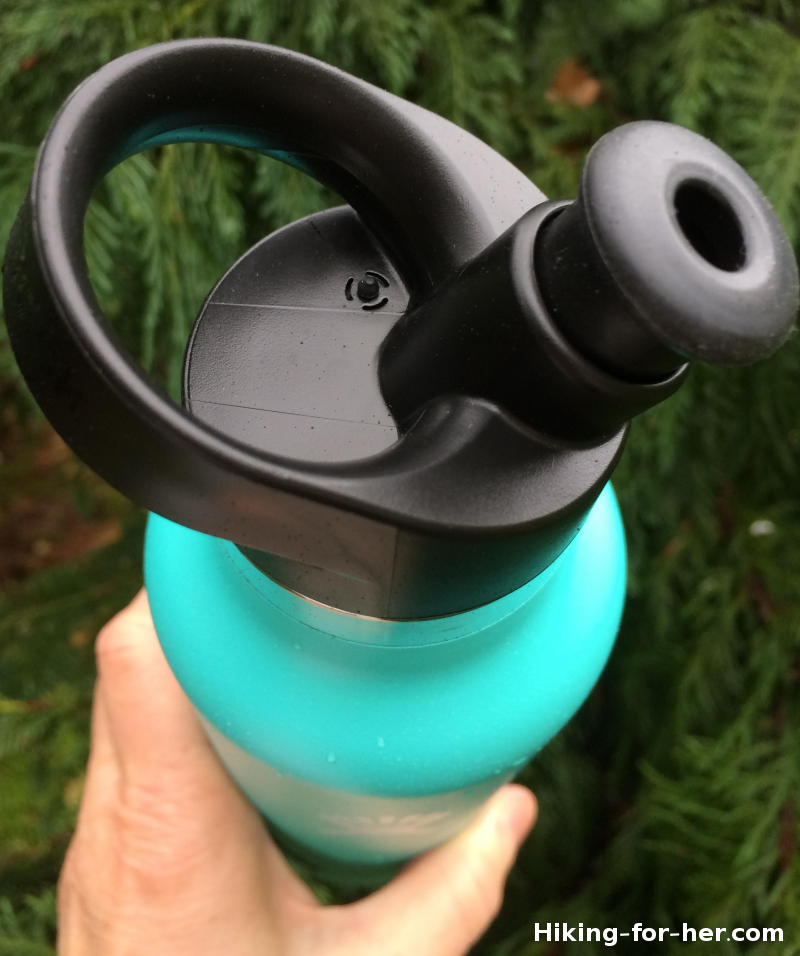 Your fingers will also detect a grippy texture, not bumpy but definitely not smooth like you would expect with a metal water bottle.
I can see two benefits of this powder coating:
better gripping with sweaty hands

easier to grip when wearing gloves
Will this lovely powder finish stand up to the abrasive inevitabilities of the trail?
Only time will tell, and I'll be sure to publish an update.

For now, it looks and feels great.
The 21 ounce flask fits pretty well in my hand, is lightweight, and just the right size for a side pocket on all of my backpacks.
Hydroflask review:
trail performance

Here's where we focus on the two types of caps for this bottle.
The standard loop cap, pictured below, is exactly what it sounds like: a rigid plastic cap with a big hole in it, for looping a finger, carabiner or cord through it.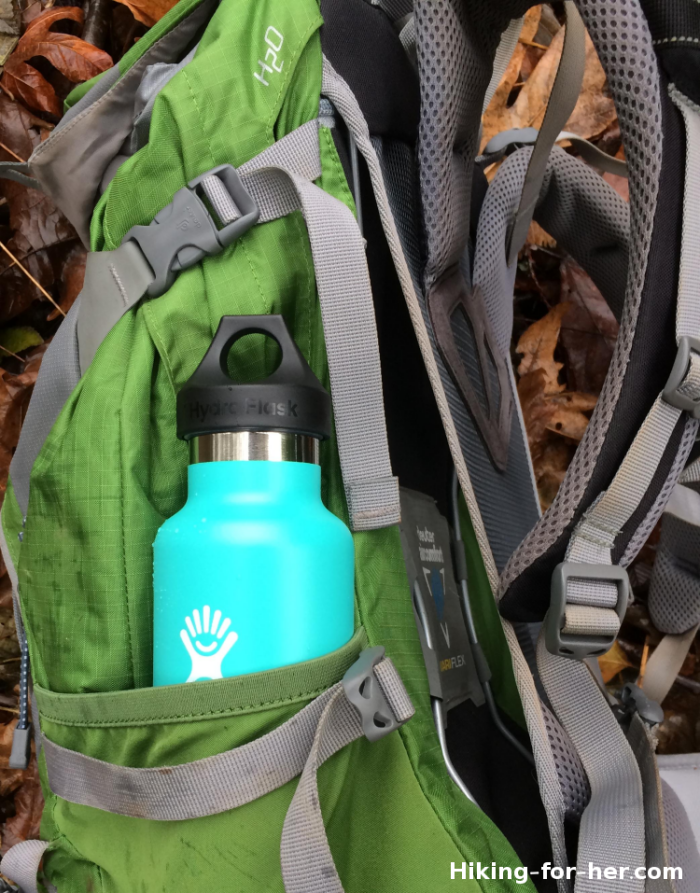 That makes it handy for pulling it out of the mesh pocket, for tethering it to other gear, or for locking it down tight when scrambling up hill.

According to specs, this cap is:

The hole in the middle provides access for your finger when you're carrying the bottle on a short walk.

The hole also accommodates a carabiner, for clipping it to your pack or some other gear.
And it makes a fine place for a piece of tough nylon cord, like this one shown on an old water bottle of mine: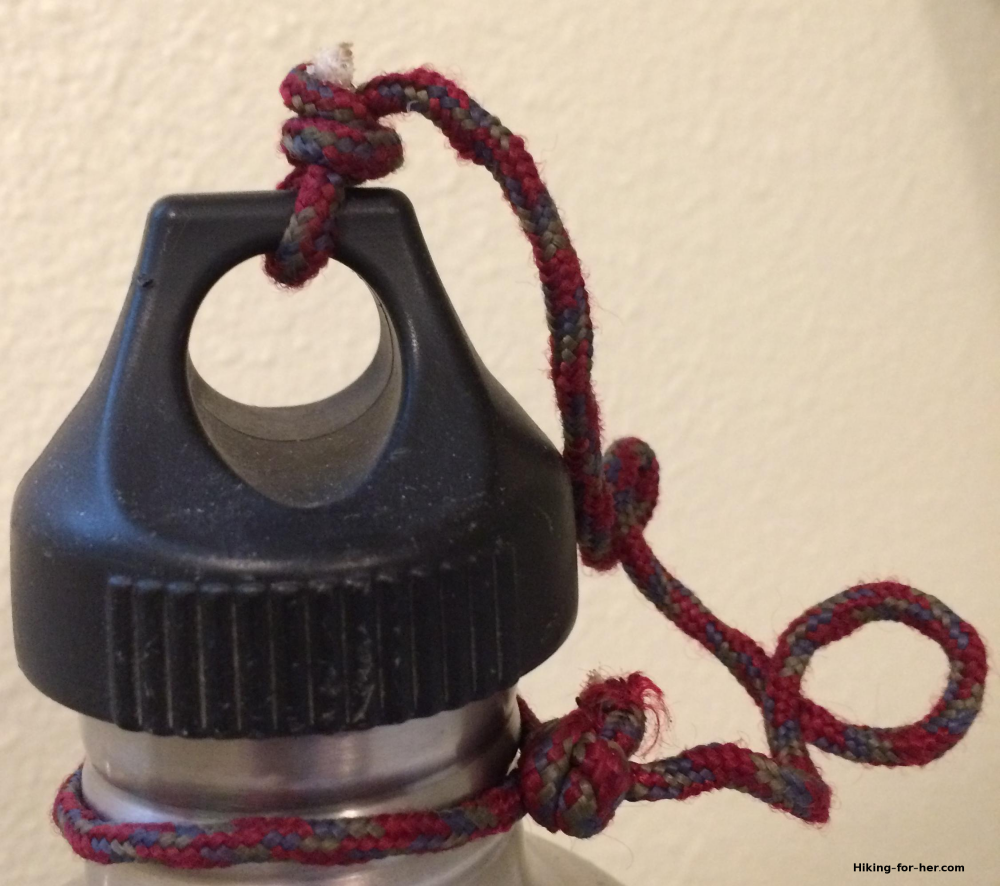 Why should you consider this inelegant hiking hack?
This may not seem like a big deal to you, sitting in front of your screen on a level surface in moderate temperature and adequate light conditions, reading this Hydroflask review.

However, take heart: It's less than $4 US to replace the cap, if you decide not to use this hack.

 
Now for the sports cap, pictured here: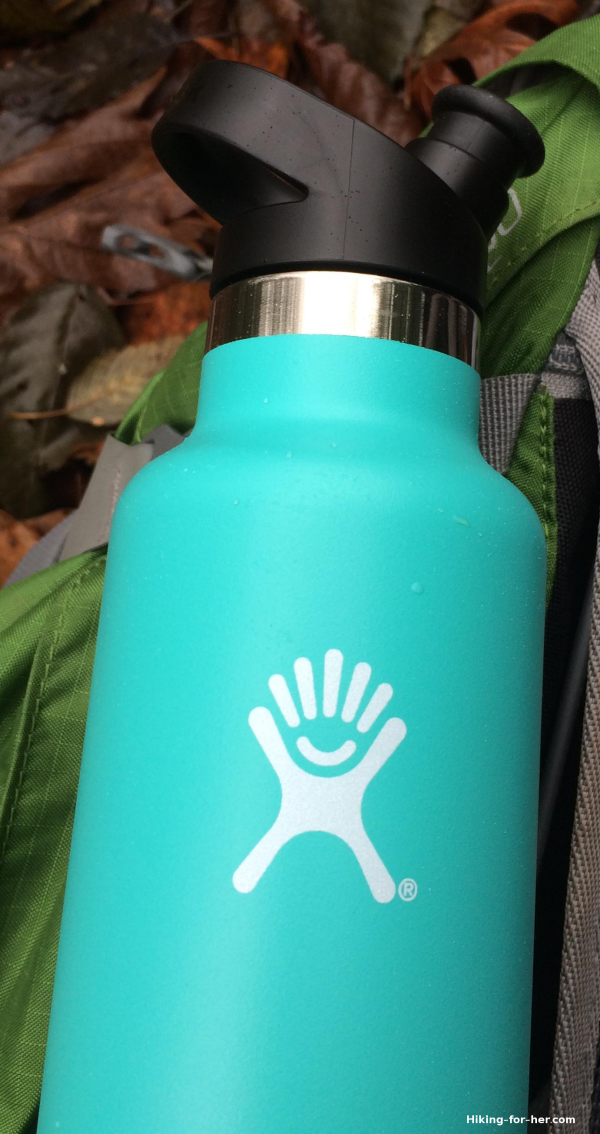 Why take off the cap every time you want a sip of your beverage?
The sports cap allows you to take a sip simply by pulling up on the mouthpiece of the cap.
A few things differentiate it from the loop cap:
It has a decent flow rate, so you're getting water into your mouth without a lot of effort, and not running down your chin.
It's made of soft silicone, so you're not contacting the metal water bottle with your lips when you drink (a cold weather hiking perk).
The valve is quiet, so if you're stalking Big Foot and need to rehydrate, the bottle won't give you away.
Phthalate free plastic in addition to no BPA, so no nasty chemicals for you.

It's insulated, to hang onto the heat in your warm beverages, and drive away heat from your cold ones.

A bit more expensive to replace this cap: around $10 US, but it sits snugly inside the mouth of the bottle and you won't be removing it except to clean & fill the bottle.

The rigid plastic loop makes a great way to handle the bottle, and a place to clip it to other gear for easy access.
But it will create a bit larger footprint inside your pack, if you're not using the outer pockets. Not sure if that's important to you, but thought I would mention it.
Heads up!
There are two things to be aware of if you plan to use this sports cap with the Hydroflask:
It takes a bit of a tug to get at your beverage, so if your hands are cold or if your fingers are sore (arthritis comes to mind, or the soreness of the second day of a backpacking trip), it might be a bit annoying to pull up the tab.
Here's a bigger problem: Dirty hands touching the cap every time you drink could transmit microbial trouble makers to the beverage.
So good hand hygiene is important if you want to use this cap but tugging with your teeth doesn't appeal to you.

Which cap option works best for you?

To sum up the cap options in this Hydro Flask review:
Choose the loop cap if you're not going to bother with good hand hygiene, will remove the cap to add electrolytes to your bottle in mid-hike, or don't mind removing the cap when you drink. It's a fast easy on-and-off solution with a few simple turns of the wrist.

Choose the sports cap if you're in a hurry to get at your hydration, don't want to mess with cap removal and replacement, or want to keep warm or cold beverages at the appropriate temperatures for longer duration.

More notes on the Hydroflask caps performance

Both caps were leak proof, and stayed put as well as released easily with minimal turning (again, important for sore or small hands).
The specs promise cold beverages for up to 24 hours, and hot ones for up to 6 hours.


I can vouch for the ability of the flask to keep my water comfortably cool on a hike of 8 hours or so.

I only carried cold beverages for this Hydroflask review, so can't comment on how long a hot beverage would stay hot. I'll add that to a winter hiking update carrying something warm, so stayed tuned.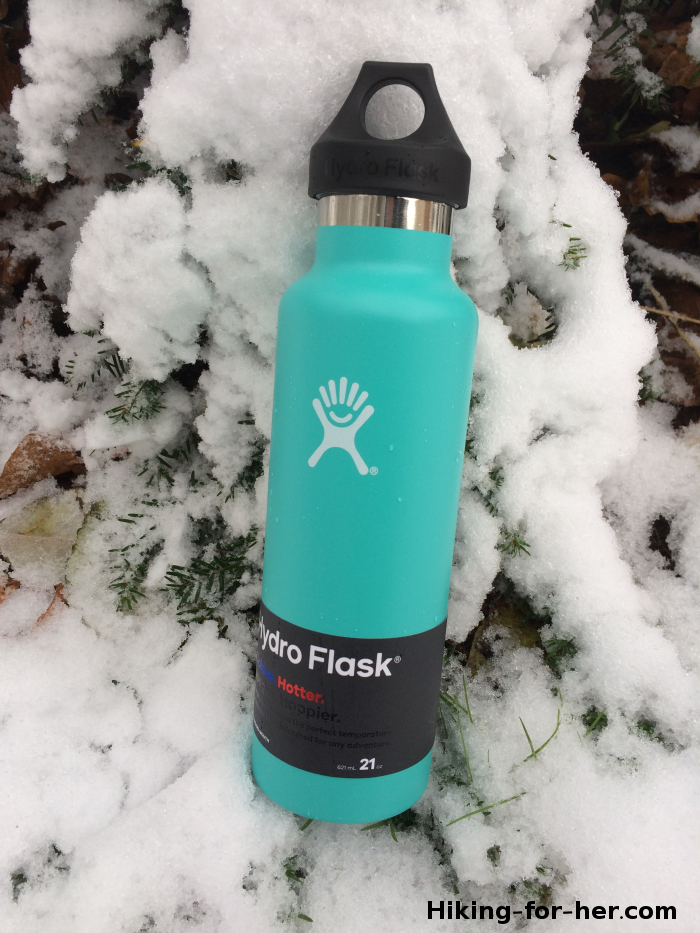 A few interesting notes about
the Hydroflask company

This company is based in Bend, OR - a city which prides itself on its outdoor focus, and for good reason.

Hydroflask has been around since 2009, which means they've got this hiking hydration solution figured out by now, right? In fact, you have a lot of options with Hydroflask:

Coffee drinker? Read my wide mouth bottle review here.
Hydroflasks for wine lovers review, too!

If you're a beer drinker, check out their growlers available on Amazon.

Hydroflask gives back 5% of net proceeds from each bottle if you send in your serial number (prominently located on the backside of the label).
Their lifetime warranty means that if there is a manufacturer defect in your flask, the company will make it right for you.
Hydroflask review final thoughts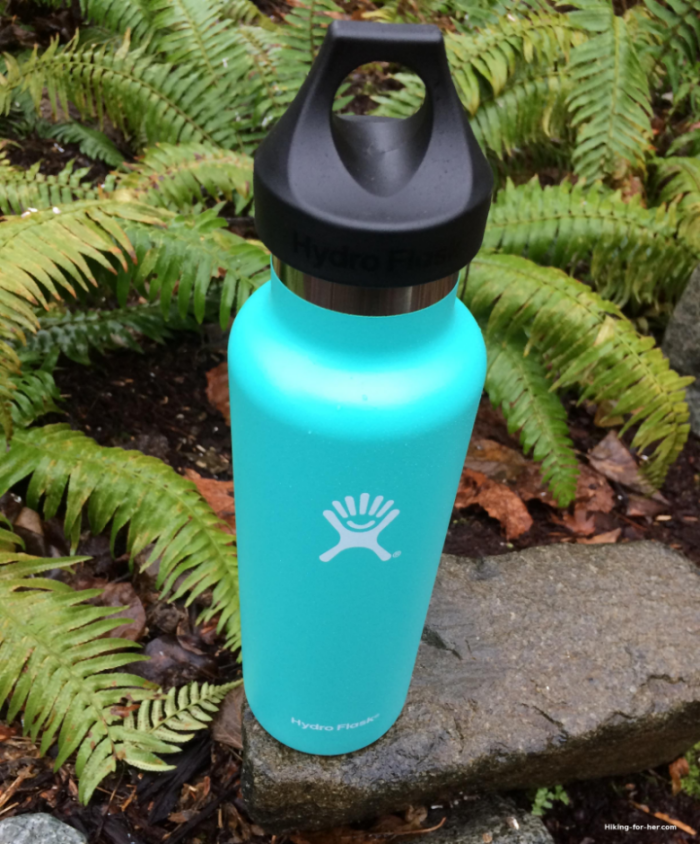 This metal water bottle would make a great gift for a hiking buddy, because it's durable, functional, and looks great.
In fact, these bottles can go anywhere, not just on a hiking trail.
And good luck picking out your favorite color - there is an amazing array of vivid hues to choose from. You can even custom design a multi-hued flask of your own!

For smaller hands, the coated finish provides extra gripping surface, so think about one of the smaller volumes (12 oz or 18 oz) for the kids you hike with.
And for big thirsts, there is a 24 oz bottle available.

Time will tell how dinged up and dented this bottle will become, as I use it for all four season hiking trails. I'm hard on my gear, so if the beautiful minty green finish lasts for awhile, I'll be amazed.

I plan to update my Hydroflask review if any issues surface, but so far, I think this water bottle is a great piece of hiking gear.
Hydroflask bottom line
This 20 ounce standard mouth bottle has the versatility of two cap choices, it's easy on the eyes, lightweight, and made of durable, inert metal with no chance of chemical contamination in my hiking hydration choices.
Wow!
And all for a reasonable price (around $28 US at the time of this Hydroflask review).
This flask will last a long, long time regardless of how much wear and tear you throw at it (although it might not be as pretty - stay tuned for some follow up photos.)

If you'd like to read up on what to put in your flask to keep yourself hydrated on a hike, go here.
Questions about this
Hydroflask review?

Maybe you still have a few questions about how a Hydroflask will perform for you on the trail.
Send them to me here.
I'd be happy to let you know why I think a Hydroflask metal water bottle is a good choice for hiking hydration.
Thanks for reading this Hydroflask review!
Now get busy choosing your favorite color ;)
Home page > Hiking Gear Reviews >
Hydroflask Review: 21 Oz Standard Mouth Bottle