Enjoy Happy Trails, the free monthly newsletter from Hiking For Her.

Receive a free resource: Hiking Layering System Explained

Alpine Parrot For Female Hikers:
Get Ready To Be Comfortable
On The Trail

Updated November 19, 2023 / By Diane Spicer

By Diane Spicer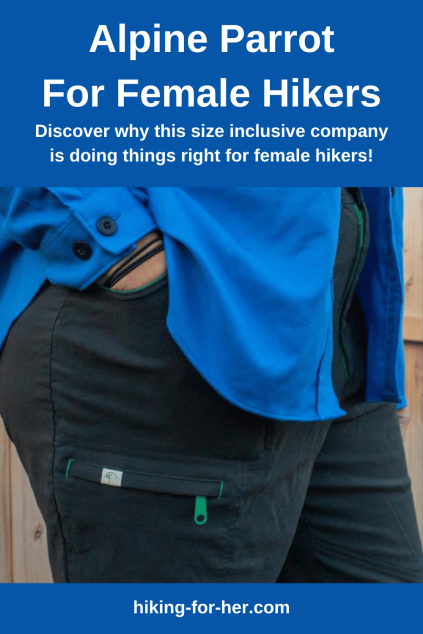 Allow me to introduce you to Alpine Parrot for female hikers.
This company understands how discouraging it is to leave an outdoor clothing store because nothing is available in your size.
Or the frustration of searching online, only to find nothing that would remotely work for your hiking plans.
If you can relate, you need to see what Alpine Parrot for female hikers has in store for you (shopping pun, not sorry).
After all, it's way past time that every woman, including you, can wear hiking clothing that fits, flatters and performs well on the trail.
Why does Hiking For Her want to share Alpine Parrot with you?

The Alpine Parrot tag line says it all:
Outdoor Apparel for Bigger Bodies
As in, real women on real trails, enjoying technical outdoor clothing that performs well and fits like a dream.

Alpine Parrot started in 2019, when Raquel Vélez decided it was high time to offer solid choices of hiking clothing to women who wear sizes 14 - 30.

Her mission: to create women's outdoor apparel offering quality designs and great fit, but also as easy on the environment and as inclusive as possible given the constraints of the existing marketplace.
Go, Alpine Parrot!
Hiking For Her has been quietly cheering from the sidelines since the first mention of this company, and now is proud to support Alpine Parrot as an affiliate.
You pay nothing extra to shop using the links on this page, while HFH receives a small commission to help fund this website.
Win-win-win for female hikers!
Rest assured, you see only quality, well run companies as affiliates on this website. I only share what works for hiking women.

Let's take a close look at two important pieces of technical outdoor clothing every hiker includes on her gear list: Alpine Parrot's hiking pants and a versatile long sleeve shirt for layering.
Yes, clothing is technical gear! So it's important to choose wisely.


Alpine Parrot hiking pants

Hiking pants that hold up to trail use and feel comfortable are as essential as hiking boots and the right backpack.
That's why Alpine Parrot places a lot of emphasis on finding the right fit and the right fabric, with a choice of two styles and sizing from 14 - 30.
Even better, they look great!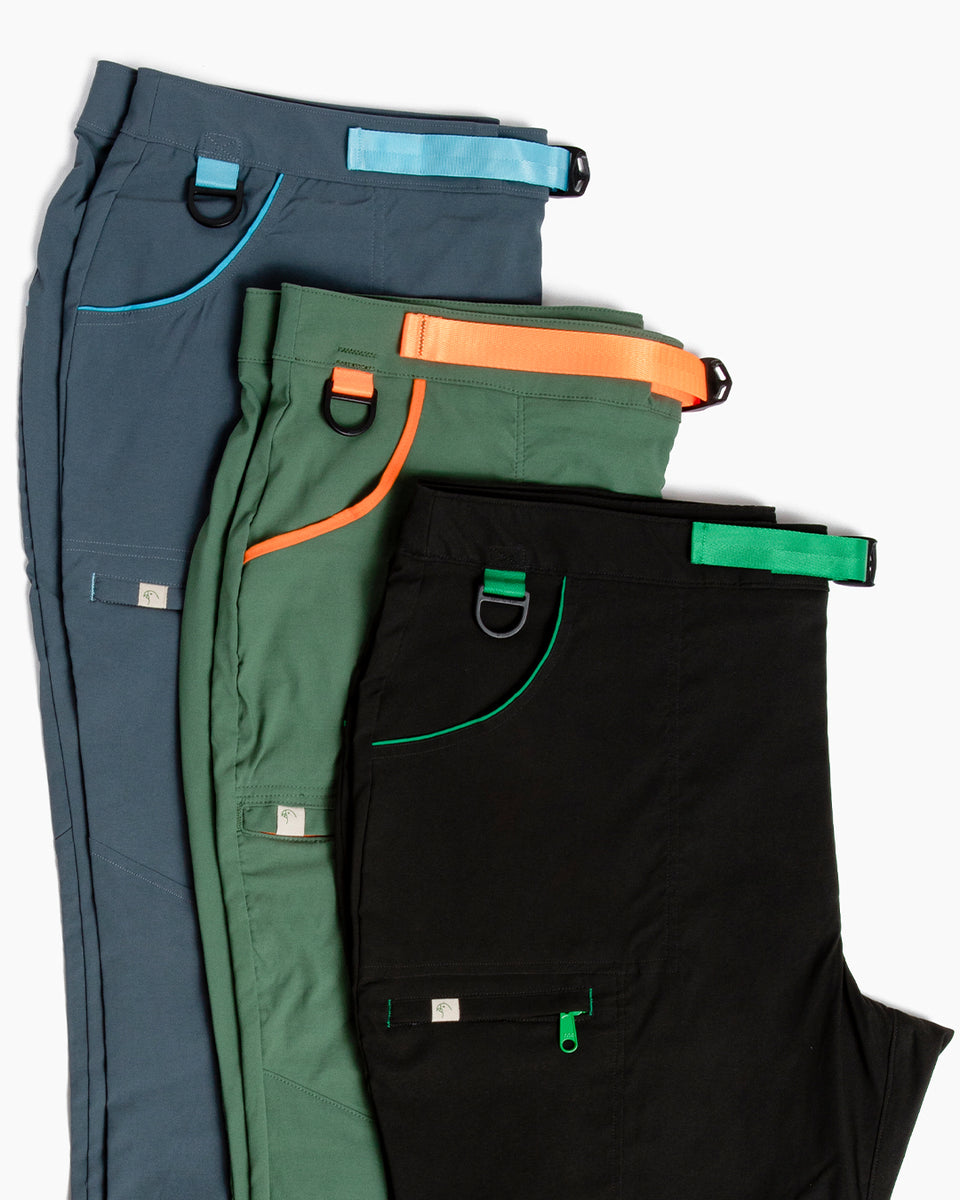 Alpine Parrot Ponderosa Pants
Bottom fit styles

When you order, spend some time considering your two choices.
The Mountain Fit is for hikers with a narrower waist and a fuller, curvier bottom. The design of these pants eliminates the dreaded waist gap, but still provides good coverage elsewhere.
Choose the River Fit if your waist and hips are similar measurements.
What makes these hiking pants so trailworthy?
Hikers expect certain features on a pair of hiking pants.
These pants have what you need:

94% nylon / 6% elastane body; 86% nylon / 14% spandex waistband for stretch, durability and protection

UPF 40 protection

Pockets, as in five, all sized to fit a cell phone so you have plenty of storage room

Convertible between capri and full length, great for stream crossings or those days that toggle between warm and cool weather

Adjustable waistband with a built-in belt, so you can make these pants your own

A handy key ring, just waiting for a small carabiner (note above how it matches the belt, a nice styling touch)

Are there color choices?
Why yes, there are three:
Slate Gray, Sky Black, and Sage Green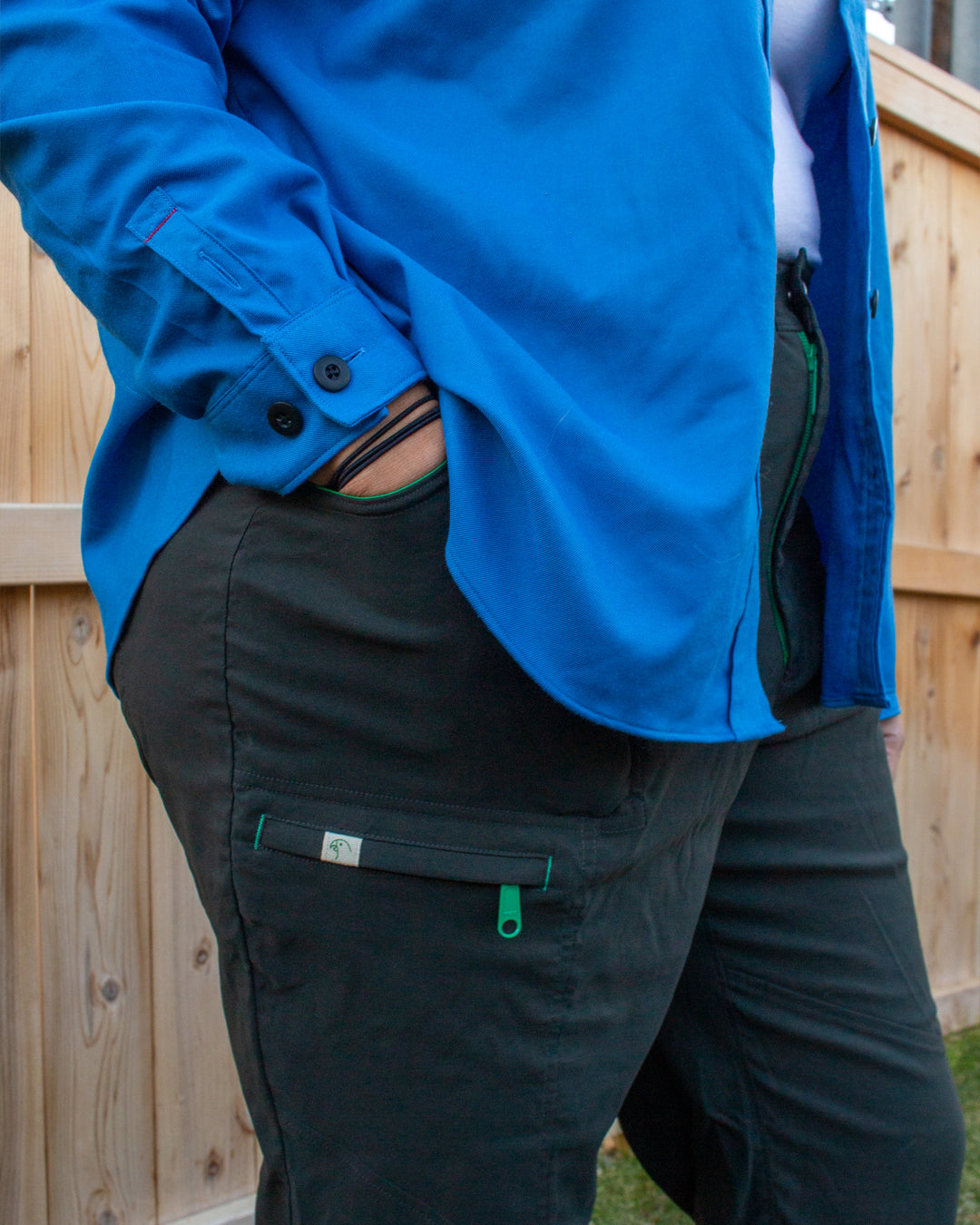 Alpine Parrot Ponderosa Pants
Now let's see those hiking shirts!
The details:
Alpine Parrot hiking shirts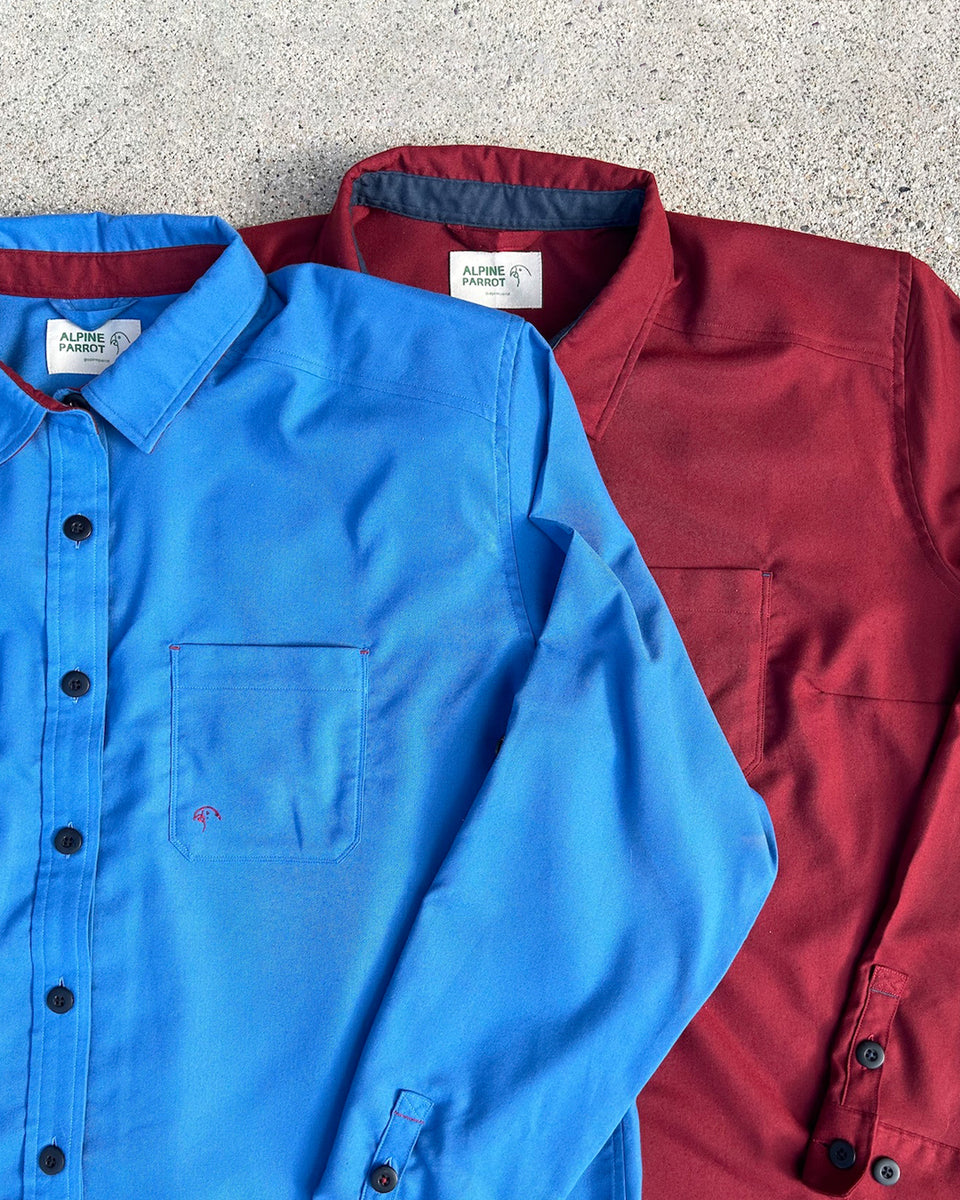 Bristlecone Flannel Shirt
Every female hiker has different proportions, and that's why this shirt was thoughtfully designed to cover everyone's assets.
The Coastal Fit has a clue in its name, the letter "C". If you are a C cup, this shirt will fit like a typical flannel but with plenty of room to move your body as you get your backpack on and off.

The Forest Fit (F refers to an F cup) is designed for hikers with a larger chest. If you like a roomier fit, you can size up within this fit.
What if you're in between a C and an F cup?
 Then you have a decision to make based on your personal preferences.
For a looser fit, try Forest Fit.
Want a more snug fit? Go for Coastal Fit.
Alpine Parrot for female hikers
gives you one more choice
As in three great color choices:
Geyser Blue, Charcoal Gray, and Desert Red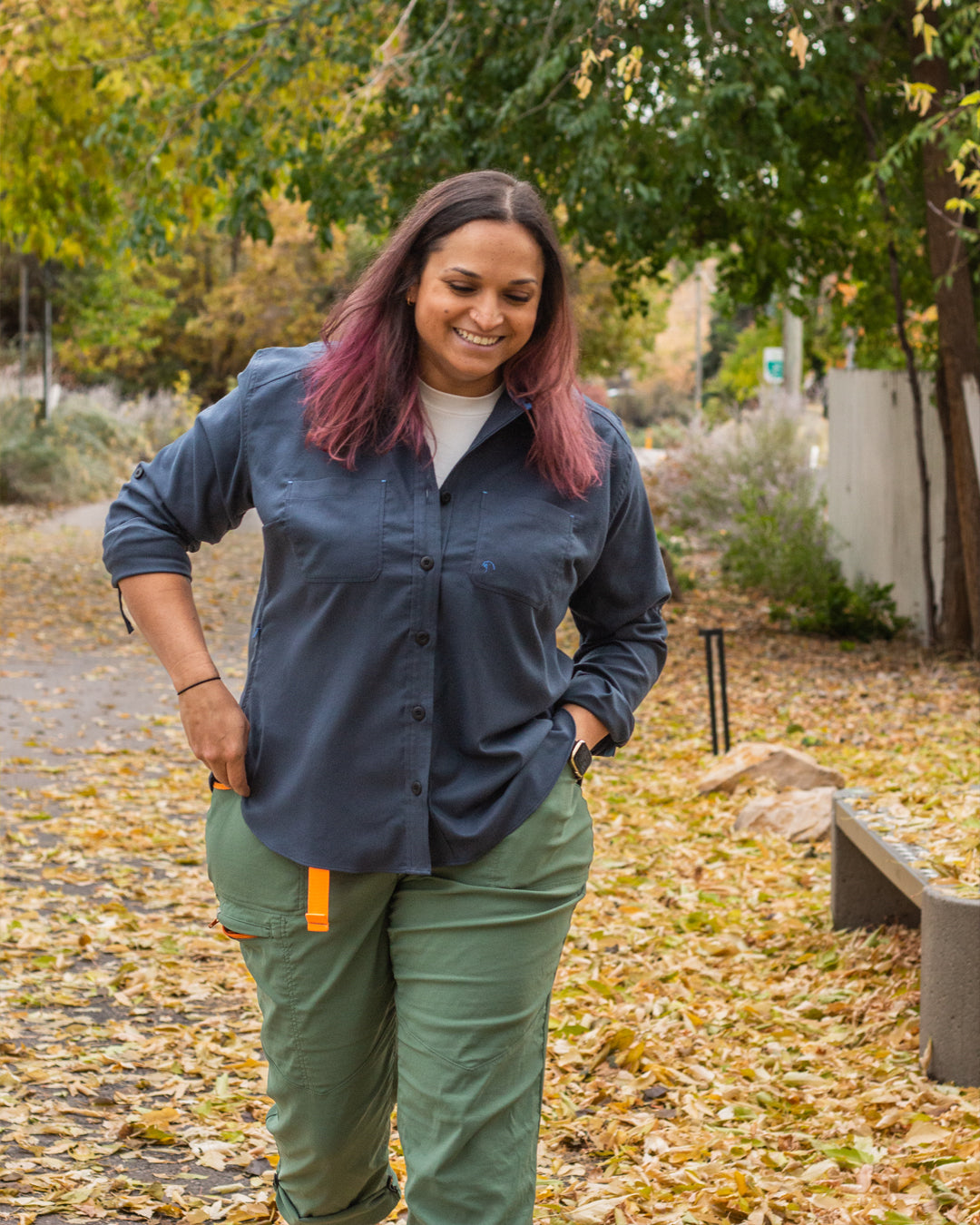 The shirt-pants combo looks great, don't you think?

Why does Hiking For Her recommend these shirts from Alpine Parrot for female hikers?

A hiker needs a good layering system to keep her warm, dry and comfortable.
Find out why, and how to pull one together, here.
A versatile long sleeve shirt is an important component of that system.
This shirt is made of lightweight flannel: 99% polyester/1% elastane. Perfect for chilly fall mornings, crisp summer nights, and a midlayer for winter hiking.

You'll also love these features:
Button closures so you can customize based on temperature

Roll-up sleeves with button and placket, providing plenty of room for movements as well as versatility on the trail

Adjustable cuffs
Two chest pockets & one zippered side pocket
Front and back drop hem so your hip belt or camera belt won't chafe

Back pleat

Hanging loop inside collar
In other words, this shirt won't let you fall out or gap around the button holes. It gives you lots of coverage, storage and room to move around in it as you hike or relax at the lake.
What's new at Alpine Parrot
for female hikers?
Two great pieces of clothing for hiking!
First up, a versatile hoodie:

Arroyo Sun Hoodie - PRESALE
Pair it with these shorts, and your hike is going to be comfortable for sure.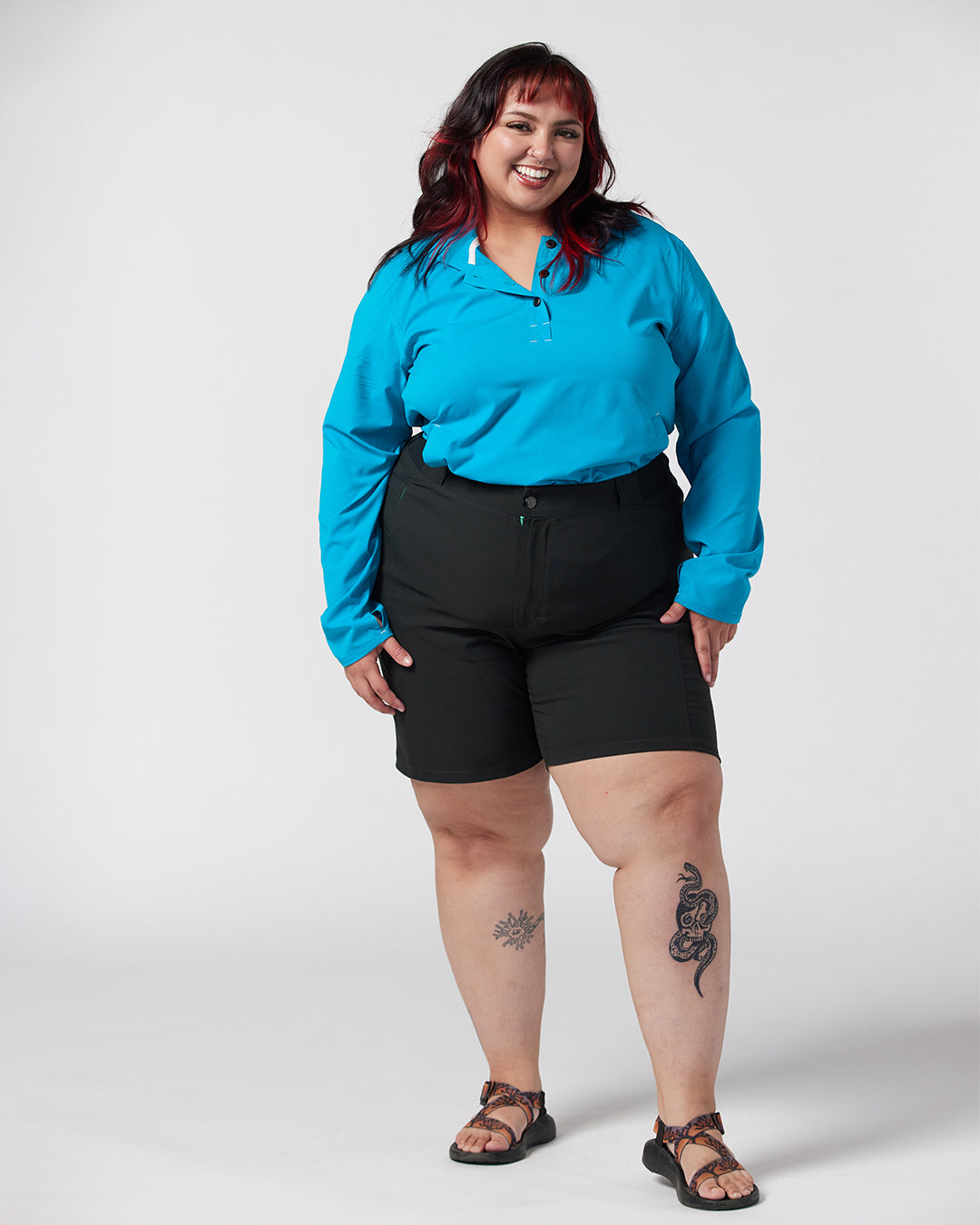 Cypress Shorts - PRESALE
More to love about Alpine Parrot

It's been tough watching women hikers resort to uncomfortable, too big and boxy clothing choices for the trail.
Getting emails from women who just can't find a decent pair of hiking pants has been happening for far too long.

That's why I am delighted to share this company with you!
The Alpine Parrot mission is in synch with Hiking For Her's desire to get more women out on the trail in safety and comfort.
Raquel Vélez, the intrepid founder, knew that nothing was going to change in the outdoor clothing industry in terms of limited size options for female hikers unless someone committed to solving this problem.
She brought her extensive training as an engineer to the task of designing comfortable, technical, sustainable and inclusive clothing for plus sized women.
That's a tall order!
Congratulations on a job well done.

This company is just getting started with great options in plus size outdoor apparel, and you can get started by visiting Alpine Parrot.

If you're reading this between October 15 and November 15, 2023, enter the Hiking For Her giveaway for a chance to win a flannel shirt of your own!
And enjoy a 20% coupon exclusive to the HFH community through the end of 2023.
Details here.
Home page > Best Extended Sizes Hiking Clothing > Alpine Parrot For Female Hikers