Enjoy Happy Trails, the free monthly newsletter from Hiking For Her.

Receive a free resource: Hiking Layering System Explained

Plus Size
Hiking Sports Bras:
Your Best Options

by Diane Spicer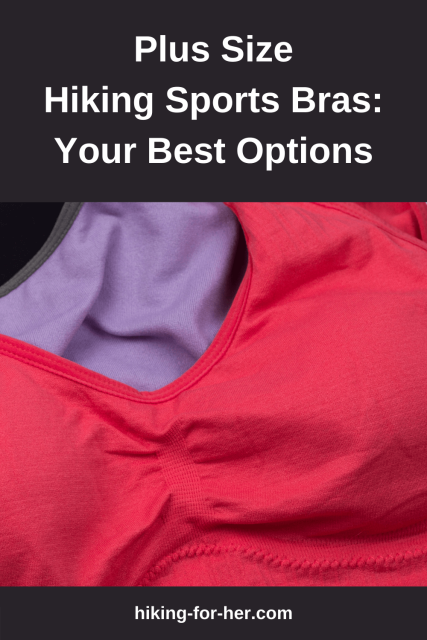 Questions about where to find the best plus size hiking sports bras have been pouring into my inbox lately.

So I did a little research, looking at companies that claim to make these essential pieces of hiking clothing.
Believe it or not, there are a few companies that pay attention to both sets of concerns a hiking woman has:
The supportive fit and features that will keep your breasts from uncomfortable bouncing and jarring as you navigate the trail without resorting to the use of restrictive under wires,

AND
moisture wicking, coverage and flexibility that you need to protect your skin from ultraviolet radiation, blisters, insect bites, chafing and skin irritations.
I also scouted around for customer reviews, ratings and rants to be sure these sports bras were the best on the market.
And this page is where I spill the beans on the best hiking bras for large breasts.

Just want some recommendations?
Skip down here to get started
on finding plus size hiking sports bras.


The reality of plus size
hiking sports bras

The first thing I noticed was the companies which tried to be cute, in striking contrast to those that were serious about sports bras for hikers.
Women hikers of all body shapes and sizes want performance features and a great fit, not cutesy or condescending labels.

Some of the bras marketed as sports bras didn't seem supportive enough to hold up a grape, let alone something as important (and sensitive) as large breast tissue.
And here's another thing any female hiker is looking for in a hiking sports bra:
a design that works with the reality of wearing at least one shirt, possibly a jacket, and a backpack.
Some of the so called sports bras looked really uncomfortable or incompatible with a hiking clothing layering system.
And customer reviews backed that up, with comments like "it binds under the arms" or "didn't give any support".
Only the best companies and products made it here!

So what can you wear on the hiking trail that won't fight you every step of the way?
You've got way more important things on your mind, like paying attention to the fantastic bounty of wild flowers, right?
Step One is to focus on the proper materials and construction of your bra.

Let's get to it, shall we?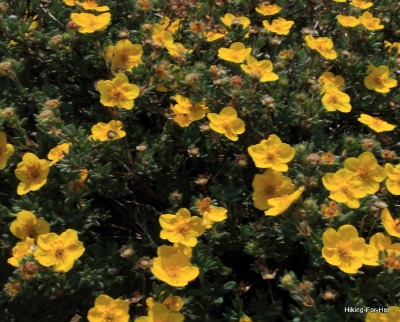 Focus on the flowers, not your sports bra


Materials & construction
of sports bras for hikers

Regardless of the cup size, a great hiking sports bra pays attention to how a woman's body moves on the hiking trail.
Women's hiking active wear should also look good.
And every female hiker deserves a sports bra that makes her feel great!
To find these unicorn best plus size bras to wear on a hike, pay attention to two things: materials and design.

Best materials for plus size
hiking sports bras
The fabrics and materials you look for in plus size sports bras have lots of important jobs to do:
Breasts are not locked down tight, like ears or knee caps, so bras need to be designed with anti-bounce features.
However, locked down tight does not mean smooshed into oblivion. Materials in sports bras need to find the right balance between breast tissue support -vs- crushing.
Encapsulation-vs- compression, in other words.

When looking at sports bras, zero in on the best type of bra for the hiking you're planning to do: low impact, medium impact, or high impact. The amount of support, fabric and money invested will escalate as you approach high impact sports bras.

Perspiration accumulates under and between breasts, so the material in the sports bra must wick up the moisture while allowing heat to dissipate.
All of that sweat should be released easily into the atmosphere, allowing you to feel as cool and dry as possible. Being sweaty is a hiking reality. But there are degrees of sweatiness, controlled in part by your choice of hiking underwear.
Easy washability, soft cups with no chafing seams and a reasonable life span - that's not too much to ask, is it?
Best designs for plus size
hiking sports bras
When sizing up the design of your potential bras, look for:
Comfortable adjustable straps that aren't stretchy and can be trusted to stay in place as you move

A design that avoids shoulder fatigue with wide straps;

a strapless bra or pushup bra won't work well for you on the trail



Full coverage back design, sometimes with soft material that lies flat and won't press into your skin under the compression of your backpack -  but will lend support
Fast "off and on" closure system, with a front closure hook-and-eye giving the best chance of not having a wrestling match with your own sports bra
Firm breast support with fitted cups (removable cups aren't recommended because they tend to migrate as you swing your arms while hiking)
Neckline that gives the amount of coverage you decide is best
Wire free to eliminate digging or stabbing into your flesh

Moisture wicking fabrics that lightly line the cups, wash and wear well over many hiking seasons - but also have a bit of "give" to them via spandex or elastane
A slightly more snug fit than your everyday bras, to handle your motions along the hiking trail while providing a natural shape

Know your numbers
to find a bra that works
on the trail

As with any bra, you should know your measurements to guarantee you'll end up wearing a comfortable bra:
circumference of your rib cage just beneath your breasts (band size),

your bust size,


and your cup size.
But even if you think you know these measurements, different companies might interpret them a bit differently.
For hiking sports bra fitting tips, read this.
And even more information is available here.
Top choices
for plus size hiking sports bras

So are you ready to give up wearing 2 sports bras at a time?
I thought you might be :)
Let's start off with some great news from Title Nine, a woman owned and led outdoor clothing company.
Who better to figure out the best plus size hiking sports bras, right?
It's rare to find a full cup bra with seam free cups - no chafing worries when you start to sweat on a hike.
Its poly/spandex/nylon material will wick that moisture away from your delicate breast tissue.

This Hallelujah bra from Title Nine is available in sizes 34-42 C, D, DD, F(DDD).

Another choice

This is the plus size sports bra that kept coming up, again and again, during reviews and suggestions:
Here's why:
1. Lots of support due to the design that looks like a cross between a corset and a vest.
2. Wide comfy straps and a modest neck line to fit well under hiking shirts and jackets without clinging or showing seams.
3. Moisture wicking fabric in a variety of colors.
4. Customer service is rated as excellent for this company!

| | |
| --- | --- |
| | In my research, even Oprah had something good to say about this bra!! |
The dark(er) side,
and ways around it

A few of the reported negatives:
Fits firmly, so order up a size if you don't want the girls to be held firmly.

The sizing system run from 0 to 8, so you will have to figure out how to translate your usual measurements (e.g. 40 DD) into their system.


There's a learning curve for putting on this front closure bra, but there are hints and tips in abundance from satisfied customers.

Large breasts and large frame don't always go together, so be aware that this plus size hiking sports bra is designed for both. Women with small frames and large breasts didn't seem to get a good fit.
Another sports bra choice

Don't want or need a high impact sports bra for hiking?

Here's another non-wired choice that ranges from 34C to 50G:
A few other key differences from the Enell maximum support sports bra:

This bra doesn't have a front closure, so if you prefer a back closure with less hooks and eyes, check this bra out as a candidate.

The shoulder straps are adjustable, allowing you to customize your shoulder fit.

It gives less of a uniboob outline, which might be important to you in photographs and selfies.


A fourth option to explore

Here's the Panache bra.

It has a racerback option, if that's important to you.


It also has all of the features of the other two bras above.

If you're absolutely looking for an underwire sports bra, take a look at the Panache underwired sports bra.

Here's a different style
of sports bra to consider
The Brooks Maia Sports Bra provides medium support, perfect for day hikes or short backpacking trips.
Seam free cups plus moisture wicking material reduces the chance of chafing.

The straps are adjustable, and wide enough to be comfortable without binding. 
---

Happy hunting for the
perfect plus size hiking sports bra!

I wish I could tell you that it's going to be easy to find the perfect plus size hiking sports bra.
But I know better, as a curvy woman who has watched the sports bra industry evolve over time to something that is oozing closer to getting it right!
Back at the dawn of time (1970s), there was no such thing as a sports bra.
So I'm not exaggerating when I say I was there at the dawn of the sports bra era :)

But today, you can rejoice at the many design choices at various price points and levels of support.

So go for it! Find that perfect hiking sports bra!

Let me know if you have questions or feedback about these plus size hiking sports bras.
Patience, persistence, and dedication to comfort and performance on the trail are my wishes for you as you search for the best high performance, maximum support plus size hiking sports bras.
And now you're ready to begin building a high performance layering system:
Home page > Best Hiking Gear >
Plus Size Hiking Sports Bras
Hiking For Her: Hiking tips you can trust!