Best Extended Size
Hiking Clothing
For Women Hikers

by Diane Spicer
You want to wear the best extended size hiking clothing you can find for lots of reasons:
Trouble is, it can be hard to find.
Let's solve that little problem right here and now.
As our starting point: REI, the gear co-op with great customer service and an ever expanding selection of top brands.
Disclosure
Hiking For Her is an REI affiliate as well as a co-op member (since 1977).
This means two things:
If you purchase the best extended size hiking clothing using the links on this website, it costs you nothing extra - but allows Hiking For Her to continue sharing free hiking tips with your virtual trail sisters across the globe.

REI's clothing and gear selection has stood up admirably to Hiking For Her's test of time, and that's exactly why they make trail worthy recommendations for you!

How to get started
choosing high quality
hiking clothing

It can be overwhelming to make decisions about fabric, styles, and performance features as you wade through your choices for high performance outdoor clothing.
Where to start with what to wear on a hike?

A clothing layering system is the tried and true approach for versatility, durability, and comfort.

Get up to speed with this information:
Sizing up REI as a source
for the best extended size
hiking clothing

As mentioned, Hiking For Her only recommends what works and keeps working, season after season.
If you're just beginning your hunt for the best extended size hiking clothing, here's why starting with REI makes sense.

Online ease

REI has a straightforward, easy to navigate website.
To find all of their plus size clothing options for women, do this:
Choose "women" from the top pull down menu.

Select "more sizes" in the bottom row.

Choose your size.


Zoom in on exactly what you're shopping for: pants, shirts, jackets.
This is a smart approach for doing your background research on color and size availability.
But sometimes you just have to run your hands over the fabric, scope out whether the navy blue is too dark or light for your taste, and get into that dressing room with an armful of options.

In store helpfulness

REI stores are a dream to wander through.
Make a beeline for the women's clothing so you don't end up looking at backpacking tents for two hours.
Choose a week day, and time of day, when the store won't be swamped with holiday or peak season shoppers.
This gives you the highest probability of a sales associate having plenty of time to dedicate to your personal shopping quest:
Now for some recommendations:
best extended size
hiking clothing for women

The following recommendations are chosen carefully to focus your time and attention on top brands that pay attention to not only sizing, but details that really matter to a hiker.
And they are all brands that Hiking For Her can heartily recommend, based on decades of trail experience.
Click on each photo for technical details, pricing, and unscripted reviews from women hikers.

Best extended size hiking clothing:

taking it from the top
We're going to build a layering system to keep your neck and torso comfortable during your hike.
And because seasonal variations in temperature are going to impact your perception of a great hike, we'll start with great layers for cool weather hiking
Looking for warm weather hiking

extended size hiking clothing? (coming soon)

Best cool weather choices
for top base layers

Layering in cold weather can get tricky, because you want to be warm when you start hiking without getting too warm as you begin to generate body heat.
You also want to choose a shirt fabric that can wick away your perspiration.
This REI Co-op quarter-zip shirt makes a great choice.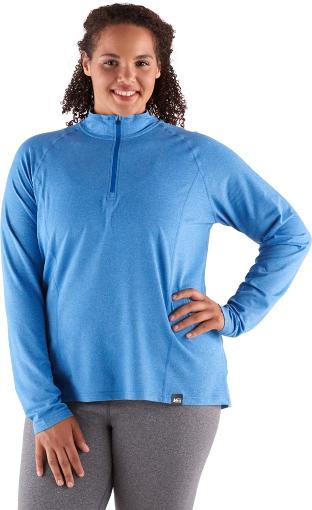 Why?
Lots of reasons!
Mid layer vest

Now you can turn your attention to a versatile piece of mid layer clothing to remove, or don, according to your comfort level and changing trail conditions.
A zip up down vest has so many great things going for it, besides thermoregulation:
Pockets can hold tissues, hair ties, lip balm and snacks when you don't need a jacket


Cram it into the bottom of your pack - comes out looking great

Holds body heat even when wet

Stylish enough to wear off trail
Just some of the reasons why a vest from REI Co-op is one of the best extended size hiking clothing choices you can make!
The grand finale: your top layer choice

For cold, dry and/or windy conditions, down jackets can get the job done.
This one from REI Co-op, for example: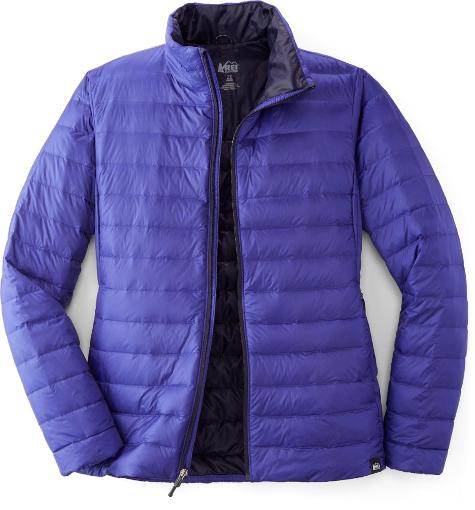 Why is it trail worthy?
The outer nylon shell repels water, allowing you to easily shed snow sliding off trees or rocky overhangs.




The down is 650-fill-power, giving you lots of warmth for not a lot of weight (less than 9 ounces).




As for the down vest above, this jacket can be balled up and ride along in your backpack without taking up much room, thanks to the fact that you can compress it into its own left sided pocket!

Both pockets have zipper closures, creating secure places to stash gloves and a headband.


The price point is very reasonable for a jacket of this quality, but not so high as to cause panic if you snag it on a rough rock edge.
Now that we've built a bomb proof top layering system, let's explore good clothing options for the lower half of your body.
Best extended size hiking clothing
choices for the bottom half

The same trail challenges apply to your hard working legs, with a few extras:
Your legs and feet need to stay as warm and dry as possible, because they are your ticket back to the trailhead.

It's hard to take off bottom layers without removing boots and thus exposing yourself to getting wet and cold. So bottom layering is a bit more permanent, and thus needs extra care in selection.



Layer up to stay warm and dry

Moisture wicking fabric from Odlo delivers all the benefits you want while working up a sweat but can't take off layers:
And here's a nice feminine feature: there's a matching long sleeved base layer!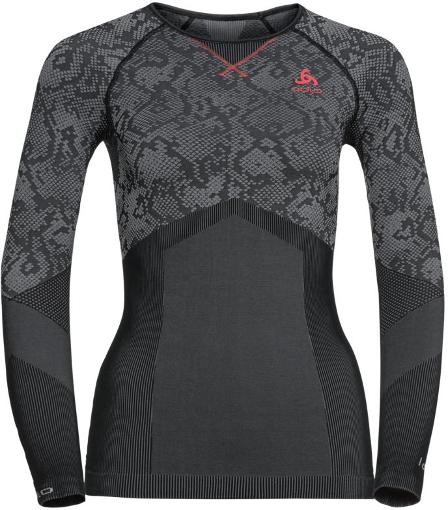 Leggings work, too!

Leggings are another great choice for your base layer.
They have a lot of give and freedom of movement, while insulating and protecting your waist and legs - like these Columbia Luminary leggings.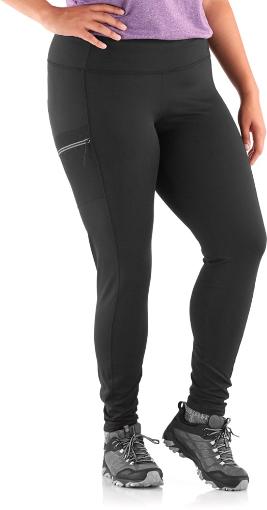 Customize the fit with the drawstring waist band.
These have pockets - great for when you're lounging around in them at home.
And on milder days, they stand alone for running errands or walking the dog!
Best extended size hiking clothing
outer layer choices

Over your base layer, pull on these seam sealed, adjustable waist waterproof Columbia Storm Surge rain pants:
If this doesn't seem like enough layering for cold weather hiking, consider this fact:
Your skeletal muscle contractions are going to generate a lot of heat, which will be trapped beneath these pants and your base layer(s).
If you're a beginner hiker, trust me on this.

You'll find that you may run too hot in bulky layers.

Trail tip:
These are great pants to bring along on every hike, regardless of season.
They pack down small, yet work hard to protect you from dripping vegetation along the trail as well as wet sitting rocks at rest stops.

Want an warm alternative to
base layer + rain pants?
These warm Columbia Storm Slope snow pants will accomplish your objective of staying warm and dry with just one layer, thanks to some excellent features.
Fabulous for snowshoeing adventures, too!


Seam sealed with waterproof but also breathable polyester shell

Specific heat retaining inner Omni-Tech material

Insulating but not heavy

Internal leg gaiters so snow and mud won't splash up onto your calves

Hand pockets with zippers

Adjustable waist to accommodate layering




Hurrah, you've done it!

You came seeking the best extended size hiking clothing for cool weather hikes, and you found it.
Except for one or two little things ...

What about undies?

Critical components for a comfortable hike, right?
And on the bottom?
Choose wicking fabric that moves with you, and just enough coverage to prevent chafing from other layers and your backpack.
These ExOfficio Give-N-Go briefs are a nice option, ticking all the boxes for hiking women:
Antimicrobial fabric to control odors (useful on multi day trips especially)


Wicks moisture away from your waist and groin areas - chafing protection, in other words




Elastic waistband stays put but doesn't bind

A bit of spandex for freedom of movement

Nylon fabric dries fast

Best extended size
hiking clothing questions?

REI is carrying more and more options for women, and this page will be updated for you as the seasons roll along.
Contact me here if you'd like more information on technical details, or how this clothing would perform on your preferred hiking trails. I'm always glad to help!
Need the best warm weather extended size hiking clothes?
For more tips about how to choose the best extended size hiking clothing, read this.
And Happy Trails to you :)
Home page > Best Hiking Clothing >
Best Extended Size Hiking Clothing
Hiking For Her: Hiking tips you can trust!
This article was printed from Hiking-For-Her.com