Enjoy Happy Trails, the free monthly newsletter from Hiking For Her.

Receive a free resource: Hiking Layering System Explained
April 2017 Trail Mix
Monthly Hiking Digest

by Diane Spicer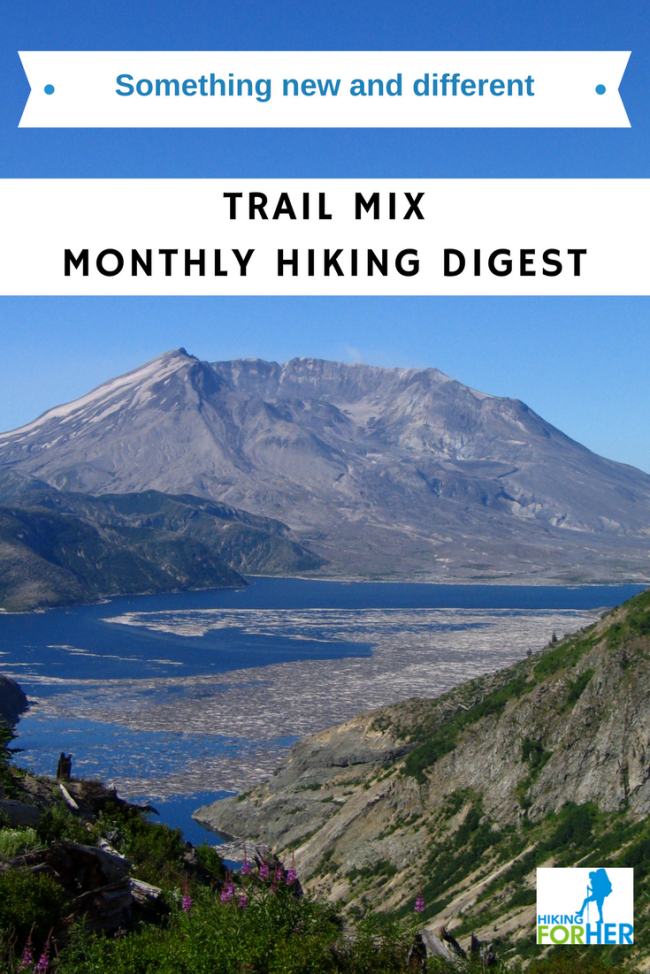 It's here! The April 2017 Trail Mix Monthly Hiking Digest is no longer available available.

If you're looking for something tasty to munch on while you plan your next hike, check this out!
Oh, wait.

What's a hiking digest? Great question!

What's in this issue?

The April 2017 Trail Mix monthly hiking digest has 6 detailed articles on hiking topics of interest to hikers everywhere.
You won't find this type of information, presented in such an easy to read, highly organized format, anywhere else.
Including on this website.
Take a look at the topics for April 2017!
Before you hike: tips for planning

Best Spring Hiking Jackets
Match Your Trail Mix To Your Hike: 3 Recipes
Tips for during your next hike

Trail Mix Gear Hack: Seven Ways To Use Zip Ties On The Trail
Do You Carry These First Aid Supplies?
Post-hike recovery and care strategies

Recovery Strategies At The Trailhead: Glycogen
Wellness Habit: Easing Joint Pain With Natural Remedies
Price and format?

Because Trail Mix is just getting started, the price per issue is a low $2.99 for 35+ pages of hiking goodness, written with the same detailed expertise as all of the pages on this website.

You can use your PayPal account for a secure transaction.

Either way, Trail Mix will be instantly available as a pdf download to your electronic device.
Past issues will be available in the Trail Mix archives.
That's the great thing about this trail mix - it never gets stale!

The contents will be as fresh and useful as the day they were crafted, so if you miss an issue, the tips will still be tasty and satisfying.


What else is in the April 2017
Trail Mix Monthly Hiking Digest?

You can expect to find two more sections in every issue:
Here's a sneak peak.
In the April 2017 issue of Trail Mix, you'll read about a gear innovation that looks like it should have been done a long time ago for certain hikers.
As for fun, how about a give away?
Hiking For Her has put together a foot care package (worth $35 and shipped to one lucky winner) so you can show your hard working hiking feet a little love.


Enter your email address in this random drawing and have the package mailed directly to you if the luck of the draw is with you!

United States hikers only, please.

You'll find out how to send in your entry inside the April 2017 Trail Mix!

We have a giveaway winner!!

C.P. is the lucky hiker who will have some great foot care products to try out.
In her own words:
"I received the goody box today and was so surprised! So generous - much more than I expected, and I'm anxious to try everything...
I do thank you so much!!!!!!"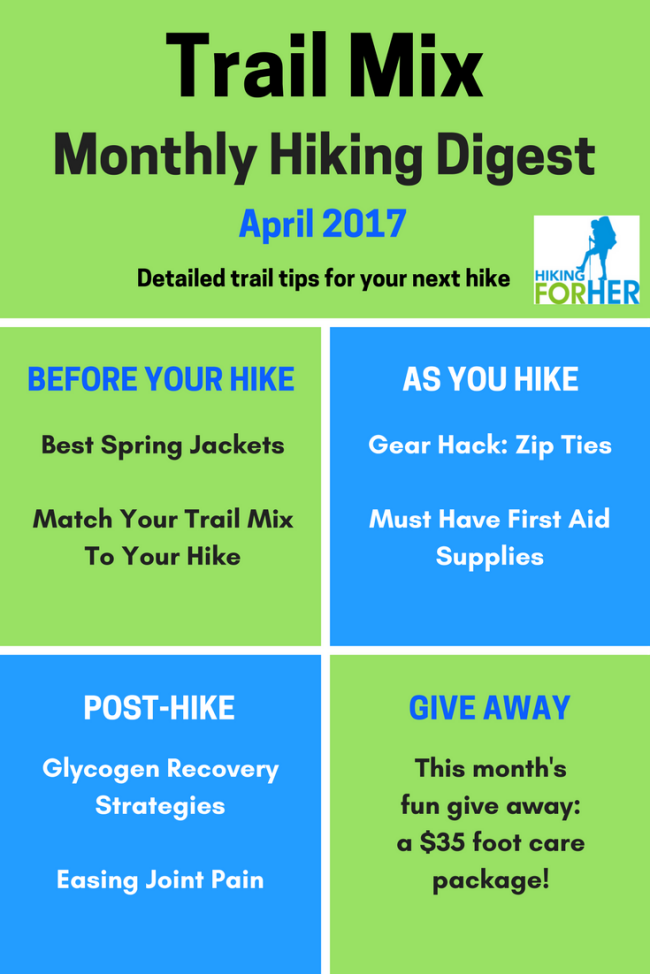 Questions?
Use this CONTACT link to ask anything you're wondering about.
If you don't receive an email message immediately, letting you know your question reached Hiking For Her, something went wrong with your email address.
Please try again, using a different address.

Or double check: one of your fingers flying over the keys might have gone astray.
Trail Mix:
get yours now

The April 2017 Trail Mix Monthly Hiking Digest is waiting for you. 

You can enjoy other issues of Trail Mix Monthly Hiking Digest by visiting these pages:
Home page > Trail Mix Monthly Hiking Digest >
April 2017 Trail Mix
Hiking For Her: Hiking tips you can trust!