Enjoy Happy Trails, the free monthly newsletter from Hiking For Her.

Receive a free resource: Hiking Layering System Explained

Koup Base Layer Review
From Hiking For Her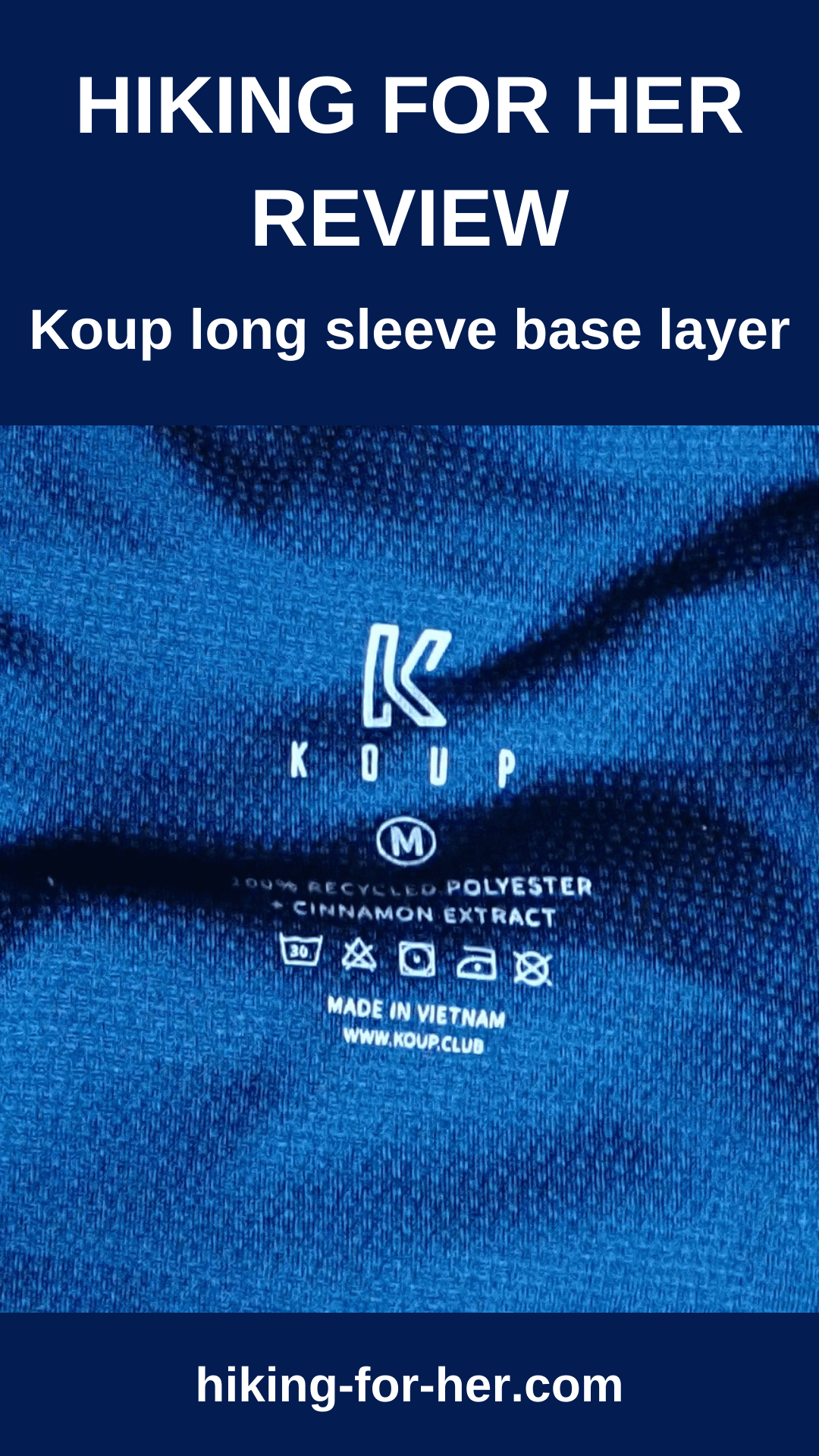 This Koup base layer review addresses a simple fact:
Every hiker needs a high performance base layer.
And for anything other than warm, dry hikes, a mid layer and an outer layer as well.
Using the technology of specialized fabrics, a hiker can remain comfortable, even when surrounded by nasty (hot, wet, cold) weather.

Not familiar with the idea of a clothing layering system for hiking?
Always on the hunt for great hiking base layers, Hiking For Her is inviting you to come along as a new type of base layer fabric from Koup is reviewed.


Disclosures
in this Koup base layer review

Koup contacted Hiking For Her about its new technology for hiking clothing: 100% recycled polyester coupled with cinnamon extract.
Sounded intriguing!
So a free shirt was sent in exchange for a fair, honest Koup base layer review.
Hiking For Her was not paid for this review.

There is no affiliate relationship between Hiking For Her and Koup.
All comments, opinions and photos where noted belong to Hiking For Her.
You can purchase this shirt through this Koup Amazon affiliate link, with no additional cost to you.

Why does Hiking For Her do reviews?

So you might be wondering why I would spend time writing a detailed review of this shirt.
Because I want you to have the best of the best hiking clothing.
It's my pleasure to share new developments with you!
Lots more reviews for you here.
What is being reviewed?
In this review, we are taking a close look at their long sleeve women's base layer shirt.
Note: It is also available in a men's version.

The company's tag line is "award winning circular cinnamon performance apparel".
Circular, as in using discarded water bottles to create fabric.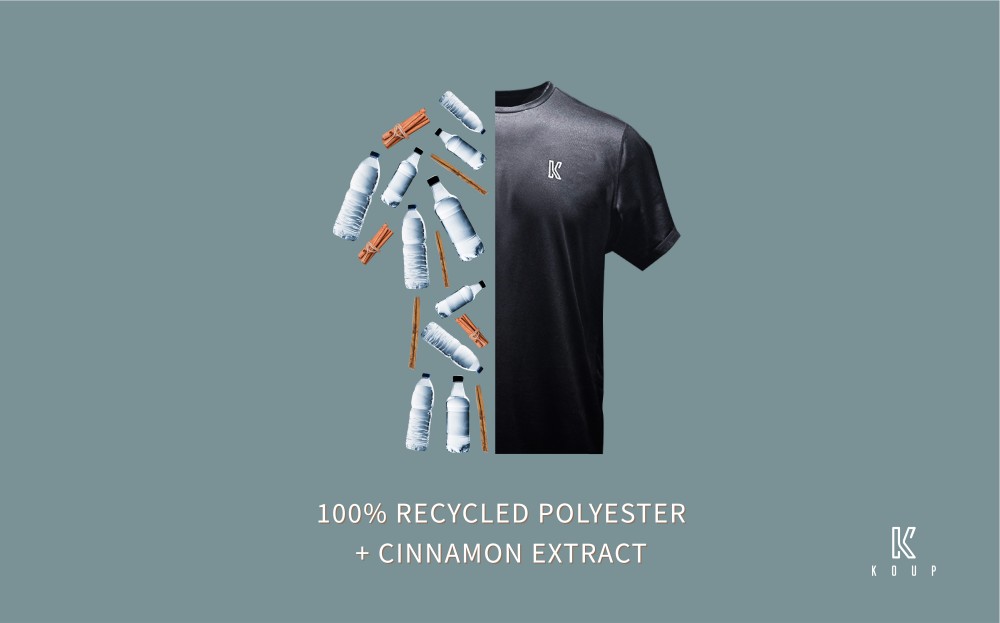 Photo courtesy of Koup

Technical specifications
in our Koup base layer review
Let's get the standard stuff in any good hiking gear review out of the way first.
By that, I mean these performance factors:
moisture wicking
breathability
weight
fit
odor control

Wicking action
A hiking base layer needs to wick away perspiration so you don't drown in your own sweat.
Instead of using a chemical coating, this shirt is made of fabric which has the ability to promote capillary action.
In essence, it creates tiny little channels to draw moisture away from your skin.
You see capillary action in, um, action when you wick up moisture with a paper towel.

For a hiker, this action keeps you feeling less soggy during a hike. That plays into feeling more comfortable as the hike progresses.
It can also increase your safety margin in extremely cold or hot conditions.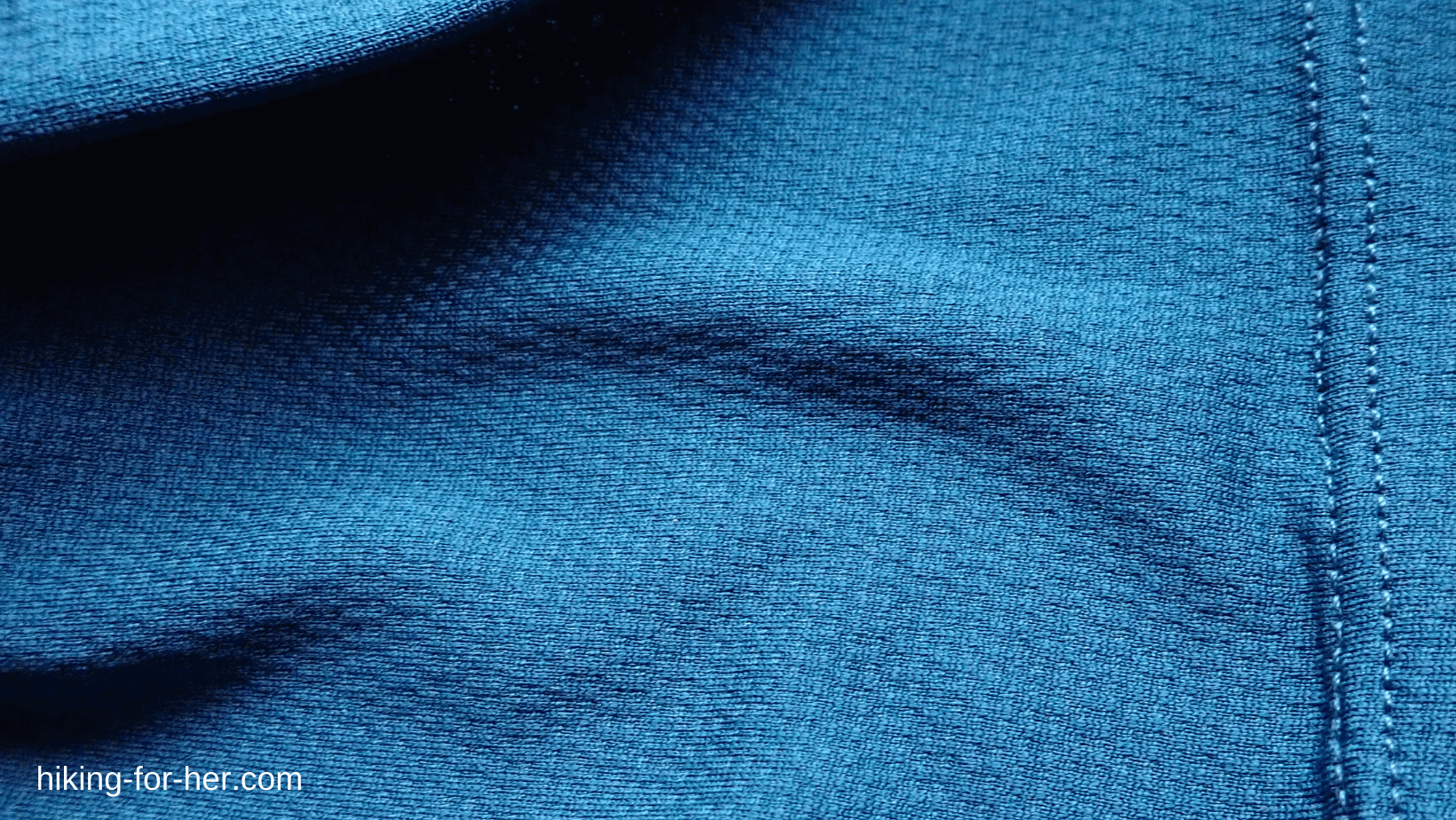 Lots of wicking capacity in this fabric

But does it breathe along with you?

A base layer should also be breathable, allowing for flow between your sweaty skin and the outside air.

This provides an avenue for body heat and sweat to be released through the fabric.
Evaporative cooling feels great on a hot hike.
Look at the photo above. Notice the textured jacquard structure.
Then visualize a lot of pores in the fabric for air exchange.
So the answer is yes, this shirt has breathability.

Let's keep going with the technical details in this Koup base layer review.

Lightweight is the right weight
in hiking base layers

Hikers are all about counting ounces or grams on their gear list, even in something as basic as a shirt.
Fabric that feels as if it weighs nothing on your skin is a real find.

The fine machine gauge used in this Koup shirt keeps the weight down to an astonishingly small number, less than 68g (per Koup tests) for a women's shirt.
One more component to a
great hiking base layer: fit

If a shirt fights you when you bend over or move along the trail, it's not worth wearing.
Ditto for thick seams that chafe all of your sensitive areas.

A base layer with flat seams and a modified crew neck is just right for the trail, and that's what this shirt offers you.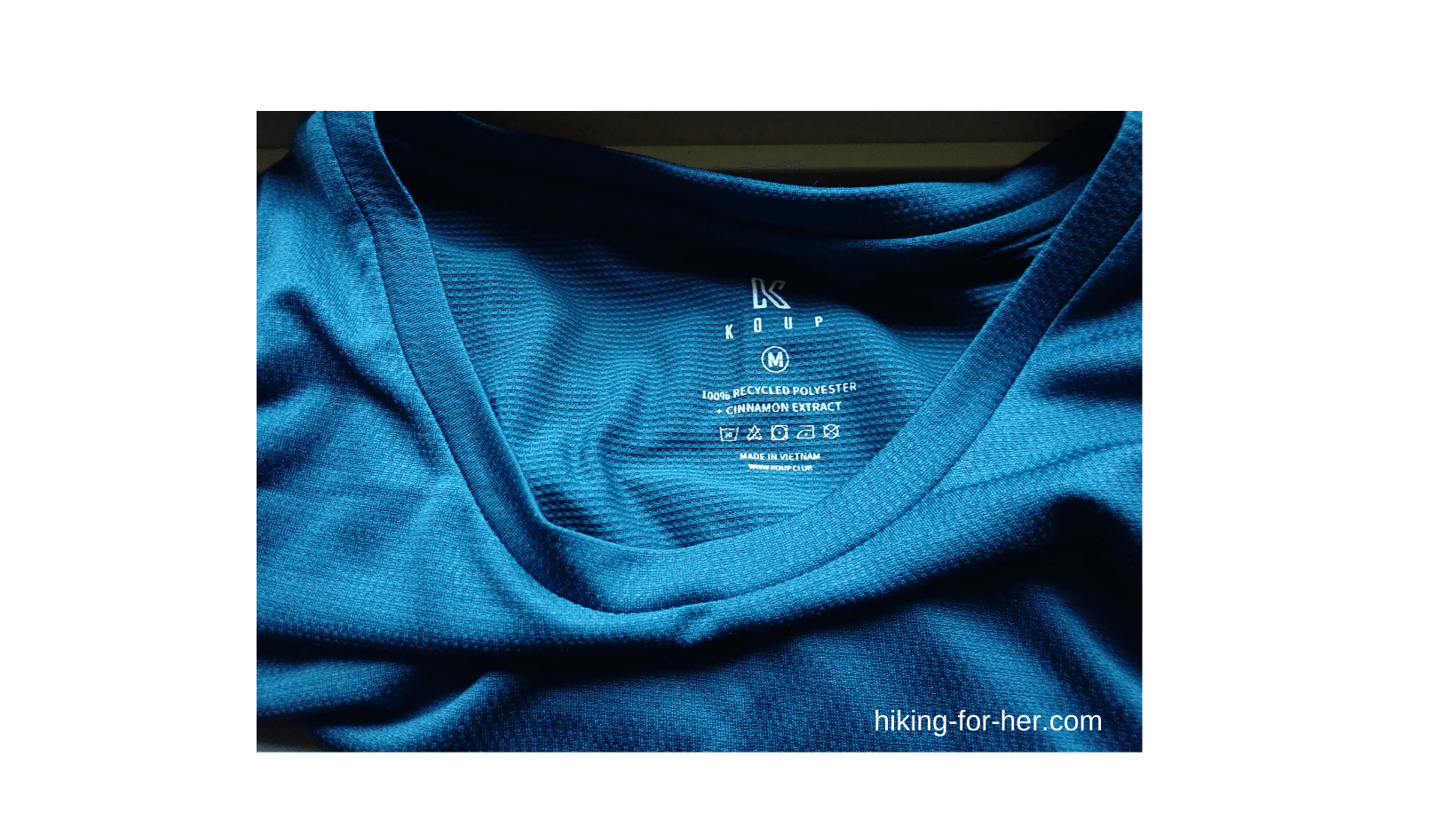 Crew neck gives lots of room
Now for the fun part: the cinnamon.
Why add cinnamon to a hiking base layer?
Hint: odor control

That's the question that intrigued me!
Here's the answer.
Bacteria make their home on your skin. They go to work on your sweat as you hike, using the components to live another day.
And to create the classic "hiker funk" or what I like to call "essence of hiker" smell.
Cinnamon inhibits the growth of bacteria. Slows them down so you end up with fewer of them on your skin, in other words.

That's a big deal, because some types of skin bacteria can double in number in as little as twenty minutes.
Doubling time of twenty minutes, a hike that last seven hours... or seven days... do the stinky math!
Koup tested their cinnamon infused polyester fabric to see if the antimicrobial properties were real, and if they lasted after 20 wash cycles.
Yes, and yes.
You can examine their results here.

Bottom line for performance: odor control based on a spice.
Always a nice thing on a backpacking trip, where you wear the same shirt over and over.
Trail performance in this Koup
base layer review

I expect a lot from my hiking clothing, including:
unimpeded movements

feeling relatively dry no matter my exertion level
durability

a small footprint in my backpack
good looks

So that's what I'll focus on in this portion of the Koup base layer review.
The fit of this long sleeve shirt

Personal disclosure: I hate tight hiking clothing.
Sure, it may look good when it's snug and trim.
But I want fabric to move with me, not fight against me, as I swing my arms and bend to pick up my backpack.

The fabric in this Koup base layer shirt flowed nicely with my movements.
The modified crew neck gave me plenty of freedom, and accommodated my neck gaiter nicely.
This is an important point if your neck is always cold. A high neck line creates a choking sensation if you add  fabric around your neck.

I liked the flat seams, with no chafe points.
It also has a bit of stretch, making it easy to pull on or off.
Sizing notes:
The shirt is designed for a trim fit. If you like more room in your shirts, order up a size.
I also noticed that because of the thinness of the fabric (which is by design, see above), I could clearly see the outline of my sports bra beneath it.
No big deal to me, but it might be to you.
Also, the shirt is available only in sizes S - XL, which leaves out a lot of hiking women.

Moisture wicking ability

No complaints in this department!
The shirt sopped up my sweat as it was generated, on a day long hike in temperatures that hovered around 50 degrees.
It kept me warm beneath my rain jacket (used as a waterproof outer layer when navigating off trail) but was able to keep everything except my arm pits from feeling saturated.
And that's a great outcome for any hiker!
Durability:
an important issue in this Koup base layer review

The thinness of the fabric, which is an asset when examined one way, can become a liability when looked at in terms of durability.
How long can something this thin last?

The shirt arrived with its own little laundry sack, which is intended to keep it from snagging on velcro fasteners of hiking pants and jackets when co-mingled in the wash.
I intend to use the sack to extend the shirt's lifespan, both in the wash and in my backpack.
I didn't put the shirt up against any abrasive rock surfaces on my test hike, although it's likely that I will on future hikes.
I'll report back on any holes, rips or abrasions the shirt may accumulate.
But on that note, if I'm using this thin shirt as a base layer, it's unlikely that I'll be leaning against rocks or clawing through brush wearing just this layer.
So my mid and outer layers will be protective of its thinness.

How small does it go?

Backpack space is always at a premium on a hike, no matter its length.
On a day hike, I want to go fast and light, so the volume of my small pack is limited by choice.

I routinely carry a clean, dry shirt to switch into at my lunch spot, rain or shine.
I just feel better when I'm hiking out in something fresher, if you know what I mean.
This shirt was a dream to pack!
It snuggled into its little laundry sack (what can I say, I'm a rebel) and disappeared into the outer top pocket of my backpack. So easy to whip out and don quickly on a chilly day!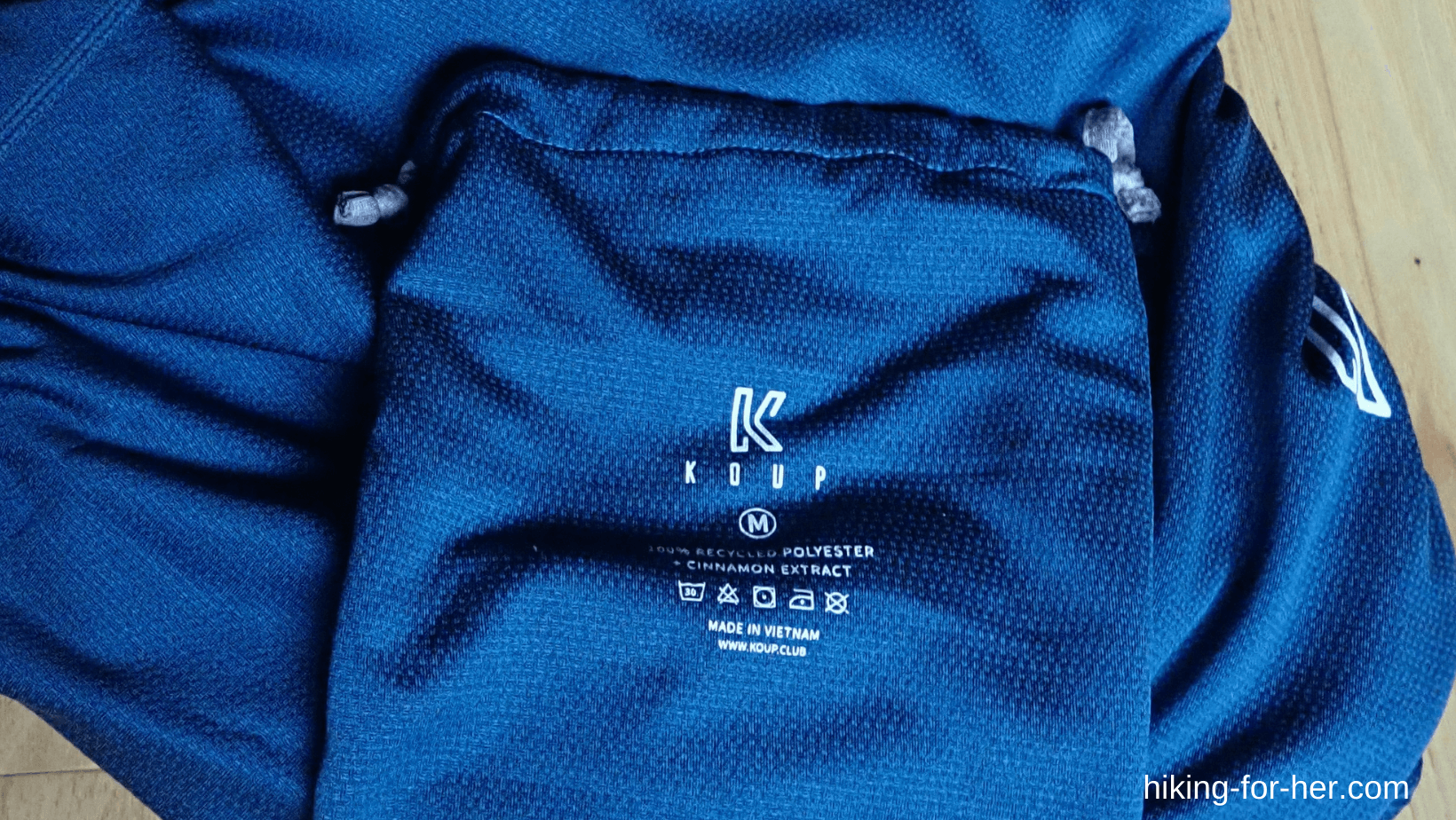 This little sack is included, for packing or washing
I'm planning some backpacking trips with bush plane access, and feel good knowing this shirt will be a negligible but important part of my overall weight.
Just for the record:

As this was a gear test hike, I packed the shirt in my pack at home, and then removed it to pull it on at the trailhead before starting the hike.

I also wore it the entire day, then tossed it in the washing machine the next day, so I could assess the odors clinging to it. (All for you, dear reader!)

Good lookin' and smellin'
I am quite satisfied with the way this shirt looks, and the pretty blue color reminds me of my favorite little alpine tarn.
There are four color options in all.

Did the shirt smell after the hike?
Of course it did! It smelled like wind, mud, and me.

Did it reek?
No, and it wasn't too smelly the next morning when I laundered it.
It came out looking -and smelling- great!
It will be fun to track the next 19 washes, to see if the Koup claim for its cinnamon infused fabric holds true for me. I'll report back right here in this Koup base layer review.

There's one more good thing to note
in this Koup base layer review
This shirt is made of 100% recycled polyester, meaning less energy and less greenhouse gases in the manufacturing process.
Not every base layer shirt can claim that.
Kudos to Koup for creating a light footprint on the environment.
Conclusions in this
Koup base layer review

Does it seem a little over the top to do such a thorough discussion of one little shirt?
Nope!
Every hiker is on the lookout for great base layers, for the various reasons outlined in this review.

Consider Koup for your gear list additions if you're a day hiker, backpacker, or trail runner.
The fabric is nearly weightless against your skin.
The modified crew neck and lacks of seams looks and feels good.
It does a good job of wicking and breathing.

And you're going to love how small this shirt rolls up in your backpack.
Keep an eye on Koup, they've got innovative things in store for hikers.
Grab your shirt here.

And thanks for coming along on this Koup base layer review!
Home page > Hiking For Her Reviews >
Koup Base Layer Shirt Review