Enjoy Happy Trails, the free monthly newsletter from Hiking For Her.

Receive a free resource: Hiking Layering System Explained

Baffin Boots Review:
What Makes These Waterproof
Winter Boots Stand Out

By Diane Spicer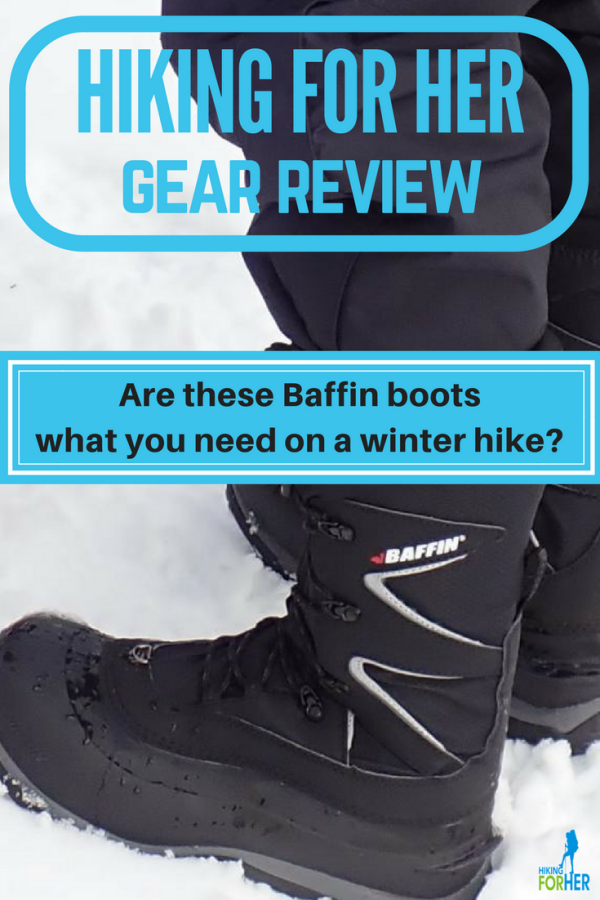 This Baffin boots review was entirely my idea.
Two reasons:
My ten year old pair of Itasca boots fell apart, literally, as I was putting them in the Jeep for a snowshoe outing.
I've heard great things about Baffin construction and quality. Canadians know about snow, right?

So this review is all about answering the burning question of whether (or not) Baffin boots are a viable winter option for female hikers.
I purchased these boots* with my own money, and all comments and photos belong to me.
*Baffin Drift series, SnoGoose, women's size USW 9.
If you purchase a pair of Baffins using this REI link or this Amazon link, Hiking For Her will receive a small percentage to keep these free hiking tips flowing - without raising your price one cent.
A note about the Baffin series
This Canadian boot company is serious about getting the correct boots on your feet, depending upon your activity.
The Drift series is but one of many to consider:
Arctic: if you're heading into -100C/-148F conditions 
Great Lakes: waterproof in all weather conditions

Ultralite: as you would expect, 2 pounds or less onyour feet

Ease: fast and easy on and off

Urban: Not for the trail, but they're lookin' good!

Soft Shell: lower cut, for playing well with snowshoe bindings or for winter trail hiking

Miku: tapered and designed for around town in 0F conditions or higher

and more with each new season!

Baffin boots review:
the boot specifications
These are seriously warm boots, as you can see with these specs:

double weave waterproof 900 denier nylon upper

lightweight rubber base

cold resistant EVA midsole

rated to -40F

removable inner boot liner with multiple layers

waterproof nylon snow collar way above the ankles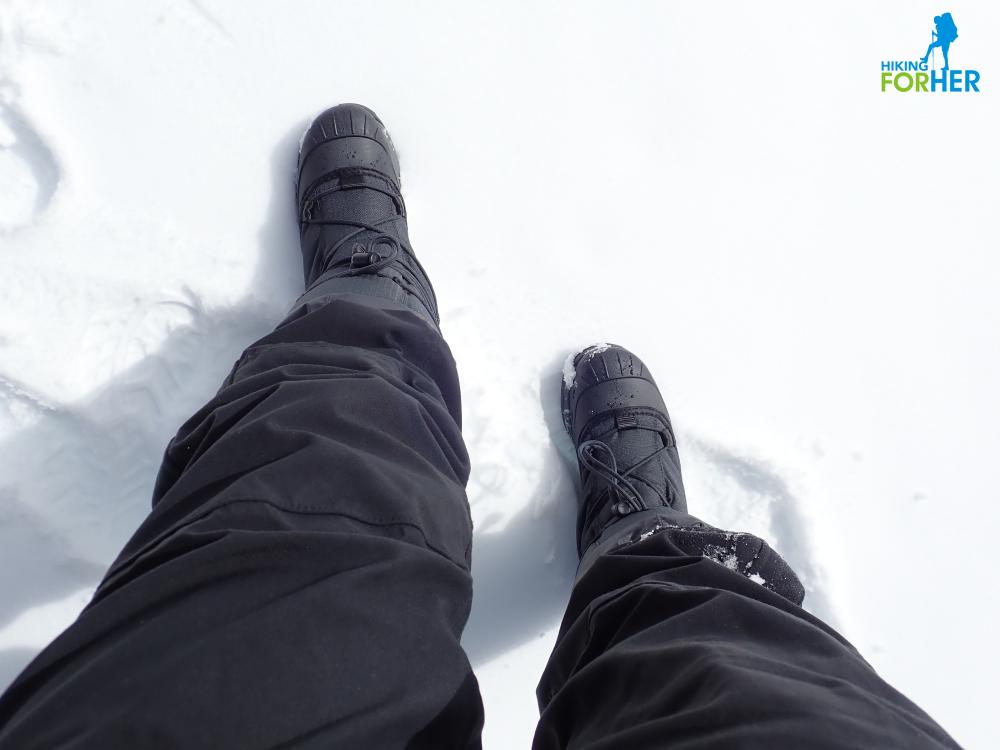 Cozy feet, no matter how much snow you slog through
Now let's take a look at the performance of each of these features during a snowshoe trip in the Cascades Range of western Washington.
Baffin boots review:
setting the scene
Snowshoeing in Mount Rainier National Park can be an interesting proposition.
Some years, there is abundant snowfall at the lowest elevations, right down to the Paradise entrance gate.
Other years, you have to drive way past Longmire, up and up and up toward Paradise, to get your first good snow.
Or, you can work for it.
Which is what happened during this Baffin boots review, beginning at the low elevation Kautz Creek trailhead and continuing upwards for 3500+ feet of elevation gain over several hours.
And, of course, the descent.

Snowshoes were carried until the glorious snowline was reached.

The snow doesn't look too deep - under a thick grove of trees!
Weather conditions were highly variable that day:
calm, clear and 30F above 3000 feet
a fairly dense fog layer at lower elevations
Essentially, two different weather conditions, just right for a thorough review of these winter boots!
Baffin boots review:
performance of each feature
When you pay good money for a new pair of winter boots, you want to be sure your feet will stay warm, dry and uncramped throughout your exertions.
Nitty gritty time!

Construction features:
shell & soles
Always start with the soles of a pair of boots, to get an idea of construction quality.
In the Drift series of Baffin boots:
The shell is

Arctic™ Rubber: flexible, lightweight, and cold resistant synthetic blend

Midsole is

EVA (ethylene vinyl acetate) for cushioning and insulation

Rubber outsoles for durability and protection
You can bend these boots if you torque the toes away from the heel, but not a lot.
They're built for durability and cold protection.
And they delivered! Plus, they were comfortable right out of the box, and remained so during the hours and miles of the day's exertions.
The toe box was roomy enough to accommodate two pairs of socks - plenty of wiggle room to get blood flowing in the toes.

Construction: uppers
The tough, durable, lightweight and waterproof nylon used to build the uppers of these boots is going to see you through all sorts of weather, and every trail condition you'll run into during your early fall through spring hiking.
The uppers are a generous length, adding an additional layer of insulation to my lower legs to support my base layer and waterproof rain pants.
They cinch down to prevent snow or debris from entering the boots, a great feature for off trail wanderings.

Liners
Warm, cozy, welcoming ... everything liners should be.
Tip:
Take them out and dry them after a sweaty hike, even if they don't "feel" wet.

These liners are replaceable, which is a nice feature with boots that are built to last.
With my decade long love affair with Itascas, I went through two pairs of replacement liners. There's only so much pounding they can take.

On and off ease

You can step into these boots if the lacing is loosened.
No need to fiddle around with finding just the right angle to slide in your foot.
You can skip the fun little "hop around and yank" dance, too.

The side to side lacing with toggle allows you to expand or tighten down the fit with one hand, even wearing gloves.
Please take a moment to do that before you set off, because the fit is critical to your comfort and safety.
What I loved about
these Baffin boots
My feet never felt an instant of hesitation about plowing through snow, mud, or stream crossings in these Baffin boots.
The warmth generated by my muscle contractions heated up the boots quickly, and kept my usually cold toes at a comfortable temperature.
You might ask if these boots are too warm for a 30F degree day, and I'd say, it depends.
Older women (like me) will appreciate the constant warmth.
Anyone dealing with the cold feet of Raynaud's syndrome will appreciate these boots.
Young folks might find them a bit of overkill for a temperate winter day of vigorous exercise.
Snowshoe bindings play nicely with these boots

More to love
in this Baffin boots review

The lightness of these boots on my feet were a dream come true.
It's hard enough to break trail on snowshoes, let alone wear five pound boots on each foot.
Also, not having to wear gaiters (thanks, high collar around my calves!) lightened the leg lift load.
On the other hand, if you're snowshoeing or winter hiking for weight loss or conditioning, you'll want a heavier load on your feet - so these boots might be too feather weight for you.
Or, you can tie rocks to them ;)

What I didn't enjoy
about these boots
This is nothing against the boot design, only an observation in this Baffin boots review.
At the lower snow free elevations, these boots were not able to support my arch as well as I would have liked.
Caveat: I have abnormally high arches, so this might not be a problem for you.
Also, cushioning socks with extra arch support like these might help.
Supportive tip:
REI Co-op has a good overview of how to choose insoles.

Another thing: the soles are not high grip, so don't depend on them giving you stability on icy or muddy surfaces.
A note of caution
about fit
An important thing to mention in this Baffin boots review to save you some trouble:
Baffin women's boots tend to run small, so order up one size.
My size US 9 boots were just right with two pairs of knee high socks: thin liners and thicker warm socks.
Another thing to note: you need to adjust the boots to your particular calf and ankle dimensions, or they'll feel too loose on your feet.
The cable and lock adjustment system is easy to use, with or without gloves.
Baffin boots review:
conclusions
I've found a suitable replacement for my worn out snowshoeing winter boots, and I'm a happy woman!
These boots conform to, and support, the unique dimensions of my feet, given the receptivity of the liners to my body weight carrying a backpack.
The rugged soles and bomb proof nylon uppers weigh almost nothing, compared to the solid support and protection they deliver.
Although solid, they don't result in a jarring, inflexible walking experience.
All in all:
Consider these boots a great investment in the health and well being of your hard working feet in cold weather.
Then strap on a pair of snowshoes (see my newest snowshoe review here), and go stomp some snow!
Home page > Best Hiking Gear Reviews >
Baffin Boots Review For Winter Hiking And Snowshoeing