Have the freshest free hiking tips sent to you each month!

Why Hike?
Four Great Reasons!

Why hike?
If you're asking yourself that question, your curiosity is about to change your life.
The best time to start hiking is today.
So let's give you four great reasons to become a hiker.
The trail is calling, and you must go soon.

Why hike: Because you're curious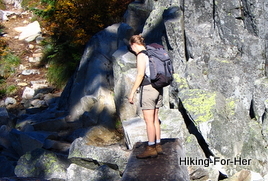 Why hike?
Because you are wondering what it's like, what hiking will demand from you, and what it will give you in return.
If you have even one tiny shred of curiosity about how it feels to lace up your boots, shoulder a pack, and stride off into unknown territory (even if it's at a local state park), follow that curiosity.
Literally follow your curiosity out onto a trail and see where it takes you.
But be smart about it.
I've written some tips for beginner day hikers and share them here:
Use these hiking tips to get started on some local day hikes, and before you know it, you'll be coming back for some backpacking tips for beginners!
And to feed your curiosity even further, take a peek at my Pinterest Why Do I Hike page.

Why hike: Because you can

What's one of the first major milestones in a baby's life?

Walking, of course.
So you're an expert walker with decades of experience, and that's not an accident.
Your body is designed for bipedal upright motion.
Walking comes naturally.
And you do it so well!
Here's why: your hard working muscles and bones.
If you're just starting down the hiking path of life, read these tips on injury prevention.

If you're an older person contemplating the benefits of hiking, read these tips.
Menopausal women seem especially open to exploring what hiking can do for a midlife transition, so I've shared some tips for menopausal hikers here.
And if you have questions about how to get started, use the CONTACT link at the top left of this page to send me your questions.
Why hike: Because you have
a goal to achieve

The physical and mental health benefits of hiking cannot be denied.
Every step you take on a hiking trail pays off for you in a big way:
are all examples of doing physical work as a hiker to make your body stronger.
Not everyone likes outdoor exercise. If you're more comfortable in a gym or at home with your yoga mat, so be it.
But if you want to tone up, slim down, improve your posture and balance, and keep your joints mobile as you age, hiking is your ticket. And those are just a few of the best reasons for hiking.

Don't take my word for it! Read this report for details on the health benefits that any hiker can reap:
American Hiking Society Health Benefits of Hiking fact sheet
To help you get started, I've written some specific tips for beginning hikers with a goal in mind:
Prehiking strength and conditioning

Why hike: Because you must!

For some of us, NOT hiking is a horrifying thought.

Hiking is what we do.
It's what brings serenity, a high level of physical fitness, a purpose, a sense of satisfaction.
And here's why we're hooked on hiking:
Every hiking trail is different, regardless of how many times your boots have been on it.
You're different on every hike, too.
What an amazing sport! It's fresh every time, and gives you such an abundance of health benefits plus some great photos and cherished memories.
So I urge you to try hiking, and start off smart. A few bad experiences as a beginner hiker will rob you of your curiosity, desire and willingness to explore what it means to be a hiker.
I've gathered together a lifetime of the best hiking tips, earned the hard way on hiking trails all over the United States, Canada and beyond, and share them for you here (just click on the picture).


Why I hike

If you're curious, follow the About link below to the story of how I got started hiking, and why I'm still a happy hiker 45+ years later.
And remember, if you need more reasons to hike, send me your concerns and questions. I'd be more than happy to help you get out on the trail.
I can't think of a sport that's so easy to begin, and so rewarding throughout all of the ups and downs of life.
Give it a go!

Didn't find what you were looking for? Use the blue TOP button
on the right to jet back up to the search box.
Why wait a whole month?
Plus, there's never enough room in the newsletter to share it all, so why miss out on exclusive Hiking For Her giveaways, limited time gear deals and discounts, freebies, updates, and more?

A short, info packed weekly email update will keep you current on all things hiking!
When you sign up to receive this update, you are agreeing to Hiking For Her's privacy policy.

Don't miss out!

Read more about these hiking weekly updates
Save Time

Save Time & Money


Hiking For Her's weekly emails are the best way to find out about current hiking & backpacking news:


flash giveaways
timely deals
steep discounts
freebies
trail changes


resources

Free, fast, fun info for you, every week of the year