Enjoy Happy Trails, the free monthly newsletter from Hiking For Her.

Receive a free resource: Hiking Layering System Explained

Hiking Inspiration:
Could You Use Some?

By Diane Spicer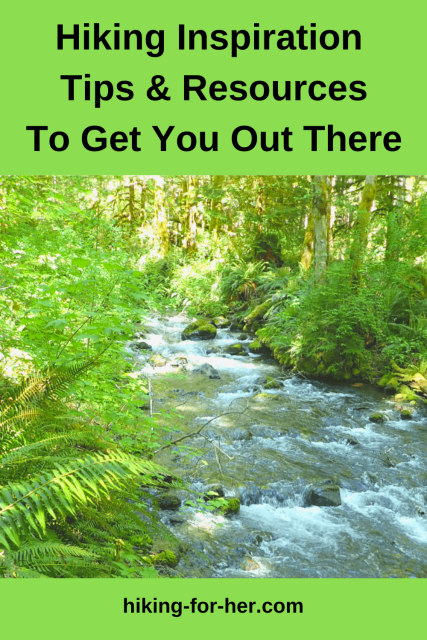 Hiking inspiration is a highly prized commodity for women hikers.
I know, because I get lots of email, and some of my favorites are from women asking for some book recommendations for upcoming "milestone" hikes.
For instance, here's Mary's request:
"Wow! I just discovered your website and, believe me, I am thrilled.
I am an avid hiker and for my 60th birthday this year, I have convinced fourteen women to go to Colorado to do a couple of "fourteeners".
Do you have any suggestions for prior reading for us on hiking--either fiction or nonfiction and preferably something about women.
Thanks."
Here's my answer

Hello Mary! Thanks for your email.
I'm jazzed just thinking about what a great time you will have, celebrating your birthday in such a fabulous way!

Here are a few suggestions. I wasn't sure if you wanted adventure stories, or inspiration, or how-to, so I threw in a bit of all three.
Here's a book with a special "60th" twist:

In Beauty May She Walk: Hiking the Appalachian Trail at 60

More inspiring book suggestions
for hikers

Nothing says hiking inspiration more than first hand reports from the trail.
And if you're like me, you can't get enough of them!
Here, in no particular order, are a few more sources I've found that I'd like to share with you.
First up is a book I still like to dip into, season after season: a compilation of essays, edited by Adventura Books.
Gifts of the Wild
I love this book because the stories will resonate differently with each of the hikers in your circle.

If you're backpacking in a group, this could be a great topic of discussion around the evening meal.
Next, this collection of women writing about the Southwest (and edited by women) is a juicy read, too.

What Wildness Is This
Read my review of a book to inspire you to get wild, stay wild, think wild every day of the year: 1001 Ways to Live Wild.

And you might like to dip into my entire collection of recommended hiking books.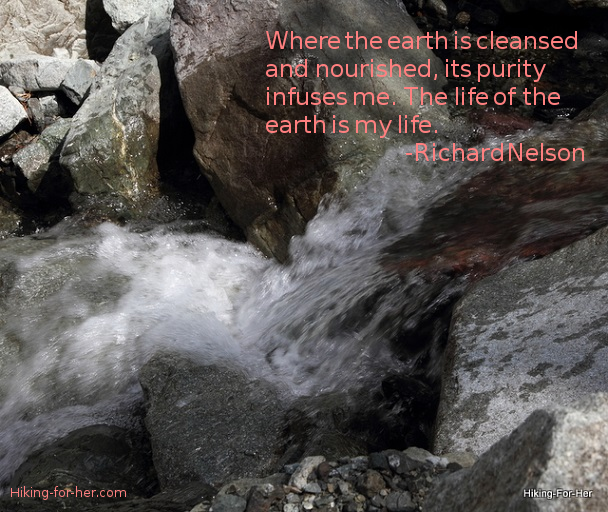 Just one example of hiking inspiration available at Hiking For Her's Facebook page!

Hiking inspiration: people

Famous female hikers are hard to find, but I did my best for you!
This book about Emma Gatewood (of Appalachian Trail fame) completely answered the question "Why did she just take off down the trail in her late 60s and never look back?"
Yup, a determined older woman without a drop of hiking training, but inspired to do what her heart was calling her to do.
It's a great read and would make an inspiring gift for any woman itching to try long trail hiking.

Grandma Gatewood's Walk
If you're endeavoring to inspire the next generation of hikers, read my review of a new children's book entitled When Grandma Gatewood Took A Hike.

Another source of inspiration
for female hikers
In my own small way I try to inspire other hikers to explore, expand, and extend their hiking goals by posting regular inspirational quotes, photos, questions and links to hiking information and tips on this website.
I also try to harness the power of social media to inspire and encourage female hikers.
The HFH Pinterest page offers you many hiking topics to explore, including this Why Hike? board.
And if you need a fresh answer to the question "Why hike?", read some suggestions I've pulled together for you here.

My goal is always the same:

I want all women to see the wild places, to be inspired by the strength in their legs and the ability to feel awe at the sight of mountains, glaciers and the moon conspiring to make life a grand adventure.

Inspiring hiking quotes
and infographics

Words and images from other hikers are powerful.
They motivate us when we're not really feeling the trail love.
They offer us new ideas.
And they inspire us.
Dip into Hiking For Her's favorite quotes.
And my best hiking infographics.


And don't forget
YOURSELF!

Yes, you.
Wherever you are on your hiking journey, you can serve as inspiration for other women just starting out.
Or those who want to try the style of hiking you currently enjoy.
Nothing motivates me more than reading email from women who are either out on the trail getting their boots dusty, just returned from a tough hiking trip, or planning a big hiking adventure.
In fact, I love to do interviews with women who have done trips to destinations that most of us won't do.
If you've got some hiking wisdom (what I like to call "trail pearls"), please send them to me and I'll share with our virtual hiking sisters.
Nothing is too small to be worthy of the pearl designation, if it will help someone else as a hiker.
Share your favorite hiking trail, too.
Thanks in advance!

Home page > Fun Hiking Stuff >
Hiking Inspiration