Enjoy Happy Trails, the free monthly newsletter from Hiking For Her.

Receive a free resource: Hiking Layering System Explained
Best Hiking Vacation Ideas:
What Are Your Options?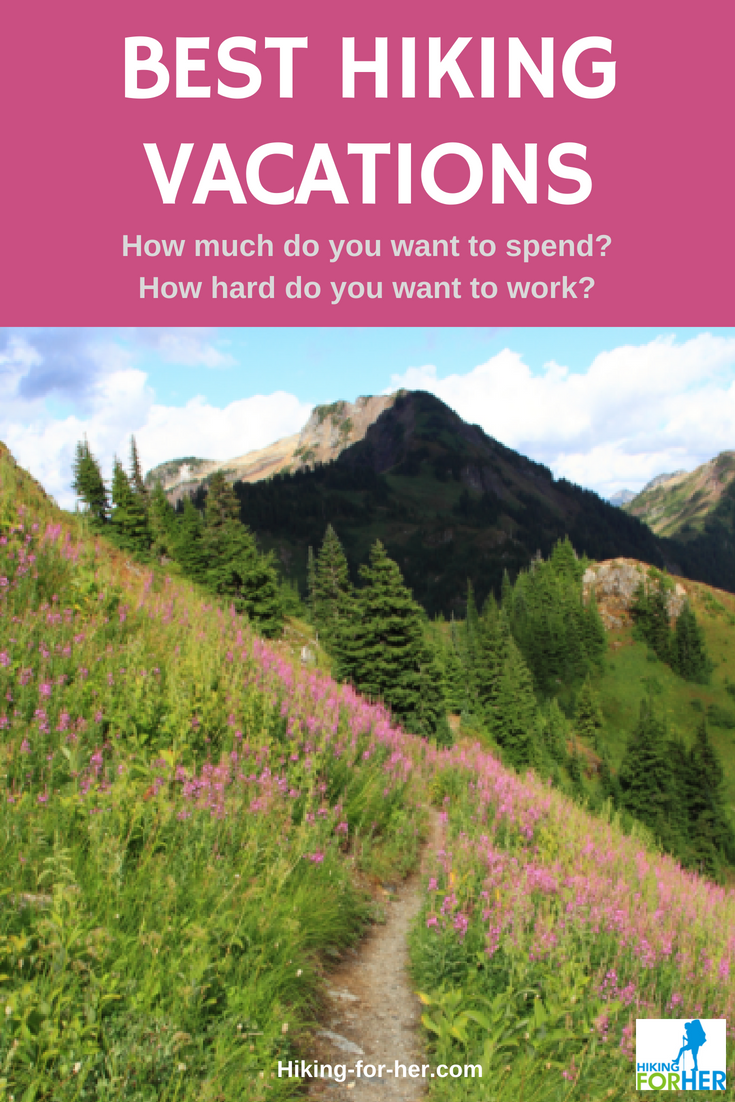 The best hiking vacation is the one you talk about year after year once you're back home again.
It probably had nothing to do with the weather, or the scenery.
Ha! Are you kidding?
Of course hiking trips revolve around the weather and the scenery!
But there are other important components to an unforgettable active hiking vacation, like

Our planning approach
Iconic hiking destinations will give you plenty of company, but also plenty of ways to get there.
Other hiking destinations which are remote, off the beaten path, or not discovered yet? It will be harder to find folks willing and able to take you there.

So in broad strokes, let's describe the types of hiking vacations you can put together, in descending order of the least amount of work (and highest amount of money):
group hiking trips

hike in & heli-lodges

custom hiking vacations

do it yourself hiking adventures

In each category, we'll drill down to specific hiking and trekking vacation ideas you can try on for size and cost.
Group trips
for your best hiking vacation

If you have a hankering to hike in an accessible and spectacular hiking area, it's likely that other hikers share your enthusiasm.
Booking a group hiking trip with a hiking tour company is as simple as doing an online search, narrowing down the offerings with the length and dates of trip you need, understanding the amenities or lack thereof, and booking the trip.
To make the best possible choices for a group hiking trip, either in the United States or in another country, read this first.
Then check out REI Co-op group hiking trips for an example of a company that does things right.

REI Adventures trips
REI Co-op understands how outdoorsy people think about their best hiking vacation destinations.
That's why they feature adventure trips in all of these regions:
Africa

Antarctica

Asia

Australia/New Zealand

Europe

Latin America

North America
Even better, you can select the activities you want on your hiking vacation.
So if you want to branch out from hiking and trekking, you can include cycling, mountain biking, kayaking, or a mix of sports in your trip.
Why go with REI?
Rock solid reputation, a deep understanding of what it takes to pull off the best hiking vacation (gear, food, safety, logistics, fun), and a willingness to tailor a trip to women only.

The Clymb Adventures
The Clymb offers great deals on destinations with a lot of reasons to use the word "incredible", like Peru, Patagonia, Nepal...
places where a hiker could turn daydreams into reality.
Check out their latest trips here.

The thing about booking a trip through The Clymb is timing: you have to make up your mind fairly quickly if you want to snag the good pricing.
Some trips are discounted an eye popping 58%.

Hike in lodges
A hike in lodge allows you to earn your soft, warm bed with the sweat of your brow (and legs, and back) while offering you amenities you won't find in the bowels of your backpack.
Home cooked, delicious meals prepared for you, for instance.

Clean, soft towels and a shower every day, in most hike in lodges.
And here's another perk:
To maximum your outdoor time and tailor it to your desires, knowledgeable guides and hosts will point you in exactly the right direction for your day hikes and explorations (and have contingency plans for rainy days).
In North America, there are a handful of well known hike in lodges catering to hikers, detailed here.
I've visited exactly none of them, so am not an expert on how to choose the best one for your vacation.

Heli-in lodges in Canada

In British Columbia, there are many different lodges perched in mountainous areas.
Although some of them can be reached by long, sketchy hiking trails, it makes more sense to transport hikers and their gear via helicopters.
Downsides:
Upsides:
Bonus upside: If when the weather turns snotty, you've got a warm, dry, cozy lodge with meals. Some lodges bake afternoon tea treats, too!

I've stayed at several of these B.C. lodges, so if you'd like some recommendations based on what you know spells the best hiking vacation for you, I'd be happy to chat.
Custom hiking trips
What you're going for here is someone, or a company, who can listen to what's important to you as you design your best hiking vacation.
And can pull it off for you!
Some group hiking companies (see above) will customize a hiking trip according to your specifications.
I've requested this for trips in Alaska, with excellent results.
Big companies
A big company with office staff, guides, and support people pays attention to marketing.
So expect professionally produced brochures and ads to snag your attention.
Gaze at this hiking eye candy, but do not succumb to the lure of the glossy photos and mouth watering descriptions of backcountry cuisine.

Instead, ask yourself:
Do these people look like folks I'd like to hang out with for days on end?


Is this terrain intimidating to me, or too easy?

Do the photos portray my interests: wildflowers, glaciers, wildlife, rivers?

What are the nightly accommodations?

What types of food will I be eating?

Where do I have to travel to join this trip?

A big company has standard operating procedures for running the trip, and that's a very good thing because it ensures your safety and satisfaction.
However, if you want a customized hiking trip which deviates from the standard package, you will pay additional fees for your own guide, equipment, and transport.
Small, local operators
These nimble little companies can be family based, with deep ties to the local community.
These folks specialize in off the beaten path types of hiking vacations, so if you're craving some unique terrain, find a local operator who loves that area and can't wait to show it to you.

The hard part?
Finding them!
To begin planing your best hiking vacation with a small local operator, decide on a destination first.
Then do an online search using that location plus "guided" or "tour".
You will quickly narrow things down to someone who has been living and hiking in that area for years, and has some great hiking ideas in mind for you.

Trip tip:
It's important to be forthcoming with your preferences, constraints and requirements around food and lodging.
Don't assume all of your questions and concerns can be addressed via email.
Personal experience tip:
Hanging out with the locals is one of the smartest ways to get the best hiking advice and insider information for a particular area.
If you're particularly polite and well behaved, they may even share their favorite hikes! Hiking nirvana!!

Do it yourself
best hiking vacation

This is the way we all started, back in the humble days of learning how to hike, backpack and base camp.
Or maybe it's where you find yourself right now: craving more outdoor time and having some vacation days on the calendar.

No matter, the general flow of this type of hiking vacation planning remains the same:
Pick the best hiking destination for your style of hiking. Get specific: Not Alaska, but the southeast region.

Decide on the month of travel, and on the number of days/nights you can devote to your trip (important for snow levels, surface water accessibility, bugs, etc).
Choose the type of accommodations you want: car camping, backpacking, cabin, motel, inn, lodge, bed and breakfast, or a combo.

Do extensive on line research of the area, including local hiking blogs: use your specific keywords to drill down to the fine details of planning a hiking trip.

Pour over maps of specific hiking trails and routes, and if there is a national park involved, be sure to read every trail & campground description carefully.

Sketch out your hiking and travel itinerary in detail.

Book your flights, accommodations, trail permits, car rental reservations, food access and everything else you'll need to pull off a fabulous hiking vacation.
Then, and only then, are you free to turn your attention to your gear list, modified for the terrain and weather conditions.
When the day comes to leave for your hiking vacation, you will go confidently in the direction of your dreams (quick, who said that?), knowing that you have done your hiking homework.

One more option:
volunteer hiking vacations
Sometimes it just feels good to give back, and the American Hiking Society makes it as easy as possible.
Plus, you'll save money by offering your time and energy for trail building and maintenance in exchange for room and board.
You can choose from easy, moderate and strenuous trips, along with various types of accommodations.

Check out their volunteer hiking vacation options here.
It all comes down
to this unavoidable equation

Putting together the best hiking vacation relies upon 3 factors which most of us feel that we don't have enough of:
Your best hiking vacation = time + energy + money
These variables are interdependent:

If you have more time than money plus abundant energy (twenty somethings, that's you!), go the do it yourself route to spend freely from your energy & time accounts while being prudent financially.
You will learn an incredible amount about yourself, and the area you hike in, by sleeping on the ground, exploring the trails, and enjoying frugal trail meals.

When you have more money than time and/or energy, as happens with full time job and family responsibilities, sign up for a "done for you" hiking trip that handles all of the details.
You just show up and hike!

And pay the credit card bills, of course.
One more variable
in planning your
best hiking vacation
An additional planning variable in that equation that should not be overlooked:
Use the search box at the top of this page to locate all of the free hiking information you need to plan your vacation!
Easy peasy, and costs you nothing but time

The best hiking vacation
is the one you actually take!
Life is fleeting, and so is the annual hiking weather window.
However you get out there, be sure you've got some vivid hiking memories to savor when the cold winter closes in.

Home > Best Hiking Tips >
Best Hiking Vacation Ideas