Backpacking Food ABCs:
Tasty and Nutritious Tips
For Backpacking Menus
by Diane Spicer
Why make planning the best backpacking meals hard, when it can be as easy as backpacking food ABCs?
Say what?
Backpackers all agree that taste and speedy preparation are important in the best backpacking food.

But what about the best hiking nutrition tips, to keep your stamina high and your muscle recovery time low?
And who wants to be bored eating the same old thing day after day?
There are plenty of ways to spice things up.

Enter a fun little method that brings us back to kindergarten.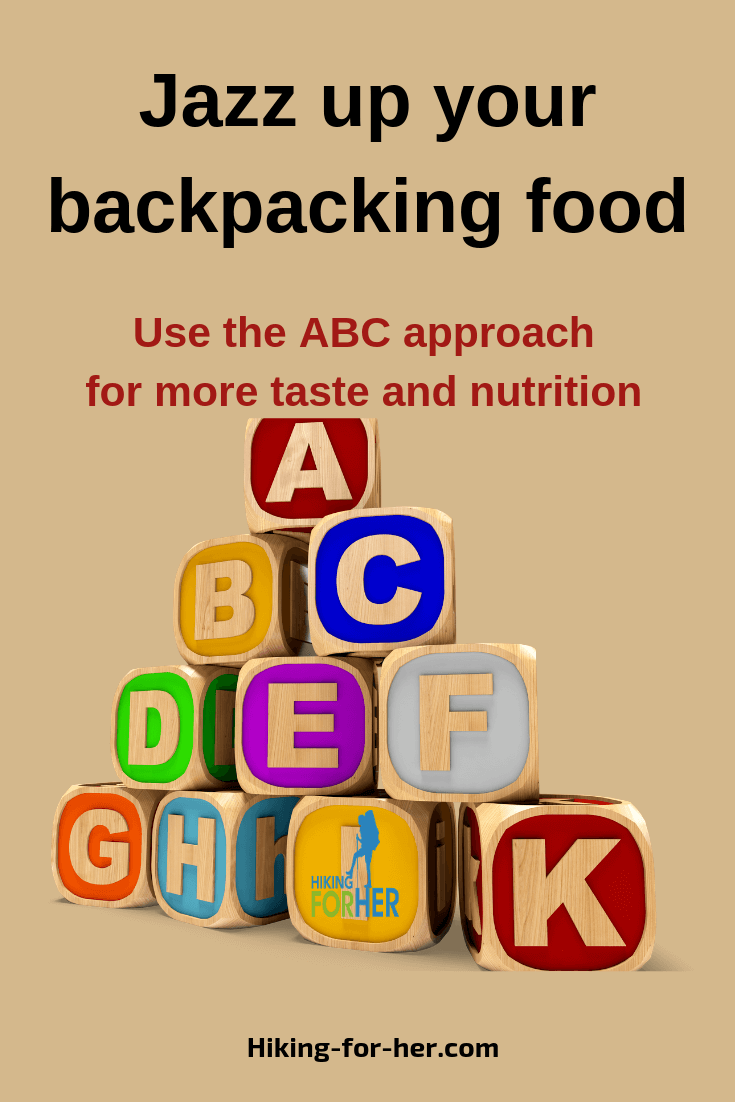 Backpacking food
ABCs
These backpacking food ABCs might show you something you've never heard of for hiking menus, or hadn't thought to include on your backpacking food list.
I certainly hope so!
Because bored or jaded taste buds are a bummer.
And if you're the one planning the backpacking menu, your disgruntled trail buddies will give you an earful!

So roll through and snag your favorite backpacking food ABCs.
Eat Your A's
Chewy apricots, satisfying amaranth, unusual allspice, and a hit of aminos - wow, that's gonna be great on the trail!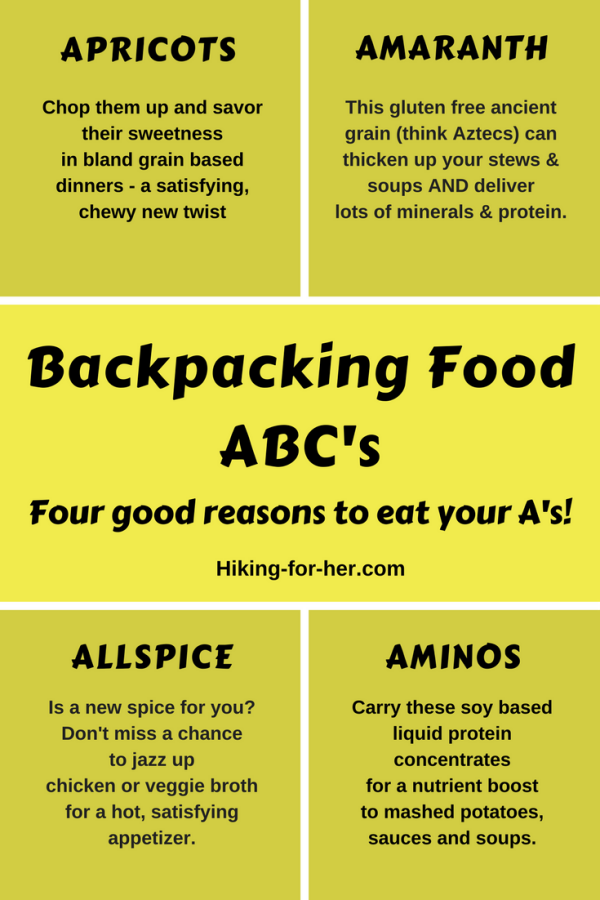 B prepared!
Dried grains and beans are staples in a backpacking menu, but there's no need to make them boring.
And the addition of bran to your grains and beans will not only bulk them up in your stomach and make you feel more full, but will soften your stool.
Just be sure to drink plenty of water if you're using wheat or oat bran in your backpacking meals.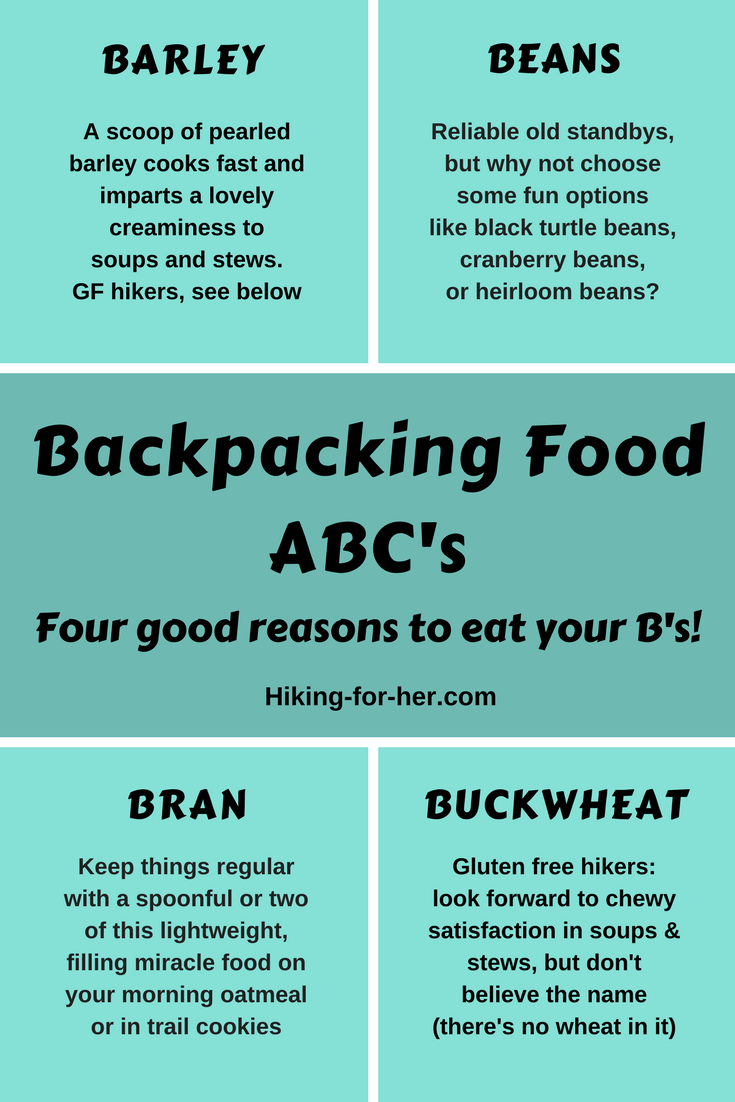 C how easy it can be
to plan a backpacking menu?
Mushrooms, dried fruit, couscous and so many spices to bring along on your next hike!

So many ways to please your taste buds!
And every suggestion is lightweight, easy to use, and highly customizable.
My favorite suggestion: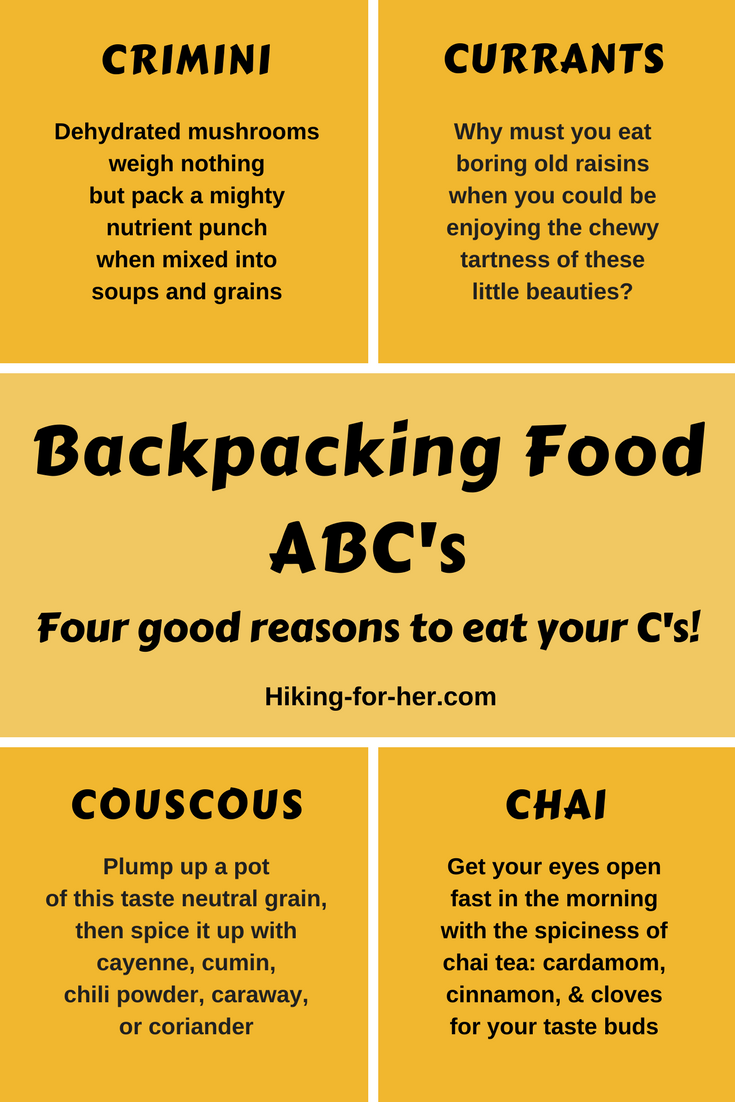 Backpacking food doldrums?

Dulse!

Never tried dulse?
Then you might also need these sea vegetable snack ideas.
(you can call dulse a seaweed, but that's not very polite, now is it?)



Electrifying, energizing
E's for the trail
I learned to backpack in the dark ages (nearly 50 years ago), when dehydrated eggs were a necessity but certainly not a treat.
Things have changed, so give them another look.
Mountainhouse eggs can be jazzed up with basil, thyme, oregano, garlic and onion salt, and more!

Fabulous fiber and fun!
Try something completely different: forage your F's.
Or not!
But at least pack something a little different for your hiking food: farro, figs and flaxseed.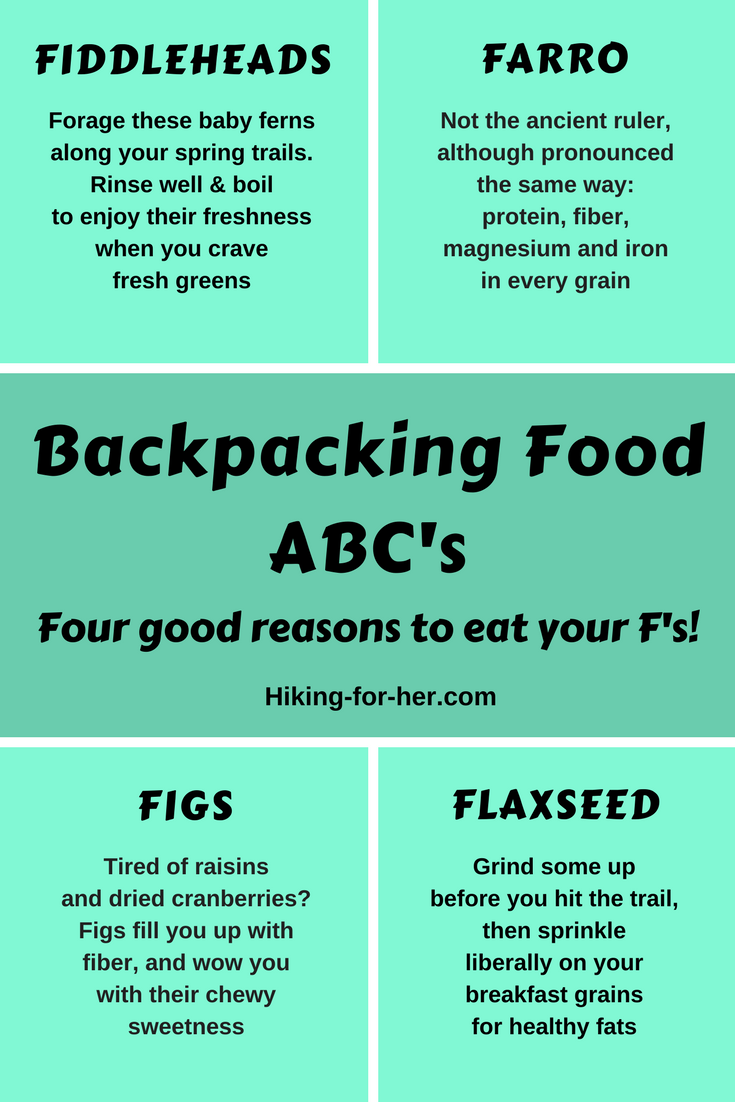 There's no stopping us now!
G is for great! That's how you're going to feel when you take the time to mix up a personalized batch of granola before you hit the trail.
And if you have trouble digesting beans, the fresh ginger will give you a digestive advantage as you sip your antioxidant rich green tea!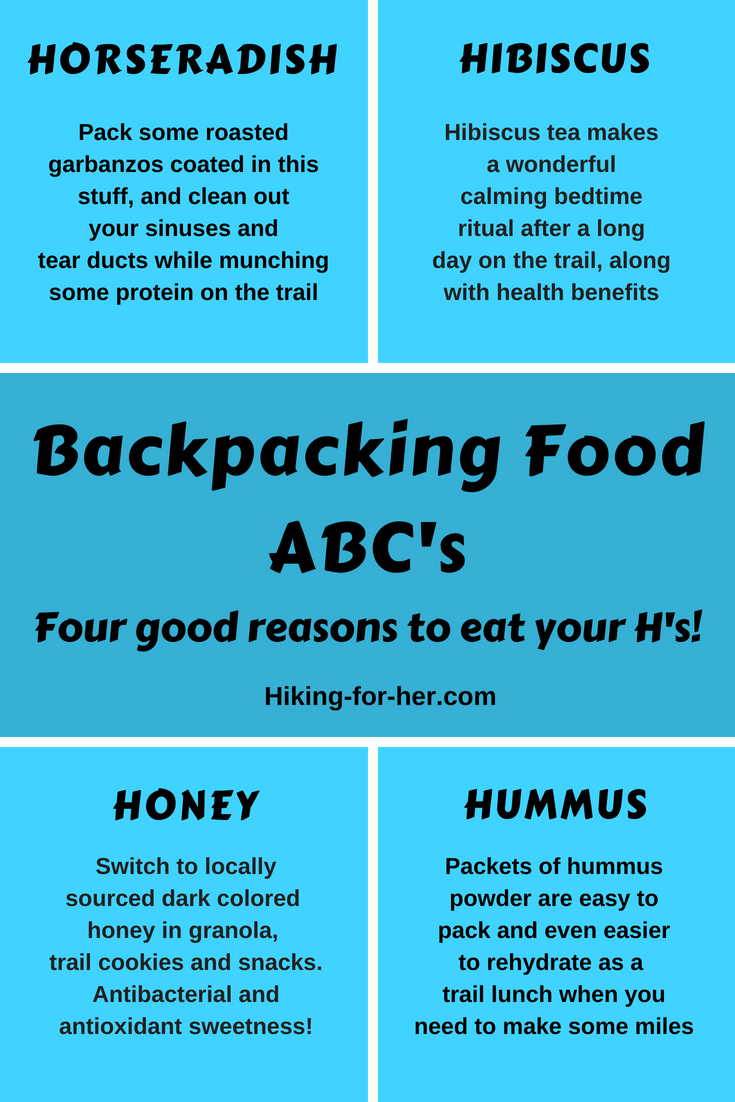 Hurrah for the sweetness of honey, an ancient source of nutrients and simple carbs to keep you going on the trail.
Add it to your hibiscus tea evening ritual, or switch to horseradish to wake up your tastebuds!

So are we having too much fun yet?
Heck, no!
Hiking For Her has lots more backpacking food ABCs to share with you, so bookmark this page and refer back to the ever evolving cornucopia of trail food tips.
While you're here, why not explore more backpacking food tips and information?
These links will get you started:
Home page > Best Hiking Tips >
Backpacking Food ABCs




Hiking For Her's weekly emails keep you current on hiking & backpacking news.


Free, fast, fun info for you, every week of the year.

Use the box below for fast sign up!






flash giveaways
timely deals
steep discounts
freebies

resources
Don't miss out!

Read more about these hiking weekly updates
As an Amazon Associate,  Hiking For Her earns from qualifying purchases. 



All rights reserved. 





Photo credits: All photos on this website were taken by David Midkiff or Diane Spicer.