Enjoy Happy Trails, the free monthly newsletter from Hiking For Her.

Receive a free resource: Hiking Layering System Explained
Yukon Hiking:
Do You Dare?

by Diane Spicer
Yukon hiking takes a special kind of mindset.
Big wild country like this begs for exploration.
But Yukon hiking also begs for preparation, fortitude, and a good sense of humor when the weather is foul and the mosquitoes descend.
Yes, descend in clouds of tiny vampires.

Do you have what it takes to hike in the Yukon?


Yukon hiking options

The Yukon is wedged between the state of Alaska (United States) on the west, and the Northwest Territories (Canda) on the east.
Its southern border run almost all the way along the northern portion of British Columbia.
Its much thinner northern border faces the Beaufort Sea, in the Arctic Ocean.
Are you getting a feel for how immense the Yukon is?
Actually, it's one of the smaller slices of hiking opportunities in Canada!




But it packs a punch, hiking wise, because of its variable terrain and rich ecosystems.



Hiking destinations in the Yukon

Whitehorse is the biggest town you'll find in the Yukon, with many outfitters available to take you hiking through bear country and mind blowing scenery.

To plan your own hiking trip, you'll need to do a lot of background research and show up ready to roll.
Be prepared for weather challenges like you cannot believe, along with insect assaults of epic proportion (unless you cherry pick your time frame).

And be sure your survival kit and

backcountry

hiking knowledge are first rate.
But hey! Don't let any of that discourage you!
Hiking here is well worth your investments of time, money and effort.
A few Yukon hiking options
An established, famous trail
The 33 mile long Chilkoot Trail is probably the most heavily visited because of its historical context:
ancient native routes and access to the fabled gold of the Yukon.
Thirty three miles might not sound like much, but yowsers!

Expect steep, rocky, challenging terrain and tricky water crossings.

Pay attention to permits and regulations that are required.
Kluane
The Kluane National Park and Reserve is also a good choice for day hikers and backpackers.
It's possible to base camp outside the park at Kathleen Lake, and enjoy serial day hikes (review coming soon).
Be sure to visit the Sheep Mountain Visitor Center in Haines Junction to familiarize yourself with the terrain and its inhabitants, including the majestic Dall sheep (which it's likely that you will see in Kluane).
Heads up: Kluane is famous grizzly bear habitat. Read these Hiking For Her tips for bear awareness.

Long trail choice
There is also a segment of the Trans-Canada Trail running through the Yukon.
You could spend all summer exploring the Yukon!

A spectacularly remote choice
for hiking
As long as you're this far north, you might want to consider hiking next door in the Nahanni National Park Reserve in the Northwest Territories, a spectacular destination.
Hiking here is hampered by difficult access (usually a chartered plane or canoe) and lack of trails.
If you're up for an adventure of a lifetime, read my trip report here.Travel tip:
Regardless of where you plan to hike in the Yukon, be sure you understand the fees and permits required to hike in these areas.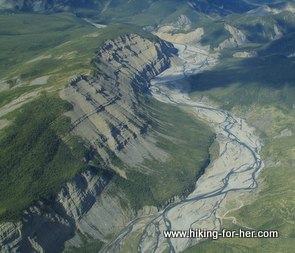 Remote and wild Yukon hiking is a thrill.

Yukon resources for hikers

If you want to do your research by reading books and studying maps of the Yukon, here's a good selection.
For a specific guide to hiking the Yukon, you'll need this. It's a bit dated, but there's nothing else like it.

The Yukon Hiking Guide
Dip into these recent trip reports to get a feel for weather conditions and how other hikers handle the challenge of hiking in the Yukon.
Note that a lot of the Yukon gets explored via canoes and rafts.
It makes sense to use the huge wild rivers to access this vast country. You can always hop out of the canoe to check out the scenery, right?
But regardless of how you get to the Yukon, you'll be thrilled at your first glimpse of mammals you don't see often, like this caribou.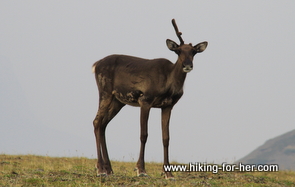 Curious (and scruffy) caribou is just one reason for Yukon hiking
And a word to the wise:
You need this bug net.

Yukon Hiking
Hiking For Her: Hiking tips you can trust!