Have the freshest free hiking tips sent to you each month!

Day Hike Nutrition Tips:
Easy As
A

-

B

-

C

!

Day hike nutrition tips are important for feeling your best, no matter what the trail throws at you.

Hiking For Her knows a thing or two about biochemistry, nutrition and what travels well in a backpack.

But long scientific explanations are boring.

And all of those long names of biomolecules?

Hikers like you want practical, easy to remember nutrition tips.

So here they are, in alphabetical order.

Pin them, share them, enjoy them :)

Eating for A's
as a dayhiker

In your day hike lunch sack, be sure to include crunchy, savory, satisfying foods like these!
Almonds, apricots, apples and avocados will keep you going, mile after mile.

And your taste buds will thank you, too.


B good to yourself with
these beneficial snacks!

Notice what we're doing here?

The alphabet is a great way to organize these day hike nutrition tips, and make no mistake, these B's are the best!
Make full use of the nutritional might of bananas, blueberries, bison (buffalo) jerky and nut butters for all of these great reasons: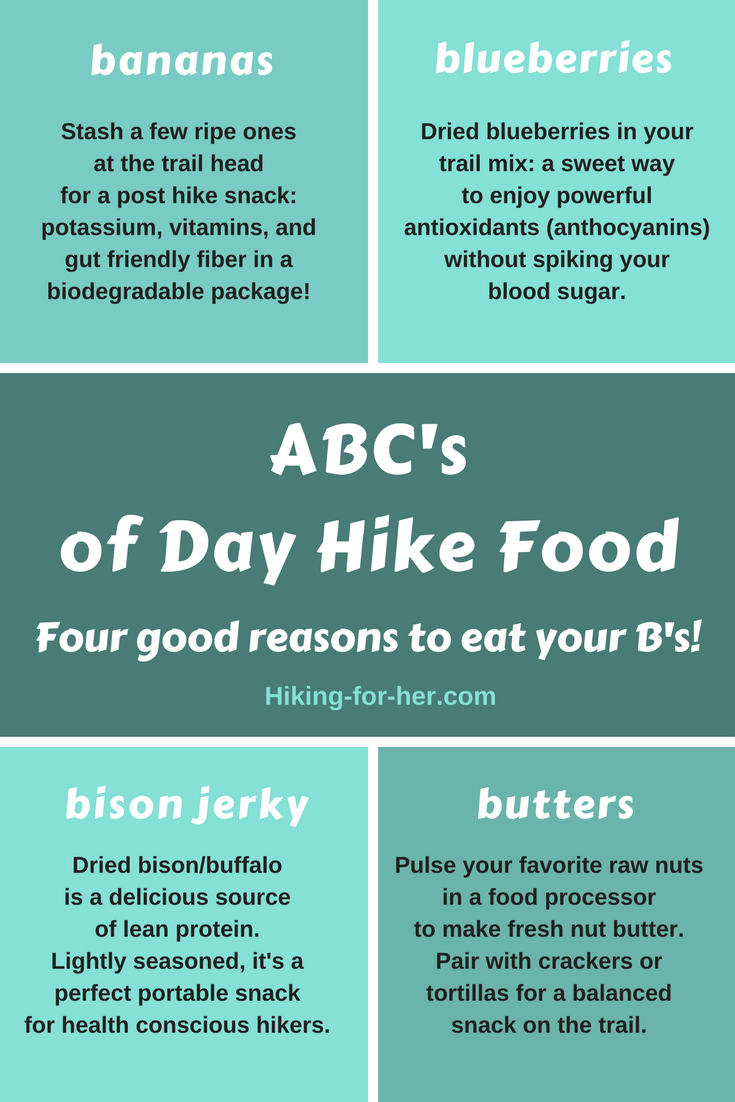 Don't overlook unusual and enticing nut butters in your day hike repertoire!
Nuts are powerhouses of trace minerals like copper and zinc, and provide lots of nutrition for hard working muscles.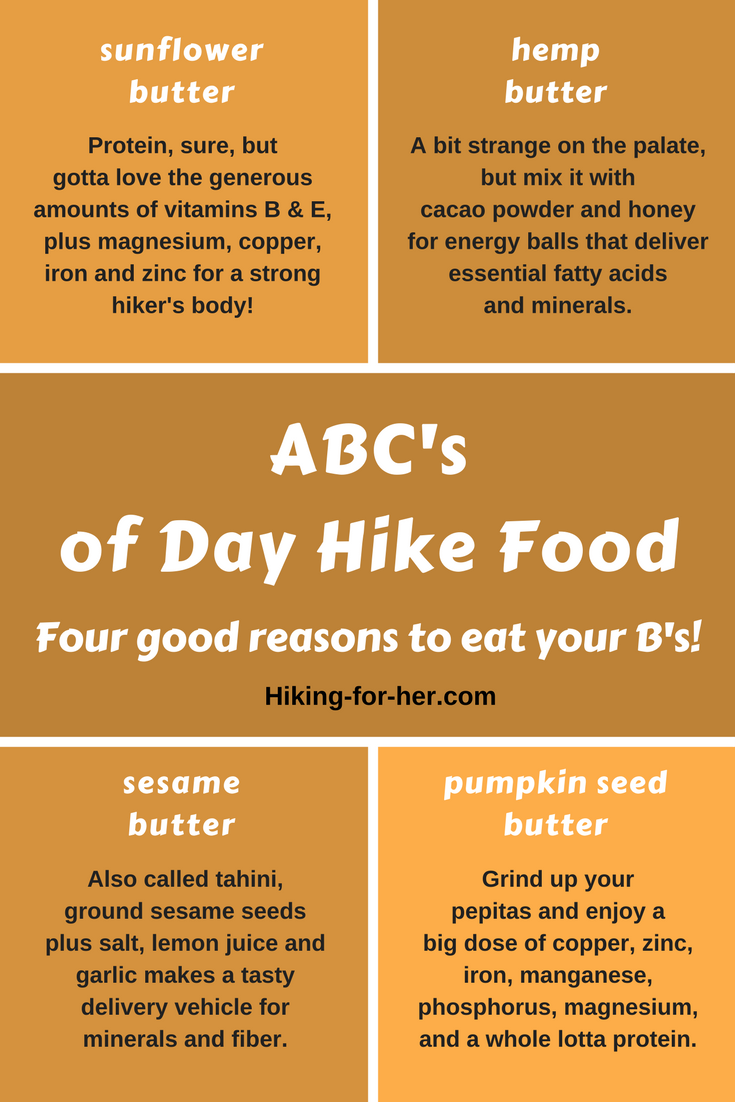 C if these day hike nutrition tips
appeal to you!

Nothing satisfies more than healthy fats, and the right kinds of delicious chocolate, cashews and coconut will keep you satisfied as well as fueled up for your hike.
And if you're clever (I have full confidence in you), why not combine all four of these day hike nutrition tips into one great trail mix?
Let's call it the Hiking For Her combo!


Dare to dream, darling!

Don't eat the same old, same old on every day hike.
Leave the soggy cheese sandwiches behind.

Dare to dream of different Dee-licious snacks!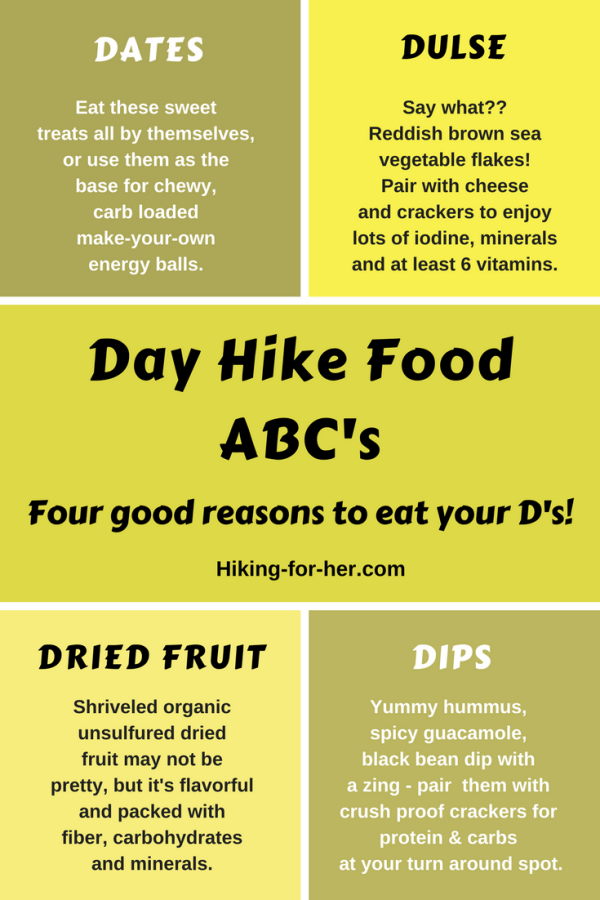 More to come
with this alphabetical fun!

Okay, we're having way too much fun here!
But sometimes it feels good to be silly and serious simultaneously, doesn't it?
Keep your eye on this page for more ABCs of hiking nutrition tips as we work our way through the alphabet of options for your lunch sack.
Only the nutrition dense yet tasty stuff will make it onto these infographics.
And I hope to surprise you with some unusual options that you'd love to try on your next hike.
Because eating for excellence on the trail does NOT have to be boring!
Home page > Hiking Nutrition >
Day Hike Nutrition Tips
Didn't find what you were looking for? Use the blue TOP button
on the right to jet back up to the search box.
Why wait a whole month?
Plus, there's never enough room in the newsletter to share it all, so why miss out on exclusive Hiking For Her giveaways, limited time gear deals and discounts, freebies, updates, and more?

A short, info packed weekly email update will keep you current on all things hiking!
When you sign up to receive this update, you are agreeing to Hiking For Her's privacy policy.

Don't miss out!

Read more about these hiking weekly updates
Save Time

Save Time & Money


Hiking For Her's weekly emails are the best way to find out about current hiking & backpacking news:


flash giveaways
timely deals
steep discounts
freebies
trail changes


resources

Free, fast, fun info for you, every week of the year