Hike-In Lodges:
Great Choices For A 
Hiking Vacation
by Diane Spicer
Hike-in lodges take the idea of base camping up several notches.
Imagine a pristine wilderness setting as the sun drops behind a spectacular peak.
You're sore and tired from a long day of hiking, but no worries! The lodge is just around the next bend in the trail.
You can book a week in heaven and choose just how heavenly you want it to be.
Just a roof over your head, a bed to call your own, and perhaps access to a kitchen? Sure!

Or would you prefer indoor plumbing, electricity, and a home cooked meal? White wine or red? Extra helping on dessert? No problem!
First, create a list
of "must haves"

Use these questions to begin your list.

Which setting makes your heart sing?

Craving seriously steep mountains?


Or do you prefer lakes? Maybe you can have both!

Do you want a small, cozy lodge with just a few other folks?


Or do you thrive in large group settings and love to make new (perhaps international) friends?
How much pampering do you require or prefer?

Some lodges will rent you a bed (bring your own sleeping bag), give you access to a community kitchen, and pretty much leave you on your own.


Others will cook meals, give you trail advice, and provide guided hiking, scrambling and other services.

Indoor plumbing is a rarity, so be sure to ask about access to a sink for washing up, an indoor toilet, or the reliance upon midnight trips to an outhouse.

How far do you want to hike into the lodge?
Some lodges have lots of elevation gain (over 2000 feet) within a short distance (4 or 5 miles) and you have to carry in your gear.
Others will use llamas or
helicopters
to transport your gear, leaving you to walk in at your leisure.
Some give you the option of being driven up the mountain to reach the lodge.
I've stayed at a place like this:
Cathedral Lakes Lodge
in British Columbia - a very good experience!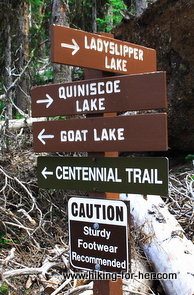 Lots of hiking options at Cathedral Lakes Lodge, B.C.

Tips on choosing the best lodge
for your hiking style

Hike-in lodges have personalities, just like their owners.
There are 3 approaches to choosing the best hike-in lodge for you:
Go through the lodge's website and/or printed materials with a keen eye to what matters most to you. Also closely observe the photos of the hiking destinations and the interior of the lodge.


Call up the lodge owner and chat about what is, and isn't, provided.

Or talk to hikers who have stayed in this particular lodge. Be sure to ask more than yes/no questions, to get a feel for the full experience.



Tip: Avoid misunderstandings and disappointment by doing one, or all three, of these suggested ways to explore what your lodge experience will be.
Watch for buzz words like "gourmet meals", which indicate that a sturdy day hiker who racks up a lot of mileage each day might be a bit hungry.
If you have a food intolerance or allergy, you need to talk directly with the lodge owner. It's unrealistic to expect a back country kitchen to cater to severe allergies, and it's not fair to disclose your food needs once you show up.
Scan their written materials for "gluten free", "vegan and vegetarian friendly", and "dietary preferences can be accommodated".
The larger the lodge, the busier meal times will be. Introverts will have a few buttons pushed by having to wait for the meal to be served, and having no control over your dining companions or topic of conversation.

Introvert tip: If you like a quiet evening curled up on bed with a good book,  and the lodge vibe is party time after dinner, bring ear plugs.
Hike-in lodges
in North America

The European model of hosting hikers in the back country seems to be the preferred choice in western Canada:
breakfast and dinner served at a common dining area, with the option of coffee, tea, and wine

make your own lunch from a spread set out after breakfast (some lodges are more generous than others)


afternoon tea and baked goods when you return from your hike

duvets and linens provided

In the United States, there are fewer options which cater to hard core hikers.

You can get started with this North American "top ten" list of hiking lodges.
More tips
on making your decision

If you've never stayed at a hike-in lodge before, you might not think to ask about the following factors.
But they can determine how much fun you do (or don't) have at these back country oases.

Pricing tips

There are many different price points for hike-in lodges, and sometimes you can score a great deal if you wait until the last minute because the lodges are happy to fill up the space.
This is a dodgy practice if you only have one specific week to book a lodge, though, especially in high summer.

Most lodges will require a deposit to hold your space, often up to 50% of the trip.
The balance will be due shortly before you arrive.
Know which method of money transfer they prefer.
Using a credit card for an international transaction will add fees on your end.

A wire transfer requires a certain type of bank account for both of you.

And mailing a check across a border isn't going to work, but might be fine with the lodge owner if you're from the same country.

Be sure that you understand the refund and cancellation policies. There are windows of time where you can receive most of your money back, but the window shrinks closer to your arrival date.
For this reason, trip insurance is recommended to protect you from unforeseen events that make your trip impossible.
Exchange rate tips

Considering a lodge in a different country?
Check the currency exchange rates so you're fully aware of what the trip will cost.
Rates fluctuate daily, so it's possible that the price will swing up or down at bit if you wait to book your trip.

I don't recommend waiting, though, because summer hiking time is so precious. You don't want to be disappointed, right?
And if the rate is in your favor, lock it in by booking your trip.
Trail conditions to,
and around, the lodge

Be sure you know what you have to do to get to the trail head:
Take a scheduled shuttle from a meeting point in town?

Drive yourself to the trail head on a precarious logging road?

Enjoy easy access from a main road?
If you have to leave your vehicle, you want to know if there's a parking lot for the lodge, or if you'll be just one of many day hiker vehicles at an unsecured trail head.
You might also have to bring or borrow chicken wire mesh to put around your tires, to discourage porcupines from gnawing on them!
You also want to know how long the trail is in terms of time and distance, and whether there are any streams to ford, steep elevation gains/losses to deal with, and how well marked your route in will be.

Once you're at the lodge and ready for a day hike, what's in store for you?
Are there established trails?

Is there at trail system you can navigate easily (bridges over streams, fixed cables to get you up and over steep sections of rock, etc.)?

If there are no trails, are there routes that are mapped, marked and easy to follow?

Is a daily hiking guide included in the price?


Or are you on your own (or allowed) to navigate the terrain each day?
Are there add-ons available?

If you want to acquire a new skill, look for a lodge which can teach you those skills.
I've stayed at lodges that feature staff (resident experts) who can teach you:
Don't overlook the fact that you will be dining and hiking with hikers who may have a deep skill set they're willing to share with you, too.
Watch for the ones with the guide books, heavy duty hiking gear, and that indescribable combination of strength and quietness.
Any questions about
hike-in lodges?

You can contact me here.

Here's a great way to look at backcountry hike-in lodges:
I highly recommend that you try hike-in lodges for your next hiking vacation!
Another type of vacation to consider:
a group hiking trip, where someone else does all of the planning and preparation, and you show up to hike with your new best trail buddies.

Hike-in Lodges
Hiking For Her: Hiking tips you can trust!