Hiking Navigation:
How To Stay Found

by Diane Spicer
Times have changed for hiking navigation.
Back in the day (when dinosaurs still roamed the Earth, or 1971 when I started hiking), we had maps.
And compasses.
And our wits (most of the time).
Hiking women today have access to a staggering variety of hiking navigation aids:
Or you could use dead reckoning (don't let the "dead" throw you).

and route finding,
Knowledge is the key
to safe navigation

Regardless of which system you use, the underlying fundamental is knowledge.
It will cost you some time and effort to figure out which navigational tools are the most important for the type of hiking you do.
But don't begrudge that personal investment, along with the money you invest in it.
And count yourself in on that!
Peace of mind as a hiker is worth way more than the money it takes to navigate safely in all weather conditions.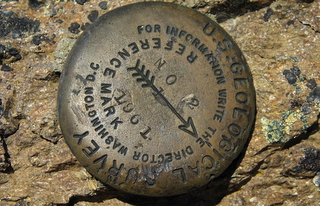 Any idea what this is? Or why it matters to hikers?

Hiking navigation for geocaching

Maybe wandering around in the woods for no reason appeals to you.
Or perhaps you're a hiker who likes to have a real purpose when you hit the trail.
If that's you, are you a geocaching hiker?


Are we too technology driven?

Food for thought:
Is it possible to rely too heavily upon technology?

Could it lull you into a false sense of security?

Or distract you from being safe while in the outdoors?
Recent evidence shows a distinct trend.
Hopefully you don't rely upon your cell phone exclusively when you're hiking.
The chances of getting a signal while under dense forest cover, in a deep valley, or during nasty weather are rather low.
And cell phone batteries have been known to discharge completely at exactly the wrong time, leaving you helpless if you don't know:
where you are,




how many miles you've logged,




how long it will take to get back to the trailhead, or




whether or not you can survive a night outdoors (the

ten essentials

stack the odds in your favor).
Trail tip:
Protect your pricey electronics with a waterproof case. Read my review of an inexpensive but useful JOTO phone case.

More hiking navigation info
coming soon!

Stay tuned for detailed information on how to use maps, GPS, and other hiking navigational tools.
I'm perfecting my navigation skills, and writing down exactly how I'm learning to be comfortable no matter where I am.
Recently, my husband figured out a way to use a cell phone with an app to take the place of a GPS system, and I'll be providing details right here.
Regardless of where you hike, you need to know a few navigation basics.

It pays to stay found, wouldn't you agree?
Hiking Navigation



Hiking For Her's weekly emails keep you current on hiking & backpacking news.


Free, fast, fun info for you, every week of the year.

Use the box below for fast sign up!






flash giveaways
timely deals
steep discounts
freebies

resources
Why wait a whole month?
Plus, there's never enough room in the newsletter to share it all, so why miss out on exclusive Hiking For Her giveaways, limited time gear deals and discounts, freebies, updates, and more?

A short, info packed weekly email update will keep you current on all things hiking!
When you sign up to receive this update, you are agreeing to Hiking For Her's privacy policy.

Don't miss out!

Read more about these hiking weekly updates
| | |
| --- | --- |
| HFH Policies | Hiking For Her is a participant in the Amazon Services LLC Associates Program, an affiliate advertising program to provide a means for us to earn fees by linking to Amazon.com and affiliated sites. |