Best Hiking Trail Maps

by Diane Spicer
Hiking trail maps: this topic opens up an entire universe of options for a hiker. If you're not using maps for your trail time, you're missing out on a lot of fun.
Plus, it's a Hiking Best Practice to know where you are, where you're headed, and what the terrain is like.
Even better news:

The best hiking maps are easy to use, portable, weather resistant, and fold up quickly! Don't leave home without one.
And hey, don't overlook the fact that maps for hikers make great gifts!
There are 3 ways to use maps:
Plan a hike: locate the trailhead, perfect destination or turn around point, note any private land restrictions, locate water sources.
Estimate mileage

for pacing and water breaks.

Scout interesting land features and topography: high points for photos, hidden lakes, potential waterfall and canyon areas, old mines, ridges for access to peaks - an open door for adventures!
Let's look at some big categories of hiking trail maps for you to consider carrying in your pack, or gifting to your trail buddies.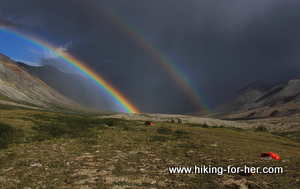 Free topographical
hiking trail maps

There are free United States topographical hiking maps, available for instant download and printing thanks to the taxpayers. These provide detailed information on contours and land features.
If you'd rather have someone else do the work to create customized, waterproof topo (a handy shorthand for the long word of topographical) maps, try these folks.
They also have a nice selection of map software, and I'll bet they can recommend something that's a good match for your hiking navigation.
One more nice feature on their website: free online map viewing.
Warning: You can spend a lot of time playing around, creating hiking maps for your next adventure on this site! Give yourself at least an hour each time.

Paper trail maps

Flat maps, folded maps, downloadable maps...
these little topographical gems deserve a spot in your backpack.
They are indispensable in so many ways:
finding a surface water source for backpacking trips,

converting mileage into estimated arrival time at a campsite,


and my favorite: sitting at a viewpoint and learning the names of the surrounding peaks and drainages.
Here's an example of the wealth of info which is available to you.
Make sure you have a waterproof map case to protect your investment.

U.S. Forest Service maps

Inexpensive U.S. Forest Service maps shows numbered roads, trails, trail heads, and campgrounds.
Also use the websites associated with each area to get updated information on road closures, seasonal trail closures, or animal activity that might force a trail closure (unruly mountain goats or bears, for example).

You can also cross reference the numbered trails with trail reports posted by bloggers or outdoor organizations such as

Washington Trails Association

.
You'll be amazed at how quickly your map collection grows as your appetite for outdoor time increases! You might have to build a special map repository in your gear locker!

Bureau of Land Management (BLM) maps

The U.S. Department of the Interior (love that name!! I wonder who's in charge of the exterior??) is overseeing (and I quote):
energy

fire

grazing

planning

recreation

national conservation lands

wild horses and burros

sage grouse conservation




and a lot of other stuff including noxious weeds.
They also have loads of maps that you can use to plan some great backcountry travels.
You'll have to poke around a bit to get to the state, and the area within that state, that you're interested in.
But again, prepare to get lost in a wealth of free and low cost information!

State Forest maps

Pick a state.
Put that state's name in front of the words "Department of Natural Resources."
Use your favorite search engine to locate some great info, including maps, about hiking opportunities.
Here's an example: Michigan's Department of Natural Resources.

The home page gives me a wealth of choices, but I go straight to the good stuff by typing "hiking maps" in the search box.
Lo and behold, I find a sweet little map and info on the Iron Belle Trail, which can take your feet from Detroit up into the Upper Peninsula. All the way across the U.P., in fact!

There are lots of other choices on the Michigan DNR site, too, like state parks and mushroom hunting maps.
All sorts of options for a great day outdoors, yours for the clicking.

National Park
hiking trail maps

How many national parks are there in the United States?
Ha! Trick question!
If you count everything with a "national" in front of it, there are around 390.
But not all of these are good for hiking: national monuments and national historic sites, for example, aren't going to give you much mileage.
If you just focus on National Parks, the number drops to 60.

And here's a great little tool for finding maps for these parks. Just pick the state you're interested in, and drill down.
So much information!! So many trails and so little time...sigh.
But look where these maps can take you...and here's the topo map to get you there.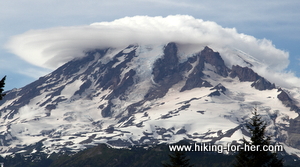 ...Mt. Rainier National Park, for example, wearing a lenticular cloud hat.


Satellite image maps

Why not use the highest level of technology available to plan your next hiking adventure?
Explore Flash Earth now!


National map viewer and
download platform
Since you're geeking around, you might as well try out this site.
It gives you the ability to customize a map, adding or subtracting features such as:

elevation
water features
land cover
place names
boundaries
structures
and lots of other things a hiker might like to find (or avoid).

Hiking trail maps = big fun!
And a few skills

If you stick to well marked trails and never consider carrying hiking trail maps, you're missing out on a lot of fun.
You might have hiked within a few hundred yards of a great little lake, or a waterfall you could have had all to yourself for the afternoon.
Maybe there's an abandoned mine site you could explore, or the ruins of a homestead.
And wouldn't it be cool to know ahead of time where you could climb a hill to get a better view?
Map reading does take a certain skill set, there's no doubt about it. If you're going to stray at all from the trail, you need to know how to navigate using a map and compass.
And when you "read" a map, it's not like reading a book.
Numbers and little drawings mean a whole lot more than words. For instance: What scale of map are you talking about?
And what do the hiking trail map symbols mean? More importantly, why would a hiker care? (Great question! spend some time on the answer.)

Luckily, there are free resources waiting for you.
Try my links (underlined above) to trustworthy guides to locating, reading, and utilizing maps to locate the best North American hiking trails.
Investing a bit of time BEFORE you hit the trail will yield amazing dividends ON the trail - and just might become your new hobby.
Don't say I didn't warn you. You're gonna need a map annex on the gear locker!
Hiking pedometers -
make your steps count

Now that you know how many miles you're going to cover, why not verify it with a pedometer?
I review a simple, lightweight device here that does double duty as a fitness tracker: calories, food, sleep, motivation.
The reason I recommend using one?
It teaches you a sense of what mileage feels like, so you can begin to estimate how tired (or not) you'll be at the end of a hike.

You can also use that kinesthetic "feel" for mileage to estimate how far you've gone at any particular point during a hike. Very useful for pacing!
It makes the symbols on a piece of paper (i.e. a hiking map) come alive in a new dimension.
Hiking trail maps -
start your collection today!

Start your hunt for the best hiking trail maps right now, using my tips.
Just think of the places you'll go (to channel a bit of Dr. Seuss).
And a map annex in your dwelling is a really cool notch in your hiking tool belt.
Trust me...you're gonna love being a map aficionado.
Home page > Hiking Resources >
Hiking Trail Maps



Hiking For Her's weekly emails keep you current on hiking & backpacking news.


Free, fast, fun info for you, every week of the year.

Use the box below for fast sign up!






flash giveaways
timely deals
steep discounts
freebies

resources
Why wait a whole month?
Plus, there's never enough room in the newsletter to share it all, so why miss out on exclusive Hiking For Her giveaways, limited time gear deals and discounts, freebies, updates, and more?

A short, info packed weekly email update will keep you current on all things hiking!
When you sign up to receive this update, you are agreeing to Hiking For Her's privacy policy.

Don't miss out!

Read more about these hiking weekly updates
| | |
| --- | --- |
| HFH Policies | Hiking For Her is a participant in the Amazon Services LLC Associates Program, an affiliate advertising program to provide a means for us to earn fees by linking to Amazon.com and affiliated sites. |