Enjoy Happy Trails, the free monthly newsletter from Hiking For Her.

Receive a free resource: Hiking Layering System Explained
Trail Stress
and Your Hiking Safety

By Diane Spicer

Preventing trail stress leads directly to keeping yourself safe on a day hike or a longer backpacking trip.

Hard as it is to face, there may come a time when you have to get yourself out of a jam on (or off) the trail.
So let's spend a bit of time playing "what if" and "here's how". It's one of the best ways to head off trail stress.
Essentials are essential.
Wait, what?

If you've heard of the hiking ten essentials, you know they're common sense items that should be in every hiker's pack.
If they're not in your pack, you're courting disaster.
Why?

These Ten Essentials are essential to help yourself through unexpected situations which any hiker, no matter how prepared, can become caught up in:
freak weather conditions,

mis-reading (or NOT reading!) the map,

getting turned around and running out of daylight,

an injury,
an animal encounter gone bad.
The Hiking For Her "just in case" philosophy about hiking accidents:
Be prepared to stay out for a few days and survive, thanks to what's in your backpack and your brain.
So if you've been lax about carrying the Ten Essentials on your hikes, please make time to read about them here.
And look on the bright side: there's only ten! Could be worse, right?

Whether or not you carry them is up to you, but perhaps you'll be motivated after you read the following.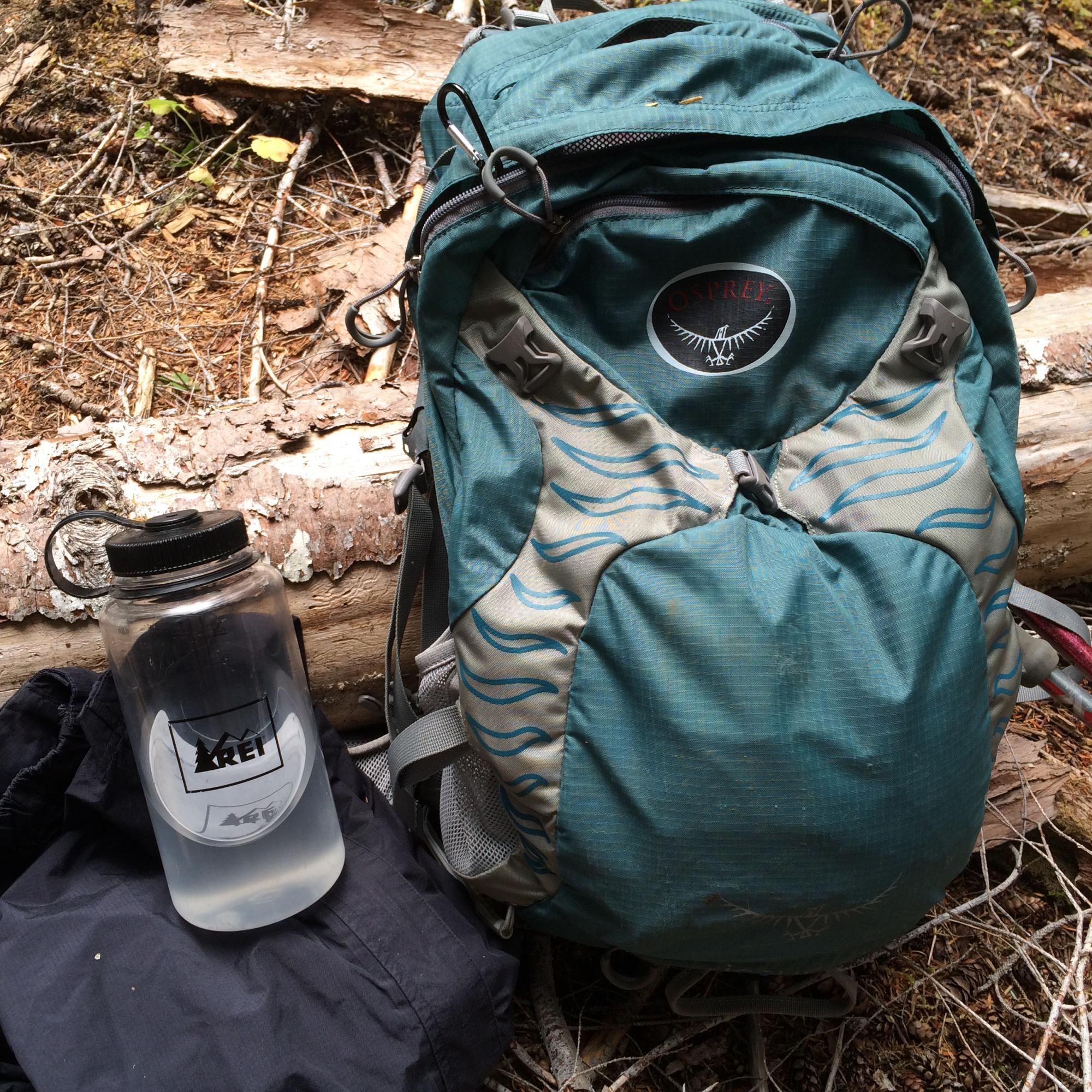 Carrying the ten essentials is one way to combat trail stress.

Choices for handling trail stress

When the unexpected happens, you have several choices:
Send for help.

Wait for help to arrive.

Figure it out yourself.
Any of these choices can induce major trail stress on top of the stress you're already facing.
However, these trail stresses can be handled confidently with some advance planning.
I know, I know!

It's not much fun to think about what to do when faced with a worst case scenario, but it's something every hiker should have thought about before getting on a trail.

You cannot predict when you will need to dip into your memory banks and your backpack to get yourself through unexpected trail stress.
So let's take a look at your options, one at a time.
Trail stress and safety:
Option #1

Send for help

Can you send for help, in the form of your trail partner?
Or are you carrying a personal locator beacon you can activate?
Maybe you have a satellite messenger device?
Deploy your options to summon help.

And while help will be on its way, it might take awhile.

This means you must face the possibility of being alone, perhaps overnight or longer.
That's when your 10 essentials are going to come out of your pack and save you from stress and worry.
You'll have enough to eat and drink.
You can start a fire and take shelter from the elements.
You can repel insects, you can manage pain, you can signal your location.
Get some sleep/rest!
But here's the thing:
After your physical needs are met, you'll need to be tough with yourself mentally.

Worrying will eat into your energy reserves, and must be avoided. 
Tip: Put something to read into your survival kit (you do carry one into the back country, right?) to occupy your thoughts.

Or use your pen and paper to distract yourself.

Then trust help to arrive quickly and efficiently.
Second option: Wait for help

You left your itinerary behind, right?

Not sure what I mean? Here's an example.
Thankfully, a responsible "someone" know:
which trail head you parked at,

which vehicle you arrived in,

where you were headed,

any alternative plans you made to adjust for trail conditions or weather events.
Tip: Always leave this information in writing. People forget, misunderstand, and fill in memory gaps with false information. You want the searchers to know exactly which trail you're on.

Now it's up to you to sit tight and let that trusted someone do the right thing when you don't show up at the designated return place and time.
Relax! Your 10 essentials will get you through.
Here's another great way to help yourself: Make yourself visible and audible to the searchers or other hikers in the area.
Locate an open area to make it easy for someone to spot you. Plan to move into the open during daylight hours as long as the weather and terrain is friendly.


If you have a colorful

tarp

or jacket, be sure it's prominently displayed to catch a Search and Rescue team's attention.




If you have a whistle, signal mirror or smoke canister, have it ready to use when you hear a plane/helicopter or people calling your name.
While you're waiting, avoid beating yourself up mentally.
You got into this situation and you will get out.
Patience and calmness are your allies.
Distract yourself with taking photos or recording your feelings in your trail journal.

Third option:
Plan to get out by yourself

I don't recommend moving far from the spot you find yourself in, unless there's a compelling reason revolving around your safety.

Mistakes get made in haste.
If you feel panicked or anxious at all, SIT DOWN and WAIT until that shaky feeling passes. You need to have full control over your thought processes.
Use the items in your pack (10 essentials) to get, and stay, warm, dry and fed while you think about your situation.
Someone knows where you are, thanks to your itinerary (see above).

Will the world end if you get home late?
You have all the time in the world to make the right choice, and you should use that time to think through why you're in such a hell-bent hurry to get off the trail.
If you have this little meeting with yourself and you do decide to attempt getting back to the trail head under your own power, be very deliberate and smart about it.
Bring all of your navigational tools and training to bear on this problem.
Wait until you have good visibility to begin moving.
Check your bearings frequently.
Keep track of landmarks in case you have to backtrack.
If you become tired or disoriented, STOP. Eat, drink, rest before moving again.

Here's a cheerful thought to tuck away for a stressful day:
In the United States, you are nearly always within range of a road, trail or creek that will lead you back to civilization.
Tip: Following water downhill will lead you to a road eventually, unless you are in the extreme back country.
Consult your map, locate a stream or lake, and go from there. But only if you really have to move, the weather is clear, you are unhurt, and you have lots of daylight to work with.

Trail stress examples

Here's a preventative approach to trail stress.

Many fatalities could have been prevented by avoiding panicked decisions.
Knowing how to survive unpleasant outdoor situations prevents those panicked decisions, and saves lives - yours, in this case.
It also helps out the Search and Rescue team.
One last thought about trail stress

Let me leave you with this important biological fact:
Hiking is a stress relieving activity. The levels of the stress hormone called cortisol circulating in your bloodstream will decrease as you hike.
So don't work against yourself and ADD cortisol to your bloodstream by stressing yourself out with no way to deal with unpleasant events.
Hiking adds so much enjoyment to life.
Be a prepared, smart, confident trail woman! Think ahead, plan for the worst, and then relax.
You'll handle it.
More great hiking tips here.

Trail Stress