Enjoy Happy Trails, the free monthly newsletter from Hiking For Her.

Receive a free resource: Hiking Layering System Explained

Hiking Vests:
How To Make Your Midlayer
Work Hard For You

By Diane Spicer

Hiking vests are an often overlooked safety item for women hikers.
Wait, what?
Aren't they just fashion statements?
Sure, they can be a cute hiking outfit for walking around town, maybe.
Walking down a trail, they are way more than a simple fashion statement.
Let me tell you why I'm a vest enthusiast!

Hiking vests as

important safety gear
Visualize your core body temperature as something valuable, a thing to be protected and nurtured at every step along a hiking trail.
I'm sure if you were asked what "normal" body temperature is, you could recite the numbers that indicate how much heat is inside of you.

Your body works hard to burn your fuel (food) to generate that heat.
37C or 98.6F, in other words. (Just checking.)

Going out into the elements i.e. hiking, you are asking your body to maintain its high internal temperature (relative to the outside) no matter what Mother Nature decides to throw at you.
And she's pretty good at throwing stuff! (rain, wind, snow, sleet, hail, debris, sand, you get the picture)

Be a smart hiker!
Smart hikers know how to help stabilize their core temperature:

Eat at regular intervals.

Stay well hydrated by drinking even when not thirsty.




Adapt to changing temperature conditions by altering your behavior (setting up a tent, sitting under a cedar tree until the rain stops, etc.).

Add one more reason to the list
Choose layered hiking clothing to support safe thermoregulation.
Waiting until you're cold to dig through your pack for more clothing will cost you energy in the form of calories and body heat.
On a short day hike, this isn't a huge problem.




On a longer trip, it could potentially lead to problems such as

hypothermia

.
That's where hiking vests come into the picture, to help insulate your vital organs stored in your torso.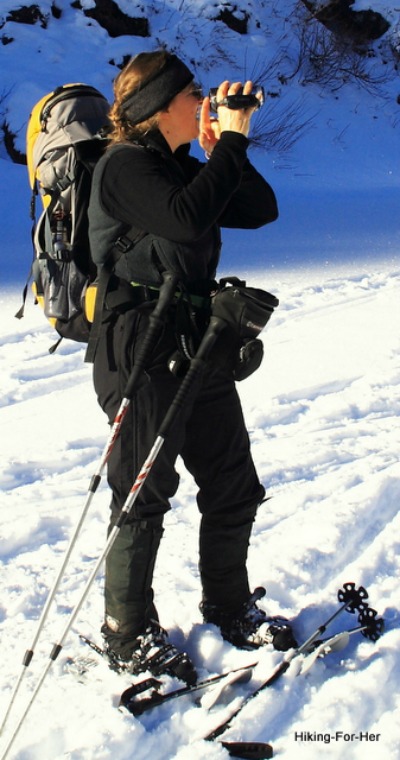 Far better to stay warm in hiking vests than to struggle to get warm!

Vest fabrics matter:
try low cost, comfy fleece

Modern fabrics for constructing worthy hiking clothing have many appealing qualities:
But don't use just any vest you might find
in the bargain bin
Instead, look for a fleece vest that is built to stand up to the trail.
Fleece vests for hiking can give you all of these features:

a relaxed but not bulky fit, to accommodate layers underneath and over it;

high quality fleece that stands up to abrasions and heavy usage;

a soft collar so when you zip it all the way up your chin feels cuddled rather than raw;

wind resistance to stop cold air flow;

hip length to cover your torso without riding up from your backpack;

durable lightweight zippers;

generous hand warming pockets situated above your waist belt;

a cinch cord in the hem to keep air flow across your torso to a minimum.
Here's a good starter vest for beginning hiking, available in sizes XS through 3X.

It, or something similar, should be in your pack, if not on your back, as protection against heat loss in cool, cold, rainy, windy, or all of the above conditions.


Another choice:
lightweight down hiking vests

These vests should have all of the features mentioned for the fleece vests, plus a few more:

water repellent shell, usually nylon;

nylon lining;




down feathers treated with water repellent chemicals to slow down the water logging process;

compact storage compared to fleece;

sturdy seams to keep the feathers in;

a soft chin guard.
Optional: hood, and inner chest pocket(s).
The reality of down vests
Down hiking vests have higher price points than fleece, but also deliver more in terms of keeping you toasty warm when they get damp.
They are also great at keeping you warm once they're completely wet, thanks to the new feature of water repellent coatings on the down.

A rule to steer by:
Lots of quilting keeps the feathers in place and working hard to trap your body heat.
Need an example
of a good choice?
Here an example of a down vest with all the bells and whistles
you'd ever need, including lots of color choices: REI Co-op 650 Down Vest 2.0.
Note that I use my fleece vests for spring and fall hiking when the wind isn't blowing, and my down vest for year round windy and/or cold snaps.
Because it's so compressible, my down vest is in the bottom of my pack year round.
You never know when the weather will turn chilly or you might need some padding in an emergency situation.

The inevitable small rips and dings from heavy usage are easily covered over with duct tape. Hard core hikers wear their duct tape "badges" with pride ;)
Speaking of extreme hikers... what do they wear?


Hardcore hiking vests

For extreme weather conditions or prolonged exposure to the elements, it's important to have versatile and well designed high performance hiking clothing.
This vest by Arcteryx does not mess around with making a fashion statement.
Instead, it concentrates on trapping, and concentrating, your torso's body heat.
This hiking vest incorporates all of the best design features listed above, and uses weather repellent nylon fabrics that you're going to have to pay a bit more for.
The price point may give you pause, but this vest will be around for a long time in your hiking gear repertoire because you recognized it as an investment piece.
Don't spring for this vest unless you're going into unpredictable or really severe weather conditions.
Or you're chronically cold and know you need to consider hiking vests with extra oomph.

Versatility of vest
on the trail

Don't think of this piece of fabric known as a vest as merely another piece of clothing!
When I'm not wearing my vest, I use it as:
a pillow inside of the pocket in my sleeping bag;

cushioning around sensitive gear or fragile specimens such as crystals or animal bones;

another layer between my bottom and a cold rock during a lunch break;

a doggie vest when needed;


impromptu "slippers" for my feet while enjoying dinner at my camp site.



See?
A hiking vest will keep you, and your trail treasures, warm and safe without even being zipped up.
Pick one out for your next hike and be amazed at how versatile it can be.
Need more ideas for a hiking clothing layering system?
Home page > Best Hiking Gear >
Best Women's Hiking Vests