Enjoy Happy Trails, the free monthly newsletter from Hiking For Her.

Receive a free resource: Hiking Layering System Explained

Platypus Soft Water Bottle Review:
Is This A Good Hydration
Choice For Hikers?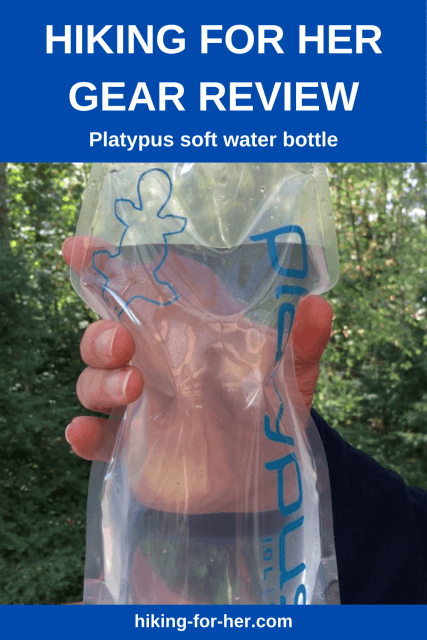 To begin this Platypus soft water bottle review, answer me this:

Have you ever had this problem?
Enter the solution: a collapsible soft water bottle.
This Platypus soft water bottle review was written just because I wanted to tell you about this solution to packing and storage problems that all hikers face.
I purchased the bottles with my own money.
No one asked me to write this review.
I just like sharing what works!

Platypus soft water bottle review:
the product

What's 6 inches by 11 inches (15 x 28 cm), flexible, weighs less than one ounce (24 grams), and can be slipped easily into your pack when it's full OR empty?

This little one liter (34 ounces) beauty!
The liner is food-grade, meaning it's designed to contact your drinking water without imparting anything nasty into your body.
The plastic is BPA free (read this for just a few of the reasons why you want to avoid BPA).
These hiking water bottles are made in the United States, by a reputable company with lots of experience with outdoor gear.

You have a choice of caps and designs, to keep things personalized and interesting. I went with a clear bottle so I could easily see how much water was inside, and a push-pull cap.
You can feel good about the clean, green aspect of these water bottles: because they are so lightweight, they use much less material which results in energy savings.

I purchased mine for Amazon's incredibly low price and they arrived in a few days, ready to be put to the test.
Prefer to shop elsewhere?

Platypus soft water bottle review:
field experiences

My initial concerns were twofold:
Would these flexible plastic bottles leak?

Would I swallow the taste of plastic when the hot sun heated up the bottles?
The first place I tested these bottles was in an airport, on my way to a New Mexico hiking destination.
Going through security meant the soft water bottle was rolled up and stowed empty in my carry on bag.
Then I filled it with water and carried it onto the airplane.
No leaking!

However, due to pressure changes, the water does tend to squirt out when you open the cap. Heads up if you don't want a wet shirt on the plane!
After 9 days of hiking in temperatures ranging from 75F to 90+F, carrying these one liter soft water bottles across sage brush mesas, down into the Rio Grande gorge, up steep wooded mountain slopes, and on casual strolls in towns, I am happy to report these observations: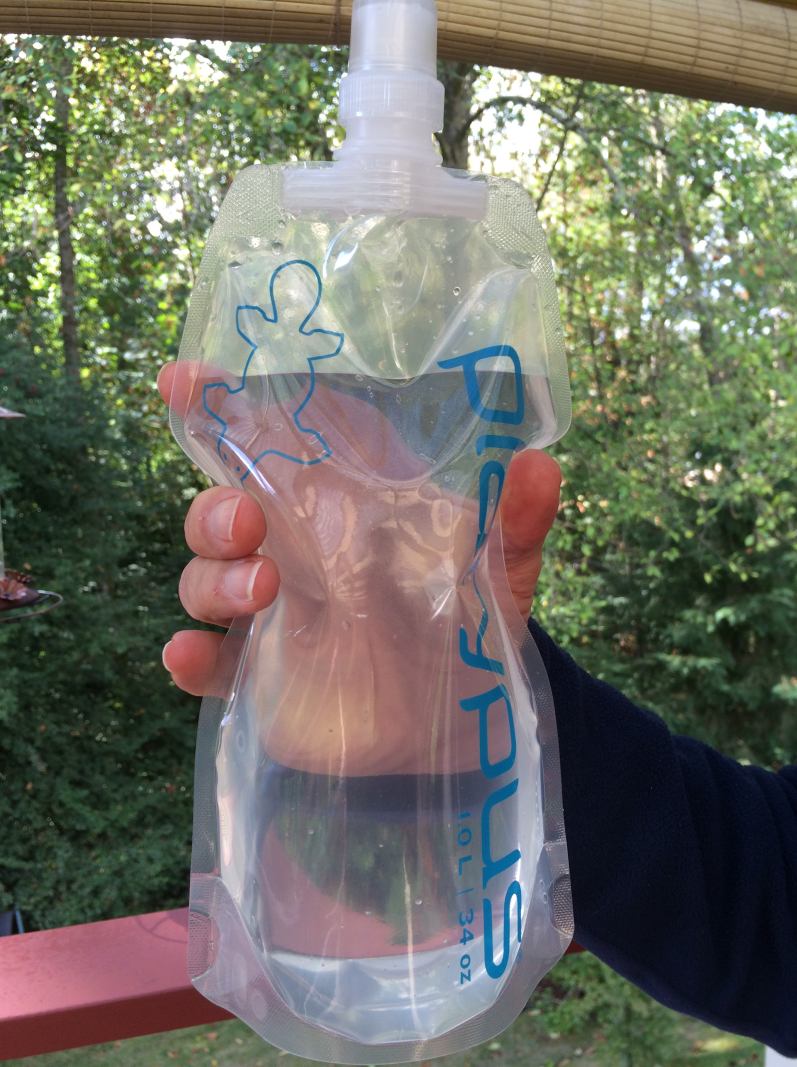 This soft hiking water bottle contours easily to your hand

More to love in this
Platypus soft water bottle review

Easy to clean bottle: spout is large enough to allow soapy water to fill all corners of the bottle and to permit thorough rinsing.

Sits upright when full.

Cap is easy to deal with. I have the pop up top with a small plastic cover to keep grit and bug wings out of my water.


Super easy on packing space: rolled up or lying flat, these hydration bottles weigh nothing and are almost invisible in your stack of clothing inside a suitcase or duffle bag.
Platypus soft water bottle review:
my conclusions

I'm a happy Platypus soft bottle owner, that's for sure!
I should have been using these years ago for my carry on luggage and on backpacking trips.
But to be completely honest...

A few drawbacks to note in this
Platypus soft water bottle review

1. The small plastic cap which covers my top is easy to misplace, and could get blown away in a stiff breeze. Stow it in your pocket until you need to cover up your cap again.
2. These soft water bottles are not easy to dry, once you're at home and have washed them thoroughly.
In fact, it's been 6 days since I began the drying process, and there is still a lot of condensation inside of them.

I've decided that storing them filled with water is the way to go. This will play into my "emergency preparedness" plans, living in earthquake prone territory as I do.


But it could also be useful for regions which experience frequent power outages, winter storms, or intermittent water shortages.

Storing a full Platypus soft water bottle in your car is a smart idea, too.

3. The push-pull cap was a bit dicey when my hands were gritty with trail dirt. There are other closure options, for those who prefer a hydration hose system to avoid this problem.
Any questions about these
collapsible hydration bottles?

Send them to me here.
And yes, I do answer each and every email I receive. Not getting an answer from me means your message never reached me, so try again using a different email address.
Or check your spam folder. It might be waiting there for you!
Why even bother with figuring out the best hiking water bottles? 
The importance of hiking hydration can't be overstated. 
Try these tips to get yourself on the path to staying out of dehydration trouble on the trail.
Drink up! You'll be glad you did.

Home page > Best Hiking Gear >
Platypus Soft Water Bottle Review