Enjoy Happy Trails, the free monthly newsletter from Hiking For Her.

Receive a free resource: Hiking Layering System Explained
Sports Bras
For Hiking:
Your Best Options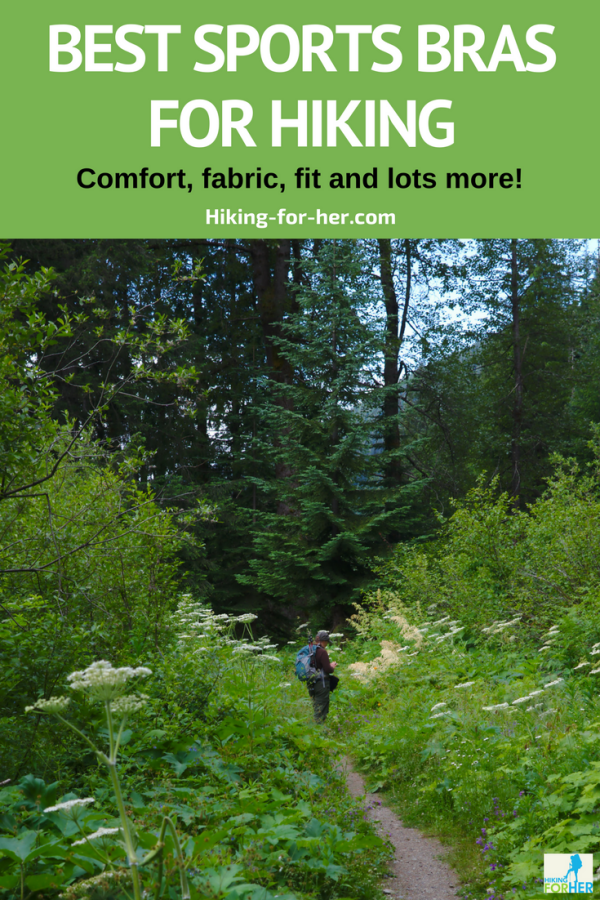 The best sports bras for hiking provide support, feel comfortable against your skin, wick away your perspiration, dry quickly and don't bind, smoosh or chafe.
And you thought finding the perfect spouse was hard??
Don't despair!
Read on for tips so you can find sports bras for the trail hat won't make you curse or weep (all bets are off regarding the spouse).
Best sports bras for hiking:

find the fit first
Remember when you were 12, wondering just exactly what was going on with your chest?
By now, you've grown into your full complement of cleavage.
Which means you have an idea of what size bra you need.
And you know how much bouncing you endure when doing jumping jacks or other high intensity activity.

That's a good starting point when looking for the best sports bras for hiking the types of trails you prefer:
Yes, sometimes hiking is a high impact sport, depending upon which trails you pick.

But be forewarned that sports bras are a different beast altogether.
Please don't pick them solely on color or cleavage enhancement, because they need to stand up to grime and sweat without bugging you or abrading your skin - something your work-a-day bras are never asked to do for you.

Underwire sports bra?
Just say no
And if I were you, I'd never wear underwire bras on the trail.
Too constricting: you want your chest to expand to allow oxygen into your lungs
You definitely want unrestricted blood flow to and from your hard working heart.
You want your lymph system to drain excess fluids away from your neck and shoulder area.
You don't want to add to the pressure your backpack is already putting on these organs.

And the metal wire might put you in harm's way during lightning strikes (see more tips for avoiding that here).

Two is NOT better than one!
If you feel that you need to wear 2 sports bras simultaneously to get the support and fit you need, I would challenge you to try on bras from the 2 companies named below.
Two at a time is one too many!

Zeroing in on
the best sports bra
for hikers
To zero in on the perfect bra for the trail, pay attention to these factors:
Noticeably (or not) different sized breasts
Types of hiking you plan to do, in terms of activity level (related to "impact" level, from low to medium impact all the way up to a high intensity workout)
Whether you need/desire lots of support to reduce bouncing
Sweat wicking fabrics

with

mesh panels


The comfort of

molded cups


Modesty requirements:

full

coverage

or not




(nipples/no show)

Larger cup sizes

so you don't spill over the top



How quickly you want to get this bra on and off, a consideration for not only modesty but frustration level at the end of a sweaty day
How close fitting you want this bra to be: snug as a bug, or loose enough to get a finger between you and it

Whether or not you mind having the bra show through thin shirts
Your preferred price point: cheap and replaced yearly, or an "investment piece" to survive lots of laundering and trail time
Fun colors, icing on the cake ;)


Roughed out and ready?
Now that you have a rough idea of the type of sports bra you're seeking, it's time to get more specific about fit.
(I am tempted to write "Don't have a fit about fit, 'cuz sports bras keep you fit", but I am so above bad puns.)
Avoid these hiking

sports bra fit issues
Who among us hiking women has not had an ill-fitting bra that makes us want to howl in frustration?
The most egregious sports bras are spotted by bad behaviors. Let's call out a few of them.
Chafing
Old, worn out elastic is the culprit here.
Maybe too many cycles through a hot dryer, creating elasticity fatigue?
The solution:
FYI, if chafing becomes a perennial problem around the contact areas of your sports bra and panties, try this anti-chafing product as a lubricant:

Cup runneth over
Try one cup size larger, or a style that is not as low cut.
Smooshing your breasts together is a bad idea, because it allows grime and sweat to accumulate against your skin, setting you up for nasty skin issues.
Deep pressure marks
If you can see the outline of your bra when you take it off, your straps are too tight, or the band on the bra is worn out.
The worry here is that your circulation is being impeded, and as a hiker, you need all the fresh oxygenated blood you can get coursing through your circulatory system!
Also, if there is extra padding in the cup area, is it leaving pressure marks on you? You might prefer a different style.

Excess material in one cup
Your breasts are unequal in size and you should be wearing a bra with adjustable straps, allowing for custom fitting on each breast.
Keep reading for suggestions on brands to try.
Also note that certain portions of your menstrual cycle will cause your breasts to swell, as will pregnancy. 
The sports bras you wear at one time of the month may not fit well on other days.
Migrating bands
Older bras lose their elasticity in the band, allowing what I call the "creep & roll".
Strongly consider purchasing a new sports bra!

Or it could be that your straps are pulling the band up.
Sports bra wrestling match
Ever have to strong arm your sports bra into peeling off your sweaty back?
There are certain styles of sports bras for hiking which will help you out of this dilemma.
Racerback bras will let you whip them off and on quickly, even when you're sweaty and tired.
Hook and eye, or velcro, closures will slow you down a little, but also allow for band adjustments. Pick your poison.
Tip: Back closures are easier to get into and out of than front closures.
Or not.
Every style is different :(

Plus size
hiking sports bra options
Read this for some recommendations, because these types of bras are hard to find.
Or maybe it's just that good ones are hard to find.
Those tips will give you an advantage in your search for sports bras for hiking.
Best companies for
sports bras for hiking

You want to do business with companies that really know how to build a sports bra.
Tip:
To get good performance out of a sports bra, avoid the cheapie versions that give little to no support and wear out after a few months of soaking up sweat.
Invest in hiking success!

There are 2 companies that I use over and over again, and have no hesitation recommending to you.
They are also known to have splendid bra offers, as in sales and mark downs, throughout the year.

Moving Comfort
Now isn't that exactly the right name for hiking women!
Moving Comfort has lots of options, allowing you to pick a bra that accommodates your cup size along with modesty and support preferences.

The style I prefer for hiking is this one. Why?

It's easy to get in and out of, it has adequate support and full coverage, and the straps are wide enough to protect shoulders from pack abrasion.

But the straps don't dig into your shoulders.

Brooks Fiona Sports Bra | REI Co-op

Update: Moving Comfort is now Brooks.

They still have in house design and testing, and I still use their sports bras.

But I miss the name :(
Title Nine
TITLE NINE (a reference to women's sports inclusive policies in the U.S.) provides great "how to buy a sports bra" tutorials.
Their clever punning (much better than mine; "bust musts", for example) is entertaining.
It might take a few tries to find exactly the bra you need, but they certainly make it easy to get to what you need!

Just a note about
the psychology
of finding the perfect
sports bra
I get far too many emails from women who are robbing themselves of successful hiking because they are not comfortable with their body shape, age or condition.
If that happens to be you, here's a bit of heartfelt tough love:
You are a strong, capable and adventurous hiker.
Your body gives you the power to get on the trail, so don't let your mind tell you nasty stories about how you look as you hike.
Wow, look at that crazy hiker lady in that weird sports bra, said no tree, ever.
So here's what you're gonna do:

Find a bra that fits, wicks away your sweat, and holds your assets up and in comfortably.

Put it on, and forget about how you look so you can focus on more important things along the trail.
Questions about
the best sports bra
for hiking?
If you've got questions, I've got answers.
Drop me a line and I'd be happy to help you on your quest for the best athletic bras for your hiking plans and other outdoor activities.
If you'd like a few hints about buying womens athletic clothing, or hiking clothing specifically, these links might help.
Home page > Best Hiking Gear >
Sports Bras For Hiking