Enjoy Happy Trails, the free monthly newsletter from Hiking For Her.

Receive a free resource: Hiking Layering System Explained
Backpacking Tarps:
Better Shelter Than Tents?

by Diane Spicer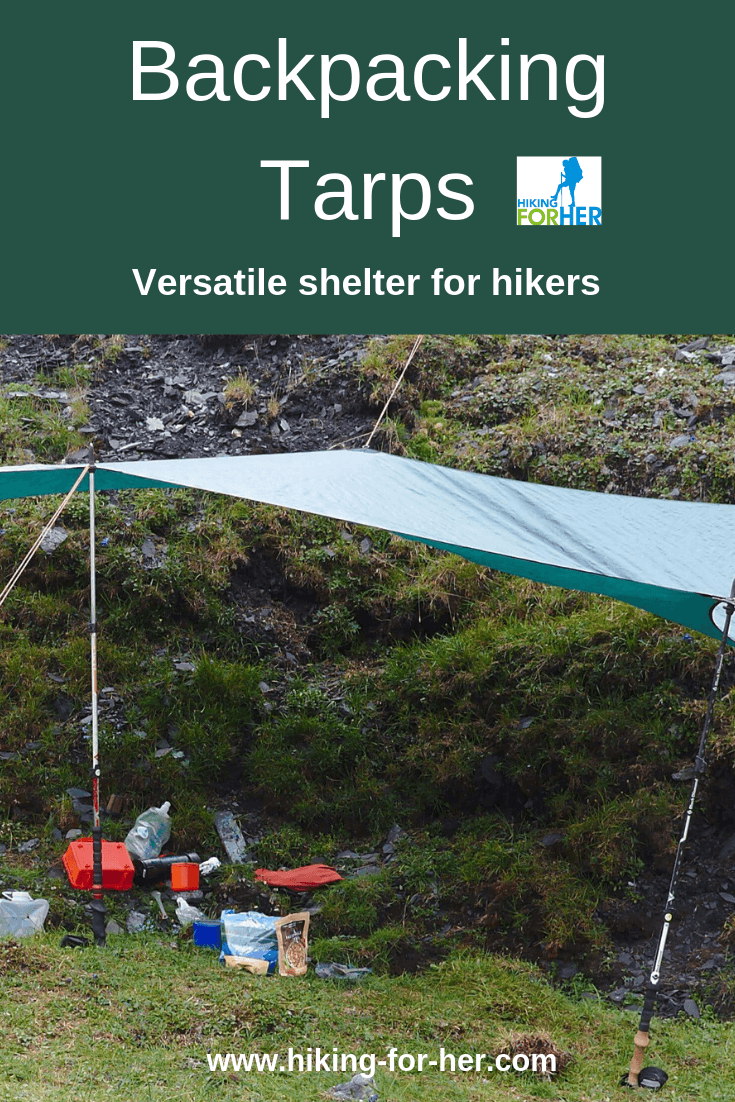 Backpacking tarps aren't a new idea.
I've been carrying one on every hiking trip, no matter how short or long, for over 40 years as a piece of survival gear.
A few pieces of duct tape keep it in top shape, and it folds down small in my pack when I don't need it.
In fact the blue tarp in this photo is the one I purchased that long ago.
I was surprised to discover that you can get one just like it here!
Great ideas never go out of style, I guess.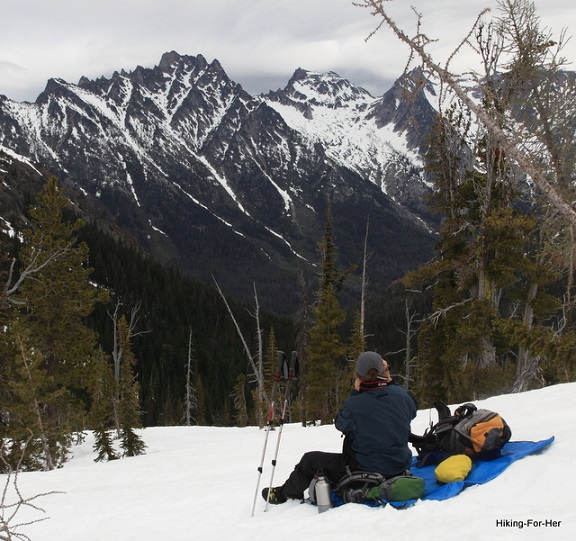 Backpacking tarps can keep your sit-upon dry and warm in the snow

Backpacking tarps:
How things have changed!!

I recall huddling beneath a canvas tarp on the shores of Lake Superior, waiting out a wet stormy night at the tender age of 14 years.
Minimalist shelters lost their appeal for me that night, 5 decades ago. I knew I was a tent woman all the way.

But here's my question:
Let's take a look at the reasons you might prefer to carry a backpacking tarp rather than a tent.
Affiliate links on this page mean you pay nothing extra to purchase your gear, while Hiking For Her receives a small commission for recommending the best tarps.

Why carry a backpacking tarp instead of a tent?

The obvious place to start is with saving weight.
If you want to go fast and light, a tarp shelter can be your best option.
This weight savings can also appeal to hikers who know they are not going to be caught in wet, windy weather and like star gazing on warm, clear nights.
Or for older folks who are trying to lighten their loads in order to squeeze out more mileage with more endurance.
Small(ish) tarps

Small tarps provide:
individual protection against the elements (see snow example in photo above);

a wind break in camp to make lighting the stove easier;

a way to keep the rain off your head when you've stopped to eat or rest;

coverage for gear left out in the snow or rain.
Large tarps
Larger tarps provide:
your mostly sheltered home for the night;

versatility in set up, using your hiking poles, custom made poles, or forest debris;




a wind-blocked, relatively dry area for 2 or more hikers to get out of the elements to talk, plan the next day, or eat;

shade in extremely hot, sunny areas;




emergency cover for a

hypothermic hiker

.



If any of that describes the type of hiking and camping you're planning to do, carefully consider carrying a tarp rather than a tent.
Drawbacks
of carrying a tarp

This is pretty obvious as well: only a ceiling and partial walls, no floor, and thus a bit of breeziness is to be expected.
If you're going into wet, wild conditions, a tent like this one might be a more prudent option to keep your sleeping bag and backpack dry and "fit for purpose".

And here's something that will resonate with many women hikers:
If you are at all creeped out by insects, arachnids, snakes or mice, you might be uncomfortable lying down with them all night.
Something else to consider: Wind gusts make setting up a tarp a challenge, especially if you're hiking solo.
Tip:
Tarps can rip no matter how carefully you handle them, thus compromising your shelter. Always carry something to make repairs: duct tape or Tenacious Tape.

Tarps can be had in
a wide price range

Backpacking tarps can be very inexpensive (less than $40 US) like this one.
I like this tarp for use in the height of warm summer weather, because it:
has a versatile design that allows you to adapt to your location and weather conditions;

is incredibly lightweight (549 grams!!) and would make more room in your pack for "comfort" items and heavier (nutrient dense) hiking

food

;

uses

trekking/hiking poles

, for fast set up;

is waterproof;

has many tie down points for versatility;

comes with stakes and guy lines;

goes up and down in a hurry so not a lot of time is invested in setting up or breaking down camp;

allows you to experience the various moods of Mother Nature at dusk and dawn.

And here's the fun part:
You'll feel more adventurous beneath a tarp, that's for sure!

Want a bit more from a tarp?

Here is a moderately priced option to consider: this waterproof nylon tarp.

If you want three season performance and a bit more room, take a look at this sil/fabric tarp.
Truth be told, there are also very, very expensive ($200 - $300) cuben fiber tarps. 
Use these investment pieces of gear when weight really matters to you, as in thru hiking a long trail like the PCT or AT.
Bottom line on tarps

I caution you to factor in your comfort, your body heat, and your ability to endure bugs, cold temperatures and high moisture levels when you take a look at the option of carrying a backpacking tarp rather than a tent.
It will be too late to change your mind about the type of shelter you're carrying, once you're on the trail.

Think through the tarp -vs- tent decision very carefully right now, in the comfort of your own chair.
On the other hand, think of the weight you'll save, and the time, too. It will definitely up your adventure quotient!

After reading about tarps, are you curious about how to size up tents? Read this.
Then make your decision about shelter from a position of knowledge.

Home page > Best Hiking Gear >
Backpacking Tarps
Hiking For Her: Hiking tips you can trust!