Enjoy Happy Trails, the free monthly newsletter from Hiking For Her.

Receive a free resource: Hiking Layering System Explained
Urban Canairie Review:
Is This The Hiking Hat For You?

by Diane Spicer
This Urban Canairie review brings you a close up view of a hiking hat option which solves many of the hat problems all hikers face.
And because it's being written from a female perspective, it will highlight some of the features a woman hiker looks for when considering a new hiking hat.

Disclosures
Urban Canairie contacted Hiking For Her with the suggestion that these hats were a good choice for hikers.
Hiking For Her received two hats, and trail tested them in cool spring weather, both cloudy and sunny days.
No affiliate relationship exists between Urban Canairie and Hiking For Her.
All photos, opinions and comments belong to Hiking For Her.

As always, this hiking gear review was written to inform you of a new choice for your trail comfort.
Urban Canairie Review:
hat specifications

Here's what you need to know about this hat:

Velcro adjustable strap, to fit head sizes

6-7/8 (head circumference of 21~1/2 inches or 55cm) to 7-3/8 (23~1/8 inches or 59cm)

Sweat absorbing, moisture-wicking hat band

A lot less fabric than a ball cap, therefore feather light

360 degree mesh vents

Notes about the company

Urban Canairie is a green company.
They put American materials into the hands of Canadian skilled craftspeople:

Another interesting thing about Urban Canairie:
It began as a personal quest for a viable solution to the "cooked head" sun-drome (typo intended).
And yes, the kitchen table and a pair of scissors were involved.

Several designs later, voila!
Just a note about the unusual name for this hat:
Many of us are Urban dwellers, seeking hiking trail heads within easy driving distance of our homes.

Canairie is an acronym: Canadian, Airy, Irie (a word meaning happy and content, with Jamaican origins)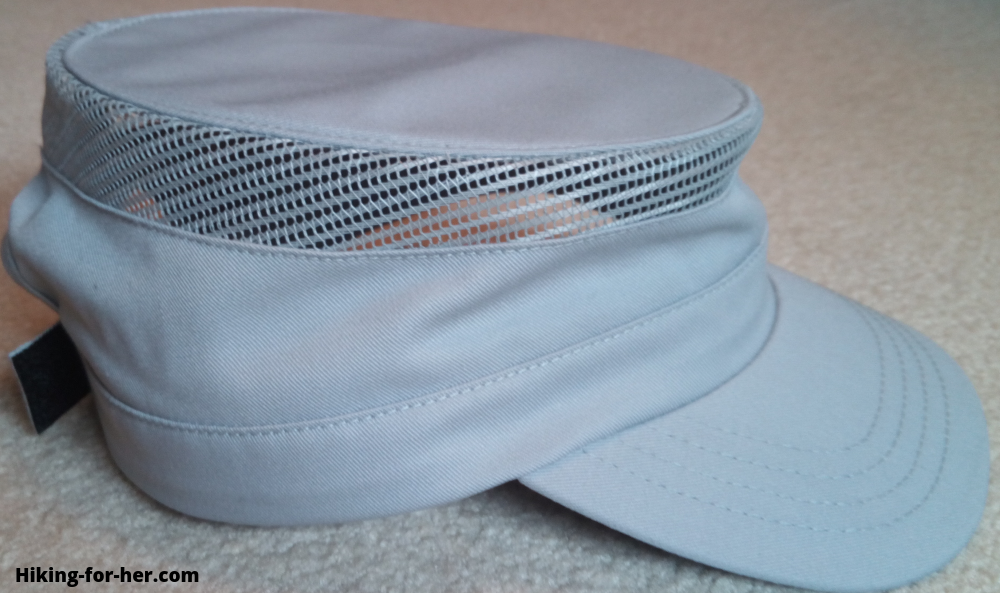 What I really liked about this hat

There are lots of great things to appreciate about this hat!
Let's take a look.
Restful colors

I'll lay it right out there about my gut reaction to gaudy colors on hiking gear.
I hike for peaceful vistas and calm landscapes, don't you?

So I really appreciated the two calm hat color options in this Urban Canairie review:
The creamy color, a perfect choice for the hottest part of your hiking year

The gentle gray hat, for cooler spring and fall hiking
These color choices will appeal to women hikers as well as their male trail companions.

Lots of room for adjustments

Take full advantage of the adjustable hat band, although I urge caution if you've got long hair.
The Velcro shouldn't be opened up with the hat on your head to make on-the-go adjustments.

Instead, play around with the sizing before you put on the hat.
Sounds simple, but having your hair pulled is not part of what I consider an excellent hiking hat user experience.

Lightweight and vented

My other hiking ball cap style hats can get a bit toasty when the weather warms up.
Not this hat!
Look at the pattern of mesh.

You can see how this hat is designed to release heat, rather than trapping it against the top of your head.
Bonus feature for hikers:
The mesh allows any cool breeze that happens your way to soothe the top of your head as you're working hard on the trail.
Anti-glare feature

Look at the underside of the hat brims.
They feature a darker color, to absorb sun rays rather than bouncing them into your eyes.
A very nice touch!
No bumping against your backpack

If you've experienced the annoyance of a large sun hat brim banging against the top of your backpack, you know how delightful it would be to have a hat that protects your eyes and face from glare, but doesn't interact at all with your backpack.
In fact, I consider this the most important hiking specific feature to mention in this Urban Canairie review!
Drawbacks noted in this
Urban Canairie review
This hat has a unique shape, so if you're reluctant to wander away from the traditional ball cap look, you won't appreciate this flat topped hat.
Your ears and the back of your neck will be exposed to UV rays, just as in a ball cap.
Don't neglect to apply high SPF sunscreen, and reapply it as the day goes on. Hikers sweat off sunscreen at an alarming rate!
If you wear a hair clip to hold your bun or braid in place on the back of your head, this hat won't fit properly unless you re-situate your hair on the top of your head.
Short haired hikers won't have any problems at all!
How to care for your
Urban Canairie hat

You have two choices for taking good care of these light colored hats.
Because you're going to sweat in them, splash mud all over them, and smear trail debris on the underside of the brim as you wipe the mosquitoes off your forehead.

Or is that just me?

Cautiously clean

The first approach is to be super-cautious to keep this hiking hat in good shape for years to come.
In other words:

Wash this lovely hat by hand.
Read my cautionary tale about mis-treating a beloved hiking hat here.
Use cool water and a mild detergent in your wash basin, and spot clean using a little elbow grease.
You can take an old toothbrush to the sweaty hat band if necessary.
Hang up the hat outdoors, out of direct sunlight, to drip dry.
Any wrinkles can be removed by hanging the hat on the doorknob of your bathroom door as you're taking a hot shower.

Easy peasy way to cleanliness

Not into hand washing?
Throw this hat in a washing machine, using cold water and a gentle cycle.
Skip the harsh dryer treatment: allow the hat to dry on its own.

Urban Canairie review
conclusions

I'm a fan!
This hat has been officially added to my hiking gear locker, for spring through fall hiking.
Why pay for, and wear, a heavy wide brimmed sun hat, when this hat will keep me shaded, vented and happy?

Why sweat like crazy in an non-vented ball cap?

And why not be unique?

These hats are well made, with quality stitching and a beautifully finished appearance.
Reasonably priced, too.
Why not get both colors, so you're outfitted for comfortable three season hiking?

And maybe it's just me, but I always carry a back-up hat in case the wind, the water, or my own clumsiness robs me of sun protection.
Thank you!

Thanks for reading this Urban Canairie review.
I'm happy to answer any questions you might have, so send them to me.
I'll leave you with one more little tip:

Watch the Urban Canairie website for discount coupons.
For example, free shipping was offered around Mother's Day in May.
Keep that in mind when you're searching for the best gift for hiking parents and grandparents!

And who knows when new hiking hat solutions might appear?
I've yet to find a vented, well fitted hiking hat which shields my ears and back of the neck from UV exposure, yet doesn't bump against the top of my backpack with every single step along the trail. (hint, hint for a future Urban Canairie review)
Happy Airy Trails To You!

Home page > Hiking Gear Reviews >
Urban Canairie Review
Hiking For Her: Hiking tips you can trust!