Have the freshest free hiking tips sent to you each month!

Best Hiking Camping Equipment

"Hiking camping equipment" is a phrase that smooshs together two separate universes.
If only the astrophysicists could do the same!
Hiking equipment (gear) is made for trail safety and comfort.
Camping equipment, purchased by car campers, is made for overnight safety and comfort - but not used by backpackers, who fuss over weight and portability.

The hiking universe does overlap the car camping universe, however, and that's why you need to read this before you buy hiking equipment, or invest in camping gear.

Hiking Camping Equipment -
what's the difference?

In my long experience with outdoors companies, gear stores, hikers and campers, the differences between hiking and camping equipment are these:
Hikers want lightweight hiking gear, while car campers don't check for weight in a flashlight or

sleeping bag

.

Campers want comfort. So do hikers, but most are realistic about the direct relationship between weight and comfort. For example, a

sleeping bag liner

might give enough comfort during warm dry months, allowing you to leave the bag behind.




Hikers need less gear on a backpacking trip, because they understand how to make camping equipment do double duty. Campers can get away with "just one use" camping equipment. See these comments about

bandannas

for an example.




Campers may stay in one spot for many days in a row, while backpackers generally pull up camp after just one night. Thus, hikers need camping equipment that is fast and easy to set up/tear down in

all kinds of weather

.

Hikers want camping equipment to use as small a footprint in the

backpack

as possible. Campers are only constrained by the size of their vehicle!




Campers anticipate eating well, really well, including bottled beverages and fresh eggs for breakfast. Hikers are ok with the idea of

dehydrated food

, counting

calories

, and eating portion controlled meals.

Hikers use lightweight stoves and only have one "burner" at a time, so meals must be planned carefully. Campers can use campfires for cooking, but generally rely upon heavier stoves with more options.

Campers have spacious, heavier accommodations (tents with more than 1 room!) while hikers carry lightweight

tarps

or

tents

for shelter. [Note that I do not consider folks who sleep in trailers (recreational vehicles) as hard core campers. My apologies in advance for any hurt feelings.]




Hikers can reach places campers can't, and their hiking/camping equipment is built around comfortable and safe trail time to achieve a hiking objective. Campers have a vehicle to access a road, in case a medical or weather emergency arises, and so have less planning to do for a camping trip.

Campers might not hike, but hikers staying out at least one night need to camp! So hikers need to have a larger outdoors skill set, along with some serious hiking camping equipment.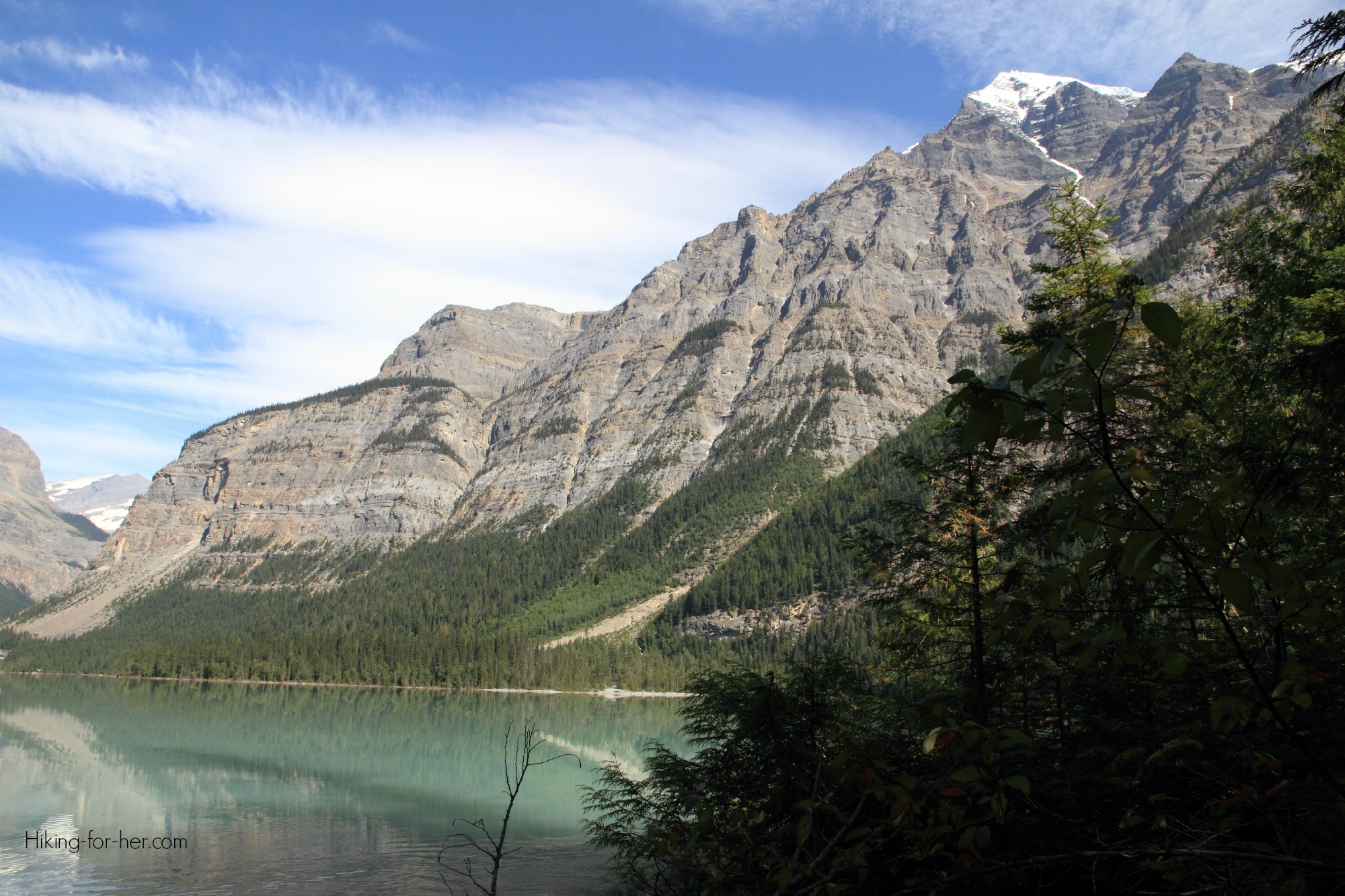 Only hikers can access Kinney Lake (Mt Robson Provincial Park, B.C.) but when they get there, they camp!

Hiking Camping Equipment -
what's the same?
What should be the same is the quality of the hiking camping equipment.

But in my experience, it isn't - unless you know which brands to choose.
It's possible to purchase inexpensive camping equipment and be disappointed when it's too heavy and/or too flimsy for hiking usage.
Backpack camping gear is a sub-set of camping equipment.

So don't be fooled!
A hiker needs to scrutinize camping equipment for these features:
And finally, we come to price.
I'm a firm believer in bargain hunting for hiking camping equipment.
But sometimes I am willing to pay a higher price for bombproof hiking gear, like my titanium cookware set.
It's always a dance between price and quality, and if you're on the fence about which side to land on, always take the long view: you're building a repertoire of reliable hiking camping equipment to be used for many years into the future.
And can be handed down to the next generation, in the case of a titanium cookware set that is handled with care.

If you're interested, my hiking equipment list, honed by many decades of trial and error, is ready for your perusal right there.
Hiking Camping Equipment -
now it makes sense, right?

Have I convinced you that hikers camp, and therefore need hiking camping equipment?

But camping hiking equipment doesn't have universal applicability.
When scanning ads or trolling through gear stores, as a hiker you want to head for the backpacking and hiking items, not the camping equipment.
The brands will be different.
Here's a good example:

For another example, read about backpack chairs -vs- camp chairs.
Or take a look at a portable, rechargeable, independent power station camping lantern that's way too heavy for backpacking.

Here's one more: a car camping sleeping pad compared to a backpacking pad.

Are you beginning to see that acquiring hiking and camping equipment could be an expensive (and fun) habit?
But it's worth some thoughtful planning for your safety, comfort and budget, isn't it?
I certainly think so!
Hike and camp to your heart's content, and maybe even use the same equipment.
Just don't forget to plan your camping hygiene essentials!

Home page > Best Hiking Tips >  Best Hiking Camping Equipment
Interested in more hiking gear tips?

Some of these links are affiliate links, meaning that I trust REI's customer service policy enough to recommend them to you.
If you purchase through the link, Hiking For Her will receive a tiny amount of money without costing you anything extra.
Your support is greatly appreciated, and keeps the best hiking tips flowing freely (literally) through the rest of the links on this page.
Didn't find what you were looking for? Use the blue TOP button
on the right to jet back up to the search box.
Why wait a whole month?
Plus, there's never enough room in the newsletter to share it all, so why miss out on exclusive Hiking For Her giveaways, limited time gear deals and discounts, freebies, updates, and more?

A short, info packed weekly email update will keep you current on all things hiking!

Don't miss out!