Enjoy Happy Trails, the free monthly newsletter from Hiking For Her.

Receive a free resource: Hiking Layering System Explained
Backcountry Hiking:
Get Off The Trail
And Into New Territory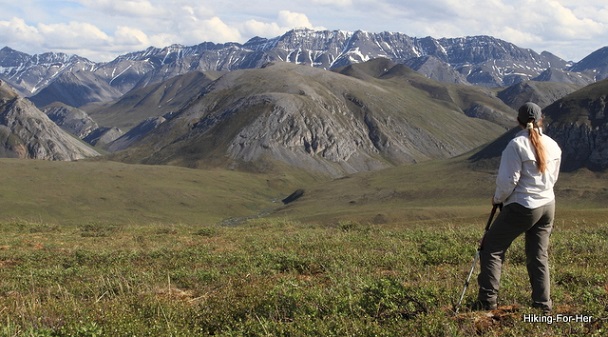 Backcountry hiking gives you a chance to interact with Mother Nature without humanmade distractions.
Backcountry hiking implies that there is a thing called front country hiking.
Or "front country", if you prefer.
And that's true.
Here's my understanding of the difference between these two very different hiking destinations.
See if you agree.

Backcountry hiking defined

By definition, as a backcountry hiker, you are leaving the front country - where the busy, popular trails and hordes of casual hikers exist.
Front = crowded, frequently visited, well known hiking destinations.
This includes well known long trails such as the PCT, AT, Ice Age Trail, and some of the CDT.

There are many ways to step away from the ant trail of established hiking routes and get into backcountry and wilderness hiking territory:
Helicopter assisted hiking treks
Bush plane access to roadless areas

Established hiking trails or trailheads with access to rougher, sketchier climber's routes or fishermen's trails (rough going at best)
Horse or llama assistance to carry your gear while you explore areas not marked as trails
Or you can just melt into the backcountry as a solo hiker.
Explore options for remote hiking destinations here

Why try hiking in the backcountry?

There are as many reasons for relishing this less popular type of hiking as there are back country hikers.
I can only share why I do it, and give you a few resources to explore.
For me, the real adventure of hiking lies in destinations that not everyone is willing or able to access.
There are vast areas of North America that go unvisited every year.
The Grand Canyon and other U.S. National Parks such as Yellowstone come to mind.
Tourists drive to a popular overlook, take a few photos, and continue on for a marathon driving event.
Casual day hikers don't have the ability or time to access the backcountry due to mileage limitations.
But thoughtful planning will allow you to spend days, and nights, surrounded by only a few family members:
Mother Nature

Father Sky

Assorted wildlife encounters - even in a well known tourist destination like Yellowstone
While this is not true wilderness exploration, it can certainly feel like it if you stay out there for a few days!
Nature immersion is a fantastic reason for backcountry hiking.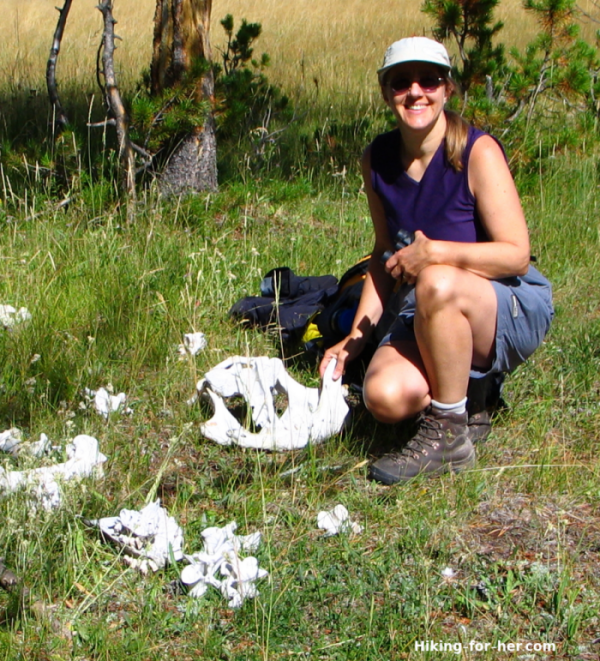 What a find! Bison bones in Imperial Meadows, way off trail in Yellowstone

Harvest the fruits of backcountry hiking

Infrequently visited (a.k.a. "less popular") hiking destinations offer solitude, adventure, and challenges in abundance.
Imagine the thrill of grunting and sweating your way to a viewpoint, knowing that what you are looking at doesn't have roads, buildings or human footprints, let alone a name on a map.
If it's unscripted adventure  in the United States that you're looking for, try Wrangell St. Elias National Park and Preserve (Alaska).
Or a combined raft/hike trip on the Alsek River (Yukon & Alaska).

How to approach this type of hiking

No one around for literally hundreds of miles! What an incredible experience.
One thing is for sure:
Don't try remote hiking without extensive preparation and a deep set of outdoor skills.
If you're a beginner hiker, go with a guide or a group that is willing to keep you safe in the back country.
At the very least, you need to be able to do these things:
Navigate reliably in all kinds of weather.
Maintain clean water sources.
Take shelter to maintain your body heat.
Know the wildlife and weather patterns for that area.
Carry and know how to deploy a personal locator beacon or SEND device for emergencies.

Acknowledge your limitations and modify plans as needed.

Accept circumstances over which you have no control without freaking out. Calm and steady no matter what!
Resources for planning
backcountry hiking trips

Please feel free to explore this website before you set off on an exploration of terrain that nobody else goes to!
It's worth every ounce of preparation and planning, once you get a taste of the wild freedom of what I love to call "off the leash" hiking.
Leave No Trace Hiking principles should guide your every action, as you plan and enjoy your backcountry trip.
All of the best hiking tips and techniques I cover on this website will serve you well in the remote areas you yearn to explore.
These backpacking techniques and tips will help you stay well fed, safely sheltered and strong.

Specific tips for off trail exploration are here.
And take a look at these tips on how to stay found.

For a free backcountry gear list to get you started on your planning, use mine from a Wrangell St Elias hiking adventure.

Home page > Types of Hiking > Backcountry Hiking