Enjoy Happy Trails, the free monthly newsletter from Hiking For Her.

Receive a free resource: Hiking Layering System Explained

9 Gifts For People
Who Love Hiking,
Selected By A
Seasoned Hiker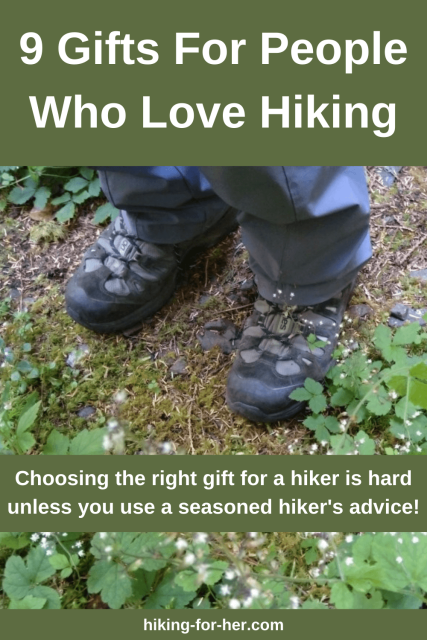 If you're reading about 9 gifts for people who love hiking, your  gift list has at least one hiker on it.

We're weird, aren't we!
Hikers love to play in the dirt.

Sweat is their favorite perfume.

And what is it with the heavy backpack??



Good news if you're stuck trying to figure out what they might like for a birthday or holiday gift:
Let this seasoned hiker (45+ years and counting) help you whittle down that gift list to tried and true gifts for hikers.

This gift guide offering 9 gifts for people who love hiking is exactly what you needed to find.
None of the suggestions are very expensive, but they excel in thoughtfulness and versatility.

See gift suggestions in a hurry!

What you need to know
about these 9 gifts for
people who love hiking

Every suggestion was chosen because it's been trail tested and known to stand up to what a hiker (and Mother Nature) can throw at it.
Hiking For Her is an Amazon and an REI affiliate, meaning that a small percentage of your purchase price flows into the HFH coffers to keep these trustworthy hiking tips flowing around the globe.
You pay nothing extra, though.

You already know the people who love hiking pretty well, and can put them into one of these 3 hiking categories:
So let's organize this gift guide for hikers in the same way, to make it easy for you.
Everything in it is designed to enhance the comfort and safety of your hiker(s).
Sound good?
Let's take a hike through these 9 gifts for people who love hiking, by starting at the beginning.
Each photo takes you to more details and customer reviews.

Best gifts for
beginner hikers

When someone you love gets bitten by the hiking bug, it won't be long before they get bitten by bugs for real.
That's where your gift comes in.
It's tough to get used to the reality that mosquitoes and flies consider the hiking trail their territory.
This hiking head net can help ease the transition for your hiker.

And it's also a comforting item to have tucked away in a backpack pocket, even when it's not used.

---
Here's another trail fact which might catch your newbie hiker caught off guard:
Carrying a waterproof bag makes sense if she also carries food, a camera, a phone or anything else that can be damaged by moisture.
| | |
| --- | --- |
| | Dry sacks come in many different sizes, and will never NOT be used, either on the trail or for camping and travel. |
---
Knowledge is going to guarantee safety and comfort for your hiker.
And among these 9 gifts for people who love hiking, it's the hardest for you to give her.

That's why I wrote the book for beginners.

Every word is based on questions received from beginner hikers and trail newbies around the world.
Well, that was easy to take care of 3 of the 9 gifts for people who love hiking!
Let's keep going ('cuz that's what hikers do).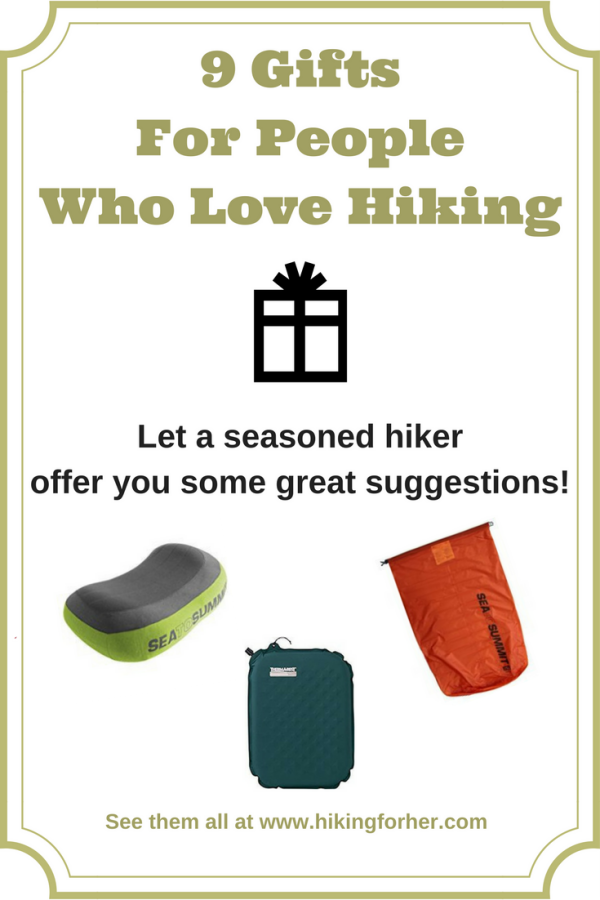 Best gifts for day hikers

Comfort + safety = a great hiking gift.
Having a barrier to sit on when everything around you is wet, cold, or both, spells comfort for your hiker.
This simple pocket blanket is perfect for this reason.
Read the Hiking For Her review of this blanket for more details.
It can also be used as a wind shield, wrapped around her backpack during a rain squall, or pressed into service as an extra layer of clothing - making the real gift large margins of safety in bad weather.





Versatility is a coveted attribute of any piece of hiking gear.

This little blanket has you covered!

---
It's amazing how much sweat pours out of a body that hikes.
And not only on a hot day!
So giving the gift of a microfiber wicking, light weight and fast drying towel makes sense:
This two pack plus mesh carrying pouches can be split between two hikers on your list.
---
Now here's an inexpensive day hiking gift with so much versatility that I never hike without one in my pack.
Sure, it works nicely as a pull on headband for a bad hair day on the trail.
But it can also be used as a neck gaiter to ward off chilly breezes.
Or a foulard to cover the head when a cap is forgotten.
It can also be used as a lightweight balaclava, covering nose, chin and neck on really cold days.
---
Time to transition in our
9 gifts for people who loving hiking
gift guide

Now we come to the hard core hiker category, folks who can be picky and hard to please.
To please these curmudgeons, take a look at the remaining 3 suggestions in our 9 gifts for people who loving hiking gift guide.
Best gift suggestions
for backpackers
People who haul around heavy loads need support for their leg and foot care strategy.
These compression socks can help:
moisture wicking fabric, so important for keeping feet dry inside hiking boots and trail shoes

nylon fabric discourages microbial growth (and associated "stinky feet" odors)

aids recovery from exertion

stamina can improve as blood flow back to the heart is enhanced by the compression
| | |
| --- | --- |
| Compression socks are meant to feel snug, so give your hiker a heads up if this is a brand new gear item for them. | |
Pretty pattern, no?

And don't fret that socks are a boring gift.
Read more about the wisdom of using compression socks here.

---
Backpackers also appreciate comfort at the campsite after a long day on the trail.
You will be spoken of fondly when your hiker pulls out this seat cushion to kneel on while preparing dinner on the camp stove, or while sitting down to cold wet rocks.
I carry one of these cushions with me year round, and love how it insulates and protects regardless of the terrain.
A perfect gift for a beginner hiker, too!

---
One last well received comfort item in our list of 9 gifts for people who love hiking:
a backpacking inflatable pillow.
Gone are the days of rolling up an extra jacket and making do.
Just between you and me, that never works! Lumpy, uncomfortable, and after a few days of hiking, that jacket stinks!

An inflatable pillow like this one takes up no weight or space in a backpack, yet delivers something vital: a good night's rest.
It takes a few breaths to inflate, which means it's also warmed by your hiker's breath.
---

9 gifts for people who love hiking! But why stop there?

If none of these suggestions float your boat, contact me and we can come up with more ideas, tailored to your hiker.
I know you want something really special to make her smile, and I'm all about putting smiles on hiking faces.
And sometimes 9 gifts for people who love hiking just isn't enough gift suggestions.
Home page > Best Hiking Gifts >
9 Gifts For People Who Love Hiking