Best Hiking
Compression Socks:
What Do They Do
For Hikers?

by Diane Spicer
Before we launch into a discussion of the best hiking compression socks, let me say this:

Hiking socks in general are a vital piece of technical gear, and if you need convincing, please read this first!
Here, let's explore the wonderful world of hiking compression socks in order to answer several questions:
What does "compression" mean?

Why do hikers wear these types of socks?

Should you wear compression socks to hike?


Which are the best choices of compression socks for hikers?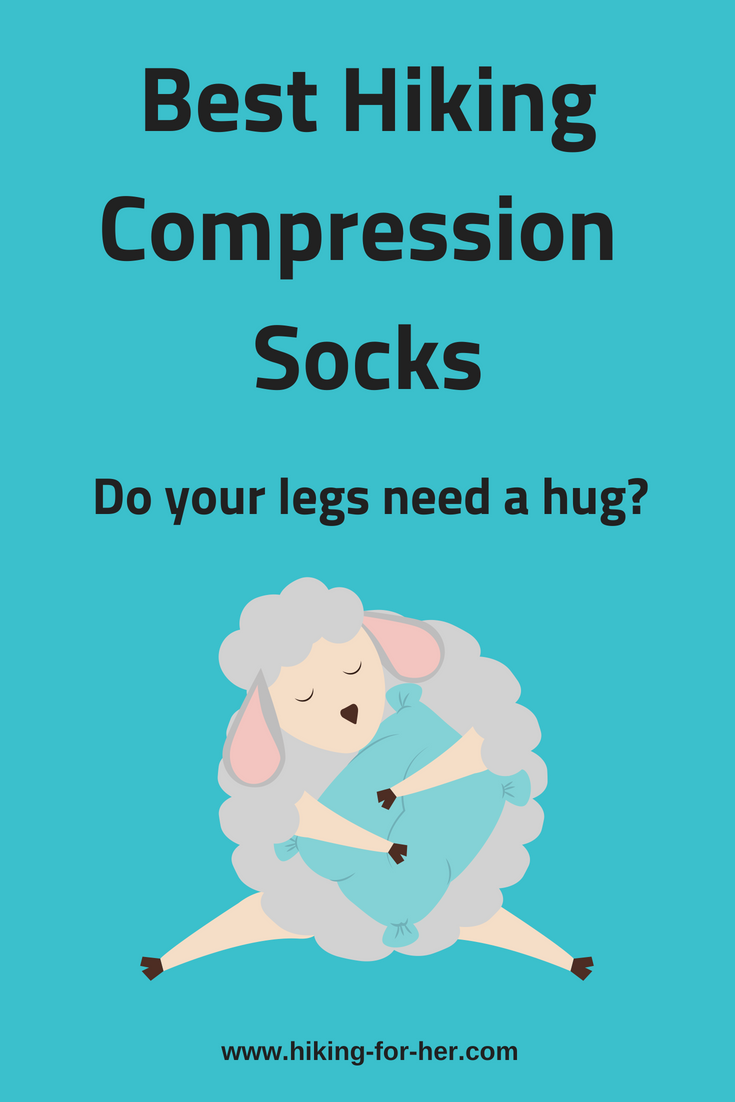 What are compression socks,
anyway?
Think of two things your current hiking socks probably are not:
Compression socks, also called stockings, are designed to hold your leg in a snug grip (think of it as a hug) by using stretchy fabric such as Spandex.

You can also find modifications on this design, such as:
graduated compression or pressure socks which apply more or less pressure from foot to knee

compression sleeves, which don't have the normal "foot" part you would expect in a sock
Why do hikers wear
compression socks?
Compression socks are designed to fit snugly, some hikers might even say "tightly".
And that's the whole point.
These knee high socks compress your legs in order to improve the blood flow out of your hard working hiking legs.
This, in turn, leads to a reduction in discomfort and swelling.
There are rumors, and rumors of rumors, that wearing compression socks will make you a stronger, less injury prone endurance athlete on the trail.
But the sensation of comfort may be enough to motivate you to find the best hiking compression socks for your feet!

Anatomical details
behind compression socks
Skip this unless you're interested in why tight fitting socks are a good idea on the hiking trail of life.
The blood vessels in your legs and feet are designed to bring oxygenated blood (via arteries and their smaller branches) to the cells and tissues, and then to drain it back to the heart (via veins and lymphatic vessels).
And to keep working against gravity, as when you're hiking along the trail, veins have valves to prevent back flow or pooling in your feet and ankles.

The pressure from the compression socks help the veins with their "return to the heart" 24/7 work.
And you want all the help you can get, because you don't want blood to pool and stagnate.

A preventative note
By helping your veins with their venous return duties, you may prevent the formation of spidery veins and varicose veins.
Other uses for your
hiking compression socks
If you have travel plans which force you to sit for long periods of time, wearing a pair of compression socks will help you avoid the possibility of blood clots.
Do your occupation and off trail habits require you to stand for long periods of time?
Pregnancy might also be a time to pull out the compression socks, as swelling is just a part of the fun of gestating your baby.

A note about wearing compression socks
for medical reasons
If you have been diagnosed with certain medical conditions, you may have received a prescription, or a recommendation, for compression socks.

Should you try a pair?
If you struggle with sore, tired legs and engorged feet after a hike, compression socks are worth a try to bring back some comfort and to reduce swelling.
You can try these tips, too:
Why not run an experiment?
If you're curious about the benefits of hiking compression socks, why not wear one on only one leg?
You will be able to determine for yourself exactly how beneficial (or not) the socks are on your next hike!
Look for these things in the sock wearing leg, compared with the other leg:
That's really the only way you'll know if these socks are giving you anything extra on the trail.
And if you hike with a buddy, let her wear the other sock, and then compare notes!
Finding the best
hiking compression socks
The price range for the best hiking compression socks is quite impressive: from $10 to over ten times that amount.
But does price guarantee quality?
It does, if the higher price point compression socks include these design features for comfort and durability:
cushioned sole

arch support (if your arches require it)

moisture wicking fabrics that include stretchability from materials such as Spandex 
These two best hiking compression socks picks are built for hikers, and have the features you'll need to gain maximum benefit on the trail.
Let's begin with a traditional hiking sock style.

| | |
| --- | --- |
| | Sockwell Women's Circulator compression socks don't look geriatric, and will provide support and comfort inside your trail footwear. |
Women's specific fit means less chance of sagging or bunching.
32% Merino wool, 31% bamboo, 32% stretch nylon, 6% spandex
Looking for a different style?

These Injinji Ultra Compression Socks include toes to help with blister prevention and a secure fit.

Graduated compression increases from the ankles through the leg regions, for optimum venous return.

These socks are built to be durable, due to extra padding in the heel and foot areas.
Take a look at these beautiful
compression socks!
If you're looking for style and a colorful pattern along with function, look no further than these Lily Trotters from Title Nine.
These are 15-20 mmHg compression socks in 93% micro nylong/7% spandex, great for trail work as well as recovery after a hike.
Tip from Lily Trotters: Measure your calf circumference at the widest point to determine your size.
---

Hiking compression sock
fit and wearing tips
You're probably used to pulling on your socks and then jamming your feet into your hiking boots, right?
You will have to slow down a bit and make sure your compression socks are properly fitted:
Why not?
Because you don't want to create little pockets of additional pressure on your tissues.
And because you'll give up on the socks if they don't feel comfortable.

One long, smooth surface of snugness for optimum results, please!
Be sure the socks are the correct length.
Sizing tip:
Use your shoe size to select the correct pair.
Here's one more tip:

Don't wear your compression socks any longer than your hike lasts!
Take them off once you stop moving, put your legs up, and sip some cool water to re-hydrate as you assist venous return.
Compression rating numbers
Millimeters of mercury (mmHg) are the units referring to how much pressure is exerted on your legs by the compression socks.
The lower the number, the less pressure the socks will exert.

Typical ranges:
Best hiking compression
socks finale

Well, I've socked it to you with all of the compressed details.
Now it's time to consider other hiking clothing which can enhance your trail time and avoid problems, such as:

Happy trails to you!
Home page > Best Hiking Gear >
Best Hiking Compression Socks
Some of the links on this page and elsewhere on this website are affiliate links to trusted companies.
You pay nothing extra for your purchases, while Hiking For Her receives a small percentage. This keeps the free hiking tips available to all, and is greatly appreciated!!



Hiking For Her's weekly emails keep you current on hiking & backpacking news.


Free, fast, fun info for you, every week of the year.

Use the box below for fast sign up!






flash giveaways
timely deals
steep discounts
freebies

resources
Why wait a whole month?
Plus, there's never enough room in the newsletter to share it all, so why miss out on exclusive Hiking For Her giveaways, limited time gear deals and discounts, freebies, updates, and more?

A short, info packed weekly email update will keep you current on all things hiking!
When you sign up to receive this update, you are agreeing to Hiking For Her's privacy policy.

Don't miss out!

Read more about these hiking weekly updates
| | |
| --- | --- |
| HFH Policies | Hiking For Her is a participant in the Amazon Services LLC Associates Program, an affiliate advertising program to provide a means for us to earn fees by linking to Amazon.com and affiliated sites. |