Enjoy Happy Trails, the free monthly newsletter from Hiking For Her.

Receive a free resource: Hiking Layering System Explained

Gorewear For Hikers:
What It Offers For The Trail
by Diane Spicer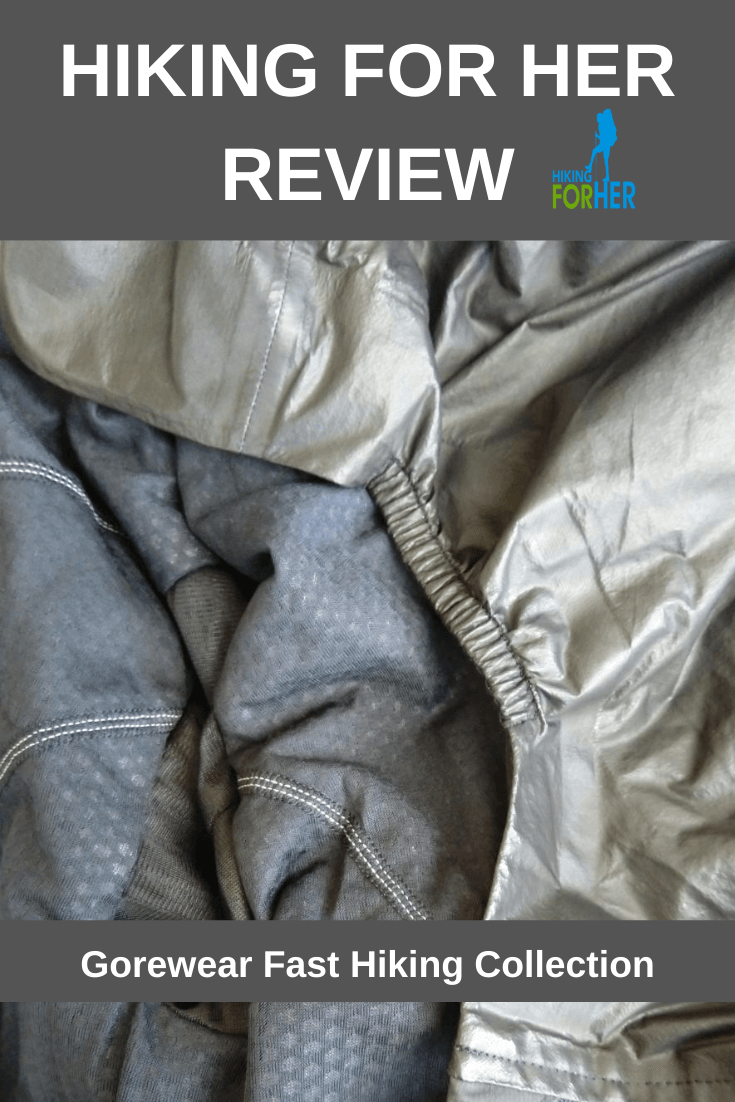 Gorewear for hikers recently came onto the Hiking For Her radar, when I was asked to test clothing from Gorewear's Fast Hiking Collection and share the experience with you right here.
Why?
Because this technical outdoor clothing brand is well known in the runner and biker community, but is less well known by hikers.
So curiosity is the motivation for reviewing some Gorewear for hikers.

Let's put it to a trail test and see what type of performance it delivers.
Just so you know...
Hiking For Her does not do paid reviews or paid placement of any kind.
That's why everything you read on this website can be trusted as solid hiking tips.
The clothing in this Gorewear for hikers review was received free of charge in exchange for an honest, fair performance evaluation.
All opinions and comments belong to Hiking For Her.

There is no affiliate relationship between HFH and Gorewear. 

As an Amazon Associate, Hiking For Her earns from qualifying purchases. 

As always, this review was written to put solid hiking advice into your hands - or on your back, in this case.
If you'd like to read more Hiking For Her GOREWEAR reviews, here they are:

The hiking clothing
in this Gorewear for hikers review
There are two Gore garments being tested in this review:
Thermo Shirt suitable for outdoor sports
H5 GORE-TEX SHAKEDRY™ Insulated Jacket

First, let's look at the Thermo Shirt
as we consider Gorewear fo

Hikers crave decent layers like a kid craves candy.
Okay, let's get real.
Hungry hikers sometimes crave candy, too, but where I'm headed is that building a good layering system is one of the foundations of being a smart hiker.
So what can this shirt offer us in terms of layering, as a base layer or mid layer?
Could it act as a worthy stand alone layer?
Hint:
We're looking for moisture wicking fabric, heat trapping technology, breathability, a nice feel against the skin, and durability.


Gorewear Thermo Shirt specifications
This shirt has two fabrics stitched into it:
Polyester, 94% in the main fabric and 90% in the insert

Elastane, either 6% or 10%
In other words, breathable and moisture wicking fabric with a bit of give to it, exactly what you want in a base layer.
This shirt is what I would call midweight in terms of its insulating ability, so use it for cool weather hiking.
But it only weighs 8.8 ounces! So the word "weight" can be misleading with Gorewear.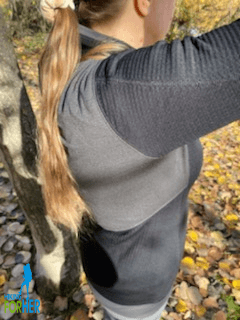 Note the use of different fabrics in the shirt zones

The fit and feel of the Thermo Shirt
You want a form fitting base layer, in order to move well with you and to do its job as a heat trapping, wicking layer.
You do NOT want a death grip around your torso or arms.
The Elastane in this shirt will give you some room to bend and stretch, but it's the active Polartec® Power Grid™ insulation that will keep you cozy in cold weather.
The inner fabric has a soft feel, nothing abrasive or sticky like some polyester base layers.
If your neck always feels vulnerable to cold, damp breezes, you'll love the high collar.
Wear it all the way up, or unzip a bit and fold the collar over to accommodate a neck gaiter.

The zipper allows multiple thermoregulation options as the trail changes your pacing, and thus your heat level.
The full zipper in front (with underflap) makes it easy to layer over a thin tank or cami, or wear it alone.
For the review, I wore a short sleeved thin shirt, and didn't feel bulked up wearing the Thermo Shirt.
Sizing runs true to size if you like your clothing with some room to move.


Gorewear for hikers:
Thermo Shirt trail performance
On this mild fall day, I wanted protection against the chilly morning fog and a wicking layer as my hike progressed into the afternoon. This shirt delivered!
The sleeves were loose enough to be pushed up when needed, and long enough to meet the tops of my hands but no longer than that - no interference with hand dexterity.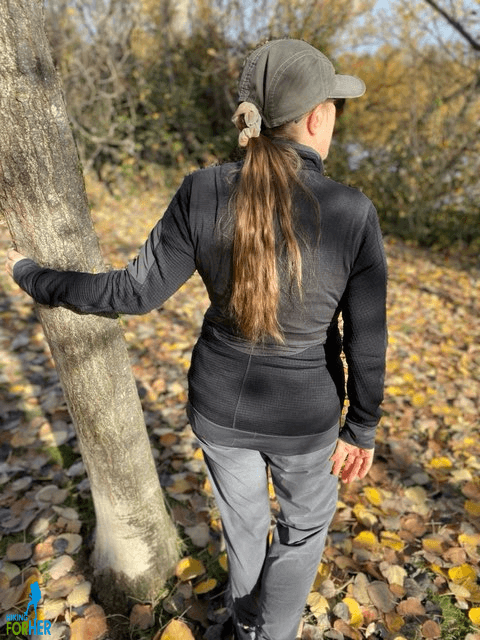 Note the full coverage in the back, perfect for wicking moisture but also a layer of protection between your skin and your backpack.
The upper back of the shirt, slightly thinner than the rest, is quite breathable, making it a good choice for beneath a backpack and right up against sweaty skin.
As soon as the backpack came off, I could feel the venting increase to cool me down quickly in the autumn sunshine. Nice!

Conclusions about Thermo Shirt
in our Gorewear for hikers review
I'm a fan!
A soft, lightweight but warm shirt that's easy to get on and off, with great features like soft neck and wrist coverage, sounds like a dream base layer to me for mild, cool hiking conditions.
I will also be pressing this shirt into service for snowshoeing, with a long sleeve thin baselayer beneath it and a down vest over it.
And I have to show you my absolute favorite feature: this zipped pocket on the right sleeve!
If you have small stuff to stash like lip balm, a jerky snack, or hair ties, you'll love it, too, because you can get at it quickly. 
Sometimes it's the smallest things about a shirt that can make it a favorite!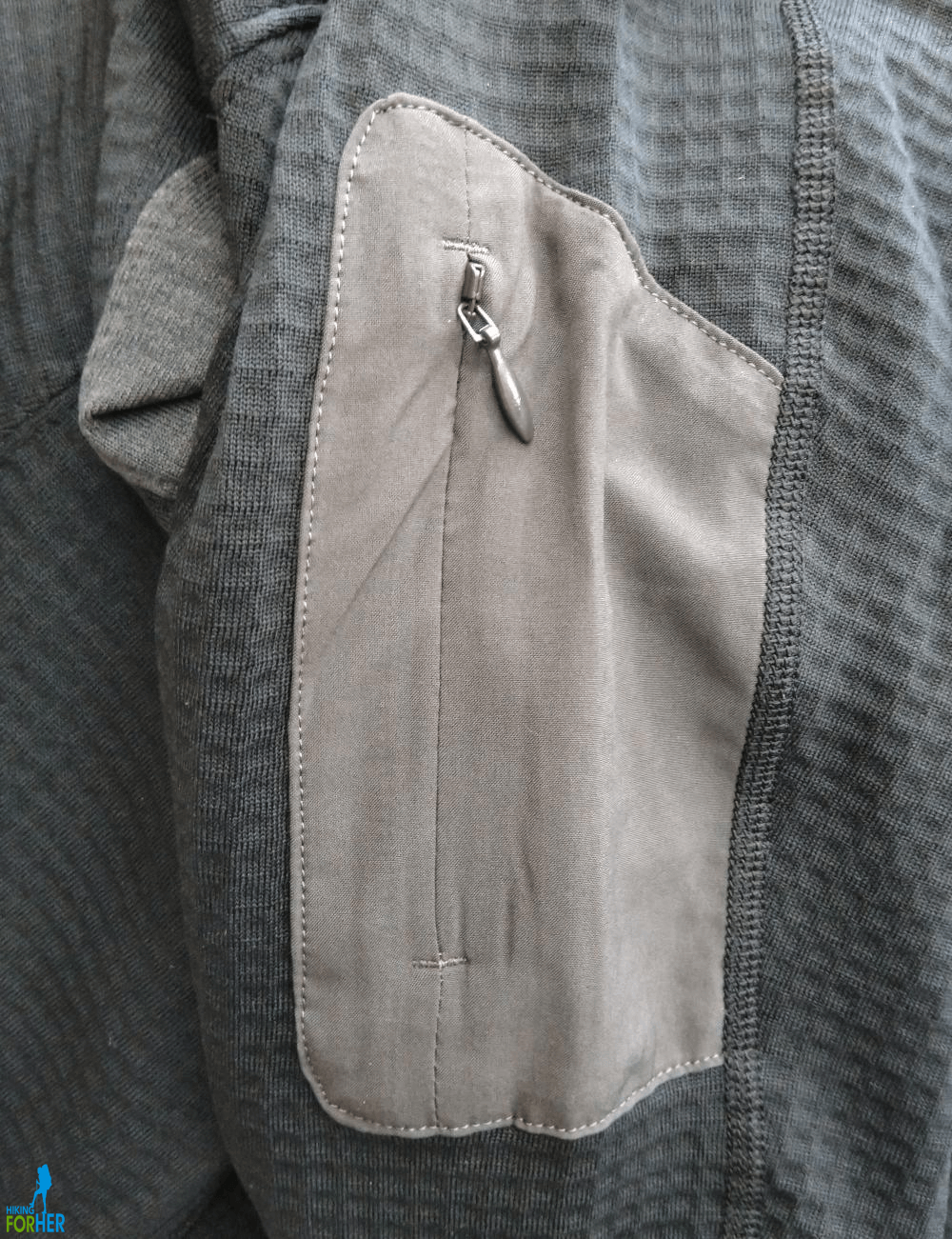 Note the quality stitching and great use of insulating fabric along with stretchy polyester

Now let's look at the
Shakedry Insulated Jacket
as we review Gorewear for hikers
When a hiker dons an outer layer, she is putting a lot of her eggs in one basket in terms of safety.
Getting wet is not just a matter of misery, it can be a fatal error in the backcountry.

In cold, breezy conditions, the wrong outer layer leads to loss of body heat quickly which can escalate a bad situation into an emergency.
Rather than show you photos of me cavorting on the trail in this insulated, hooded jacket, let's concentrate on the most important thing: the specs.
Shakedry insulated jacket specifications:
Gorewear for hikers
This jacket has a lot going on in terms of fabrics, by design.
The jacket features POLARTEC® ALPHA® insulation, for protection against cold temperatures and wind, but also breathability, something every hiker can appreciate.

Shell face, 100% GORE-TEX membrane (weather proof)

Shell back and insert, 100% Polyamide

Mesh, 100% polyester (wicking)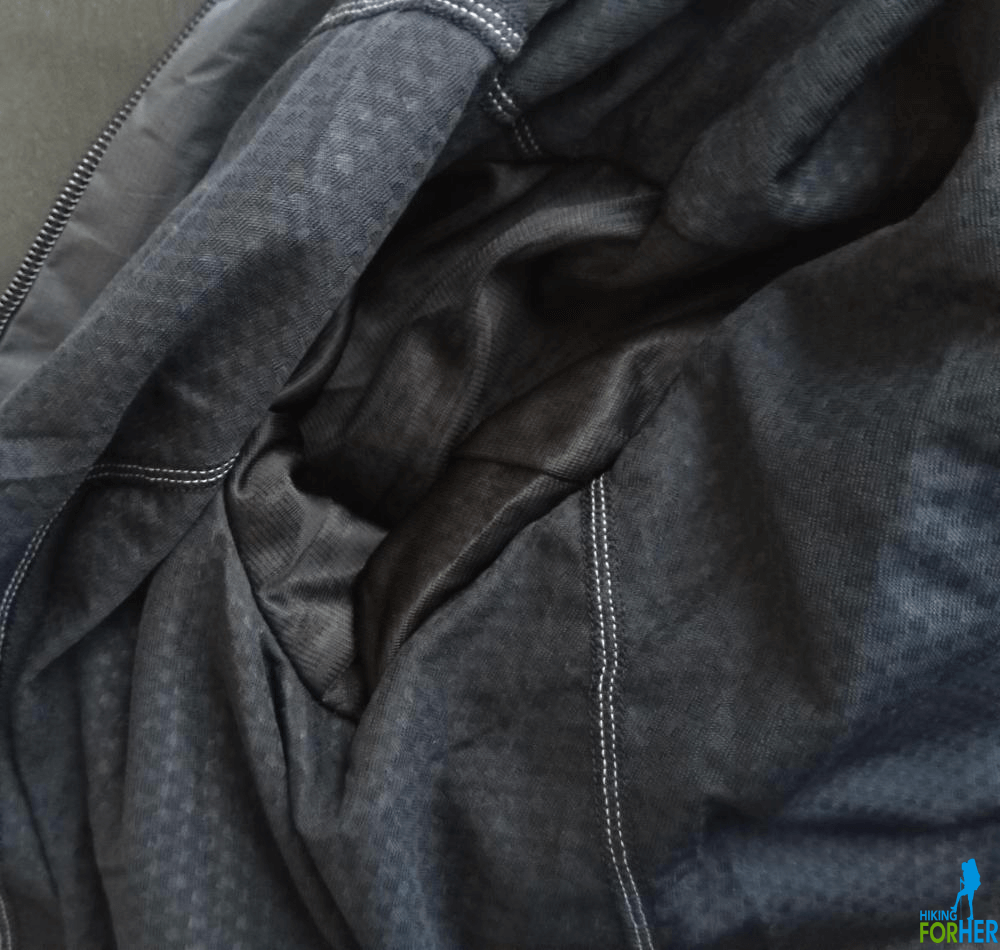 Flat, minimal seams reduces the chance of chafing or getting hung up on other garments

Trail performance of Gorewear for hikers

Because the feel is not as relevant for an outer layer, we'll skip right to how the jacket stood up the elements.
This jacket is cut to give you good bottom coverage without being bulky.
It's also important when you pull it on over your rain pants, because water will bead up and flow off the jacket and down to the ground.
And because the jacket fabric excludes water droplets hour after hour, it won't gain weight to weigh you down as it blocks wind and moisture from contacting your skin, even in a steady rain.
They call it a "persistent beading surface", which allows you to do exactly what the name describes: a few shakes and it's dry again.

Lightweight but not bulky
This is an insanely lightweight jacket for the weatherproof features it gives a hiker.
The volume to weight ratio is going to hardly make a dent in your backpack when it's time to stow this jacket.
Once you put it on, you will scarcely feel this jacket on your back, but you will notice how dry it keeps your torso and arms.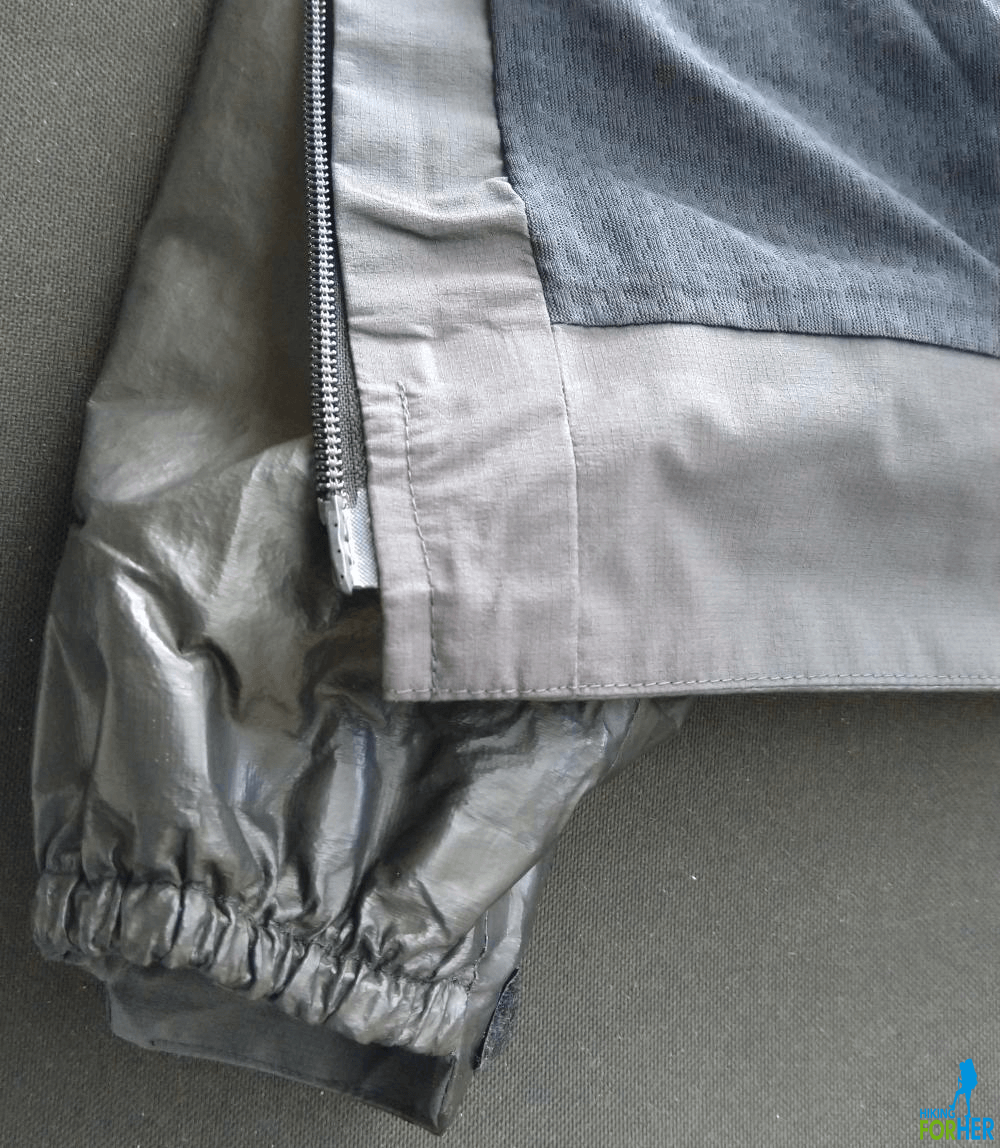 Elastic at wrists keeps you dry and warm; easy to slide over a pair of gloves - just use the velcro tab to adjust

More features of Gorewear for hikers

Shaped waist hemline with stretchable inserts: form fitting without binding as you navigate the terrain 

Two front zippered pockets to stow a thin pair of gloves and a snack, or to warm your hands once the backpack comes off

Low profile hood visor with integrated elastic to block wind and fit snugly over your hat - but give good visibility
These might seem like small things to a front country hiker.
To an off trail hiker, they are not.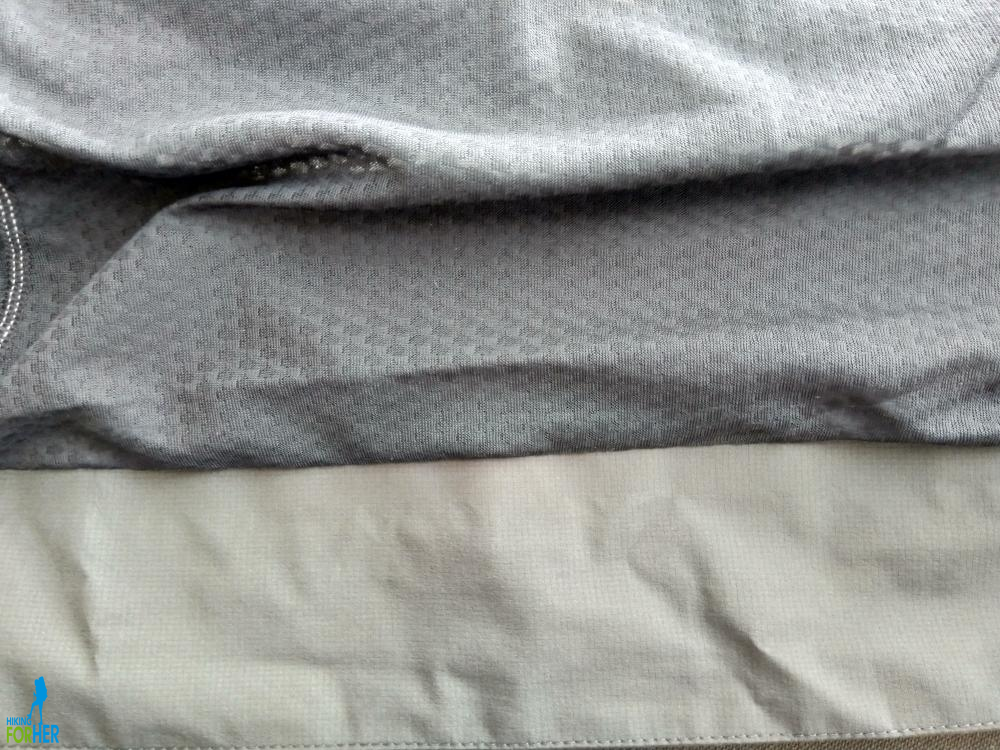 Bottom hemline details: fabric transitions from warmth to moisture proofing to keep your waistline dry

Conclusions about the
Gorewear Shakedry jacket
This jacket is coming with me from now on as my outer layer when I know I'm in for some wild weather.
While I'm not yet sure about its durability, I am sold on its warmth and waterproofing. It also stands up to wind, my personal bugaboo as a female hiker.
This lightweight, packable jacket will be great for heli-hiking trips when weight and volume absolutely matters to both me and the pilot.
The technology designed into the jacket inspires confidence in my ability to remain warm and dry, no matter what. Peace of mind is priceless!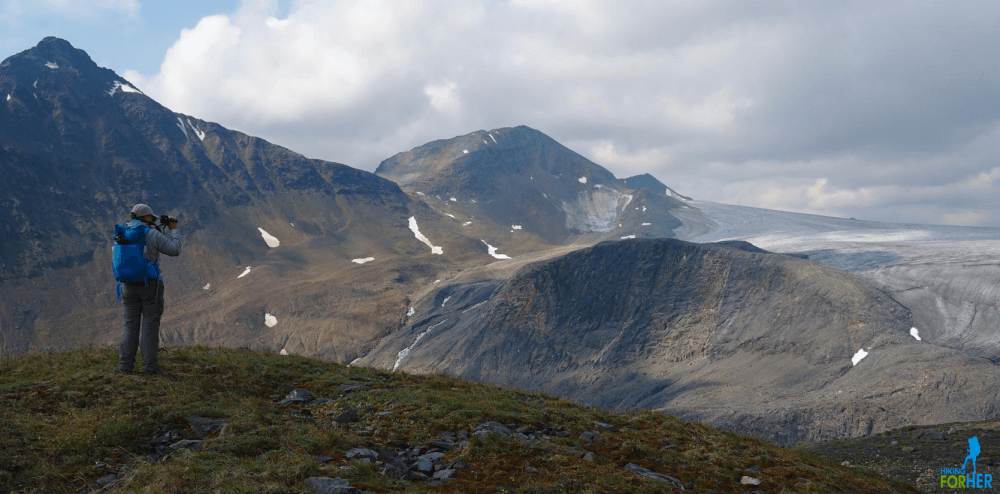 Miles and miles from anywhere, just the way hikers like it!

Who would benefit from this
Gorewear for hikers
Let's be blunt.
Gorewear is expensive when compared to some other outdoor clothing options.
In fact, for casual day hikers and backpackers who stay on established trails, this clothing will seem not only expensive but overbuilt.
But for serious outdoor adventures, technical hiking clothing gives you an advantage as you head into the backcountry and spend days and days in remote off trail terrain.
You can't control the weather.
You can't control the topography.
But you can control what you're wearing and what's stashed inside your backpack.
This Gorewear for hikers gives you a midlayer and upper body outer layer that can't be beat on a gear list for hiking adventures.
The Gorewear Fast Hiking Collection is designed to catch your attention!

So I recommend taking a hard look at investing in it when you've got big plans.
Lightweight, thoughtfully designed, bombproof in cold, wet weather and makes use of current technology to keep you as warm and dry as possible...
what's not to love about Gorewear for hikers? 
Home page > Best Hiking Gear Reviews >
Gorewear For Hikers Review
Hiking For Her: Hiking tips you can trust!