Enjoy Happy Trails, the free monthly newsletter from Hiking For Her.

Receive a free resource: Hiking Layering System Explained

Thermarest Relief Bed
Review

by Diane Spicer
This Thermarest Relief Bed review is going to introduce you to a new twist on an old backpacking theme: sleeping comfort.
Many hikers who car camp or backpack know the name Thermarest. This American gear company makes some great sleeping pads.
You might own one yourself!
A Relief Bed is a little different, though. I'm guessing you've never heard of this innovative concept, or the folks behind this humanitarian effort to deliver a good night's sleep to those sorely in need of it. 
That's the simple motivation behind this Thermarest Relief Bed Review: to share a great idea with you.

First, some disclosures
Disclosure of Material Connection: Hiking For Her received a Thermarest Relief Bed for free from Relief Bed as coordinated by Outdoor PR in consideration for review publication.
There is no financial relationship between Relief Bed and Hiking For Her. There is also no financial relationship between Outdoor PR and Hiking For Her.
As always, this review was written with you, an avid hiker, in mind. It's an unusual review, so let's get right to it.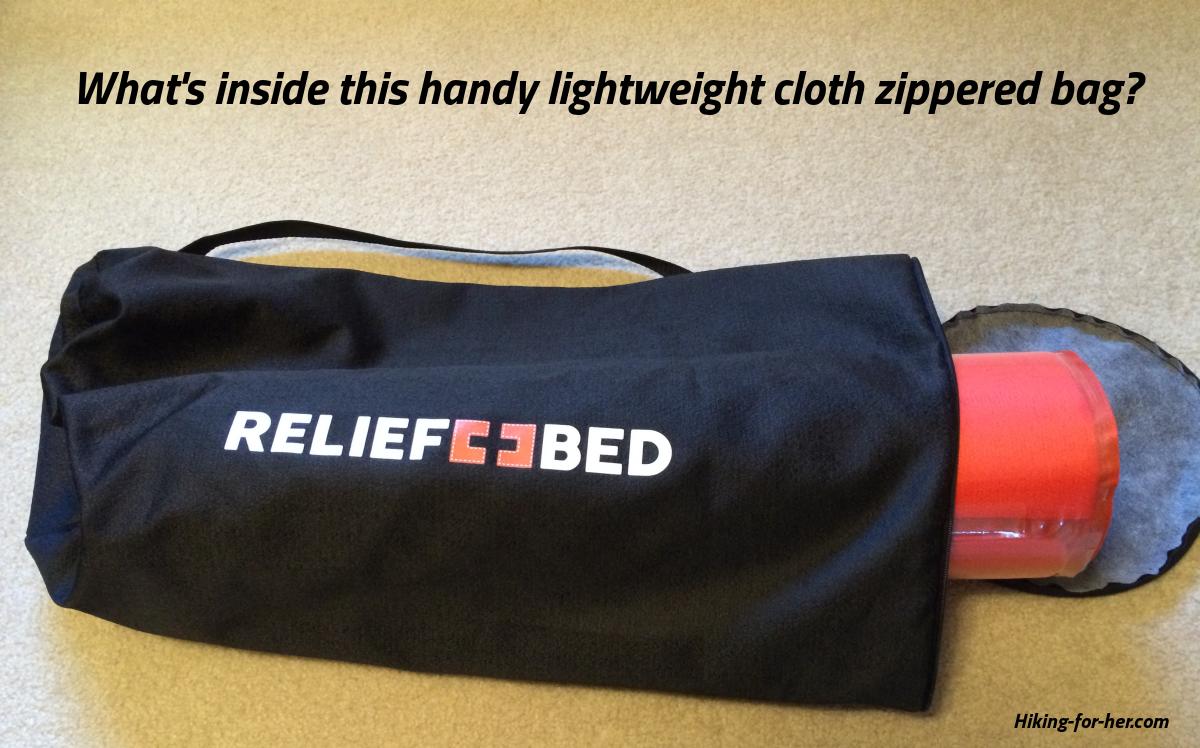 Surprise!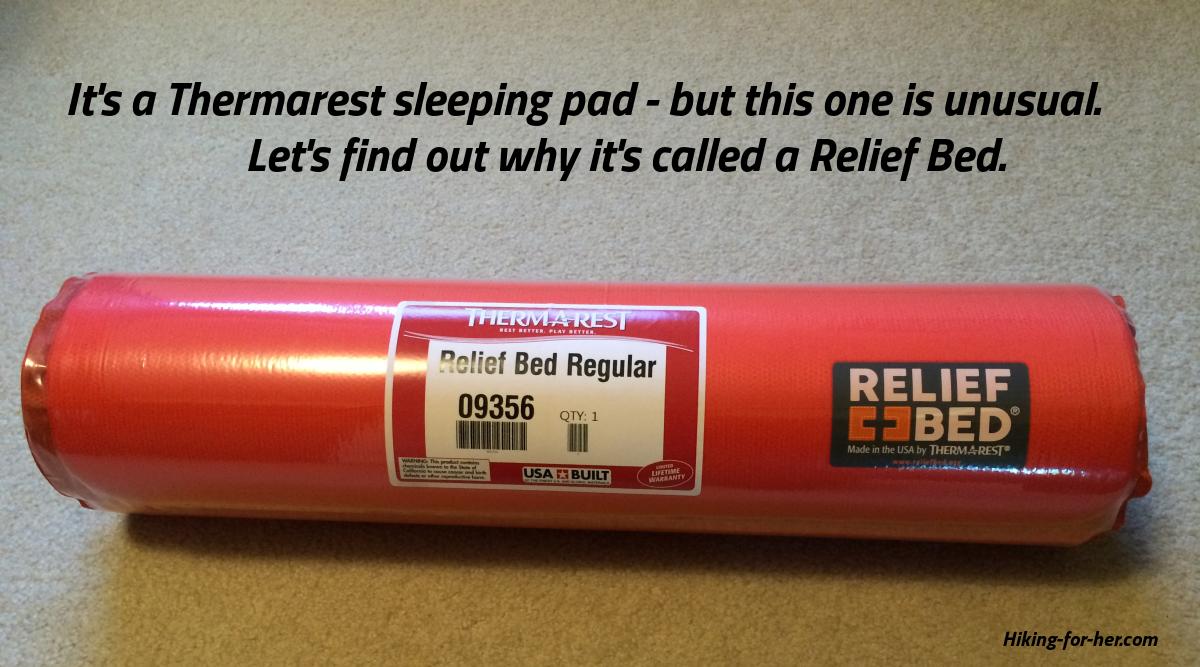 So what exactly is a Relief Bed?
Let's start off with the short answer: It's an inflatable mattress built with Thermarest quality and features.
Follow up question: When do people need the relief that sleeping on an insulated, padded surface brings?
That's part of the long answer.
Disaster victims probably came to mind. Anyone who lives in earthquake or fire prone areas, or in the path of violent storms, or in war torn areas, are good candidates for some sleepless nights.
What about homeless folks? Sleeping under a bridge on cold ground resembles camping, but only in a superficial sense. Campers get to go home to their warm beds, while the homeless continue to "camp" outdoors in all seasons.
Sleep health is important in impoverished areas as well. A good night's sleep brings good health, which in turn brings the ability to work, raise children, and contribute to a community's struggle to break the poverty cycle.
Who started this bright idea?

Realizing that the connection between sleep and stress wasn't being addressed when assistance was offered to people living in turmoil, Scott Smalling crafted a partnership in 2015 with experts in designing portable, comfortable mattresses: Thermarest.
Did you know that mattresses are the top item on wish lists created by organizations providing relief in the field?

To quote Scott:
"Relief Bed was created to help provide strength, better health and ultimately hope to people living and working in fragile areas around the world."
Over 1500 of these beds have been distributed thus far (May 2016) to humanitarian organizations like World Vision and homeless shelters.
The simple, wordless usage instructions can be used worldwide.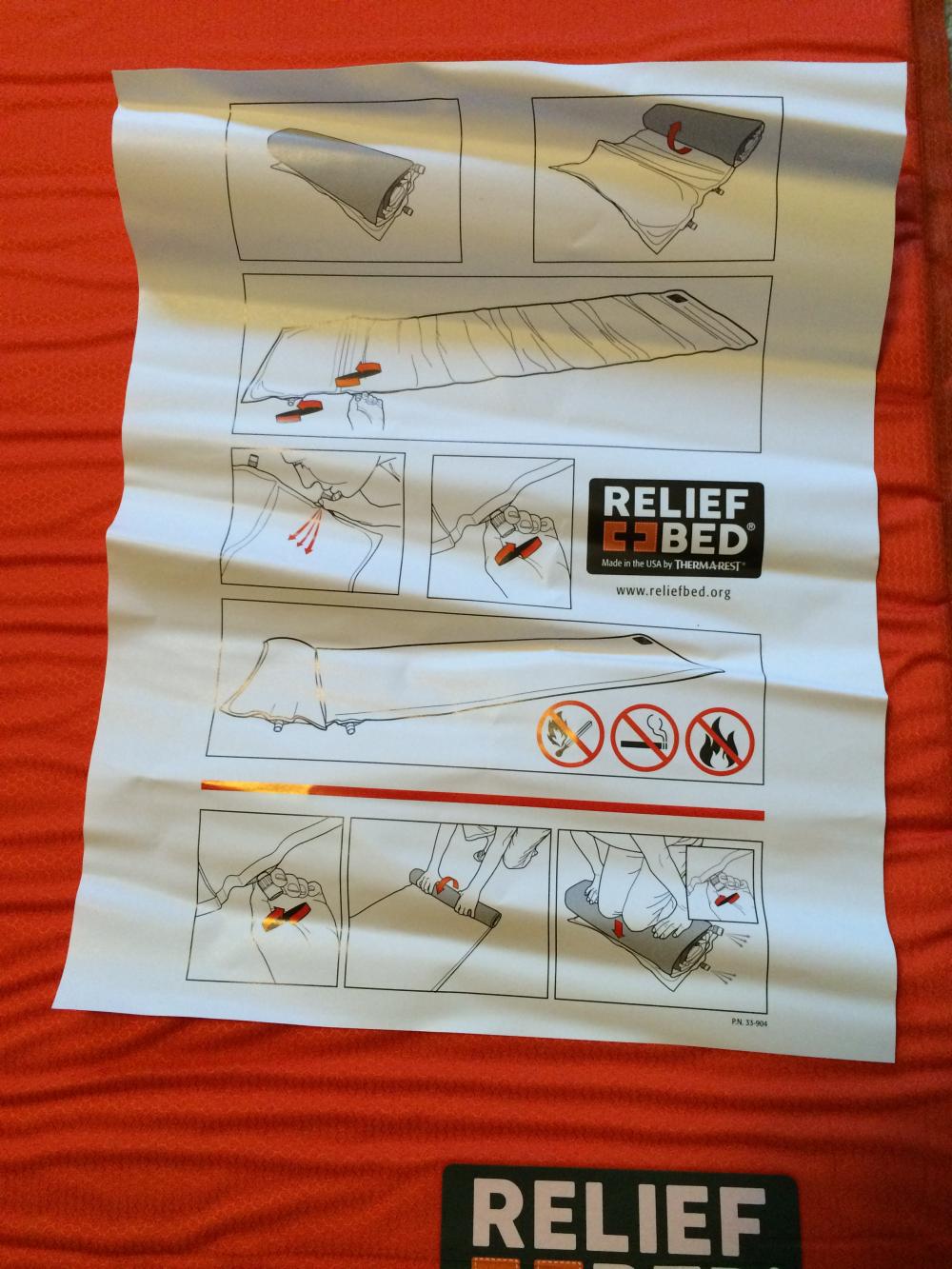 Comparison with
hiking inflatable mattresses

Hikers who car camp rely on a good night's sleep to tackle a long day hike.

Backpackers know that having a dry, padded surface leads to deeper sleep cycles, which translates into more trail endurance.
So hikers will agree when Scott declares sleep an essential part of conquering a challenging scenario.

While Thermarest isn't the only option for hikers, it's a very well known company with a long history of delivering quality products in the hiking gear marketplace.
So it's likely that you own one of their pads, or have seen one in use.
Let's compare a camping/backpacking Thermarest with a Relief Bed.

At first glance, you'll notice two big differences.
1. There are two valves, dividing the bed into a head rest and a mattress.
Nice design feature, right? Two valves provide full control over your sleep preferences, from head to toe.

2. This bed has generous proportions:
20″ wide, 72″ long, and 2″ thick. The density of the foam makes this a remarkably comfortable "bed".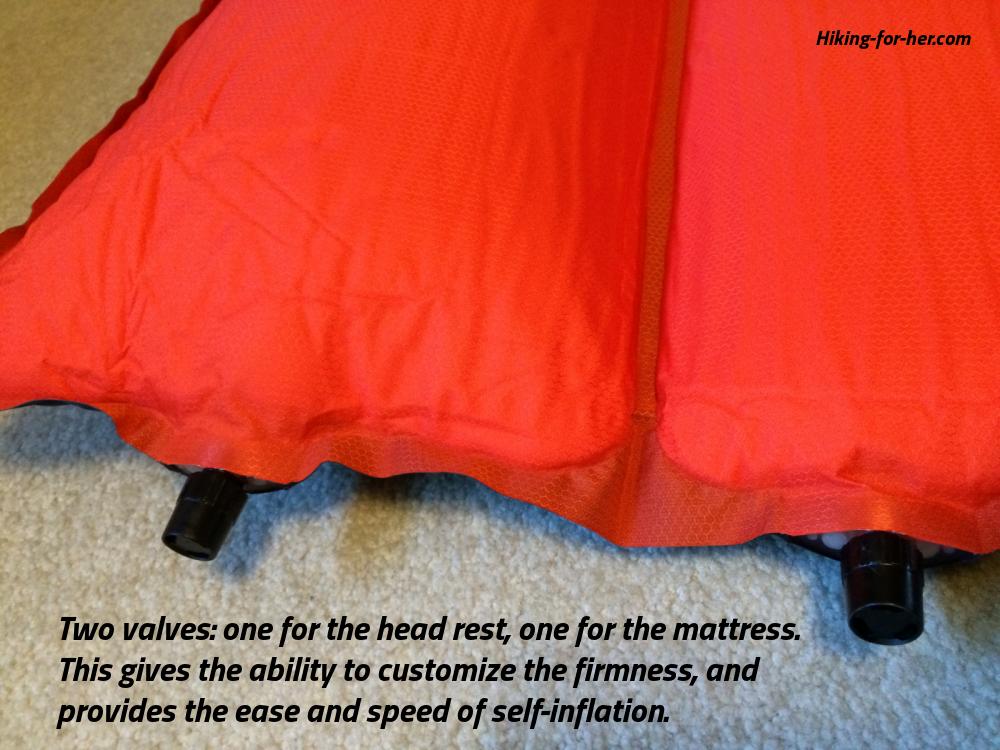 A few other differences to point out in this Thermarest Relief Bed review:

This is a sturdy mattress, so it's not lightweight. Rather than backpacking, think car camping, emergency preparedness, visitors who don't mind a sleeping bag-mattress arrangement on your floor, or summer time naps under your favorite backyard tree.

Because this bed is designed for use in homeless shelters and disaster relief buildings (victims and aid workers), the lack of an associated R value in understandable.

Now the flip side
Compared with your own trusty Thermarest, what's the same?
The outer shell is built with UV resistant durable polyester. Easy to clean, repels water, and doesn't mind being rolled up and unrolled umpteen times - sounds like the sleeping pad in your hiking gear locker, right?

Self-inflation provides a quick way to grab some rest.
The valves operate exactly the same: Deflate the mattress by opening the valve; close the valve once the mattress completely deflates and air is squeezed out. Once the valve is twisted open again, it self inflates. (You can blow into the valves to customize the firmness.)
Portable, because once rolled up, the Relief Bed measures a modest 7″ in diameter and 20″ in length.
It's got the quality feel that Thermarest is known for. Nothing flimsy about this Relief Bed! And that in turn means it will last a long time under tough conditions.
Field repairs can be done with a standard repair kit.
To me, this is a classic case of tweaking an idea that already works well in one sphere (comfortable sleep while camping and backpacking) to solve a problem in a different sphere (lack of mattresses for relief aid).
What do you think?

Thermarest Relief Bed
review wrap up

One man saw a need, and took action.

After reading this review, here are actions you can take:

Buy a Relief Bed or car camping or as part of your emergency preparedness kit. When you do, another Relief Bed is sent to someone who needs it.
Put more beds into the hands of those who need them: make a donation.
Get involved in humanitarian efforts related to providing health enhancing products and services to those in challenging circumstances.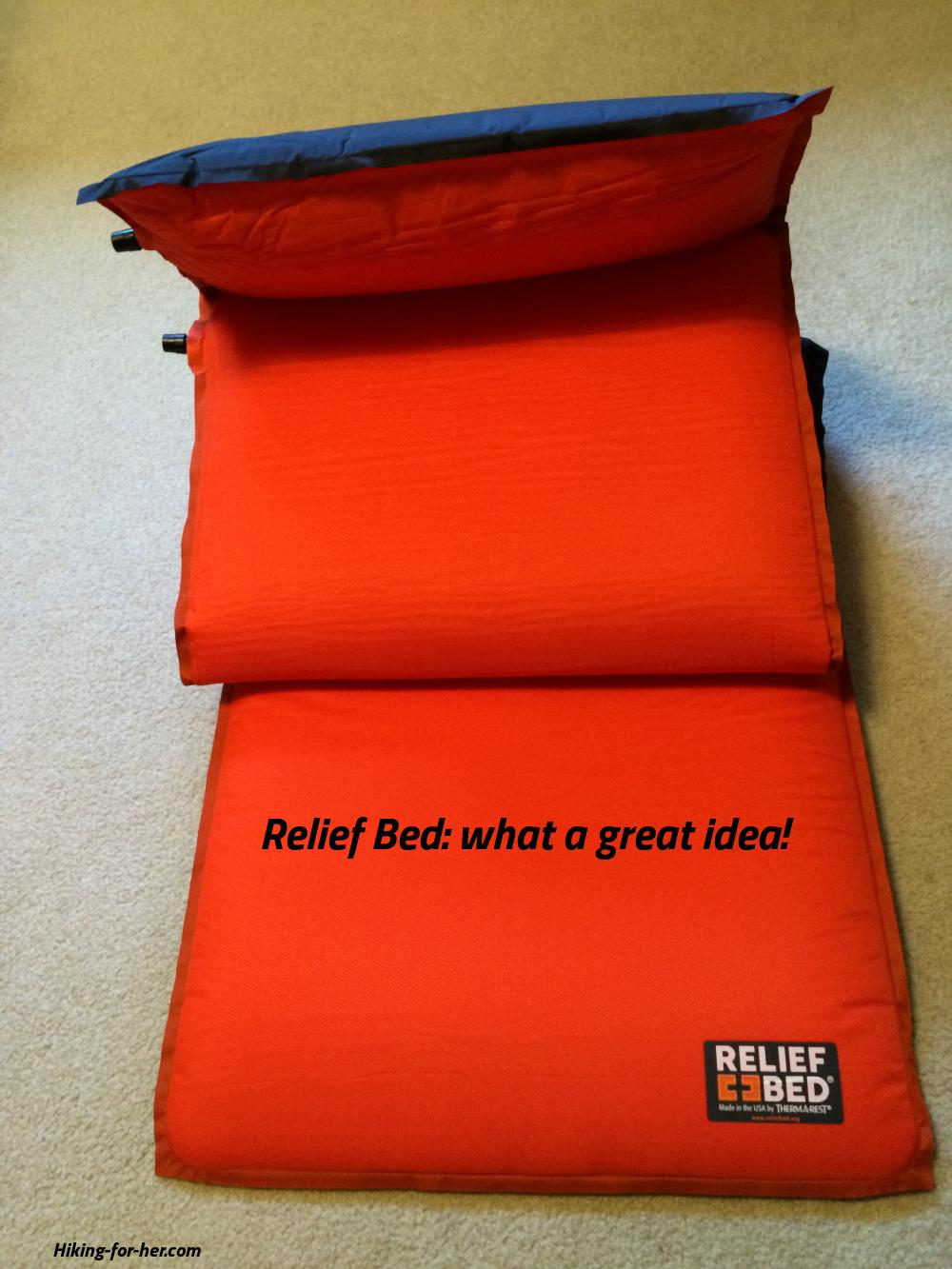 Sleep is a common denominator for humans, but it's not always within reach.
Relief Bed puts it a little closer, though.

Email me with questions or comments about this review, or anything related to hiking, by using this CONTACT page.
Home page > Hiking Gear Reviews >
Thermarest Relief Bed Review
Hiking For Her: Hiking tips you can trust!