Enjoy Happy Trails, the free monthly newsletter from Hiking For Her.

Receive a free resource: Hiking Layering System Explained
Tread Labs Insole Review 
Might Help Your Hiking Feet
by Diane Spicer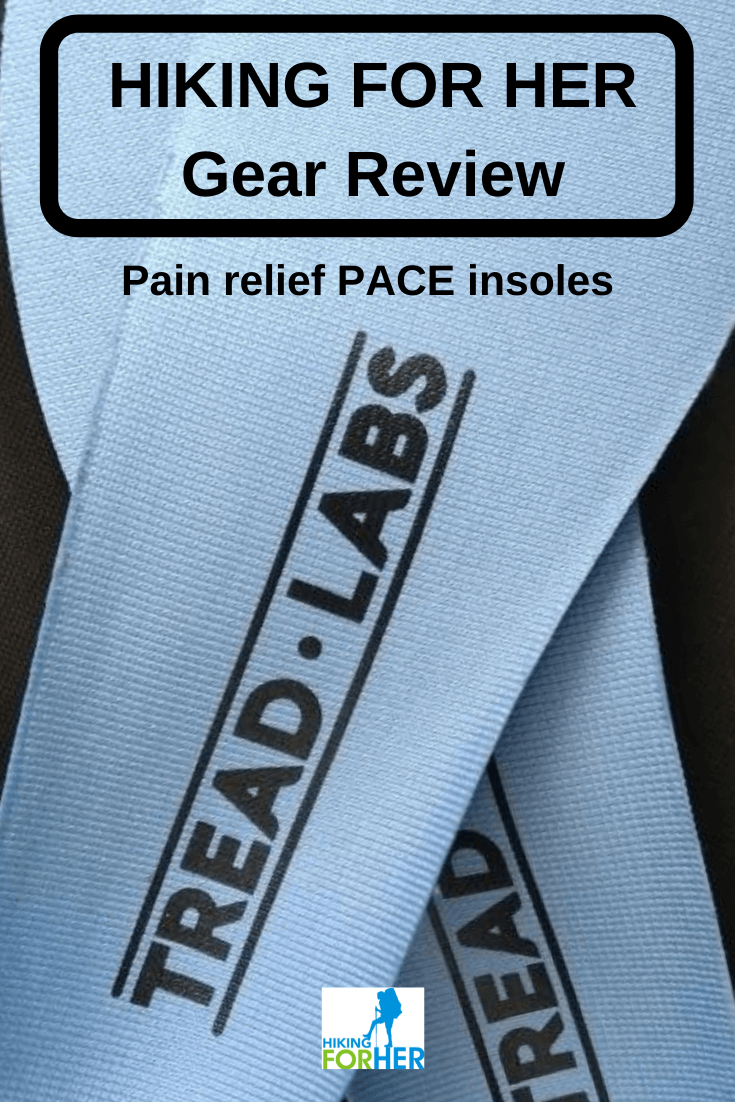 Welcome to this Tread Labs insole review!
It's a fact that you put a lot of mileage on your feet during every hiking season. That means you're having a great time as a hiker!

Here's another hiking fact. Sore, painful, or uncomfortable feet on a hike, make you more likely to hang up your hiking boots for awhile.
Let's see what these Tread Labs insoles can do to prevent that unfortunate decision.
Disclosures
in this Tread Labs insole review
My feet are wide, with high arches, so please read my comments with that in mind.

I always wear two pairs of hiking socks: thin liners, plus thicker technical hiking socks.
Hiking For Her is a Tread Labs affiliate. If you make a purchase from a link on this website, a small commission may be earned.

The purpose of this Tread Labs insole review
All reviews on this website are unpaid. They offer you the unvarnished truth to make you a stronger, more prepared hiker.
I only recommend what I use myself, so I know it's going to be worth your time to consider it when I write a review.
Now let's get started.

What's being reviewed here?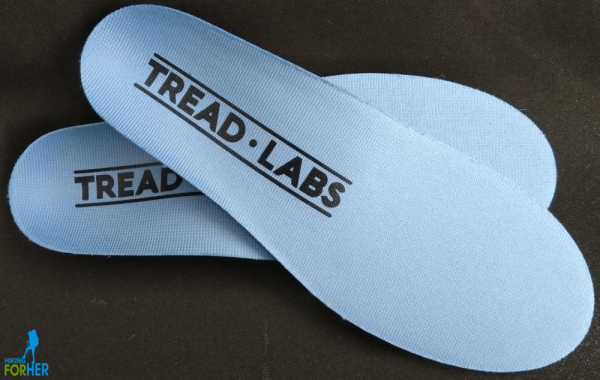 PACE insoles right out of the box
Hiking For Her received this pair of Tread Labs PACE insoles.
They are designed for hiking boots or trail shoes which have removable inserts.
Retail cost: $65 U.S.
The insoles feature:
firm arch support, with different options from low to extra high (see photo below)
a deep heel cup to keep your feet where they belong in your boots or trail shoes
durable 5mm, high rebound, open cell polyurethane foam

low friction, 100% recycled and replaceable polyester top cover with embedded antimicrobial treatment
Plenty of optimization choices for you
Tread Labs offers three different approaches to solving your hiking foot issues:
Comfort insoles: the RAMBLE series

Pain relief, the PACE series (reviewed here)

Performance insoles: the DASH series
Within each series, you can choose the arch height which makes sense for your feet.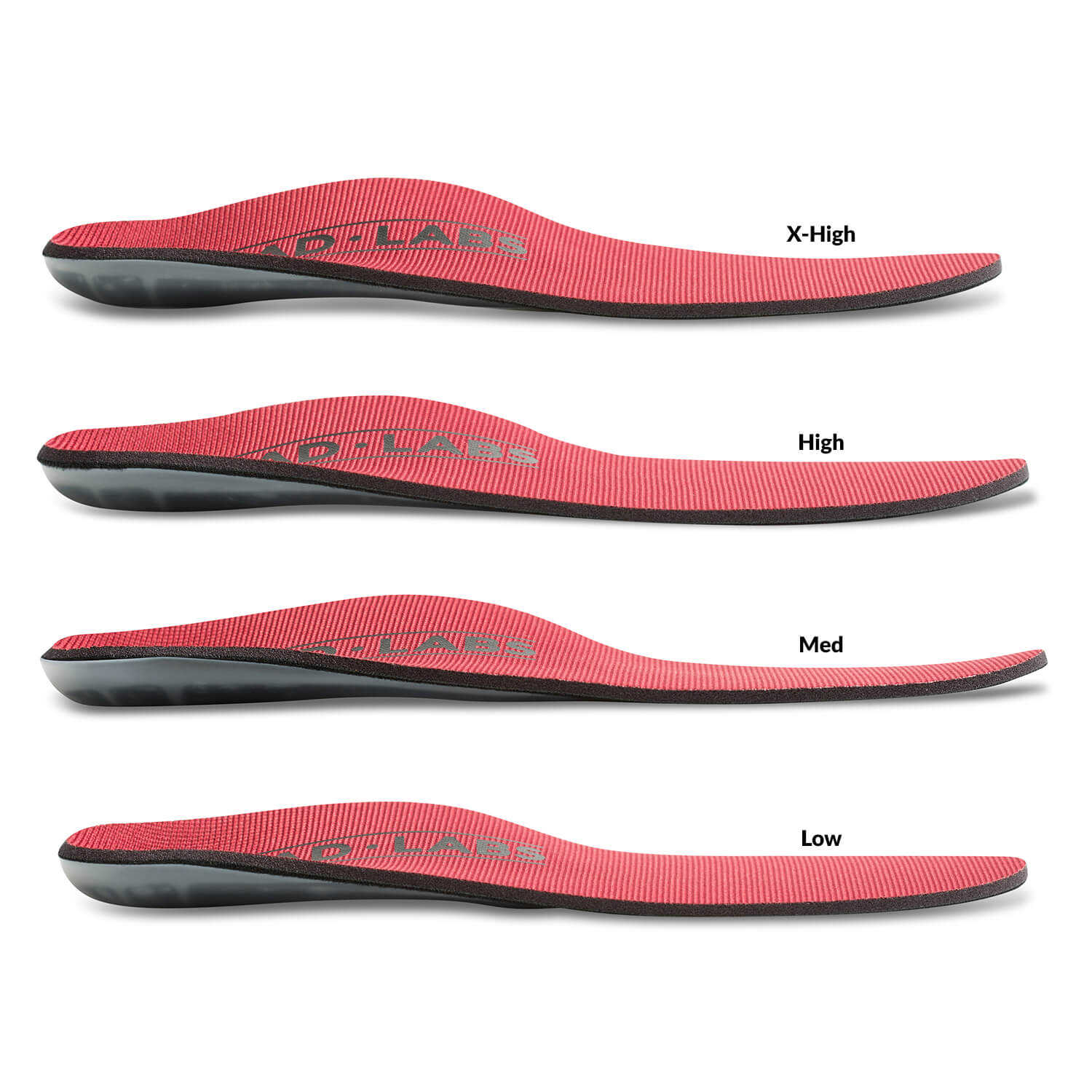 -Photo courtesy of Tread Labs-

Even more customization of your insoles
When you buy Tread Labs insoles, you are getting two parts:
the durable arch support, which you see as the thick black material in the photos above

a top cover (the red or blue portions in the insole photos).
There are three choices for the top cover:
full length in either regular or thin material, to replace existing removable insoles

a short top cover to insert over non-removable insoles
Check out all your Tread Labs insole options here.


A bit of an open secret
in the hiking community
You might be wondering why you should buy your own insoles and remove the ones you already have.
Shouldn't your hiking boots and trail shoes be well designed enough to support your feet?

Why pay for something extra?
Here's the thing.
Your feet are unique, shaped by genetics and biomechanics.
They undergo daily impacts by what you're currently wearing both on and off trail.
Also, it's likely that your right foot is not shaped or sized exactly like your left foot.
So here's the pivotal question:
When gear companies design their trail footwear, how can they get it exactly right?
They can't!
For good performance on the trail, consider a quality pair of after-market insoles.
Don't be bitter about this well known but rarely shared secret.
Instead, take control of your foot comfort with
the right choice of insoles.

Tread Labs insole review:
getting the insoles ready to use
The insoles arrived in a small cardboard box.
There was no extraneous plastic packaging materials.
I like it!
Slip the insoles out of the box, and you'll see that they are ready to place inside your trail footwear.
To decide if you can switch out your current stock insoles, take out what's inside your boots.
If the factory insoles come out easily, put them on top of the Tread Labs insole and check that the contours line up.
If the two pairs aren't a perfect match, here's what to do.
With the stock insole on top, match the heels and the inside of the forefoot (where your toes go).

Trace around the toe of the stock insole.

Get a sharp pair of scissors and trim off the excess top cover of the Tread Labs insole.
It should now be a perfect fit inside your footwear.
And by perfect, I mean without wrinkles or bunched up spots.Those will lead to problems on your feet.
Be sure you don't feel any issues when you wiggle your toes and take your first steps.
Also do a quick check wearing the socks you're going to use on the trail.
And here's something cool to note
All insoles, trimmed or not, can be returned or exchanged within 30 days!

Tread Labs insole review:
trail performance
I hang onto my hiking boots and trail shoes for as long as possible. I let the amount of tread on the soles determine when I'm ready for a new pair.
That makes new insoles a top priority throughout the lifespan of my boots.
My feet have seen five plus decades of trail (ab)use, and lately I've been feeling a little tender footed.
Can you relate?
So I wanted to pay special attention to comfort in this Tread Labs insole review.
That's why I waited for a dark, gloomy, wet day to take the insoles out for a spin on a muddy, slippery trail.

Why?
Because I'm looking for top performance from my hiking gear.
If I am satisfied in poor conditions, imagine how heavenly my feet will feel on a dry trail!
Here's what happened
When I made a mental comparison with the old inserts, they definitely felt different.

And by different, I mean my arch noticed more contact with the insole.
There was a feeling of "fullness", but not pressure, across the bottom of my arch. 
To be honest, it will take a few more hikes before I accept that as my new normal. 
Which is to say, you won't feel 100% comfortable with insoles on your first hike, so give them a fair chance to help you out.
As I got into my hiking stride, my feet felt more relaxed, which was pretty sweet.
I may have a habit of clenching my toes inside my boots, something I never noticed before.
The presence of the extra volume cued me to hold my toes in a different way.
The best part?
Less foot soreness the next day! 
I was also a bit worried about my sock thickness in relation to the depth of the heel cup.
Would it be deep enough to keep my heel in place, or would my sock encased foot slide around on top of the insole?
No worries! The heel cup was deep enough to prevent any sliding.
So by the end of the hike, I had learned a few new things (after all these decades) about my feet.
I had also decided that I like having these insoles beneath my hard working feet.
A few words about
the Tread Labs company
The company's website provides detailed, easy to follow information on how to select the best insoles for hikers here.
Remember that you can choose full length or short insoles to match your footwear.
No risk to try a pair
They encourage you to try out the insoles for 30 days.
If you're not completely satisfied, send your insoles back for an exchange or receive a full refund.

They will also cover the cost of U.S. shipping.
That's more than generous!
Million Mile guarantee
Sounds like something an avid hiker could use, right?
The molded arch supports carry an unconditional guarantee. That translates into forever for a hiker.
The interchangeable top covers are easy to replace whenever you need a new set. And you'll be wracking up lots of trail mileage on them.
Tread Labs insole review:
conclusions
The reality for hikers: we use a wide range of trail footwear.
Some of us choose heavy leather boots with thick Vibram soles, or lightweight low cut trail shoes.
And some hikers use an entire range of boots and shoes to match the various terrains we hike through year round.
While we may argue about what the best hiking boots and trail shoes looks like, we can all agree on this:
Foot comfort and arch support are important for great hiking.
Unfortunately, our current trailwear might need a bit of help to deliver it.
But now we have a plan!
Wearing a pair of Tread Labs insoles, we can concentrate on the trail instead of our sore feet.
It's a smart idea to pamper our feet in every way we can, right?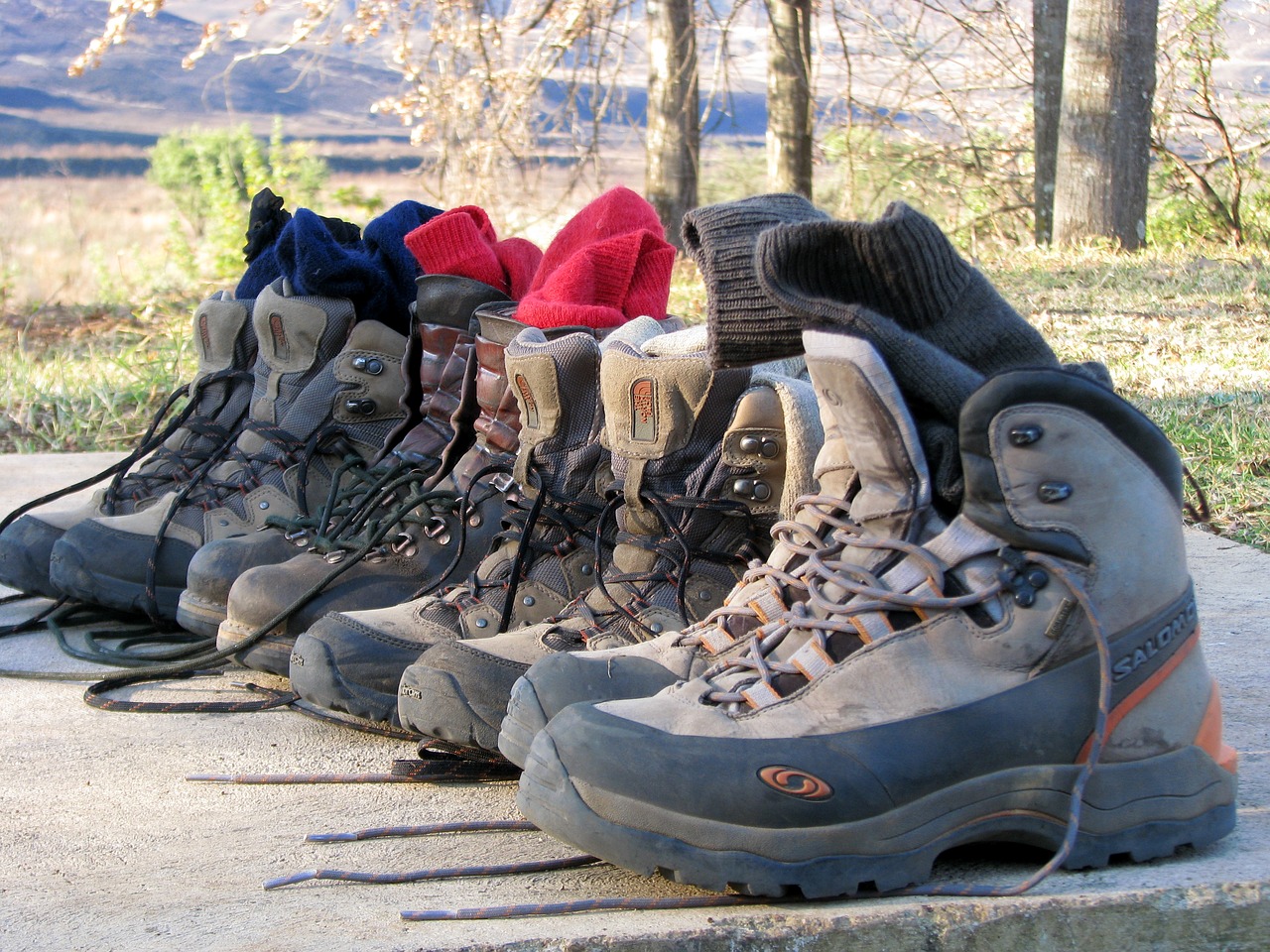 -Photo courtesy of Tread Labs-
This Tread Labs insole review gives you one more weapon against wear and tear on your feet as a hiker.
I've tried other insoles.
I'm sticking with Tread Labs inside my Salomon and KEEN hiking boots and trail shoes.
I'll report back on the durability of the top covers after I've had a few seasons to test them.
But don't wait that long to try a pair.
Ignore little messages from your feet
at your peril
You owe it to yourself to jump on foot problems immediately.
Nagging aches and twinges can develop into full blown foot pain.

Bad things like plantar fasciitis can happen.

Your hiking options may shrink, and even disappear.
A high quality pair of insoles like these can be the remedy your sore, achy feet are craving.
They may also be your route to prevention of foot problems as a hiker.
The Tread Labs folks make it easy to try out a pair and see how your feet respond to the extra cushioning and support.
And thanks for reading this Tread Labs insole review.
Home page > Best Hiking Gear Reviews >
Tread Labs Insole Review For Hikers
Hiking For Her: Hiking tips you can trust!