Enjoy Happy Trails, the free monthly newsletter from Hiking For Her.

Receive a free resource: Hiking Layering System Explained
Best Hiking Socks:
Find The Right Ones
For Your Feet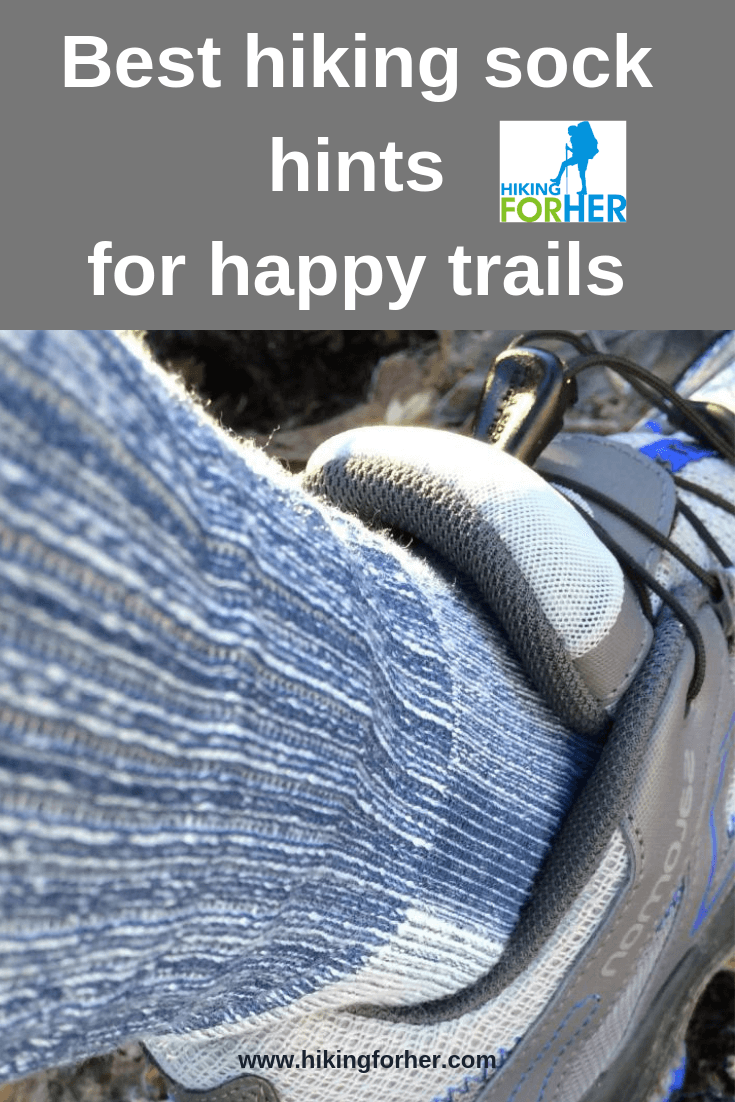 Wow, what a boring topic: hiking socks.
Wait a minute!
Hiking For Her heartily (but politely) disagrees.
Socks are one of the fundamentals of hiking.
Want to get to the best hiking sock recommendation? Drop down!

Don't believe me?
Ignore them at your peril!
If you asked me to list the most important gear a hiker must get right on every hike, guess where they would be on that list?
Number one, right along with hiking footwear.
You got me! (maybe)
OK, I know what you're thinking.
Nope, not the way a seasoned hiker thinks of it.
Ready for all the details on how a veteran hiker chooses the best hiking socks?
I must warn you, sox rock!! (Too bad Dr. Seuss didn't write a "sox rox on fox" book...)

The best hiking socks
for your precious feet

Your feet are one of your most precious assets as a hiker.
They bear your weight, your pack's weight, sometimes the weight of your child or puppy or a really cool rock you found or your trail buddy's extra weight from an ill fitting pack... you get the idea.
To thank your feet for their endless duty on the trail, you must provide them with fantastically fitted boots.
AND hiking socks.
Notice the word  "hiking" in front of the socks.
You need socks that can stand up to the friction, heat, stress, and swollen feet generated by a hike.
Your $1 cotton bargain bin special won't cut it.
You are about to enter the wonderful universe of how to choose hiking socks.
To shortcut your shopping adventure, read this definitive Best Hiking Socks guide.
Hiking socks: 2 pairs please

The basic fact is this: you need two pairs.
And they need to be two different types.
What?? Two stinkin' pairs? (NOTE: They should NOT stink when you take them home from the store. That comes later.)
Yes, I kid you not.
You need an inner and an outer pair.
Here's why.

Inner pair of hiking socks

Sock liners, they're called. Or just "liners".

Put these on first, because they have lots of responsibilities.
They need to conform to the contours of your foot without sliding around.

They must wick your sweat away from your skin, to prevent your epidermis from losing contact with your dermis (OUCH - a blister!).

And they should make a reasonable attempt at absorbing foot odors. (Have you smelled your boots lately? I'll be here when you come back.)

Outer pair of hiking socks

These are probably what you think about when you hear "hiking socks".
They are a bit thicker, and a lot sturdier, than every day socks you would wear to work or school or for a workout.

These socks for hikers come in all sorts of colors and varieties, which makes sock shopping lots of fun.
However, avoid getting sucked into sock overload by focusing on the main thing:
Will they pad your heels and soles from the wear and tear created by putting all of your weight on your feet, hour after hour, day after day...

will they do their part in blister prevention,

and will they not wear out after a few trips?
Not a bad bottom line, but believe me, many, and I mean many, sock brands fail this simple test.
You would do well to avoid them if you plan to hike in all seasons, for many reasons.
What about the right fabric?

What about the sock materials?
Nylon and spandex will ensure a well fitted shape.


Merino wool has good moisture wicking properties.

Polyester is sometimes blended in to enhance thermal regulation.

Lycra gives support.

See?
You have lots of options for sock fit.
So for your first pair of socks, pick a pair that feels nice on your skin, in case you violate my "liners first" rule.
(I'm not the sock police, but I speak their language.)

Get serious about
naming some names

Have I convinced you that you need socks that are specific to hiking?

In case you are coming here out of despair created by ill fitting socks, prepare to let go of your despondent mood!
I'm about to name names.

To achieve the ideal condition of liner socks playing nicely with outer socks, and both pairs playing nicely with your hiking footwear, you have to shop around a little.
And ask your hiking buddies.
And borrow some socks from your significant other or room mate.
I'm not kidding! I take sock picking very seriously, and you should, too.

Tried & true sock brands
for hikers

I am a loyal fan of the brands which have served me well over the years.
I humbly offer them as a place to start, if you don't have any sock lending buddies to turn to for advice.
Favorite hiking liners
For a good deal on my favorite liners, try these:

Fox River Wick Dry CoolMax Liner Socks
Outer hiking socks
For a well built technical outer pair of hiking socks, try Thorlo, Smart Wool, and Darn Tough.

Here are the well built, full cushion Thorlos I recommend (because I wear them myself, as you can see in the photo below):

Lightweight Thorlos are also a good choice for moderate day hiking on good trails.
Here's a HFH

review

of light hikers.
The SmartWool socks that I love are these:

SmartWool Trekking Heavy Crew Hiking Socks
For a review I did of SmartWool medium weight women's crew hiking socks,

read this

.
Darn Tough Hiker Micro Crew Socks




Darn Tough Merino wool socks are another great choice.

They have a lifetime guarantee for performance and fit.


Seems too bulky with 2 pairs?

If two pairs of socks seems like too much bulk, please try the combo at least once on a long hike.
Then you'll have the data to make a decision: one pair, or two.
If you always wear lightweight hiking shoes, and stick to well maintained trails, maybe one pair is the way to go.
But if you have any inkling of a blister forming, try two!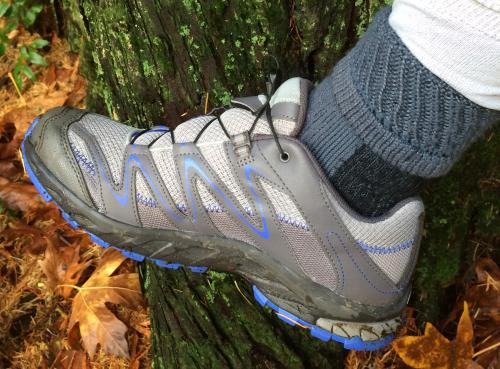 Two pairs of hiking socks in these trail shoes


How to choose the best socks
for your hiking plans

Be careful here - you want to pick the right type for your style of hiking.
Socks designed for hikers will be labelled to indicate how much wear and tear they will stand up to, and how much cushioning to expect.
Look for the tell tale words "light" or "heavy" or "expedition".
Also look for these features

Remember the features you are looking (and paying) for:
adequate cushioning,




heel and toe reinforcement,




moisture, friction and heat control, plus




durability.



Personally, I choose the "trekking" variety of socks because they're built to take what I dish out inside my boots.
And even so, I replace my socks every other summer because the heels and toes wear out.
So don't expect miracles!
And my apologies in advance for sticker shock.
Your feet qualify as your most important hiking gear.
I beg you, skimp somewhere else if you have to, but never on your feet!
Even more options!

Here's something a bit different: alpaca fiber socks.
I love 'em for their softness and trail performance, and because alpacas are so very cute.

Prone to blisters?
Compression hiking socks
If you struggle with leg issues on a hike, consider the merits of buying a pair of compression socks designed to enhance blood flow into and out of your muscles.
All the details you need to select the right pair are here.
Who knew??

Did you have any idea that exploring the wonderful world of socks for hikers could be so much fun?
Home page > Best Hiking Gear >
Best Hiking Socks