Enjoy Happy Trails, the free monthly newsletter from Hiking For Her.

Receive a free resource: Hiking Layering System Explained
Best Womens Waterproof
Hiking Shoes

Womens waterproof hiking shoes are a dime a dozen.
Not really, but here's the point:
Not all of them are trail worthy.
And the hiking shoe that your trail buddy raves about as the best hiking shoe might not suit you.
So heads up when you're learning how to buy hiking shoes to take you to beautiful destinations like this one!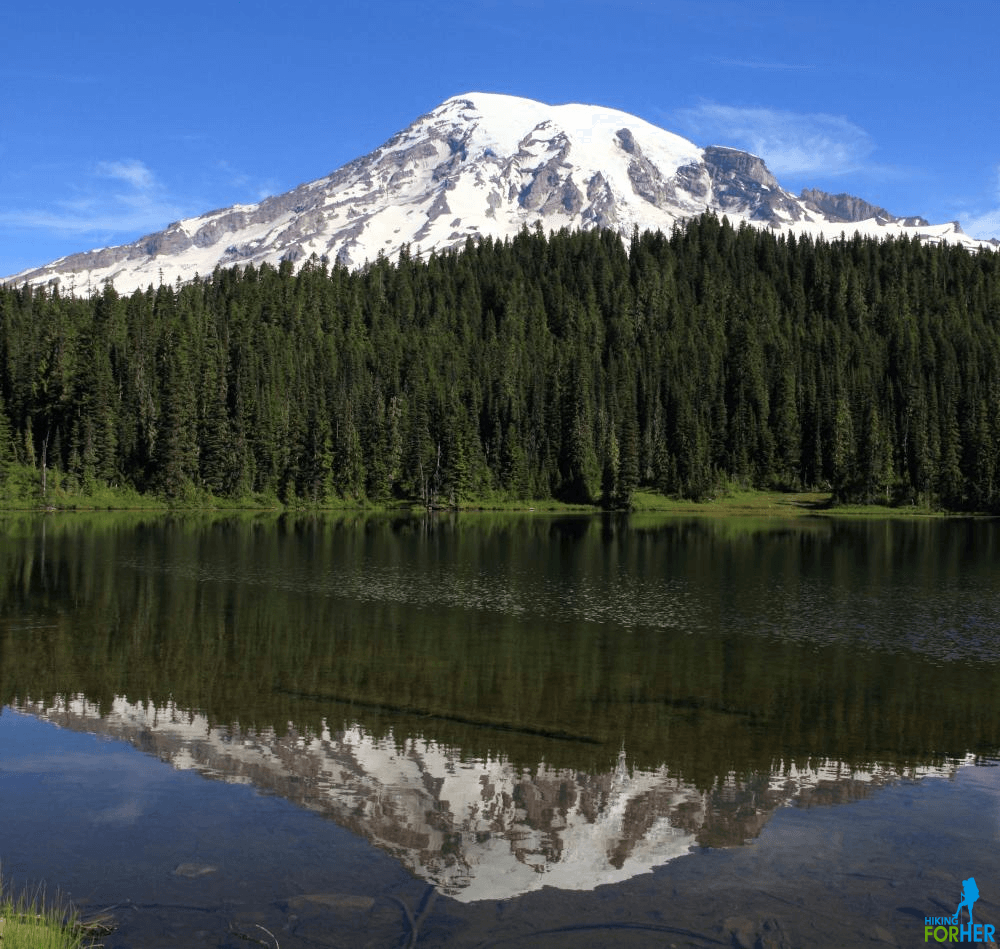 Get out there and hike in the best womens hiking shoes for your feet!

Let's take this in order, shall we?

Womens.
Waterproof.

Hiking.
Shoes.
You want womens shoes that fit your unique feet, whether they be long, short, wide, narrow, high arch, low arch or some combination of these attributes.
And you want them to perform well on the trails you hike: lots of elevation gain, roots and mud, stream crossings, meandering forest trails, or some combination.
And you've decided that you don't want womens hiking boots. Only womens hiking shoes will do!
Bump it up one final notch: they've got to be waterproof.
Not asking for much, are you ;)
So it's best that you put a method to your madness.
Read on to discover exactly...

Why you might want to hike
in womens waterproof hiking shoes

There are various types of hiking shoes.
Start off with understanding the difference between womens waterproof hiking boots and womens hiking shoes by reading this.
It gives you all the facts about boot construction and materials.
You can apply all of the info to how to buy hiking shoes.

But there are a few differences to keep in mind.

Hiking shoes are low profile footwear, designed with a lower cut than boots.
They feature featherweight (as in "light as") mesh uppers.
And they don't have rugged (thick) soles.
All of this adds up to hiking footwear that are a joy to put on and a joy to wear: no break in time, minimal leg fatigue from dragging around your shoes, and easy on-and-off features.
What could be better than out of the box lightweight comfort?

Now about that waterproof feature: it might be a bit trickier to find.

Because shoes are cut lower than boots, water has plenty of opportunity to dowse your socks and feet when you wear them during stream crossings.
Only hike on trails that include bridges! Or take along some water shoes like these to preserve your trail shoes.

To protect your feet from moisture picked up from wet trails or when crossing a dew soaked mountain meadow, choose trail shoes made from materials that give you the best chance of preventing the moisture from contacting your skin.
Below are a few examples of worthy waterproof hiking shoes, with the materials and best features highlighted for your consideration.
In my opinion, they are the best hiking shoes you can put on your feet.

One example of womens
waterproof hiking shoes

Here's why!
I can wear them on many different types of trails. And I keep them in my car year round, in case I have a last minute change of hiking plans.


I wear them to and from the trail, and on daily walks around the neighborhood.

They feature nubuck leather (buffed to resemble suede), which is pretty good at excluding moisture.

They are built with a waterproof membrane that also breathes: it excludes exterior moisture while "venting" my perspiration away from my skin.

In spite of the lower price point, they have built in features for arch support, cushioning, and stability.

KEEN is a company that cares about great fit, especially if you like a wide toe box to accommodate wide feet or feet that swell a lot while hiking.


The soles, while not stellar at gripping extremely rough trail, are suitable for most trail work.
One small note to pay attention to: You might need a half size, or even a whole size, bigger than usual.
This is especially true if you like to wear two pairs of hiking socks in your trail shoes.
But KEEN women's hiking shoes are definitely something you should check out.
Another example of best hiking shoes to consider...





I also happen to have a pair of Salomon's trail shoes like these.


They fit a bit differently than KEEN womens hiking shoes, but they are just as good for hiking.

Salomon X Ultra 4 Low Hiking Shoes
By that, I mean that the toe box isn't quite as wide. This gives these shoes a more "secure" fit, and if you like your foot to feel as stable as possible on the trail, give these a hard look.
They have all of the comfort, stability and cushioning features of the KEENs mentioned above.
I use these shoes when the terrain is going to be a mixed bag of rocks, roots, mud, and water crossings, punctuated with smooth sailing.
You have a third great choice for womens waterproof hiking shoes!
Merrell Moab 3 Waterproof Hiking Shoes

And while I'm at it, I just have to say: Don't overlook Merrell hiking shoes.

Yes, I also own a pair of these.

Please don't judge my hiking shoe habit!
These waterproof shoes are super low cut, and their Vibram (heavy duty rubber) soles give fantastic grip, considering how lightweight these womens waterproof hiking shoes are.
A few cautions
about hiking shoes in general

Wear inexpensive hiking shoes only in the best of trail conditions: dry, flat trails with a lightweight pack and single digit mileage, for example.
If you want durability and good traction, those Salomons above fit the bill.

Expect to replace trail shoes more frequently than boots.
They aren't designed to stand up to heavy trail conditions like relentless roots, sharp rocks, or lots of moisture.
If you hike frequently, it's inevitable that you'll find yourself traveling over rougher terrain.
Expect the tread on your hiking shoes to diminish rather quickly.
You might also wish for more support and protection from the trail than these shoes can provide you, when you begin carrying a heavier pack on backpacking expeditions.

That's when you'll come back and read the how to buy hiking boots tips here!
Home page > Best Hiking Gear >
Womens Waterproof Hiking Shoes
If you purchase one of my favorite brands of womens waterproof hiking shoes from the links above, we both win!
You get a fantastic pair of trail shoes, and Hiking For Her lives on for another day of paying the bills, to deliver more free trail tips to hikers everywhere.
Thanks for your vote of confidence in this website. It is deeply appreciated.