Enjoy Happy Trails, the free monthly newsletter from Hiking For Her.

Receive a free resource: Hiking Layering System Explained
Animal Tracking For Hikers:
Resources To Get You Started

By Diane Spicer

Tracking wildlife has been a life long fascination for me.
And if I had a lot of time on my hands, I'd go to tracking school and get really good at this.
But for now, I've got to teach myself about how to spot the signs of animals and birds moving across the hiking terrain I'm passing through.

Which might come in handy for you, too, if you're fascinated by the animals leaving their calling cards, too.
Wouldn't it be great to answer all of these questions, based solely on a foot print?
Who left this track?

What were they doing?
When did they cross the trail?
Why were they going in this direction?
How many were there?

Animal tracking can be thrilling!

Imagine the thrill of seeing a huge wolf print, freshly put down in the mud, like this photo! I was so excited I couldn't see straight!
Until I found the grizzly scat about half a mile later...then I was on pins and needles.
And then, there was this...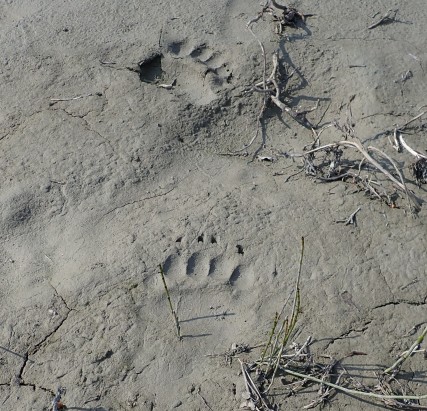 Brown bears came through here recently!
So you can use tracking to learn about your neighbors, but also to keep yourself out of harm's way on a hiking trip.
Animal tracking resources for you

Because I'm so into this subject, I've gathered together a lot of resources on wildlife identification and tracking.
Please allow me the pleasure of sharing a few of them with you here.
Preservation is key

First off, let's face the grim reality that we have to fight to preserve wild animals.
And the places they live: habitat, territory, room to roam.
In the United States, we lose both to lack of political will, decision makers paving over the wild places, and deliberate misinformation.
Field guides for identification and awareness

If you find yourself with a thirst for the names and descriptions of the plants, animals, birds, reptiles and habitat you hike through, indulge your curiosity with some field guides.
I have two types:
Lightweight, water resistant, durable ones that I throw into my backpack and consult in the field

Large, heavy and well illustrated guides that sit on my bookshelves at home
Take a peek at my Top Ten favorites here.
It's fun to test yourself on just how much awareness you bring to the trail.
And get your kids involved, too.

There are on line resources you can consult as well:

Learn to track from the pros

Use this fantastic gold mine of tracking information, from Alderleaf Wilderness College.
It's located in my neck of the woods: the Cascade Mountains of Washington State. So I can guarantee that you'll be introduced to some fantastic wildlife.
Here's a wildlife tracking intensive from Wilderness Awareness School that looks fascinating.

And how can we leave out Tom Brown, Jr's tracking school?
The most important step:
get started on your next hike

It's tempting to wait until you know more, or have more time, or can devote an entire day to tracking.
Don't wait!
Start small, start where you are, start animal tracking today!
And be amazed at what a rich network of life is all around you as you stride down the trail in every season.
You might be overlooking some big neighbors!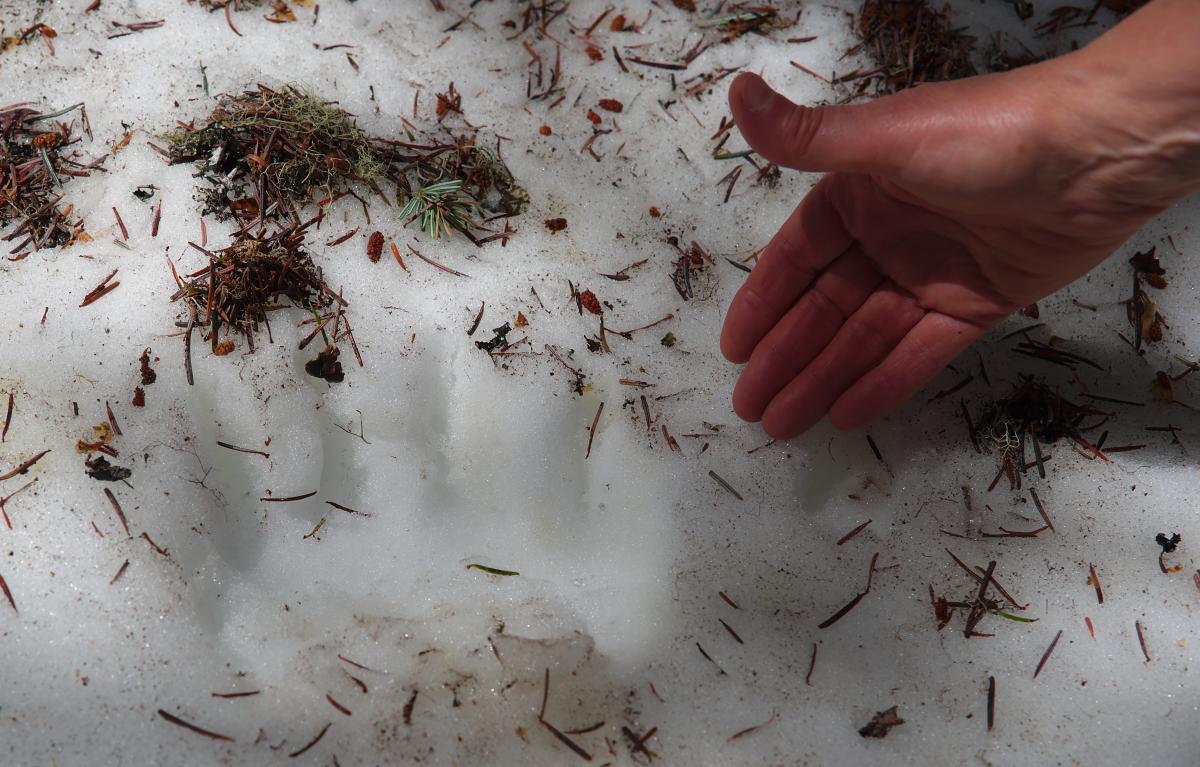 Like this black bear just waking up from a long winter's rest
Home Page > Outdoor Lore > Animal Tracking