Have the freshest free hiking tips sent to you each month!

Trail Snacks:
What To Eat On A Hike

Trail snacks: as if hiking itself isn't reason enough to put your boots on!
These yummy mouthfuls of snacking goodness don't have to be expensive or complicated, unless you want them to be.
You can cruise the aisles of any grocery store and find plenty of companies who want you to try their latest & greatest snacks.
But be careful!

You want food that works with you, not against you, on your hikes.
So avoiding nastiness is definitely in your best interest as a hiker:
artificial preservatives,

additives,

fake dyes,

processed sugar,

fillers, and

weird or salty chemical flavorings

For me, the shorter the ingredient list in my trail snacks, the happier I am.
I want only the 3 basic fuel molecules (along with great taste, of course): carbohydrates, proteins, fats, plus flavor.
No words I can't pronounce, please!
How to pick great trail snacks

Even if you're not a label purist like me, there are a few other things to look for in your trail fuel.
You definitely want to carry and consume snacks that sustain a steady blood glucose level (no "crash and burn", thanks anyway).
AND you want compact, lightweight, minimally packaged.

Are there any trail snacks on the planet that deliver all of that??
Actually, yes. Read on for a glimpse into the wonderful world of Hiking-For-Her approved best trail snacks!
 Trail snacks:
Pick your favorite ingredients

Sometimes I crave chocolate, other times I want a fruity chewy morsel.
Nuts and raisins can satisfy me, too.
Ever wonder why you crave certain things on the trail? Here's the answer!

Hiking chocolate

If you're a devoted chocolate fan, let's get right to the best chocolate covered trail snacks.
CaveMan Bars are currently satisfying my chocolate longings. I can't decide if I love the dark chocolate almond coconut more than the dark chocolate cashew almond.
But I definitely love the ingredients: non-GMO, dairy free, gluten free and peanut free.

They are chewy, satisfying, not gagging-ly (is that even a word?) sweet, and fairly priced when you buy in bulk.

And while I do not love the fact that they leave out cave women (who were hikers, no doubt), I definitely love these bars because there's an option for the days I crave fruit.
While I dearly love the blueberry bars, the apple and cranberry bars are also yummy. Take a peek here...

Wild Blueberry Nut Caveman Bars
If you want to cover all of the bases (chocolate, fruit, AND nuts) while keeping the price to a minimum, dabble a bit.
What do I mean?

Try this variety pack!

Do you crave fruity trail snacks?

If you're all about the fruit, FruitSource bars are just the ticket. No preservatives, colorings or weird flavorings.
The ingredient list is short and sweet: only fruit concentrate, pectin, and fiber (an important consideration on multi-day hikes).
Note that you are ingesting naturally occurring fruit sugars only - no sugar rush but plenty of energy flowing through your legs.

I can't pick a clear favorite flavor,  which is why I buy a variety pack of bite sized morsels.
Then I don't have to fight off my trail buddies for the "best" bites. I have been known to share my tasty trail tidbits ;)

More good news: these resealable bags keep forever in the pantry, if you can keep your hands off them on your non-trail days!

Get your FruitSource 100% Fruit Mini Bites right here.

LaraBars to keep you fueled

Another tried and true favorite: LaraBars.
These have really short ingredient lists, too:
There are enough flavors to keep your taste buds entertained for many hikes.
And if you need to avoid gluten, dairy, soy, animal proteins, peanuts (except for 1 bar, clearly labeled), these trail snacks are just what you need.
They're also Orthodox Kosher certified, and vegan.
I have several current favorites: cocoa mole, chocolate coconut (detect a trend?), cashew cookie, and ginger snap.
But there are lots of other flavors to try, and more developed all the time.

LÄRABAR variety pack to the rescue!
That's a great thing about these bars: no boredom.

Zing Bars really do have zing!

Zing Bars are designed by nutritionists, and thus pay close attention to what a hiker really needs.
The flavors are great, they're easy to bite into even when it's cold outside, BUT they are a bit pricey.
You get what you pay for, right?
Cost saving tip: Buy in bulk and store them in the freezer.

The blueberry variety is highly recommended for snack breaks while hiking, because it does a great job of replenishing your blood sugar without being hard to digest.

Take a look at the Almond Blueberry Zing Bars here.

Kind fruit & nut bars

Here's one more suggestion: KIND Fruit & Nut Bars.

Here's a sample ingredient list:
This particular example provides 200 calories, 17g of carbs, 7g of protein, and geez is it TASTY!
Best of all, it combines protein with carbs for slow-burning fuel.
There are lots of other flavors, and I'm having a great time sampling them.
Fair warning: These run a little on the sweet side. If your taste buds are easily offended, skip these.
But if you need to pull a long, steep section of the trail, eat one of these before you do.

My current favorite is (wait for it!) ...
chocolate peanut butter.
Craving salt?

Sometimes you just gotta have something salty, and pretzels get to be boring after a while.
Ever try seaweed hiking snacks?
They deliver the salty goodness of the sea, along with other surprising benefits for day hikers and backpackers.
Find out all the details here.


Why not make your own
hiking snacks?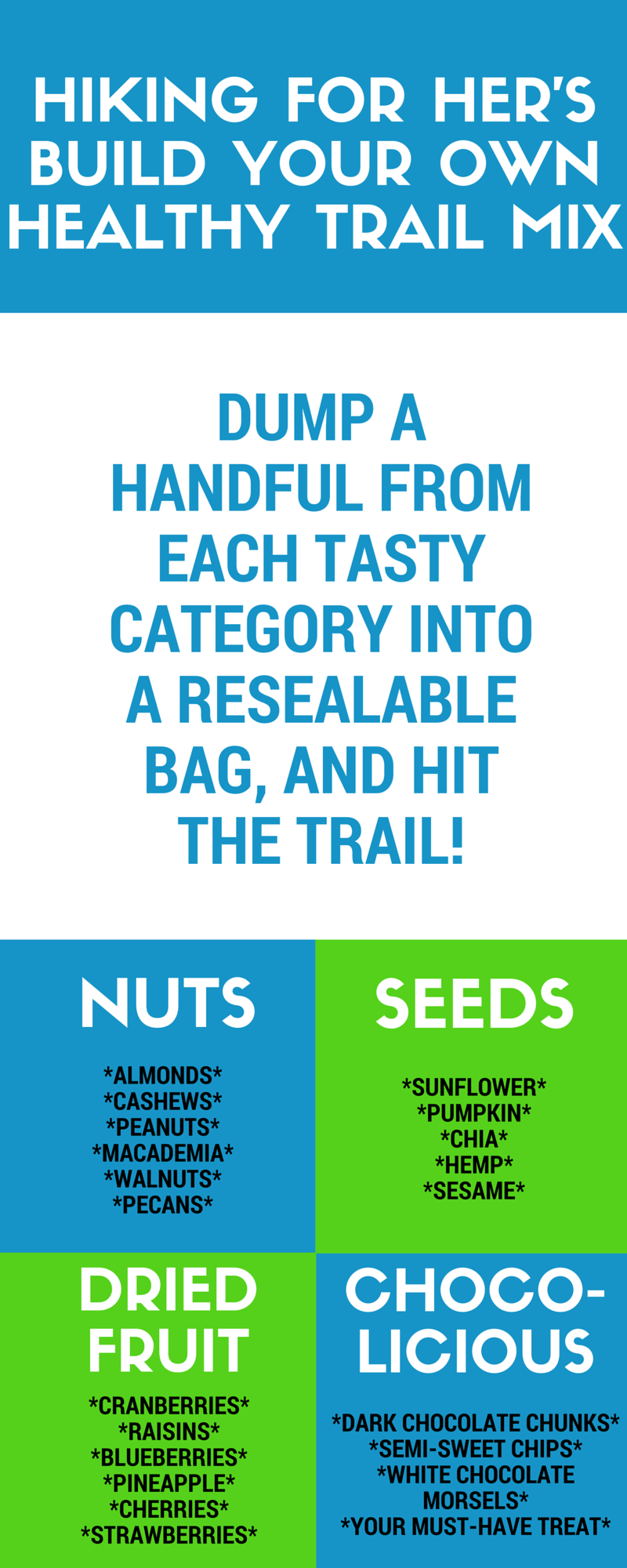 This cheat sheet gives you options for an endless variety of tasty trail mix.
For a simple recipe for a delicious "heart healthy" trail mix, along with nutritional info, go here.
Put together a high performance trail mix as fuel using these tips.

Interested in making something like a trail bar, maybe your own "energy spheres" ?
That link provides a fast, easy, and totally delicious recipe.
You control the quality of the ingredients.

The ingredients are good for you: natural sources of sugar, high in fiber, and a nice balance of fat, protein, and carbohydrates for slow, sustained energy.

Tasty!!

Or maybe you'd like more information on hiking food in general.

Hikers love to think about, talk about, and eat trail food, that's for sure!
Want to get into the details?

If you're really serious about maximizing your energy and stamina on the trail, I've written inexpensive e-booklets packed full of nutrition information, just for the type of hiking you do (or plan to do soon).

Check them out

right here.

And please leave a review so other hikers will know what to eat on a hike.

Sharing snacks is caring

Heads up: If we ever meet on the trail while you're taking a snack break, I'll be the one asking "Whatcha eating?"
Rest assured, I will refrain from asking for a bite.
But if you offer, that's a whole different story.
Instant trail friends!!
(The resemblance to dogs is not lost upon me.)
Happy Trail Snacking.

Home page > Best Hiking Tips > Trail Snacks
Didn't find what you were looking for? Use the blue TOP button
on the right to jet back up to the search box.
Why wait a whole month?
Plus, there's never enough room in the newsletter to share it all, so why miss out on exclusive Hiking For Her giveaways, limited time gear deals and discounts, freebies, updates, and more?

A short, info packed weekly email update will keep you current on all things hiking!
When you sign up to receive this update, you are agreeing to Hiking For Her's privacy policy.

Don't miss out!

Read more about these hiking weekly updates
Save Time

Save Time & Money


Hiking For Her's weekly emails are the best way to find out about current hiking & backpacking news:


flash giveaways
timely deals
steep discounts
freebies
trail changes


resources

Free, fast, fun info for you, every week of the year

Home page > Best Hiking Tips > Trail Snacks