Enjoy Happy Trails, the free monthly newsletter from Hiking For Her.

Receive a free resource: Hiking Layering System Explained
Best Trail Bars For Hikers
Who Love Great Taste
And Demand Good Nutrition 

by Diane Spicer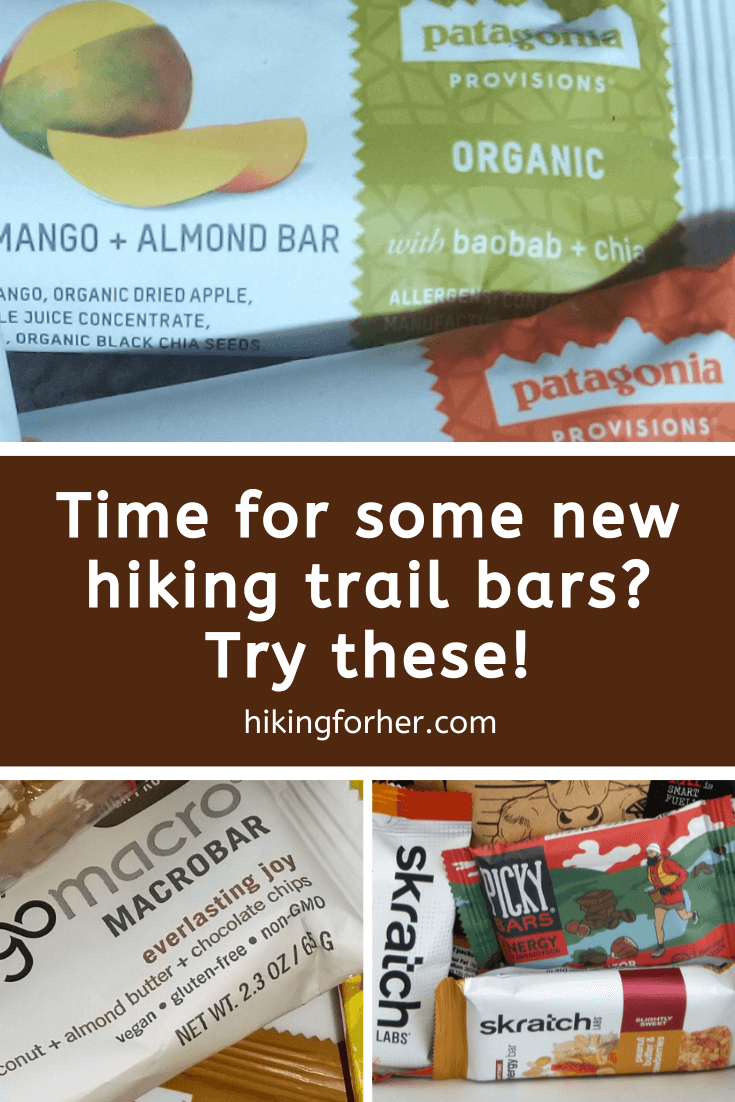 The best trail bars are the ones in your backpack.
Ready to scarf down, in other words.
But to get the right trail nutrition and favorite flavors into your pack, you'll need to do a little shopping to get your snack sack filled up.
Let Hiking For Her recommend some of the best trail bars you've probably never heard of, and explain why you should try a few.
Expect to find nothing weird or artificial, just some great taste and balanced nutrition derived from real food, in these favorite trail bar options for hikers.
And if you're hesitating at the cost of a trail bar, ask yourself this:
You bet you are! Fast, nutritious fuel for your hard working muscles is absolutely what you need on a hike. 
Repeat after me: Food = Fuel.
So give yourself the best fuel for the job: completing your hike.
Buying tip for the best trail bars
To stretch your dollars, buy in bulk. These bars can be stashed in the freezer if you're going to be off the trail for awhile.
Variety packs also keep your taste buds guessing ;)
Most of these recommended bars can't be found on the shelves of chain grocery stores, but are readily available with the following Amazon links.
So let's go trail bar shopping!
Patter Bars for hikers
These are some of the best trail bars, created by a chef who also knows a little something about the right mix of macronutrients a hiker needs: carbohydrates, protein and fats.
If you're into clean eating, you'll love the ingredient list of Patter Bars: nut butters, seeds, unsweetened dried fruit, and sea salt from good sources.
That's it!
Nutrient density means one bar goes a long way to fill you up and keep you fueled up on the trail.

These are tasty bars that will make you smile as you enjoy them, one bite at a time, at a rest break.

Heather's Choice might be
your best choice, too



Who doesn't love macaroons made with organic coconut and almond flour, especially when they come in such a variety of flavors!

No gluten, soy, peanuts, dairy, or eggs so hikers with any of those food sensitivities or food allergies can enjoy these with no worries.


UnTapped Waffles



Maple syrup is a delicious source of fast burning carbohydrates on a hike.

This brand offers its great snack in raspberry, too.

Note, these waffles contain both wheat and soy flours and soy lecithin.
F Bombs
F as in Fat!

Fat can be used as a fuel source, and is especially welcome on a long backpacking trip and/or cold weather for its ability to make you feel satisfied.

This macadamia nut butter is beyond delicious, and the convenience of the packets is appreciated when it's time to whip out a snack and keep going.

Great for paleo and keto hikers.

Go Macro
This is one of the best trail bars for vegans.

And this mother-daughter owned company is doing everything right for putting plant based nutrition into the stomachs of all of us hikers!

You will never run out of favorite Macrobar flavors, which is why I recommend a variety pack.
Navitas Power Snacks


Protein Pucks
If you're a hockey fan, you know what an impact a puck in the mouth can have on a person.
This puck?
It won't hurt a bit!
In fact, as a meal replacement bar, you'll appreciate having these pucks in your pack.


470 calories per puck will keep your engine humming along without having to stop, on days when you're making miles.

Skratch Labs



These are recommended for when you feel your energy flagging on a hike.

Low sugar, gluten free, vegan, and a unique combo of nuts and fruit are a tasty way to get a good hit of carbohydrates to pep up your step without burning out your pancreas.

Wild Zora makes some of the 
best trail bars
Sometimes you just have to have a hit of juicy, satisfying protein rather than a hit of carbs.

These meat bars are sourced from lamb, turkey and pork, and include veggies for an interesting taste combo.

These are one of my absolute favorites for a long trip when food cravings kick in.

Gluten free and paleo hikers will appreciate them!

Skout Bars
Plant based protein in a convenient form, and tasty to boot: pumpkin seeds, dates and coconut in a convenient bar.

Gluten, soy, grain and dairy free!

Yummy... and good for your hiking body.

Picky Bars
Does the name describe you as a snacker?

Dates, dried fruit, nut butters, seed butters and lots of amazing flavors: Cinnamon Roll'n, All-in Almond, Smooth Caffeinator, Blueberry Boomdizzle, Ah, Fudge Nuts! and more to keep you happy and fueled.
Hydration is an important part of 
packing the best trail bars
Even if you purchase and pack the bars that taste great and provide the right balance of nutrients and taste, you won't utilize all of that fuel unless you stay well hydrated on a hike.
Water is a universal solvent, meaning it will deliver the nutrients from the bars to your hard working cells.
Use these hiking hydration tips to make sure you're getting every calorie (and dollar) worth!
Leave No Trace of the
best trail bars behind you
There are several choices you can make to keep garbage off the trail.
Remove the wrappers at home and pack the trail bars in a reusable container like these.
Or use beeswax food wrappers that can be wiped clean and used again and again, thanks to the impermeable wax.
And finally, any time you unwrap a bar on the trail, pack out your trash. 
Read more about Leave No Trace tips for hikers here.
Bonus LNT round:
Pick up and pack out any wrappers you find along the trail.
Smile to yourself about your random (and some might say radical) act of trail kindness :)
Best trail bars for hikers
are never dull
Have you met a few new snack brands on this page you'd like to try on your next hike?
Or after a workout, during your afternoon commute, or between classes?
Great!
Now figure out a good balance of nutrients for your hiking style, using these tips.
Home page > Hiking Nutrition >
Best Trail Bars For Hikers
Hiking For Her: Hiking tips you can trust!