Enjoy Happy Trails, the free monthly newsletter from Hiking For Her.

Receive a free resource: Hiking Layering System Explained

Smart Trail Food Selection:
Best Tips To Keep You Filled Up

By Diane Spicer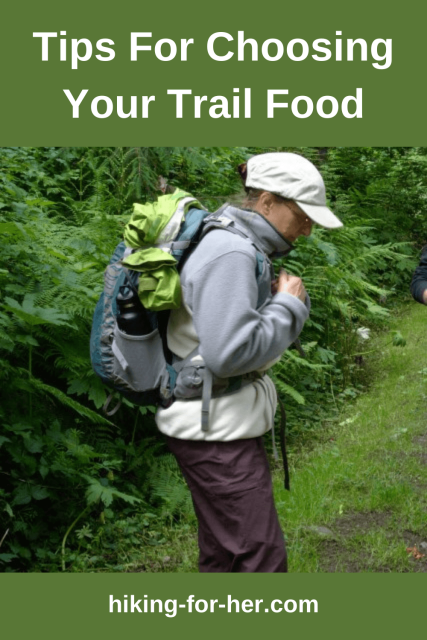 On the topic of best trail food selection, here's a great general question from the Hiking For Her mailbag that covers a lot of ground:
"Why is it important to carefully select your food while hiking?"
Right up there with:
"What should I eat on a hike?"


Where to begin?
At first, when I read this question, I was stumped for a place to begin.
This is a huge question for any hiker, trail food selection, and it has many layers.

I've been hiking a long time, and I've worked through several health issues to arrive at hiking food which gives me strength and endurance WITHOUT giving me stomach aches.
Going gluten free, for example.

So I had to sit down and really think about this question.
And I realized that you can take the answer in several directions.
So here is my "final" answer, in seven part harmony.
Consider each factor separately.

Then blend them into the perfect backpacking food for your hiking trip.
Before we even get started, here's something no one talks about: trail food and your mood on the trail.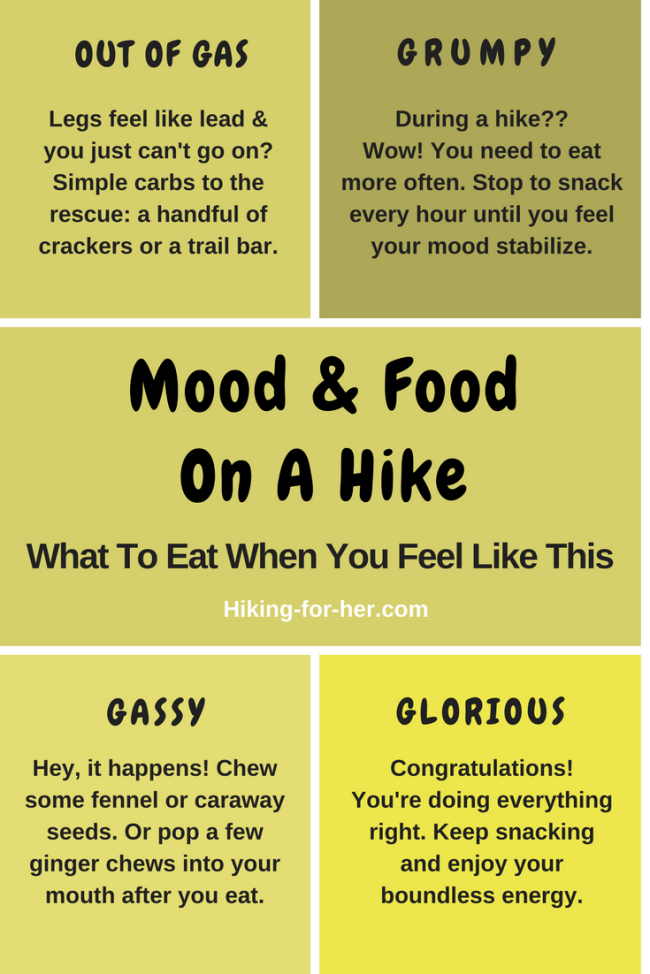 Weight & bulk of backpacking food

If you are going on a multi-day trip, you need to be careful about how much each meal will weigh.
And whether it will all fit into your pack (and bear cannister, if needed).
Even freeze dried backpacking food gets heavy, if you are carrying 3 meals plus snacks for each day.
On a day hike, weight probably isn't a worry unless you have a knee or back injury that you need to be mindful of
-OR-
you will be carrying other gear such as a heavy camera lens, tripod, field guides, water filter, etc.
As for bulkiness, the less packaging around your food, the better. You will need to spend some hours un-packaging, and re-packaging, all of it into the smallest possible footprint.
It's worth it!
Nutrition
If you are planning lots of elevation gain and lots of distance on your hike, your body will ask for a slow steady release of energy throughout the day.
That's when you want an appropriate balance between complex carbohydrates, protein, and good fats.
If you're facing a flat, slow hike, you can get away with less planning and make up your calorie deficit with a hearty dinner.
Underlying all of this is how well you digest your food.
Some hikers get cramps if they eat a heavy lunch and get back on the trail right away.
Eating small meals more frequently might be easier on the digestive system, which needs to keep supplying glucose and other nutrients to the skeletal muscles as they contract and relax.
Sometimes the best hiking food comes in small bites, spaced several hours apart.

Cost
If you don't do careful planning or order food ahead of time online, you are at the mercy of whatever is on the grocery store shelf, in terms of trail food selection.
On the other hand, if you take time to find good recipes you can prepare from low cost ingredients, and prepare your own trail snacks, you can save a bundle over a hiking season.
Sometimes paying more for convenience is worth it. Other times, you're willing to put in the time to save the dime (and dollars).

Calculate the value of your time and decide if you'd rather put your attention on planning the hiking destinations rather than the menu.
Taste
In the middle of a hiking trip is NOT the best place to try new foods, or new flavors of old favorites.
I have done this a couple of times, and regretted it every time.
Being hungry due to unpalatable (or downright inedible) food robs you of hiking enjoyment.
But more importantly, it deprives you of much needed nutrients for your hard working body.
Keep records of what you really, really like and bring it along to make your backpacking trip enjoyable.
Health
Read all of the labels on your backpacking food, or the ingredients that go into your own creations.
Avoid preservatives, excessive amounts of sugar (which masquerades under many names including glucose, fructose, sucrose, corn syrup, and many more), and artificial coloring.
If you know you're allergic to an ingredient, you might not even see it listed on the label, because in the U.S. the label can use vague terms such as "flavoring".
Again, don't try a new food out on the trail if you have food sensitivities, because you don't want to trigger a reaction when you're away from help.
If you prefer organic backpacking food, read this.
If you're a paleo backpacker, read this.
For more detailed information about planning a menu for hiking trips, go here.

If someone else is in charge of the menu, communicate carefully with her/him so that your expectations and requirements are met.

Safety
A savvy hiker is conscious of the importance of planning carefully for a hiking trip, which includes
But  it also includes carrying proper amounts of food and water.
Food safety tips

Clean hands, clean food prep, and a clean camp keep bears and bacteria away.
Careful attention to detail during trail food selection separates a casual hiker from a veteran hiker.
If you want to do the job right, here's some help.
Preparation of your trail food selection

Now that you've got a menu all lined up, how are you going to prepare it?

You'll need recipes, tips and techniques, right?
Here's a great book to get you started on the ins and outs of choosing the best backpacking food, by folks who take all sorts of people into the backcountry: National Outdoor Leadership School (NOLS).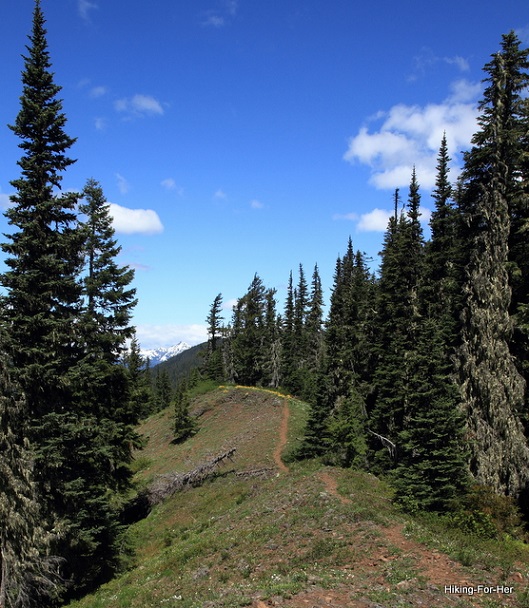 Be sure you've made the right trail food selection for your trip!

Trail food selection
demystified

So there you have it:
Seven different directions to an answer about how to accomplish trail food selection.
Let me know if you have other questions about the best hiking and backpacking food, I'd be glad to help.
Home page > Hiking Nutrition >
Trail Food Selection