Enjoy Happy Trails, the free monthly newsletter from Hiking For Her.

Receive a free resource: Hiking Layering System Explained
Boys Backpacks -
How to pick the best one

by Diane Spicer
Boys backpacks might seem like a departure from the theme of Hiking For Her.
But not really.
Females bring new human beings into the world, and about half of them are males.
So it makes sense that women hike with boys, and the boys need backpacks that will stand up to what the trail throws at them.
And if you've ever shared trail time with energetic little boys, you know the boys themselves throw things!

However, if you're looking for information about boys backpacks built only for taking books and lunch to school, this isn't it. 
The only advice I can offer:

And if you'd rather read about girls backpacks, this is for you.
Still with me?

If you're hungry to know how to buy hiking packs for your male trail companions up to the age of 12 or so (when they can probably switch over to adult backpacks), read on.
Sizing up boys backpacks

To size up the best backpack for your boy(s), answer one and only one question:
What do you expect this pack to do?

Embedded within this question lurks important variables, such as:
How many times it will be used;

How many trail miles it will rack up;




How much abuse and punishment it will endure;

How much capacity is required;

How many bells and whistles are needed for more technical hiking.
If you're in the market for a backpack that will support an initial or only backpacking trip, such as with a Boy Scout or church group, you need one level of pack: simple, basic and functional.

But if you've got a gung ho hiker on your hands (what a lovely "problem" to have!), the best backpack will need more thoughtful consideration.
Pay attention to the size of your boy,

his age,

along with his mindset: internally motivated -vs- focused on exterior rewards.
A boy who really wants outdoor time can put up with a less than ideal backpack, but a kid who is in it just to earn a merit badge or praise from an adult really needs a carefully selected pack in order to endure.

This leads us directly into the pivotal issue...
Boys backpacks:
cost versus quality

Kids by definition are going to outgrow their backpacks.
Growth spurts will amaze you with their frequency, and dismay you when the hiking gear that fit last summer looks ridiculously small for your boy this year.

So it's a given that you want to be sure you get your money's worth when purchasing a pack that will be discarded probably before it wears out.
But here's the thing: your child's growing body needs to be respected, in particular his spine, neck, knees which are so important to future hiking plans, playing sports, and good posture.
So weigh cost versus quality carefully.
Is the cost holding you back?

If money is a serious concern for gear purchases, look at this info on discount gear.
Or try used hiking gear.
Also consider renting a backpack, if that fits into your budget.
REI, an outdoor gear cooperative, has a huge rental department.

But please don't hold back on hiking with your boys.
Find the gear somehow!

Take them to wild, amazing places and let them explore.

You will both be thrilled by their discoveries (even lizards, trust me).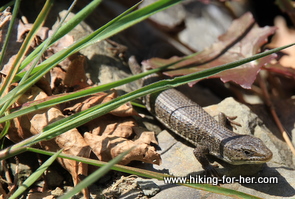 Quality indicators in kids backpacks

Boys backpacks are built basically just like girls backpacks.
In other words, the world of kids backpacks is interchangeable except for personal preferences on colors and patterns.
Here is my thorough analysis of what makes backpacks for kids tick, including these important features:

Insert the word "boy" or "kid" or "child" wherever you run into "girl" and you'll be all set.

These tips on hiking with kids might also be useful to you.

Any questions left on
boys backpacks?

As always, send me your questions via this CONTACT link.
I'm delighted that you're searching for information about taking boys out on the trail.
Be proud of the role you play in shaping the future of hiking.
My wish for you:
Deep enjoyment of your outdoor time with the boys in your life, because they quickly grow into men.
Home page > Best Hiking Gear > Boys Backpacks
Hiking For Her: Hiking tips you can trust!